Night trials of Ballistic Missile Agni V
---
Night trials of Ballistic Missile Agni V
---
On December 15, 2022, India has successfully conducted night trials of nuclear-capable ballistic missile Agni V.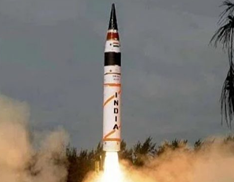 The missile is capable of striking targets at ranges up to 5,000 kilometers with very high degree of accuracy.
The missile test firing was conducted from APJ Abdul Kalam Island off the Odisha coast at around 5.30 pm.
About Agni Missiles
The Agni missile class is the backbone of India's nuclear launch capability, as are Prithvi short-range ballistic missiles, submarine-launched ballistic missiles, and fighter aircraft.
Agni-1 to 5 missiles are designed & developed by Defence Research and Development Organisation (DRDO).
Other Ranges of Agni Missiles:

Agni I: Range of 700-800 km.
Agni II: Range more than 2000 km.
Agni III: Range of more than 2,500 Km
Agni IV: Range is more than 3,500 km and can fire from a road mobile launcher.
Agni-V: The longest of the Agni series, an Inter-Continental Ballistic Missile (ICBM) with a range of over 5,000 km.

Agni-5 is an ingeniously built advanced surface-to-surface ballistic missile developed under the Integrated Guided Missile Development Programme (IGMDP).
It is a fire-and-forget missile, which cannot be stopped without an interceptor missile.
The missile has the capability of hitting targets beyond the range of 5000 km and is crucial for India's self-defense systems.
The Integrated Guided Missile Development Programme (IGMDP) was launched in 1982-83 by the Indian Government which saw the projects of:
Prithvi (Short range surface to surface missile)
Trishul (short range surface to air missile)
Aakash (Medium range surface to air missile)
Nag (Third generation anti-tank missile)
Agni-I (Agni missile was later separated from the IGMDP due to its strategic importance)