Current Affairs - Agriculture & Allied Sector
Recently in December, 2022 five agricultural products of Kerala- Attappady Attukombu Avara, Attappady Thuvara, Onattukara Ellu, Kanthalloor-Vattavada Veluthulli, and Kodungalloor Pottuvellari have been granted Geographical Indication (GI) status.
With the latest five GIs, 17 agricultural products of Kerala facilitated by the Kerala Agricultural University have received the GI status.
This achievement is the result of the team work of Kerala Agricultural University, Department of Agriculture, and farmer groups of the respective areas.
The unique features of the products, imparted by the agro-climatic conditions of the geographical area of their production, are the basis for getting geographical indication tag.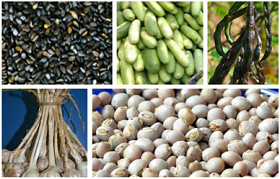 Other GIs Tags awarded
Adding to the present collection of Geographical Indications (GIs), nine new items, including -
Gamocha of Assam
Tandur red gram of Telangana
Raktsey Karpo apricot of Ladakh, and
Alibag white onion of Maharashtra
Highlights of the Agriculture Products
Attappady Attukombu Avara

(Beans)

It is curved like a goat's horn as its name indicates.
Its higher anthocyanin content compared to other dolichos beans imparts violet colour in the stem and fruits.
Anthocyanin is helpful against cardiovascular diseases along with its anti-diabetic properties.
The higher phenolic content of Attappady Attukombu Avara imparts resistance against pest and diseases, making the crop suitable for organic cultivation.

Attappady Thuvara

(Red Gram)

It is having seeds with white coat.
Compared to other red grams, Attappady Thuvara seeds are bigger and have higher seed weight.

Onattukara Ellu

(Sesame)

Onattukara Ellu and its oil are famous for its unique health benefits.
Relatively higher antioxidant content in Onattukara Ellu helps in fighting the free radicals, which destroy the body cells.
Also, the high content of unsaturated fat makes it beneficial for heart patients.

Kanthalloor-Vattavada Veluthulli

(Garlic)

Compared to the garlic produced in other areas, this garlic contains higher amount of sulphides, flavonoids, proteins and also rich in essential oil.
It is rich in allicin, which is effective against microbial infections, blood sugar, cancer, etc.

Kodungalloor Pottuvellari

(Snapmelon)

This snap melon, which is harvested in summer, contains high amount of Vitamin C.
Compared to other cucurbits, nutrients such as calcium, magnesium, fibre and fat content are also high in Kodungalloor Pottuvellari.
About GI Tag
Recognised by the World Trade Organization (WTO), GI is used to denote the geographical territory from where a product, be it agricultural produce, natural product, or manufactured.
It conveys the assurance of quality, distinctiveness, and attributes that are unique to that specific geographic region/place of origin.
India became a signatory to this convention, when, as a member of WTO, it enacted the Geographical Indications (Registration and Protection) Act, 1999, which came into effect on September 15, 2003.
To protect the GI of goods, a GI registry has been established to administer the GI of Goods (Registration and Protection) Act, 1999, under the Controller General of Patents, Designs & Trade Marks.
The apex edible oil industry associations from five major palm oil importing countries in Asia have come together for the first time to form an alliance -- Asian Palm Oil Alliance (APOA).
APOA was launched during the Globoil Summit at Agra on September 21. The summit is one of the World's Leading Edible Oils and Agri Trade Conference, Exhibitions & Awards.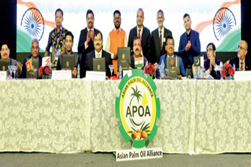 Countries under the Alliance
The alliance is between industry bodies of India, Pakistan, Sri Lanka, Bangladesh and Nepal.
In the coming year, the membership would be further expanded to include other select companies or industry organisations operating in the production or refining of palm oil across the continent.
Objective
The Alliance is expected to safeguard the economic and business interests of the palm oil consuming countries and create a level playing field for all fats and oils used in food, feed and oleochemicals in Asia. It will further work towards increasing the consumption of sustainable palm oil in member countries.
The alliance commits to work worldwide to ensure that palm oil is recognised as a high-quality, economical, and healthy vegetable oil and to change the negative image of palm oil.
Secretariat
The secretariat of the newly-formed alliance would initially be managed by The Solvent Extractors' Association (SEA) of India - India's edible oil industry body.
First President of Asian Palm Oil Alliance (APOA)
In the first general body meeting of the Alliance, Atul Chaturvedi, the President of SEA, was elected as the first Chairman.
Note: India is the largest importer of palm oil in Asia, accounting for 15% of global imports, followed by China (9%), Pakistan (4%) and Bangladesh (2%).
Recently, the Prime Minister addressed a Natural Farming Conclave, organised in Surat, Gujarat.
About Natural Farming
It is a chemical-free alias traditional farming method.
It is considered as agroecology based diversified farming system which integrates crops, trees and livestock with functional biodiversity.
It is considered as a cost- effective farming practices with scope for raising employment and rural development.
It is known by various names like; Zero Budget Natural Farming, Prakrithik Krishi, Cow Based Natural Farming, Shashwat Kheti, Chemical Free Agriculture, etc.
Nature farming is derived from Mokichi Okada's philosophy of abandoning the use of all chemical fertilizers and pesticides.
In India, Natural farming is promoted as Bharatiya Prakritik Krishi Paddhati Programme (BPKP) under centrally sponsored scheme- Paramparagat Krishi Vikas Yojana (PKVY).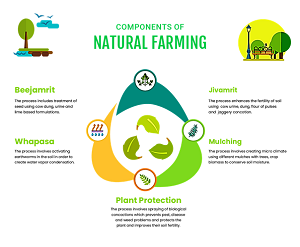 Benefits
Increase Yield
Natural Farming aims to increase yields by maximizing production factors like labour, soil, equipment and by avoiding the use of non-natural inputs like fertilizers, herbicides and pesticides.
Nutritious Crops
Natural farming provides food of good quality due to proper soil management.
The use of animal manure to improve the health of the soil supplies the crops with necessary nutrients like nitrogen, phosphorus, and potassium.
Boost to Farmers' Income
It aims to make farming viable and aspirational by increasing net incomes of farmers on account of cost reduction, reduced risks, similar yields, incomes from intercropping, increasing crop intensity along with availing fair price of the crop grown.
Preserve Biodiversity
Biodiversity can also be developed and nurtured through natural farming.
The place where natural farming operates is an ideal habitat for various species because it allows them to breathe clean air that makes them naturally healthy and resistant to illness.
Mitigate Climate Change
Natural farming fights against climate change.
Admittedly, the use of synthetically made fertilizers and pesticides to cultivate crops and livestock contributes a huge amount of greenhouse gases such as nitrous oxide, carbon dioxide, and methane.
Protect Water Quality
Aside from reducing the impact of climate change, natural farming can also improve the composition of water by decreasing the amount of preservatives which usually contaminates the water.
Organic Farming
It is a production system which avoids or largely excludes the use of synthetically compounded fertilizers, pesticides, growth regulators, genetically modified organisms and livestock food additives.
Similarities between Natural Farming And Organic Farming
Natural and organic both are chemical free and more or less poison free farming methods.
Both systems discourage farmers from using any chemical fertilizers, pesticides on plants and in all agricultural practices.
Both farming methods encourage farmers to use local breeds of seeds, and native varieties of vegetables, grains, pulses and other crops.
Organic and natural farming methods promote nonchemical and homemade pest control methods.
Difference between Natural Farming & Organic Farming
Cost: Organic farming is more expensive than natural farming because it requires using large amounts of organic fertilizers and manure on the land bought from those who sell them.
Effort: Organic farming wants activities such as mixing of manures or compost, plowing, and tilting whereas there is no plowing or tilting or fertilizers in natural farming. "In natural farming, decomposition of organic matter by microbes and earthworms is encouraged right on the soil surface itself, which gradually releases nutrients into the soil".
Environmental Impact: Organic farming has an effect on the surrounding environment while natural farming does not and it conforms to local biodiversity.
Recently, the Union government approved the extension of the Pradhan Mantri Krishi Sinchayee Yojana (PMKSY) till 2026 — a move expected to help fund irrigation projects that will increase water supply across northern India.
As a part of the scheme, Accelerated Irrigation Benefit Programme (AIBP), Watershed Development and Har Khet ko Paani (HKKP) components have been extended for 2021-26.
About PMKSY
It was launched in 2015 as an umbrella scheme that provides central grants to the State Governments for specific activities.
Implementing Agency: Ministries of Agriculture, Water Resources, and Rural Development
Aim
To provide assured irrigation to cultivated areas.
To reduce wastage of water and improve water-use efficiency.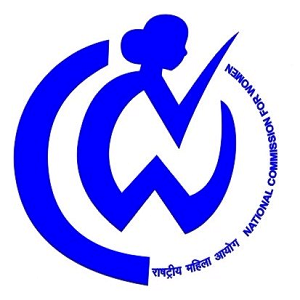 Components
Accelerated Irrigation Benefits Programme (AIBP)
Implementation: Department of Water Resources, River Development and Ganga Rejuvenation, Ministry of Jal Shakti.
Aim: It provides financial support to irrigation projects.
Watershed Development
Implementation: Department of Land Resources, Ministry of Rural Development
Aim: To regenerate ground water.
Per Drop More Crop
Implementation: Department of Agriculture and Farmers Welfare, Ministry of Agriculture & Farmers Welfare.
Aim: Promoting efficient water conveyance and precision water application devices.
"Dairy Sahakar" scheme was launched at Anand, Gujarat on 31st October 2021 during the function organised by Amul for celebration of 75th Foundation Year of Amul.
The Dairy Sahakar with a total investment of Rs 5000 crore will be implemented by National Cooperative Development Corporation (NCDC) under Ministry of Cooperation, Government of India to realize the vision, "from cooperation to prosperity".
Under Dairy Sahakar, financial support will be extended by NCDC to eligible cooperatives for activities such as bovine development, milk procurement, processing, quality assurance, value addition, branding, packaging, marketing, transportation and storage of milk and milk products, exports of dairy products within the overall objectives of "Doubling the farmers' income" and Atmanirbhar Bharat".
There will also be a convergence with various schemes of Government of India and / or of State Government/UT Administration/ Development agencies/ bilateral/multilateral assistance/ CSR mechanism is encouraged.
The Department of Animal Husbandry and Dairying under Ministry of Fisheries, Animal Husbandry and Dairying, Government of India is also implementing various schemes for development of the Animal Husbandry and dairy sector. This Dairy Sahakar will supplement the existing efforts for strengthening the dairy sector in the country.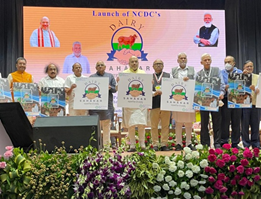 (Source: PIB)
Aiming to roll out an overhauled Pradhan Mantri Fasal Bima Yojana (PMFBY) from kharif 2022, the government has constituted a working group comprising officials from Centre, key crop-producing states and top executives of public sector insurance companies to suggest "sustainable, financial and operational models."
Need
The move comes after many states quit the scheme, defeating the objective of protecting farmers' income.
Aim
With a view to achieving sustainable underwriting capacities of insurers and rationalised premium pricing to cut subsidy burden on the government, the working group is expected to address the demand of an alternative model.
Issues with the Scheme
Premium
The Centre has identified a hardening of premium market, lack of sufficient participation in tenders, inadequate underwriting capacity of insurers as major issues that adversely impacted PMFBY during implementation of the scheme.
The premium to be paid by farmers is fixed at 1.5% of the sum insured for rabi crops and 2% for Kharif crops, while it is 5% for cash crops under PMFBY. The balance premium is split equally between the Centre and states. Many states have demanded their share of the premium subsidy be capped at 30% while some others demand the Centre to bear the entire subsidy.
Fall in Enrollment
According to provisional data of 19 states (excluding Karnataka), there is over 10% fall in enrollment of farmers under crop insurance during Kharif 2021 from last season's 1.68 crore. (Karnataka is not included since this year's Kharif data of the state is yet to be uploaded in the central portal).
Among major producing states namely Chhattisgarh, Madhya Pradesh, Maharashtra, Odisha, Rajasthan, Tamil Nadu and Uttar Pradesh the fall in enrollment is in the range of 2-75%.
Low Coverage
It is a concern as less than 12% of 14.6 crore land owning farmers are covered under crop insurance during kharif despite the fact that 52% of the country's farm land does not have assured irrigation facility and depends on monsoon.
Current Status of the Scheme in some States
Exits: Gujarat, Andhra Pradesh, Telangana, Jharkhand, West Bengal and Bihar exited the scheme, citing the cost of the premium subsidy to be borne by them.
Never Implemented: The state of Punjab has not implemented crop insurance scheme.
States with their own Schemes: Bihar, West Bengal and Andhra Pradesh have their schemes under which farmers do not pay any premium, but they receive a fixed amount of compensation in case of crop failure.
Why Revival of the Scheme is Important?
No other scheme than PMFBY will ensure a stable income during calamities.
It will also be a big setback for government's target to double farmers' income.
What will the Working Group do?
Work on Premium: The working group will find out reasons for high premium rates and suggest mechanism to rationalize them including the option of creating a risk pool.
Define Role of States: It will define role of state governments, as they are the implementing agencies.
Settlement of Claims: Other issues to be looked into by the group also include a detailed study on the feasibility to adopt suitable technology-based approaches for early settlement of claims by modifying traditional methodology of Crop Cutting Experiments (CCEs) for loss estimation.
About the Group
The newly formed group, headed by CEO of PMFBY (Ritesh Chauhan), will have principal secretaries (agriculture) of Maharashtra, Madhya Pradesh, Rajasthan, Gujarat, Assam, Tamil Nadu, Uttar Pradesh and Odisha as members.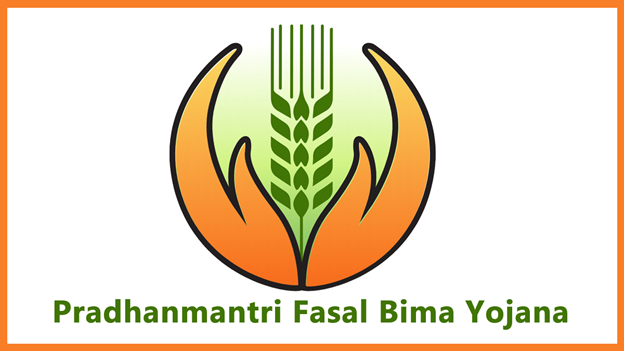 (Source: Financial Express)
The clove grown in the hills of Kanyakumari district in Tamil Nadu has been awarded a geographical indication (GI).
Due to the moderate temperature prevailing in Kanyakumari district, the fragrances in the cloves evaporate in small quantities, thus making it possible to obtain concentrated essential oils.
The total production of cloves in India is 1,100 metric tons. Of this, 1,000 metric tons is produced in Tamil Nadu every year. Kanyakumari district alone produces 750 metric tons of cloves.
Cloves cultivated in Kanyakumari district are rich in Eugenol Acetate, a chemical that is highly available in essential oils.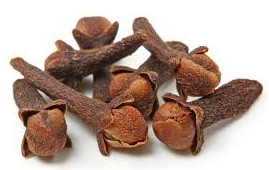 Assam's traditional Judima wine has been awarded the Geographical Indication (GI) tag.
It is made from rice and a certain herb and widely popular among the Dimasa tribals.
Judima is inseparable from the social and cultural life of the Dimasas.
This is the second product from the hill districts of Karbi Anglong and Dima Hasao to get GI tag after ginger of Karbi Anglong was awarded GI tag.
Judima is the first beverage from the Northeast to get this honour.
Nagaland's "sweet cucumber" was awarded a geographical identification (GI) tag as an agricultural product under provisions of The Geographical Indications of Goods (Registration and Protection) Act, 1999.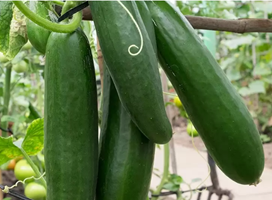 Source: thenortheasttoday.com
The cucumber is one of the most important crops in the Northeast region.
Nagaland has the fifth-highest cultivation of this fruit area-wise, and ranks third in production.
Speciality
Naga cucumber is recognised for its sweetness and unique green colour.
Naga cucumbers are juicy, soft, and sweet. They are grown completely organically.
Naga cucumbers are a kind of fruits that differ in taste, shape and sizes from those available in other areas.
They are low in calories but high in potassium and contain a high level of water and can serve as an alternative to consuming sports drinks.
Other GI Products from Nagaland
Naga Mircha
Naga Tree Tomato
Chakhesang Shawls
About GI Tag
The GI tag is an important sign used on products with a specific geographical origin and reputation and denotes the authenticity of not only the product, but the method in which it was produced.
The GI tag is meant to protect the truly unique traditions of communities from being appropriated by large industries, and thus allow these regions economic prosperity by manufacturing, producing, and marketing their traditional knowledge.
The famous Hathei Chilli and Tamenglong Orange of Manipur have received the Geographical Index (GI) tag.
Manipur has been promoting these two produce by celebrating the Orange Festival every December and Sirarakhong Hathei festival every August for over a decade now.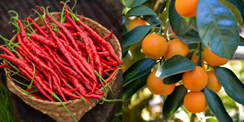 About the New GI Products
Tamenglong Orange: It is a unique fruit crop found mostly in Tamenglong district which contributes over 50% of the state's annual production. It is famous especially for its well-blended sweetness and acidic taste.
Hathei Chilli: It is one of the best varieties of chillies with a distinct flavour and colour, grown in Sirarakhong village in Ukhrul district.