Current Affairs - Chess
Recently, R Praggnanandhaa, the talented 17-year-old Indian Grandmaster, clinched the championship in the prestigious V Geza Hetenyi Memorial Super GM chess tournament 2023.
Key Points:

Impressive Performance: Scoring 6.5 points, Praggnanandhaa secured the top spot in the 10-player event, showcasing his remarkable chess skills.
Clear First Position: After nine rounds of intense competition, Praggnanandhaa finished a full point ahead of his closest rivals, M Amin Tabatabaei from Iran and Russia's Sanan Sjugirov.
Consistent Performance: In the final three games of the tournament, Praggnanandhaa demonstrated great composure, securing draws against strong opponents Pavel Eljanov (Ukraine), Maxim Matlakov (Russia), and Wojtaszek.
The 2021 World Rapid Championship was organized at Warsaw, Poland from December 26 through December 30.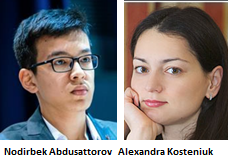 Winners
Men's: GM Nodirbek Abdusattorov (Uzbekistan) won the champion. Ian Alexandrovich Nepomniachtchi (Russia) came second, while Magnus Carlsen (Norway) –the winner of previous title (2019) came third. The event did not take place in 2020 due to Covid 19. Viswanathan Anand from India won this title in 2017 at Riyadh (Saudi Arabia).
Women's: GM Alexandra Kosteniuk (Russia) won her first Women's World Rapid Chess Championship title after coming in second in 2012, 2014, and 2016.
India's GM Viswanathan Anand won the Sparkassen Chess Trophy after playing out a draw in his fourth and final round 'No Castling' game against longtime rival Vladimir Kramnik of Russia.
The Indian maestro won the opening game of the series before the next three ended in stalemate.
'Castling' is not allowed in this format in an effort to make the game more interesting. Castling is a special move to protect the king and activate the rook. It is the only time in chess a player can move two pieces in one move.
The game was organized at Dortmund, Germany.
Indian-origin American Abhimanyu Mishra has become the youngest-ever chess Grandmaster in the world after an event in Budapest on 30th June 2021.
He became a Grandmaster at 12 years, four months and 25 days and bettered the record of Sergey Karjakin of Russia.
Akash from Chennai, Tamil Nadu (TN) became the country's 66th Grandmaster.
The title was confirmed at the recent meeting of International Chess Federation (FIDE) Council.
Viswanathan became the first grandmaster from India in 1988.