Current News National Social Issue & Social Justice
2nd Edition of Water Innovation Challenges
---
On 13th December, 2021, Atal Innovation Mission, NITI Aayog and the Royal Embassy of Denmark to India announced the second edition of water innovation challenges to address the global water woes through innovations as part of the Indo-Danish Bilateral Green Strategic partnership.
About Water Innovation Challenge
Water Innovation Challenge aims to identify innovative & next-gen solutions to solve proposed challenges in collaboration with corporate and public partners.
The challenge is being conducted under the partnership of AIM, NITI Aayog and Innovation Center Denmark (ICDK) under the aegis of the Denmark Embassy in India and the Denmark Technical University (DTU).
The initiative will engage young talents from leading universities across the nation and support them in building their skills and applying their technical disciplines and innovation capacity.
The challenge winners will get the opportunity to represent India at the International Water Congress 2022.
Significance
This will aid in catalysing global cross-sectorial learning environments, innovation & impact on SDGs.
Current News Ecology & Environment Sustainable Developement
6th India Water Impact Summit
---
Recently, the 6th Edition of the India Water Impact Summit was organized. The valedictory session was organized in a hybrid mode by National Mission for Clean Ganga (NMCG), New Delhi and Centre for Ganga River Basin Management and Studies (cGanga), Kanpur.
Theme: The Summit was based on theme of 'River Resources Allocation- Planning and Management at the Regional Level'.
Key Highlights
It was highlighted that the Ganga River Basin Management Plan (GRBMP) developed by the 7 IIT consortium has given a very strong background and understanding of the Ganga Basin.
The various sessions organized included the following:

Need for identification and conducting systematic assessment and valuation of river resources;
Potential impact of water efficient solutions in maintaining the overall water balance of the country;
Implementation challenges of the river resources allocation plans; and
Need to inculcate a scientific understanding of rivers for developing sustainable policies and encourage the creation of circular water economy through water recycling and establishing a water trading market.

The 5-day Summit also witnessed the signing of an MoU between C-Ganga and Norwegian Institute of Bioeconomy Research (NIBIO) for the development of a sludge management framework.
Two MoUs have also been signed with Innovation Centre Denmark and UPS Hungary to encourage the sharing of knowledge and increase participation of Hungarian industry in the Ganga River Basin Restoration and Conservation Program.
An MoU between cGanga and British Water was also signed to promote the development of 21st century infrastructure in water and the environment sector.
An MoU between NMCG and the Centre for Policy Research (CPR), New Delhi - a premier public policy research think tank – was also signed. Both organizations shall work together to collaborate in research and knowledge production activities for rejuvenating rivers in India and informed policy thinking and institutional transformation for enduring outcomes for long-term impact.
Four important releases were launched which include the 'Uttarakhand River Atlas', 'Alaknanda and Bhagirathi River Basin Atlas', 'Yamuna River Basin Atlas' and the 'Samarth Ganga Report'.
News Crux Miscellaneous
Myanmar Allows Tether
---
Myanmar's shadow government has allowed the use of world's largest cryptocurrency called Tether.
Tether is a cryptocurrency, which is hosted on the Ethereum blockchain. Its tokens are issued by Tether Limited. Tether Limited is controlled by owners of Bitfinex.
Tether is called a stablecoin, since it was originally designed to always be worth US$1 and maintain $1.00 in reserves.
It can be transferred in a similar way as cryptocurrencies such as Bitcoin. Thus, it becomes difficult for governments and other authorities to track or prevent payments.
Current News Ecology & Environment Biodiversity
Buxa Tiger Reserve
---
Recently, a Royal Bengal tiger was sighted at the Buxa reserve - a first such sighting in 23 years.
Buxa Tiger Rserve (BRT)
Location
It is situated in the Alipurduar Sub-division of Jalpaiguri District, West Bengal.
Its northern boundary runs along the international border with Bhutan.
The Sinchula hill range lies all along the northern side of BTR and the eastern boundary touches that of the Assam state.
It is the easternmost extension of extreme bio-diverse North-East India and represents highly endemic Indo-Malayan region.
The fragile "Terai Eco-System" constitutes a part of this reserve.
The Phibsoo Wildlife Sanctuary of Bhutan is contiguous to the north of BTR. Manas National Park lies on east of BTR. BTR, thus, serves as international corridor for Asian elephant migration between India and Bhutan.
Flora
The forests of the reserve can be broadly classified as the 'Moist Tropical Forest'.
Fauna
Some important species found in the reserve are Indian Tiger (Panthera tigris tigris), Leopard (Panthera pardus), Clouded Leopard (Neofelis nebulosa), Hog badger (Arctonyx collaris), Jungle Cat (Felis chaus) etc.
Tribe
Dukpa(people from the land of thunderstorm) are the ancient ethnic group among the other inhabitants of Buxa Tiger Reserve.
Dukpas used live in the hamlets of Buxa Hills from east to west.
Rivers
The main rivers flowing across the Tiger Reserve are Sankosh, Raidak, Jayanti, Churnia, Turturi, Phashkhawa, Dima and Nonani.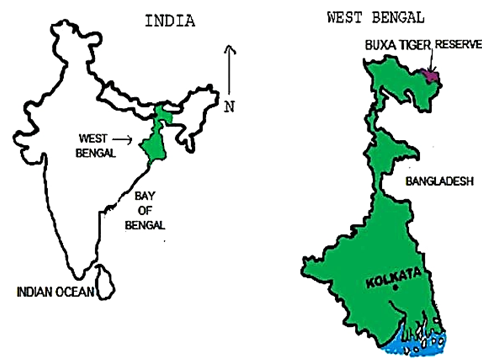 Tiger
Conservation Status
Indian Wildlife (Protection) Act, 1972: Schedule I
International Union for Conservation of Nature (IUCN) Red List: Endangered
Convention on International Trade in Endangered Species of Wild Fauna and Flora (CITES): Appendix I
---