News Crux Important Days/Weeks
15 October: International Day of Rural Women
---
The International Day of Rural Women is observed on 15 October.
This year's theme is "Rural women cultivating good food for all".
This year's theme highlights the role of rural women in agricultural production.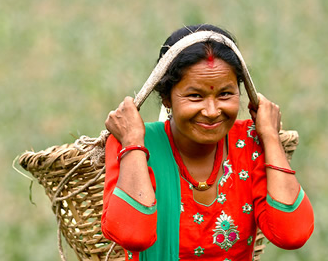 (Image Source: UNCTAD)

Current News National Social Issue & Social Justice
'Equality' to Women could reduce Malnourished People by 12-17%
---
Food systems worldwide depend on the labour of rural women.They raise and process crops, and prepare and distribute their products, ensuring that their families and communities are nourished.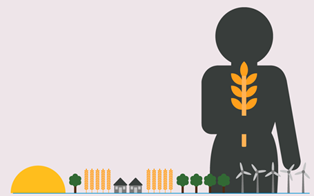 However, these same women often have less access to food, and suffer higher risk of hunger, malnutrition and food insecurity, when compared with men.
Discriminatory gender norms often see them eating last, or least, in the household, where they are also responsible for the greater share of unpaid caregiving and domestic work.
Improving the lives of rural women is key to fighting poverty and hunger. Giving women the same opportunities as men could rise agricultural productionby 2.5 to 4 per cent in the poorest regions and the number of malnourished people could be reduced by 12 to 17 percent.
Achieving gender equality and empowering women is not only the right thing to do but is a critical ingredient in the fight against extreme poverty, hunger and malnutrition.
This year's International Day of Rural Women (15 October), with the theme "Rural women cultivating good food for all" highlights the role of rural women in agricultural production and subsequent contribution towards fight against extreme poverty, hunger and malnutrition (critical role they play in feeding the world).
Contribution of Rural Women to Development
Women account for a substantial proportion of the agricultural labour force, including informal work, and perform the bulk of unpaid care and domestic work within families and households in rural areas. They make significant contributions to agricultural production, food security and nutrition, land and natural resource management, and building climate resilience.
On average, women make up more than 40 percent of the agricultural labour force in developing countries, ranging from 20 percent in Latin America to 50 percent or more in parts of Africa and Asia.
Smallholder agriculture produces nearly 80% of food in Asia and sub-Saharan Africa and supports the livelihoods of some 2.5 billion people.
Barriers Rural Women Face
Multi-Dimensional Poverty
Women and girls in rural areas suffer disproportionately from multi-dimensional poverty. While extreme poverty has declined globally, the world's 1 billion people, who continue to live in unacceptable conditions of poverty, are heavily concentrated in rural areas. Poverty rates in rural areas across most regions are higher than those in urban areas.
Discrimination/Exclusion
Access: Women farmers may be as productive and enterprising as their male counterparts but are less able to access land, credit, agricultural inputs, markets, and high-value agri-food chains and obtain lower prices for their crops. Women and girls in rural areas lack equal access to productive resources and assets, public services, such as education and health care, and infrastructure, including water and sanitation, while much of their labour remains invisible and unpaid, even as their workloads become increasingly heavy due to the out-migration of men.
Participation: Structural barriers and discriminatory social norms continue to constrain women's decision-making power and political participation in rural households and communities.
Exclusion: Globally, with few exceptions, every gender and development indicator for which data are available reveals that rural women fare worse than rural men and urban women and that they disproportionately experience poverty, exclusion, and the effects of climate change.
News Crux Important Days/Weeks
16 October: World Food Day
---
World Food Day (WFD) is observed on 16 October.
It is an initiative by the Food and Agricultural Organisation (FAO) of the United Nations.
This global event marks a day calling for worldwide awareness and collective action to combat the issue of hunger and ensure healthy diets for all.
The theme of this year's World Food Day, "Our actions are our future," calls on everyone to be a food hero contributing to the transformation of agri-food systems for Better Production, Better Nutrition, a Better Environment and a Better Life, leaving no one behind.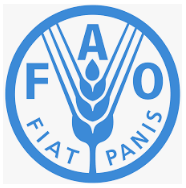 News Crux Important Days/Weeks
15 October: World Students Day
---
October 15 of every year is celebrated as World Students' Day in honour of former Indian president APJ Abdul Kalam, who was born on the same day in 1931.
The day aims to acknowledge the efforts of Kalam towards education and students. The United Nations Organisation (UNO) declared October 15 as World Students' Day in 2010.
This year, the theme for World Students' day is "Learning for people, planet, prosperity and peace", which aims to reaffirm the role of education as a fundamental right of every person across the world.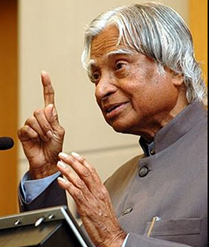 Current News International Reports,Survey And Index
Global Hunger Report 2021- A Flawed One: India
---
In the 2021 Global Hunger Index, India ranks 101st out of the 116 countries. Last year India was ranked at 94th.
With a score of 27.5, India has a level of hunger that is 'serious'.
The report was prepared jointly by Irish aid agency Concern Worldwide and German organisation Welt Hunger Hilfe.

Three Dimensions & Four Indicators of GHI
The Index tracks four indicators on three dimensions to measure progress toward Zero Hunger by 2030 at national, regional, and global levels.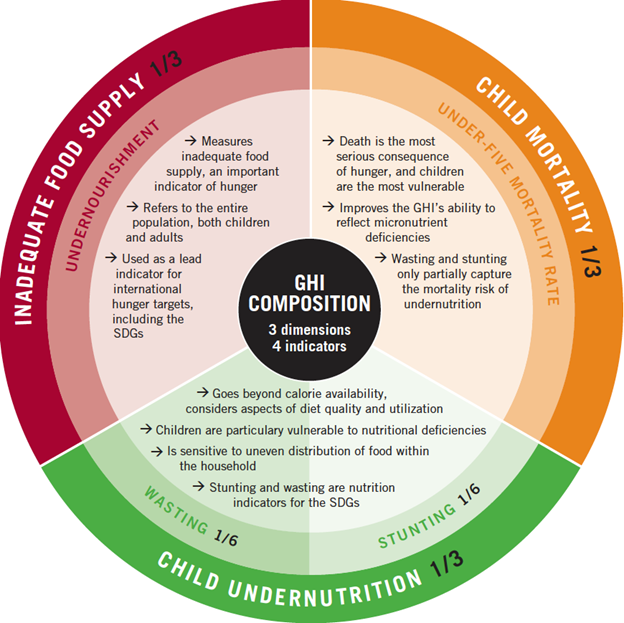 UNDERNOURISHMENT: the share of the population that is undernourished (that is, whose caloric intake is insufficient);
CHILD WASTING: the share of children under the age of five who are wasted (that is, who have low weight for their height, reflecting acute undernutrition);
CHILD STUNTING: the share of children under the age of five who are stunted (that is, who have low height for their age, reflecting chronic undernutrition); and
CHILD MORTALITY: the mortality rate of children under the age of five (in part, a reflection of the fatal mix of inadequate nutrition and unhealthy environments).
Based on the values of the four indicators the GHI determines hunger on a 100-point scale, where 0 is the best possible score (no hunger) and 100 is the worst.
Each country's GHI score is classified by severity, from low to extremely alarming.
Major Findings
Although GHI scores show that global hunger has been on the decline since 2000, progress is slowing. While the GHI score for the world fell 4.7 points, from 25.1 to 20.4, between 2006 and 2012, it has fallen just 2.5 points since 2012. After decades of decline, the global prevalence of undernourishment — one of the four indicators used to calculate GHI scores — is increasing. This shift may be a harbinger of reversals in other measures of hunger.
Somalia has the highest level of hunger according to the 2021 GHI ranking — its GHI score of 50.8 is considered extremely alarming.
It is preceded by five countries with levels of hunger that are alarming — Central African Republic, Chad, Democratic Republic of the Congo, Madagascar, and Yemen — and 31 countries that have serious levels of hunger.
India Specific Findings
As per this report, India's position on the first indicator, child mortality, has improved in 2021 compared with 2020. Position on two indicators, i.e., child wasting and child stunting, has remained unchanged in 2021 compared with 2020.
Only 15 Countries Fare Worse than India:These include Papua New Guinea (102), Afghanistan (103), Nigeria (103), Congo (105), Mozambique (106), Sierra Leone (106), Timor-Leste (108), Haiti (109), Liberia (110), Madagascar (111), Democratic Republic of Congo (112), Chad (113), Central African Republic (114), Yemen (115) and Somalia (116).
Behind Most of the Neighbouring Countries: Pakistan was placed at 92 rank, Nepal at 76 and Bangladesh also at 76.
India rejects GHI Findings
The Ministry of Women and Child Development termed the findings of the report "devoid of ground reality".
The factors that led to the criticism were
Unscientific Method: The methodology used by FAO is unscientific. They have based their assessment on the results of a 'four question' opinion poll, which was conducted telephonically by Gallup. The scientific measurement of undernourishment would require measurement of weight and Height.
Govt.'s Efforts not Considered: The report completely disregards Government's massive effort to ensure food security of the entire population during the covid period, verifiable data on which are available.
Questionable Questionnaire: The opinion poll does not have a single question on whether the respondent received any food support from the Government or other sources.
Representativeness in Question: The representativeness of even this opinion poll is doubtful for India and other countries. It is noted with surprise, from the FAO report 'The State of Food Security and Nutrition in the World 2021', that other four countries of this region – Afghanistan, Bangladesh, Nepal and Sri Lanka, have not been affected at all by Covid-19 pandemic induced loss of job/business and reduction in income levels, rather they have been able to improve their position on the indicator 'proportion of undernourished population'.
---