Current News National Indian Art, Culture & Heritage
Gupta Era Temple found with Inscriptions in 'Shankha' Lipi
---
The Archaeological Survey of India (ASI) has discovered the remains of an ancient temple from the reign of the Gupta Empire in Bilsarh village in Etah district of Uttar Pradesh.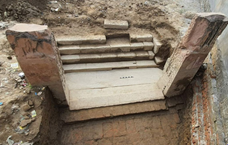 Highlights
An ancient staircase bearing inscriptions in the Shankhalipi (conch script or shell script) script (used between the 4th and 8th centuries CE) was found.
The text on the staircase bore the title of 'Sri Mahendradity' - a title accorded to Gupta ruler Kumaragupta I. He ruled over north-central India during the 5th century (CE).
The ancient stairs led to an undiscovered structural temple that was built during the Gupta era for Brahmins, Jains and Buddhists.
The recent discovery is significant in the sense that to date only two other structural temples from the Gupta age have been found- Dashavatara Temple (Deogarh) and Bhitargaon Temple (Kanpur Dehat).
Guptas were the first to build structural temples (use of stone blocks), a distinct change from the ancient rock-cut temples (rock cut temples are monolithic structure, i.e. they are cut out of a single stone).
Current News Ecology & Environment Biodiversity
World's First 5-Country Biosphere Reserve
---
The United Nations Educational, Scientific and Cultural Organization (UNESCO) has designated Mura-Drava-Danube (MDD) as the world's first 'five-country biosphere reserve'.
Aim
The strategy's aim is to revitalise 25,000 km of rivers and protect 30 per cent of the European Union's land area by 2030.
Area Covered
The biosphere reserve covers 700 kilometres of the Mura, Drava and Danube rivers and stretches across Austria, Slovenia, Croatia, Hungary and Serbia.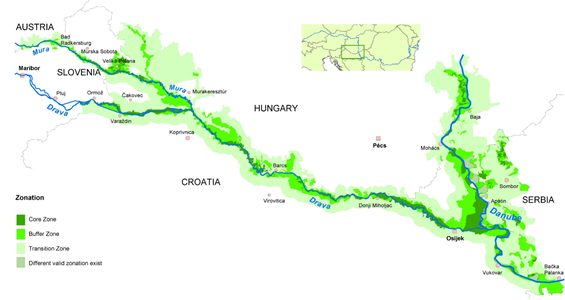 Source: WWF
The total area of the reserve — a million hectares — in the so-called 'Amazon of Europe', makes it the largest riverine protected area on the continent.
Current News Ecology & Environment Survey/Study/Report
'United in Science 2021' Report
---
A new climate change report (United in Science 2021) was released on 16th September 2021 shows that limiting global warming to 1.5 degrees Celsius will be impossible without immediate, large-scale emissions cuts.
The report, published by a range of UN agencies and scientific partners just weeks before the COP26 climate summit, said that climate change and its impacts were accelerating. And a temporary reduction in carbon emissions caused by the COVID-19 pandemic had done nothing to slow the relentless warming, the report found.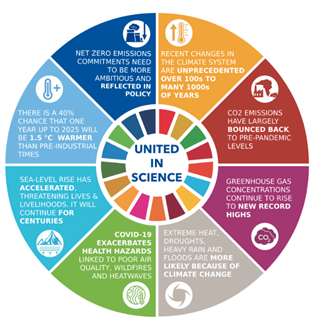 Key Findings of the Report
Greenhouse Gas Concentrations in the Atmosphere (Global Atmosphere Watch/WMO)
Concentrations of the major greenhouse gases – CO₂, CH₄ and N₂O – continued to increase in 2020 and the first half of 2021.
Overall emissions reductions in 2020 likely reduced the annual increase of the atmospheric concentrations of long-lived greenhouse gases, but this effect was too small to be distinguished from natural variability.
Reducing atmospheric methane (CH₄) in the short term could support the achievement of the Paris Agreement. This does not reduce the need for strong, rapid and sustained reductions in CO₂ and other greenhouse gases.
Global Carbon Budget – GCP (Global Carbon Project)
Fossil CO₂ emissions – coal, oil, gas and cement – peaked at 36.64 GtCO₂ in 2019, followed by an extraordinary drop of 1.98 GtCO₂ (5.6%) in 2020 due to the COVID-19 pandemic.
The drop in CO₂ emissions is temporary, and based on preliminary estimates, from January–May 2021 global emissions in the power, industry and residential sectors were already at the same level or higher than in the same period in 2019. Emissions from road transport remained about 6% lower.
Recent emissions trends of N₂O, the third most important greenhouse gas after CO₂ and CH₄, exceed the most greenhouse gases intense socioeconomic pathways used to explore future climate change.
Global Climate in 2017–2021 (WMO)
The global average mean surface temperature for the period from 2017–2021 is among the warmest on record, estimated at 1.06 °C to 1.27 °C above pre-industrial (1850–1900) levels.
In every year from 2017 to 2021, the Arctic average summer minimum and average winter maximum sea-ice extent were below the 1981–2010 long term average. In September 2020, the Arctic sea-ice extent reached its second lowest minimum on record.
2021 recorded devastating extreme weather and climate events – a signature of man-made climate change has been identified in the extraordinary North American extreme heat and west European floods.
Highlights of IPCC Climate Change 2021 - The Physical Science Basis for the Current State of Climate (IPCC)
It is unequivocal that human influence has warmed the atmosphere, ocean and land. Widespread and rapid changes in the atmosphere, ocean, cryosphere and biosphere have occurred.
The scale of recent changes across the climate system as a whole and the present state of many aspects of the climate system are unprecedented over many centuries to many thousands of years.
Human-induced climate change is already increasing the frequency and intensity of many weather and climate extremes in every region across the globe.
Heatwaves, Wildfires, and Air Pollution: Compounding and Cascading Climate Hazards to Health (WHO/WMO)
Rising temperatures are linked to increased heat-related mortality and work impairment, with an excess of 103 billion potential work hours lost globally in 2019 compared with those lost in 2000.
COVID-19 recovery efforts should be aligned with national climate change and air quality strategies to reduce risks from compounding and cascading climate hazards, and gain health co-benefits.
Sea- level and Coastal Impacts WCRP (WMO/IOC/ISC)
Global mean sea levels rose 20 cm from 1900 to 2018 and at an accelerated rate of 3.7+0.5 mm/yr from 2006 to 2018.
Even if emissions are reduced to limit warming to well below 2 °C, global mean sea level would likely rise by 0.3–0.6 m by 2100, and could rise 0.3–3.1 m by 2300.
Adaptation to this residual rise will be essential – adaptation strategies are needed where they do not exist – especially in low-lying coasts, small islands, deltas and coastal cities.
Global Climate in 2021–2025 – WMO Global Annual to Decadal Climate Update (Met Office/WMO/WCRP)
Annual global mean near-surface temperature is likely to be at least 1 °C warmer than pre-industrial levels (defined as the 1850–1900 average) in each of the coming five years and is very likely to be within the range 0.9 °C to 1.8 °C.
Over 2021–2025, high latitude regions and the Sahel are likely to be wetter than the recent past.
There is a 40% chance that average global temperature in one of the next five years will be at least 1.5 °C warmer than pre-industrial levels but it is very unlikely (~10%) that the 5-year mean temperature for 2021–2025 will be 1.5 °C warmer than pre-industrial levels.
Emissions Gap (United Nations Environment Programme – UNEP)
Five years after the adoption of the Paris Agreement, the emissions gap is as large as ever: global emissions need to be 15 GtCO₂e lower than current unconditional Nationally Determined Contributions (NDCs) imply for a 2 °C goal, and 32 GtCO₂e lower for the 1.5 °C goal.
The COVID-19 crisis offers only a short-term reduction in global emissions. It will not significantly reduce emissions by 2030 unless countries pursue an economic recovery that incorporates strong decarbonization.
The increasing number of countries committing to net-zero emission goals is encouraging, with about 63% of global emissions now covered by such goals. However, to remain feasible and credible, these goals urgently need to be reflected in near-term policy and in significantly more ambitious NDCs for the period to 2030.
PIB News National
'Reforms in Urban Planning Capacity in India': A Report by NITI Aayog
---
On 16th September 2021, NITI Aayog launched a report titled 'Reforms in Urban Planning Capacity in India' on measures to ramp up urban planning capacity in India.
Reforms in Urban Planning Capacity: Summary
India is home to 11% of the total global urban population. By 2027, India will surpass China as the most populous country in the world. Unplanned urbanization, however, exerts great strain on our cities. In fact, the Covid-19 pandemic has revealed the dire need for the planning and management of our cities.
Urban planning is the foundation for an integrated development of cities, citizens, and the environment. Unfortunately, it has received due attention so far. The existing urban planning and governance framework is complex, which often leads to ambiguity and lack of accountability.
The report makes several recommendations that can unblock bottlenecks in the value chain of urban planning capacity in India. Some of them are:
Programmatic Intervention for Planning of Healthy Cities: Every city must aspire to become a 'Healthy City for All' by 2030. The report recommends a Central Sector Scheme '500 Healthy Cities Programme', for a period of 5 years, wherein priority cities and towns would be selected jointly by the states and local bodies.
Programmatic Intervention for Optimum Utilization of Urban Land: All the cities and towns under the proposed 'Healthy Cities Programme' should strengthen development control regulations based on scientific evidence to maximize the efficiency of urban land (or planning area). The report recommends a sub-scheme 'Preparation/Revision of Development Control Regulations' for this purpose.
Ramping Up of Human Resources: To combat the shortage of urban planners in the public sector, the report recommends that the states/UTs may need to a) expedite the filling up of vacant positions of town planners, and b) additionally sanction 8268 town planners' posts as lateral entry positions for a minimum period of 3 years and a maximum of 5 years to meet the gaps.
Ensuring Qualified Professionals for Undertaking Urban Planning: State town and country planning departments face an acute shortage of town planners. This is compounded by the fact that in several states, ironically, a qualification in town planning is not even an essential criterion for such jobs. States may need to undertake requisite amendments in their recruitment rules to ensure the entry of qualified candidates into town-planning positions.
Re-engineering of Urban Governance: There is a need to bring in more institutional clarity and also multi-disciplinary expertise to solve urban challenges. The report recommends the constitution of a high-powered committee to re-engineer the present urban-planning governance structure. The key aspects that would need to be addressed in this effort are:

clear division of the roles and responsibilities of various authorities, appropriate revision of rules and regulations, etc.,
creation of a more dynamic organizational structure, standardisation of the job descriptions of town planners and other experts, and
extensive adoption of technology for enabling public participation and inter-agency coordination.

Revision of Town and Country Planning Acts: Most States have enacted the Town and Country Planning Acts, that enable them to prepare and notify master plans for implementation. However, many need to be reviewed and upgraded. Therefore, the formation of an apex committee at the state level is recommended to undertake a regular review of planning legislations (including town and country planning or urban and regional development acts or other relevant acts).
Demystifying Planning and Involving Citizens: While it is important to maintain the master plans' technical rigour, it is equally important to demystify them for enabling citizens' participation at relevant stages. Therefore, the committee strongly recommends a 'Citizen Outreach Campaign' for demystifying urban planning.
Steps for Enhancing the Role of Private Sector: The report recommends that concerted measures must be taken at multiple levels to strengthen the role of the private sector to improve the overall planning capacity in the country. These include the adoption of fair processes for procuring technical consultancy services, strengthening project structuring and management skills in the public sector, and empanelment of private sector consultancies.
Steps for Strengthening Urban Planning Education System
The Central universities and technical institutions in all the other States/UTs are encouraged to offer postgraduate degree programmes (MTech Planning) to cater to the requirement of planners in the country in a phased manner.
The committee also recommends that all such institutions may synergize with Ministry of Rural Development, Ministry of Panchayati Raj and respective state rural development departments/directorates and develop demand-driven short-term programmes on rural area planning.
'Planning' as an umbrella term, including all its specializations such as environment, housing, transportation, infrastructure, logistics, rural area, regional, etc., or any other nomenclature approved by AICTE, should be included as a discipline under the National Institute Ranking Framework (NIRF) of MoE to encourage a healthy competition among the institutions.
The committee recommends that AICTE may retain the names of specializations based on industry requirements, while limiting them to an appropriate number, as 25 nomenclatures seem too high for market acknowledgement and absorption.
Faculty shortage in educational institutions conducting degree and PhD programmes in planning need to be resolved in a time bound manner by 2022.
Measures for Strengthening Human Resource and Match Demand–Supply: The report recommends the constitution of a 'National Council of Town and Country Planners' as a statutory body of the Government of India. Also, a 'National Digital Platform of Town and Country Planners' is suggested to be created within the National Urban Innovation Stack of MoHUA. This portal will enable self-registration of all planners and evolve as a marketplace for potential employers and urban planners.
---