World's First 5-Country Biosphere Reserve
---
World's First 5-Country Biosphere Reserve
---
The United Nations Educational, Scientific and Cultural Organization (UNESCO) has designated Mura-Drava-Danube (MDD) as the world's first 'five-country biosphere reserve'.
Aim
The strategy's aim is to revitalise 25,000 km of rivers and protect 30 per cent of the European Union's land area by 2030.
Area Covered
The biosphere reserve covers 700 kilometres of the Mura, Drava and Danube rivers and stretches across Austria, Slovenia, Croatia, Hungary and Serbia.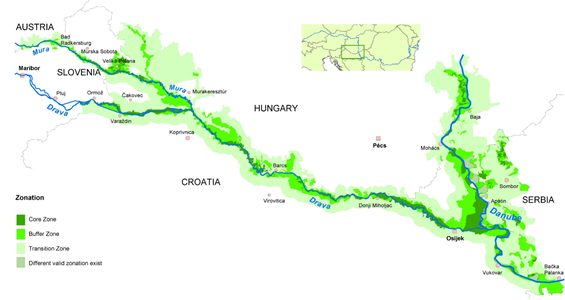 Source: WWF
The total area of the reserve — a million hectares — in the so-called 'Amazon of Europe', makes it the largest riverine protected area on the continent.