Current News Indian Economy Agriculture & Allied Sector
Revamping of Pradhan Mantri Fasal Bima Yojana
---
Aiming to roll out an overhauled Pradhan Mantri Fasal Bima Yojana (PMFBY) from kharif 2022, the government has constituted a working group comprising officials from Centre, key crop-producing states and top executives of public sector insurance companies to suggest "sustainable, financial and operational models."
Need
The move comes after many states quit the scheme, defeating the objective of protecting farmers' income.
Aim
With a view to achieving sustainable underwriting capacities of insurers and rationalised premium pricing to cut subsidy burden on the government, the working group is expected to address the demand of an alternative model.
Issues with the Scheme
Premium
The Centre has identified a hardening of premium market, lack of sufficient participation in tenders, inadequate underwriting capacity of insurers as major issues that adversely impacted PMFBY during implementation of the scheme.
The premium to be paid by farmers is fixed at 1.5% of the sum insured for rabi crops and 2% for Kharif crops, while it is 5% for cash crops under PMFBY. The balance premium is split equally between the Centre and states. Many states have demanded their share of the premium subsidy be capped at 30% while some others demand the Centre to bear the entire subsidy.
Fall in Enrollment
According to provisional data of 19 states (excluding Karnataka), there is over 10% fall in enrollment of farmers under crop insurance during Kharif 2021 from last season's 1.68 crore. (Karnataka is not included since this year's Kharif data of the state is yet to be uploaded in the central portal).
Among major producing states namely Chhattisgarh, Madhya Pradesh, Maharashtra, Odisha, Rajasthan, Tamil Nadu and Uttar Pradesh the fall in enrollment is in the range of 2-75%.
Low Coverage
It is a concern as less than 12% of 14.6 crore land owning farmers are covered under crop insurance during kharif despite the fact that 52% of the country's farm land does not have assured irrigation facility and depends on monsoon.
Current Status of the Scheme in some States
Exits: Gujarat, Andhra Pradesh, Telangana, Jharkhand, West Bengal and Bihar exited the scheme, citing the cost of the premium subsidy to be borne by them.
Never Implemented: The state of Punjab has not implemented crop insurance scheme.
States with their own Schemes: Bihar, West Bengal and Andhra Pradesh have their schemes under which farmers do not pay any premium, but they receive a fixed amount of compensation in case of crop failure.
Why Revival of the Scheme is Important?
No other scheme than PMFBY will ensure a stable income during calamities.
It will also be a big setback for government's target to double farmers' income.
What will the Working Group do?
Work on Premium: The working group will find out reasons for high premium rates and suggest mechanism to rationalize them including the option of creating a risk pool.
Define Role of States: It will define role of state governments, as they are the implementing agencies.
Settlement of Claims: Other issues to be looked into by the group also include a detailed study on the feasibility to adopt suitable technology-based approaches for early settlement of claims by modifying traditional methodology of Crop Cutting Experiments (CCEs) for loss estimation.
About the Group
The newly formed group, headed by CEO of PMFBY (Ritesh Chauhan), will have principal secretaries (agriculture) of Maharashtra, Madhya Pradesh, Rajasthan, Gujarat, Assam, Tamil Nadu, Uttar Pradesh and Odisha as members.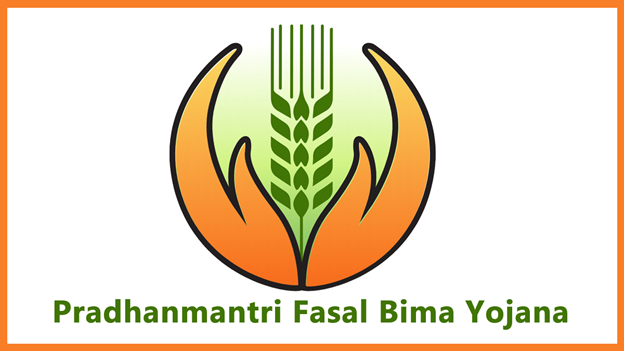 (Source: Financial Express)
PIB News Science & Technology
"Aadhaar Hackathon 2021"
---
This year is important for Aadhaar, as it is transitioning to the next decade of its existence, with a renewed objective to further improvise resident experience and various services offered by the UIDAI.
To celebrate this momentous occasion, UIDAI is hosting a Hackathon titled "Aadhaar Hackathon 2021" targeted at young innovators - who are still at various Engineering institutes and eager to step into the real world.
The hackathon is starting on 28 Oct 21 at 0000Hrs and would continue till 31 Oct 21 up to 2300Hrs.
Aadhaar Hackathon 2021 is themed around two topics. The first theme is around "Enrolment and Update", which essentially covers some of the real-life challenges being faced by the residents while updating their address.
The second theme of the Hackathon is around the "Identity and Authentication" solution offered by UIDAI. Under this theme, UIDAI is soliciting innovative solutions to prove Identity without sharing the Aadhaar number or any demographics information. Also, it is looking for innovative applications around face authentication API - the newly launched authentication modality of UIDAI. The objective is to popularize some of the existing and new APIs to solve the needs of residents.
To solve these challenges through innovative technological solutions, UIDAI is reaching out to the young minds of all the Engineering colleges.
PIB News National
NITI Aayog Launches Geospatial Energy Map of India
---
On 18th October 2021, Niti Aayog launched 'Geospatial Energy Map of India'.
NITI Aayog in collaboration with Indian Space Research Organisation (ISRO) has developed a comprehensive Geographic Information System (GIS) Energy Map of India with the support of Energy Ministries of Government of India.
The GIS map provides a holistic picture of all energy resources of the country which enables visualisation of energy installations such as conventional power plants, oil and gas wells, petroleum refineries, coal fields and coal blocks, district-wise data on renewable energy power plants and renewable energy resource potential, etc through 27 thematic layers.
The map attempts to identify and locate all primary and secondary sources of energy and their transportation/transmission networks to provide a comprehensive view of energy production and distribution in a country.
It is a unique effort aimed at integrating energy data scattered across multiple organizations and to present it in a consolidated, visually appealing graphical manner. It leverages latest advancements in web-GIS technology and open-source software to make it interactive and user friendly.
Benefits
The Geospatial Energy Map of India will be useful in planning and making investment decisions. It will also aid in disaster management using available energy assets.
GIS-mapping of energy assets will be useful for ensuring real-time and integrated planning of energy sector of India, given its large geographical distribution and interdependence.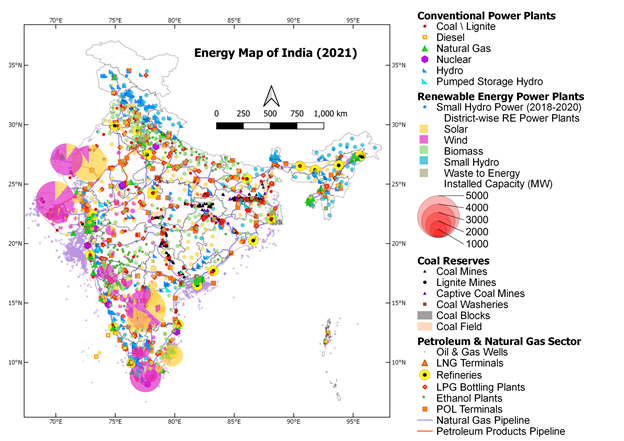 News Crux Awards In News
'Takachar' Project from India won inaugural 'Earthshot Prize'
---
A Delhi-based entrepreneur's agricultural waste recycling project was named among the winners of Prince William's inaugural Earthshot Prize, dubbed the "Eco Oscars", at a ceremony in London on October 17.
Vidyut Mohan led 'Takachar' was named the winner of the GBP 1 million prize for its cheap technology innovation to convert crop residues into sellable bio-products in the "clean our air" category.
It was among five worldwide winners of the prize, created by Prince William, the Duke of Cambridge, to reward people trying to save the planet.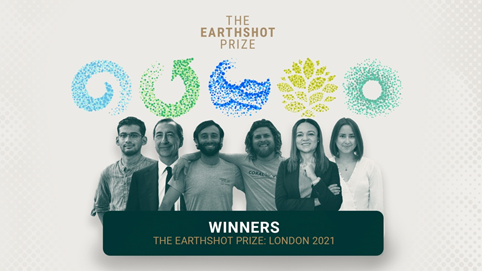 (Image Source: earthshotprize.org)

About Takachar
Takachar has developed a cheap, small-scale, portable technology that attaches to tractors in remote farms. The machine converts crop residues into sellable bio-products like fuel and fertiliser.
Takachar reduces smoke emissions by up to 98%, aimed at helping improve the air quality that currently reduces the affected population's life expectancy by up to five years.
If scaled, it could cut a billion tonnes of carbon dioxide a year.
Other Winners in Different Categories
"Protect and Restore Nature": Costa Rica - for a scheme paying local citizens to restore natural ecosystems that has led to a revival of the rainforest.
"Revive our Oceans": A project run by two best friends who are growing coral in the Bahamas designed to restore the world's dying coral reefs.
"Build a Waste-free World": A waste-busting initiative from Milan, Italy.
"Fix our Climate": A renewable energy project to make hydrogen by splitting water into hydrogen and oxygen from Thailand, Germany and Italy.
---