'Takachar' Project from India won inaugural 'Earthshot Prize'
---
'Takachar' Project from India won inaugural 'Earthshot Prize'
---
A Delhi-based entrepreneur's agricultural waste recycling project was named among the winners of Prince William's inaugural Earthshot Prize, dubbed the "Eco Oscars", at a ceremony in London on October 17.
Vidyut Mohan led 'Takachar' was named the winner of the GBP 1 million prize for its cheap technology innovation to convert crop residues into sellable bio-products in the "clean our air" category.
It was among five worldwide winners of the prize, created by Prince William, the Duke of Cambridge, to reward people trying to save the planet.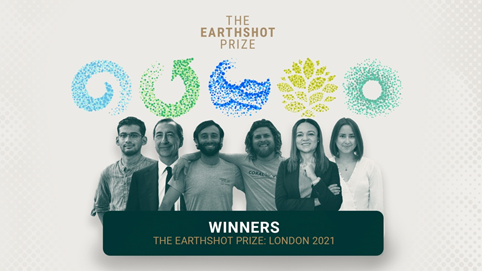 (Image Source: earthshotprize.org)

About Takachar
Takachar has developed a cheap, small-scale, portable technology that attaches to tractors in remote farms. The machine converts crop residues into sellable bio-products like fuel and fertiliser.
Takachar reduces smoke emissions by up to 98%, aimed at helping improve the air quality that currently reduces the affected population's life expectancy by up to five years.
If scaled, it could cut a billion tonnes of carbon dioxide a year.
Other Winners in Different Categories
"Protect and Restore Nature": Costa Rica - for a scheme paying local citizens to restore natural ecosystems that has led to a revival of the rainforest.
"Revive our Oceans": A project run by two best friends who are growing coral in the Bahamas designed to restore the world's dying coral reefs.
"Build a Waste-free World": A waste-busting initiative from Milan, Italy.
"Fix our Climate": A renewable energy project to make hydrogen by splitting water into hydrogen and oxygen from Thailand, Germany and Italy.