News Crux Art/Culture/Heritage
India's Cultural Touch to 'Quad'
---
During the recent 'Quad' Summit in Japan, Indian Prime Minister presented gifts that carry India's rich cultural heritage.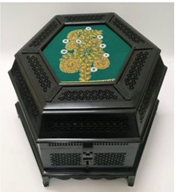 Brief on the Artefacts Presented
Sanjhi Art for US President Joe Biden
Sanjhi, the art of hand cutting designs on paper, is an art form from Mathura in Uttar Pradesh. Traditionally motifs from Lord Krishna stories are created in stencils.
The Sanjhi panel presented was based on the theme of Thakurani Ghat from Mathura.
Wooden Handcarved Box with Rogan Painting to Japanese PM Fumio Kishida
This artwork is a combination of two different arts — Rogan painting and wooden handcarving.
Rogan painting is an art of cloth printing practiced in the Kutch District of Gujarat. In this craft, paint made from boiled oil and vegetable dyes is laid down on fabric using either a metal block (printing) or a stylus (painting). The craft nearly died out in the late 20th century, with Rogan painting being practised by only one family.
Handcarving on wood is an intricate art inspired by traditional jali designs taken from famous monuments of India.
Gond Art Painting for Australian PM Anthony Albanese
Gond paintings are one of the most admired tribal art forms. The word 'Gond' comes from the expression 'Kond' which means 'green mountain'.
These paintings, created by dots and lines, have been a part of pictorial art on walls and floors of Gonds and it is done with the construction and re-construction of each and every house, with locally available natural colors and materials like charcoal, coloured soil, plant sap, leaves, cow dung, lime stone powder, etc.
Pattamadai Silk Mats for Former Japan PMs
Pattamadai, a small village in Tirunelveli district, is home to a unique tradition of superfine silk mat weaving from 'korai' grass grown on the banks of river Tamiraparani.
The mats are hand-woven using cotton or silk in the weft. Use of silk thread gives a royal sheen and definite appeal to the mat.
The most unique aspect of a Pattamadai mat is how soft and flexible it is.
News Crux Miscellaneous
IOC launches first OVEP in India
---
On 24th May 2022, the International Olympic Committee (IOC) launched the first Olympic Values Education Programme (OVEP) in India, with the Olympism-themed curriculum being integrated into the school education system in the state of Odisha.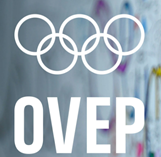 In its first year, the programme aims to impact 32,000 children enrolled in 90 schools in the cities of Bhubaneswar and Rourkela and, once in full swing, it will reach around 7 million children.
About OVEP
The Olympic Values Education Programme (OVEP) is based on the Olympic philosophy that learning takes place through the balanced development of body and mind.
The Olympic Values Education Programme is a series of free and accessible teaching resources created by the IOC, to complement academic curricula using the context of Olympic sports and the core principles of Olympism.
Participants are encouraged to experience values-based learning and to assume the responsibilities of good citizenship. OVEP communicates the long-term benefits of sport and physical activity through an understanding of Olympism and its impact on individual health, enjoyment, and social interaction.
News Crux Miscellaneous
Swachh Survekshan-2023 Launched
---
Union Government has launched the Eighth Edition of Swachh Survekshan – SS-2023 under Swachh Bharat Mission Urban 2.0.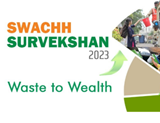 Designed with the theme of 'Waste to Wealth' as its driving philosophy, Swachh Survekshan- 2023 is curated towards achieving circularity in waste management.
The survey would give priority to the principle of 3 Rs- Reduce, Recycle and Reuse.
Current News International International Treaties & Agreements
Indo-Pacific Economic Framework for Prosperity
---
A day before the QUAD leaders' meeting in Tokyo on May 24th, 2022, India and 12 other countries joined the Indo-Pacific Economic Framework for Prosperity (IPEF) unveiled by US President Joe Biden.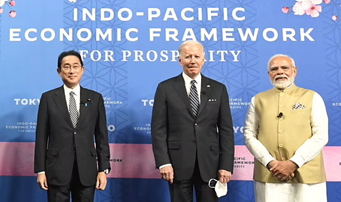 The framework envisions a free, open and secure Indo-Pacific Region.
The IPEF seeks to strengthen economic partnership among participating countries with the objective of enhancing sustainability, resilience, inclusiveness, economic growth, fairness and competitiveness in the Indo-Pacific region.
President Biden announced that a dozen Indo-Pacific countries that represent 40 percent of the global GDP will join the US in a sweeping economic initiative that has been designed to counter China's influence in the region.
The countries include all those falling in the Indo Pacific Region including Indonesia, Australia, Brunei, Malaysia, Thailand, Japan, Republic of Korea, New Zealand, the Philippines, Singapore and Vietnam.
Prime Minister Narendra Modi participated in the event and underlined that the foundation of resilient supply chains must be 3Ts - Trust, Transparency and Timeliness.
---