Current Affairs -29 December 2022
Current News National Defence
Night trials of Ballistic Missile Agni V
---
On December 15, 2022, India has successfully conducted night trials of nuclear-capable ballistic missile Agni V.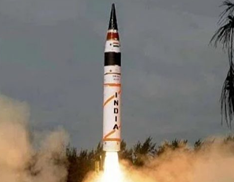 The missile is capable of striking targets at ranges up to 5,000 kilometers with very high degree of accuracy.
The missile test firing was conducted from APJ Abdul Kalam Island off the Odisha coast at around 5.30 pm.
About Agni Missiles
The Agni missile class is the backbone of India's nuclear launch capability, as are Prithvi short-range ballistic missiles, submarine-launched ballistic missiles, and fighter aircraft.
Agni-1 to 5 missiles are designed & developed by Defence Research and Development Organisation (DRDO).
Other Ranges of Agni Missiles:

Agni I: Range of 700-800 km.
Agni II: Range more than 2000 km.
Agni III: Range of more than 2,500 Km
Agni IV: Range is more than 3,500 km and can fire from a road mobile launcher.
Agni-V: The longest of the Agni series, an Inter-Continental Ballistic Missile (ICBM) with a range of over 5,000 km.

Agni-5 is an ingeniously built advanced surface-to-surface ballistic missile developed under the Integrated Guided Missile Development Programme (IGMDP).
It is a fire-and-forget missile, which cannot be stopped without an interceptor missile.
The missile has the capability of hitting targets beyond the range of 5000 km and is crucial for India's self-defense systems.
The Integrated Guided Missile Development Programme (IGMDP) was launched in 1982-83 by the Indian Government which saw the projects of:
Prithvi (Short range surface to surface missile)
Trishul (short range surface to air missile)
Aakash (Medium range surface to air missile)
Nag (Third generation anti-tank missile)
Agni-I (Agni missile was later separated from the IGMDP due to its strategic importance)
Current News Ecology & Environment Pollution
World Bank Report on Air Pollution
---
On December 14, 2022, the World Bank released a report titled 'Striving for Clean Air: Air Pollution and Public Health in South Asia'.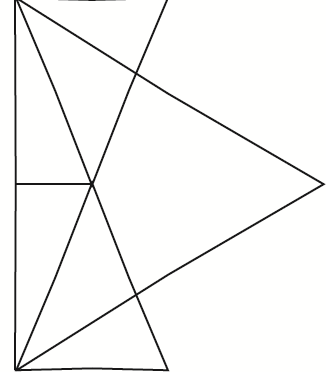 Background
Persistently hazardous levels of air pollution have caused public health crises in South Asia demanding urgent action.
Using a modelling approach over South Asia as a whole, the WB report lays out multiple scenarios and costs involved in reducing the region's exposure to particulate matter (PM).
Key Highlights of the Report
Over 60% of South Asians are exposed to an average of 35 µg/m3 of PM2.5.
In some parts of the Indo-Gangetic Plain (IGP) it spiked to as much as 100 µg/m3 – nearly 20 times the upper limit of 5 µg/m3 recommended by the WHO.
According to a World Bank report, India has six large Airsheds, some of them shared with Pakistan, between which air pollutants move. They are:
West/Central Indo-Gangetic Plain (IGP) that included Punjab (Pakistan), Punjab (India), Haryana, part of Rajasthan, Chandigarh, Delhi, and Uttar Pradesh.
Central/Eastern IGP: Bihar, West Bengal, Jharkhand, Bangladesh
Middle India: Odisha/Chhattisgarh
Middle India: Eastern Gujarat/Western Maharashtra
Northern/Central Indus River Plain: Pakistan, part of Afghanistan; and
Southern Indus Plain and further west: South Pakistan, Western Afghanistan extending into Eastern Iran.
When the wind direction was predominantly northwest to the southeast, 30% of the air pollution in Indian Punjab came from the Punjab Province in Pakistan and, on average, 30% of the air pollution in the largest cities of Bangladesh (Dhaka, Chittagong, and Khulna) originated in India.
What are Airsheds?
The World Bank defines an airshed as a common geographic area where pollutants get trapped, creating similar air quality for everyone.
The concept is demonstrated by a 2019 study that found approximately half of the population-weighted PM2.5 in Delhi comes from outside the territory, of which 50% is from Haryana and Uttar Pradesh.
Major sources of Air Pollution in South Asia
Large industries, power plants and vehicles are dominant sources of air pollution around the world;

But in South Asia, other sources make substantial additional contributions.
These include combustion of solid fuels for cooking and heating, emissions from small industries such as brick kilns, burning of municipal and agricultural waste, and cremation.

Air pollution travels long distances— crossing municipal, state, and national boundaries—and gets trapped in large "airsheds" that are shaped by climatology and geography.
Indian Efforts to curb Air Pollution
The National Clean Air Campaign (NCAP) (2019) aims to reduce (40% over 2017 levels by 2025-26) air pollution in 131 of India's most polluted cities.
The government of India has set aside $1.7 billion to fight air pollution over the next five years, as per the recommendation of the 15th Finance Commission.
(SAFAR) Portal: SAFAR is a national initiative introduced by the Ministry of Earth Sciences (MoES) to measure the air quality of a metropolitan city.
Air Quality Index: AQI has been developed for eight pollutants viz. PM2.5, PM10, Ammonia, Lead, nitrogen oxides, sulphur dioxide, ozone, and carbon monoxide.
Parliament has approved to the establishment of the Commission of Air Quality Management in the National Capital Region and adjoining areas.
The clean air action plan is implemented across the states with guidelines from WB.
---