News Crux Survey/Index
North Eastern Region District SDG Index and Dashboard 2021–22
---
On 26th August, 2021 the first edition of the North Eastern Region (NER) District SDG Index Report and Dashboard 2021–22 was released by NITI Aayog and Ministry of Development of North Eastern Region (M/DoNER) with technical support from UNDP.
Aim of the Index
The NER District SDG Index aims at delineating progress at the district level on a basket of indicators and enhancing analytical understanding of sectoral issues as well as data gaps, while assisting in designing future courses of action in the region.
The modular nature of the index makes it a policy tool and a ready reckoner for gauging progress of districts on the expansive set of the Global Goals, including health, education, gender, economic growth, institutions, climate change and environment, among others.
About the Index
The index is based on NITI Aayog's SDG India Index –the principal and official tool for monitoring progress on the SDGs at the national and State/ Union Territory levels and shares the common ethos of benchmarking performance and ranking on the SDGs to foster competition among the districts.
The index offers insights into the social, economic, and environmental status of the region and its districts in their march towards achieving the SDGs.
It is a unique policy tool which has immense potential to measure district level progress, highlight critical gaps, facilitate resource allocation, and will be a handy tool for policy makers in the eight North Eastern States, Ministry of DoNER and other Union Ministries.
Indicators & Goals
The NER District SDG Index and Dashboard 2021–22 tracks progress of the districts of all eight States of the region on 84 indicators that are aligned to the Ministry of Statistics and Programme Implementation's (MoSPI) National Indicator Framework (NIF). The 84 indicators cover 15 of the Global Goals across 50 targets.
Coverage: Eight States (103 Districts)
The Index measured the performance of 103 districts of the eight States of Arunachal Pradesh, Assam, Manipur, Meghalaya, Mizoram, Nagaland, Sikkim and Tripura on the Sustainable Development Goals and their corresponding targets and ranks the districts based on the same.
Overall Results and Findings
Out of the 103 districts considered for ranking, 64 districts belonged to the Front Runner category while 39 districts were in the Performer category in the composite score and ranking of districts.
All districts in Sikkim and Tripura fall in the Front Runner category and there are no districts in the Aspirant or Achiever categories.
Top Three Districts
East Sikkim
Gomati and North Tripura
West Tripura
Bottom Three Districts
North Garo Hills
Kamle
East Kameng, Phek
Goal-wise: Good Performers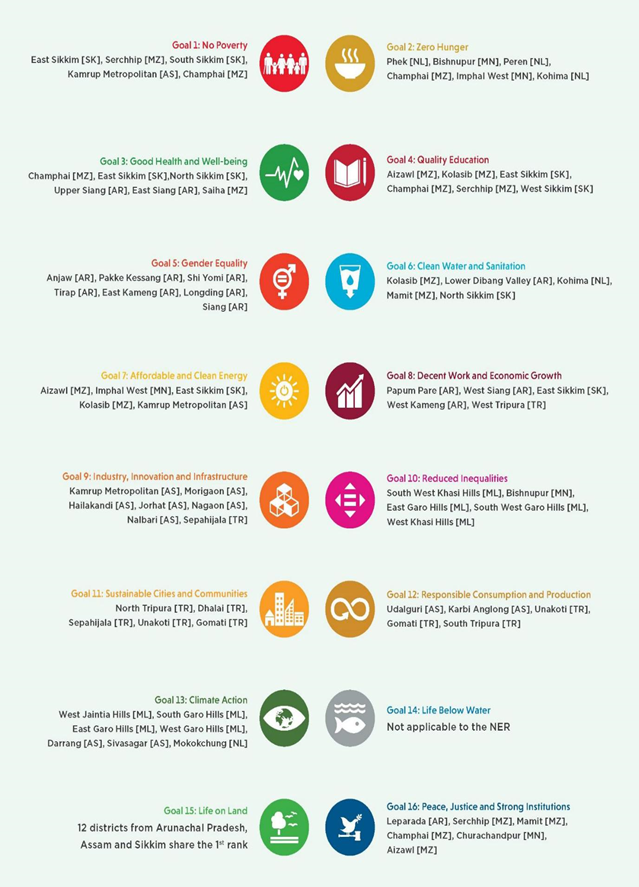 Sports In News Wrestling
Uttar Pradesh Govt. adopts Indian Wrestling Sport till 2032 Olympics
---
Taking a leaf from Odisha Govt.'s support for Hockey, the Uttar Pradesh government has adopted wrestling sport and is expected to pump in an investment of Rs 170 crore in infrastructure and support to the wrestlers till the 2032 Olympics.
The WFI had also roped in Tata Motors in 2018 as principal sponsors of Indian wrestling, a partnership which had brought with it a financial support of Rs 12 crore that allowed the federation to give away central contracts to wrestlers till the Tokyo Games.
This deal with the UP government will allow WFI to plan exposure trips to foreign countries even for India's Cadet level wrestlers. As of now, only the senior and elite level wrestlers have personal coaches and guidance of foreign coaches.
News Crux Appointment & Resignation
President signs Appointment of 9 SC Judges
---
The President of India, Shri Ram Nath Kovind on 26 August 2021 signed the warrants of the appointment of nine judges, including three women, to the Supreme Court who will be sworn in on August 31.
The new judges include Justice B.V. Nagarathna, who will be in line to be the first woman Chief Justice of India in September 2027.
The other women judges who have been elevated are Justices Bela M. Trivedi and Hema Kohli.
The other appointees are Justices C.T. Ravikumar, M.M. Sundresh, Abhay Shreeniwas Oka, Vikram Nath and Jitendra Kumar Maheshwari, and former Additional Solicitor-General P.S. Narasimha.
With the appointments, the working strength of the Supreme Court goes up to 33, against the sanctioned strength of 34.
News Crux Organisation In News
India elected to two Bodies of Universal Postal Union (UPU)
---
On 26th August 2021, India was elected to the Council of Administration (CA) and the Postal Operations Council (POC) of Universal Postal Union.
The vote was conducted at 27th Universal Postal Union Congress orgabised in Abidjan (a city of Côte d'Ivoire).
About UPU
Established in 1874, the Universal Postal Union (UPU), with its headquarters in the Swiss capital Berne, is the second oldest international organization worldwide.
With its 192 member countries, the UPU is the primary forum for cooperation between postal sector players.
The UPU consists of 4 bodies:
The Congress: Congress is the supreme authority of the Universal Postal Union (UPU) and meets every four years.
The Council of Administration: The Council ensures the continuity of the UPU's work between Congresses, supervises its activities and studies - regulatory, administrative, legislative and legal issues. The Council of Administration (CA) consists of 41 member countries.
The Postal Operations Council: The Postal Operations Council (POC) is the technical and operational mind of the UPU and consists of 40 member countries, elected during Congress.
The International Bureau: Fulfilling a secretariat function, the International Bureau provides logistical and technical support to the UPU's bodies.
Sports In News Athletics
India at 2020 Summer Paralympics, Tokyo (as on 30 Aug. 2021)
---
| | | | |
| --- | --- | --- | --- |
| Medal | Name | Sport | Event |
| Gold | Avani Lekhara | Shooting | Women's R2 10 Metre Air Rifle Standing SH1 |
| Gold | Sumit Antil | Athletics | Men's Javelin Throw F64 |
| Silver | Bhavina Patel | Table Tennis | Women's Individual Class 4 |
| Silver | Nishad Kumar | Athletics | Men's High Jump T47 |
| Silver | Yogesh Kathuniya | Athletics | Men's Discus Throw F56 |
| Silver | Devendra Jhajharia | Athletics | Men's Javelin Throw F46 |
| Bronze | Sundar Singh Gurjar< | Athletics | Men's Javelin Throw F46 |
| Bronze | Singhraj Adhana | Shooting | Men's P1 10 Metre Air Pistol SH1 |
Brief about Winners
Avani Lekhara
Avani Lekhara (from Jaipur, Rajasthan) won the first gold medal for India at the Tokyo Paralympics 2020 in the women's 10m air rifle standing SH1 event.
She became the first Indian woman to win a gold medal in shooting at an Olympic and Paralympic Games.
Sumit Antil
Sumit Antil (from Sonepat in Haryana) won gold medal in men's javelin throw F64 final event.
He also set a new world record throw of 68.55m.
Bhavina Patel
Bhavina Patel (from Ahmedabad, Gujarat) won a Silver medal in the table tennis event at Tokyo Paralympics. Bhavina lost to China's Ying Zhou in the final.
She is the first-ever Indian para-athlete, male or female, to win a Paralympics medal in table tennis.
She also became the second female athlete to win a medal at the Paralympic Games after Deepa Malik won Silver at the 2016 Rio Paralympics.
Nishad Kumar
Nishad Kumar from Una, Himachal Pradesh made his maiden Paralympic Games appearance in 2020 Tokyo representing India and went onto claim silver medal in the men's high jump T47 category with a new Asian record of 2.06m.
Yogesh Kathuniya
Yogesh Kathuniya won a silver medal in the men's Discus Throw F56 final event with a throw of 44.38m.
Devendra Jhajharia
Devendra Jhajharia won the silver medal in the men's javelin throw – F46 final event with his best throw of 64.35.
Sundar Singh Gurjar
Sundar Singh Gurjar won the bronze medal, in the men's javelin throw – F46 final with his best throw of 64.01.
Singhraj Adhana
Singhraj Adhana won the bronze medal in men's 10m Air Pistol (SH1) event.
Note
Vinod Kumar
Vinod Kumar won a bronze medal in the discus throw F56 final but was declared as ineligible by the classification panel.
News Crux Obituary
Noted Bengali Writer Buddhadeb Guha Passed Away
---
Eminent Bengali writer Buddhadeb Guha has passed away on 29th August 2021.
Guha was a chartered accountant by profession but became a popular author early in life.
His fictional character Wrijuda, a popular figure in children's literature along with his sidekick Rudra, was a hunter-turned-conservationist.
Guha spent his early years in what is now Bangladesh, and drew on his memories in Rangpur and Barisal in his Wrivu series.
His intimacy with the woods of eastern India is reflected in his writings, with Jungle Mahal being his first story collection — and his favourite, by his own admission — to be published in the early 1960s.
His notable literary contributions include - Koeler Kachhe, Kojagar, Ektu Usnotar Jonyo, Madhukori, Jangalmahal, Choroibeti, etc.
---