PIB News National India
Digitally-Enabled Water Supply Infrastructure Under Jal Jeevan Mission
---
The Ministry of Jal Shakti has decided to create a smart rural water supply eco-system to measure and monitor the service delivery of the water supply in rural areas under the Jal Jeevan Mission.
Aim: Measurement and Monitoring
To facilitate states and Gram Panchayats or its sub-committee, Paani Samiti, an automated system for measurement and monitoring of water service delivery is necessary. This necessitates the use of modern technology for measurement and monitoring of the water service delivery and to capture and transmit service delivery data automatically for ensuring the quality of service.
Initiatives towards this Goal
National Jal Jeevan Mission has constituted a Technical Expert Committee to prepare a road map for measurement and monitoring of water service delivery system in rural areas.
The National Jal Jeevan Mission and Ministry of Electronics and Information Technology planning to conduct an ICT Grand Challenge to bring an innovative, modular, and cost-effective solution to develop a 'Smart Water Supply Measurement and Monitoring System' to be deployed at the village level.
The mission, in partnership with State Governments and sector partners, has started facilitating a sensor-based water supply system on a pilot basis in various villages. Gujarat has begun navigating the sensor-based rural water supply systems in 1,000 villages spread across five districts. The other States have also started pilot projects.
Brief on Jal Jeevan Mission
Jal Jeevan Mission being implemented in partnership with states aims at providing functional household tap connection to every rural household of the country by the year 2024.
The programme focuses on service delivery at the household level, the supply of 55 litres per capita per day (lpcd) of water of prescribed quality on a regular and long-term basis. The mission focuses on 'service delivery', rather only on infrastructure creation.
Constitutional Provisions
In accordance with the 73rd Amendment to the Constitution, Gram Panchayats at the village level is to manage drinking water supply. Thus, Gram Panchayat or its sub-committee, Village Water and Sanitation Committee/ Paani Samiti are required to function as a 'local public utility' for drinking water management, water service delivery, greywater treatment, and reuse, and take care of operation and maintenance of in-village water supply infrastructure for assured drinking water supply on regular basis, collect user charges for delivery of water supply services.
Benefits
Digitally-enabled water supply infrastructure will help in near real-time monitoring and evidence-based policymaking.
Digitisation of water supply infrastructure has the potential to help the Gram Panchayats as 'local public utility'.
Current News National
Star Rating Of AB-PMJAY Empanelled Hospitals
---
For the first time in India, hospitals empanelled with the Ayushman Bharat scheme will get star ratings based on their healthcare quality and services.
The National Health Authority (NHA) has issued guidelines on the star rating of Ayushman Bharat Pradhan Mantri- Jan Arogya Yojana (AB-PMJAY) empanelled hospitals.
Parameters for Rating
The rating of the empanelled hospitals has been proposed on six healthcare quality domains: effective, timeliness, safety, patient-centred, efficiency and equitability.

Why Star Rating?
It is to provide guidance to beneficiaries in approaching empanelled hospitals.
Ranking and Score
For a 5-star ranking, hospitals have to score 90 per cent or more; for a 4-star raking, hospitals have to achieve 75 per cent to 90 per cent; to get a 3-star rating, hospitals have to get 50 per cent to 75 per cent, for a 2-star raking 25 to 50 per cent is the target score for a hospital. Those with a score of less than 25 per cent will get a 1-star rating.
These star ratings will be reviewed on a monthly basis.
About AB-PMJAY
The AB-PMJAY is the world's biggest healthcare scheme provides a cover of Rs 5 Lakh per family per year to around 50 crore poor and vulnerable individuals.
Current News
In Focus: Andhra's Etikoppaka Toys Craft
---
Prime Minister Narendra Modi, in his monthly 'Mann Ki Baat' broadcast on 30th August 2020, mentioned Etikoppaka toys, bringing into focus Andhra Pradesh's famous craft.
The wooden lacquer craft toys or 'Etikoppaka Bommalu' has a long history said to be dating back to Bahamani times. The craft was originally started in Nakkapalli village but was later moved to Etikoppaka after the area's landlords resettled the artisans there.
About this Craft
The artisans mainly use the wood from trees locally known as 'ankudu' (Wrightia Tinctoria) and lacquer, a colourless resinous secretion of a certain species of insects, collected by tribals from surrounding forests. Clarified lac is blended and oxidised with natural dyes and is applied to lathe turned wooden articles.
What is Unique about these Toys
Etikoppaka toys are known for their softness, rounded contours, polished colours and the overall craftsmanship.
These toys have no sharp edges. They are rounded on all sides and hence present little chances of an injury to children.
In 2017, the traditional Etikoppaka toys acquired a Geographical Indications (GI) tag.
Articles Made
The artisans make wooden bowls, toy trains, idols of gods and goddesses, wooden cannons, bullock carts, spinning tops and many other toys.
About the Artisans
About 300 families from the village Etikoppaka, located near the banks of the Varaha Riverin Visakhapatnam district of Andhra Pradesh, have been dependent on the profession for over four centuries.
Challenge
Competition from plastic toys and flooding of Chinese products.
The dumping of identical cheap Chinese wooden toys.
Scarcity of raw materials such as wood due to shrinking forests.
Current News National
Export Preparedness Index 2020
---
The first Export Preparedness Index (EPI) 2020 has been brought out by the NitiAayog in partnership with Institute of Competitiveness.
Gujarat has topped the NitiAayog's overall Export Preparedness Index 2020 followed by Maharashtra and Tamil Nadu in the second and third place respectively.
Six coastal states -- Gujarat, Maharashtra, Tamil Nadu, Odisha, Karnataka and Kerala -- feature in the top ten rankings.
Aim
The EPI intends to identify challenges and opportunities and encourage a facilitative regulatory framework.
Parameters
Four Key Parameters: The index ranked states on four key parameters – policy; business ecosystem; export ecosystem; export performance.
11 sub-pillars: The index also took into consideration 11 sub-pillars -- export promotion policy; institutional framework; business environment; infrastructure; transport connectivity; access to finance; export infrastructure; trade support; R&D infrastructure; export diversification; and growth orientation.
Ranking of State/UTs on Four Key Parameters
Policy: Maharashtra topped the index followed by Gujarat and Jharkhand.
Business Ecosystem: Gujarat was ranked number one followed by Delhi and Tamil Nadu.
Export Ecosystem: Maharashtra topped the Index followed by Odisha and Rajasthan.
Export Performance: Mizoram led the index, followed by Gujarat and Maharashtra.
Ranking by Category
Coastal States:Gujarat tops the chart followed by Maharashtra and Tamil Nadu.
Landlocked States: Rajasthan has performed the best, followed by Telangana and Haryana.
Himalayan States:Uttarakhand topped the chart, followed by Tripura and Himachal Pradesh.
Union Territories: Delhi has performed the best, followed by Goa and Chandigarh.
Other Observations
India's export has been dominated by five states: The report observed that at present, 70 per cent of India's export has been dominated by five states – Maharashtra, Gujarat, Karnataka, Tamil Nadu and Telangana.
Landlocked Chattisgarh and Jharkhand to be Role Models:Though Chattisgarh and Jharkhand are two landlocked states,they had initiated several measures to promote exports and other states facing similar socio-economic challenges can follow them.
Current News National
Draft Health Data Management Policy: Towards Ensuring Data Privacy
---
The National Health Authority (NHA) has released the Draft Health Data Management Policy in the public domain.
The policy is part of the National Digital Health Mission (NDHM) announced on the occasion of the 74th Independence Day of India, by Prime Minister Narendra Modi.
The vision of NDHM is to create a national digital health ecosystem which enables timely and efficient access to inclusive, affordable, and safe healthcare to all citizens. NDHM aims to significantly improve the efficiency, effectiveness, and transparency of health services in India.
Objective of this Draft Policy
The main objective of this draft policy is to provide adequate guidance and to set out a framework for handling sensitive personal data of individuals participating in the mission in accordance with all applicable laws and international standards.
What are the Major Provisions?
Data Privacy:
The policy stipulates that any agency or personnel that have access to personal medical data of people enrolling in the NDHM will have to formulate and implement a personal data breach management mechanism and this will be publicly displayed.
Any instance of unauthorised or accidental disclosure or sharing of personal data that compromises its confidentiality and integrity should have to be reported promptly to the NHA and other relevant authorities.
The persons responsible for such a breach will be liable to punished according to the provisions of the applicable law.
Health ID:As per the draft policy, anybody enrolled for the health mission will get a Health ID free of cost and they will have complete control over their individual personal data.
Provision of Taking Back Consent: People are free to take back the consent already given in order to restrict any sharing of personal data linked to the ID.
Frameworks of Consent: It also defines the set of frameworks of consent for the collection and processing of health data by healthcare practitioners and other entities.
Data Interoperability and Data Sharing: It also puts forward relevant standards to meet data interoperability and data sharing.
Current News Indian Economy Banking & Finance
GIS-enabled National Land Bank Portal
---
The Ministry of Commerce and Industry has launched a first-of-its kind GIS-enabled national land bank portal on 27th August.It is a prototype only and will be developed further with inputs from states.
It will help investors zero in on land located in various states for potential projects.
Investors will also get access to details of logistics, land, rail & air connectivity, tax incentives, drainage system, power supply and raw material availability from the portal on various industrial belts.
To start with, extensive information about industrial belts in six states is available on the portal.
News Crux Awards In News
Youngest Author To Win International Booker Prize
---
At the age of 29, Dutch Author Marieke Lucas Rijneveld became the youngest to win the 2020 International Booker Prize for her literary fiction book 'The Discomfort of Evening'.
The Book was first published in Dutch in 2018 and eventually translated into English by Michele Hutchison.
The International Booker prize is separate from the main Booker Prize.
The International Booker Prize is awarded annually for a single book, translated into English and published in the UK or Ireland. The vital work of translators is celebrated, with the prize money divided equally between the author and translator.

News Crux Obituary
Arnold Spielberg Who Revolutionised Computing Passed Away
---
Arnold Spielberg, father of filmmaker Steven Spielberg and an innovating engineer whose work helped make the personal computer possible, has died at 103.
Spielberg and Charles Propster designed the GE-225 mainframe computer in the late 1950s while working for General Electric. The machine allowed computer scientists at Dartmouth College to develop the programming language BASIC, which would be essential to the rise of personal computers in the 1970s and '80s.
Spielberghelped to develop the 1st point-of-sale computerised cash register, it is regarded as his greatest contribution.
He designed and patented the 1st electronic library system,which was implemented as an interrogation system for data stored on an array of magnetic tapes.
Current News
Seven New Circles Of ASI
---
The Union Culture Ministry has announced seven new circles of Archaeological Survey of India (ASI).
Currently there were 29 ASI circles across the country.
With the creation of 7 new circles, the total ASI circles have now become 36.
The new circles have been created in Jabalpur (Madhya Pradesh), Trichy (Tamil Nadu), Jhansi and Meerut (Uttar Pradesh), Hampi (Karnataka), Raiganj (West Bengal) and Rajkot (Gujarat).
News Crux Persons In News
Japanese PM Shinzo Abe Resigns
---
Japanese PM Shinzo Abe has announced his resignation owing to health reasons.
The 65-year-old has suffered for many years from ulcerative colitis, an inflammatory bowel disease.
Last year, he became Japan's longest serving prime minister.
He will remain in his post until a successor is chosen.
Current News Science & Technology
AstroSat Detects UV Light From Galaxy AudFs01: A Step Towards Solving Mystery Of How Dark Age In The Universe Ended
---
A global team led by scientists of the Inter University Centre for Astronomy and Astrophysics (IUCAA) has discovered one of the earliest galaxies in extreme ultraviolet light.
AstroSat, India's first multi-wavelength satellite that has five unique X-ray and ultraviolet telescopes working in tandem, has detected extreme UV light from a galaxy called AUDFs01, 9.3 billion light-years away from Earth.
This is a very important clue to how the dark ages of the Universe ended and there was light in the Universe.
AstroSat/Ultra Violet Imaging Telescope (UVIT) was able to achieve this unique feat because the background noise in the UVIT detector is much less than the ones on NASA's Hubble Space Telescope (HST).
Significance of this Discovery
The research is significant in terms of enhancing our understanding of the universe's early galaxies that are found only at extreme UV wavelengths.
Studying the formation of the early stars and galaxies helps to understand the conditions which led to initial rays of light or radiation after a long period of Cosmic Dark Age in the early universe post the Bing Bang.
PIB News National
"Chunauti"- Next Generation Start-up Challenge Contest
---
On 28th August 2020, the Ministry of Electronics & IT has launched "Chunauti"- Next Generation Start-up Challenge Contest.
Aim
The programme aims to identify around 300 startups working in identified areas to further boost startups and software products with special focus on Tier-II towns of India.
Focus Areas
Under this challenge the Ministry of Electronics and IT will invite startups in the following areas of work:
Edu-Tech, Agri-Tech & Fin-Tech Solutions for masses
Supply Chain, Logistics & Transportation Management
Infrastructure & Remote monitoring
Medical Healthcare, Diagnostic, Preventive & Psychological Care
Jobs & Skilling, Linguistic tools & technologies
Funding
The government has earmarked a budget of Rs. 95.03 Crore over a period of three years for this programme. It aims to provide them seed fund of uptoRs. 25 Lakh and other facilities.
Support from Govt.
The startups selected through Chunauti will be provided various support from the Government through Software Technology Parks of India centers across India.
They will get incubation facilities, mentorship, security testing facilities, access to venture capitalist funding, industry connect as well as advisories in legal, Human Resource (HR), IPR and Patent matters.
Besides seed fund of uptoRs. 25 Lakh, the startups will also be provided cloud credits from leading cloud service providers.
Start-ups who are in the ideation stage may be selected under the pre-incubation programme & mentored for up-to six months to evolve their business plan & solution around the proposed idea.
Each intern (start-up under pre-incubation) will be paid Rs. 10,000/- per month upto a period of 6 months.
Current News Science & Technology
Indian Researchers Develop Sustainable Li-S Batteries
---
Researchers at Shiv Nadar University in partnership with the Indian Institute of Technology-Bombay have developed a lithium-sulfur (Li-S) battery technology.
The research will aid the production of cost-effective, compact, energy-efficient, safe and environment-friendly Li-S batteries, offering a viable alternative to lithium-ion batteries commonly used at present.
The batteries incorporate petroleum industry by-products such as sulfur and have the potential to power tech gadgets, drones, electric vehicles, etc.
It also uses agro-waste elements and copolymers such as cardanol (a by-product of cashew nut processing) and eugenol (clove oil) as cathodic materials.
The production technology can help produce Li-S batteries in a more sustainable and much cheaper way offering up to three times higher energy density with intrinsic flame-retardant properties.
The capability of 3x energy density, coupled with being a significantly safer technology, holds the promise of accelerating the adoption of clean, battery-led energy across multiple domains.
PIB News National
Cultural Heritage Of Hyderabad
---
Ministry of Tourism's Dekho Apna Desh Webinar Series showcased "Cultural heritage of Hyderabad" on 22nd August 2020.
Hyderabad is popularly known as the "City of Pearls" and the "City of Nizams", and has been the centre of a vibrant historical legacy, ever since its inception by the QutubShahi dynasty. The city was later conquered by Mughal Empire and finally falling in the hands of AsafJahi dynasty.
Brief Historical Evolution
Muhammad QuliQutb Shah established Hyderabad in 1591 to extend the capital beyond the fortified Golconda.
In 1687, the city was annexed by the Mughals.
In 1724, Mughal governor NizamAsaf Jah I declared his sovereignty and founded the AsafJahi dynasty, also known as the Nizams.
Hyderabad served as the imperial capital of the AsafJahis from 1769 to 1948.
As capital of the princely state of Hyderabad, the city housed the British Residency and cantonment until Indian independence in 1947.
Noted Cultural Sites of Hyderabad
Golconda Fort, Hyderabad-A massive fortress whose ruins stand proudly even today displaying the glory of its rich past and some untold sagas of the city's history. The place oozing charm is a must visit historical place in Hyderabad.MohammedQuli understood the need of a new City and made Bhagnagar (after the name of his beloved) with Charminar in its centre.
Chowmahalla Palace- Once the seat of the AsafJahi Dynasty, the Chowmahalla Palace was built in Hyderabad and is located near the famous monument, Charminar and Laad Bazar. The palace is designed very intricately and holds that Nawabi Charm in itself. Chowmahalla Palace, the seat of power of Nizams, has bagged the UNESCO Asia-Pacific Heritage Merit Award for Culture Heritage Conservation.
Charminar- The monument was erected when QuliQutab Shah shifted his capital from Golconda to Hyderabad. The monument got its name from its structure as it consists of four minarets.
Purani Haveli- One of the significant historical places in Hyderabad's golden era is today known for its remarkable exhibits of artwork and talent. It is a beautiful structure comprising great surprises for history lovers.
Mecca Masjid- One of the oldest and the largest mosques of India is the grandest historical places in Hyderabad was completed by Aurangazeb in 1693.The bricks used here are believed to be from Mecca, and hence the name.
QutubShahi Tombs- Located in the Ibrahim Bagh, QutubShahi Tombs are a group of small and big mosques and tombs built by the rulers of the Qutub Shah dynasty. The tombs are all built on a raised platform and have a dome-shaped structure. The little historical places in Hyderabad are single-storeyed while the bigger ones are double storeyed. The site was used by the Mughal army to target Golconda Fort. The tomb's lower storey was used as stables for the Mughal army horses.
PaigahTombs- Located in the suburbs of Pisal Banda in Hyderabad, Paigah Tombs are a group of tombs of the Paigah royal family. Although now in a derelict and dilapidated state, the tombs still boast of striking architecture and marvellously carved marble panels. This historical place in Hyderabad is managed by a family of caretakers who reside in the premises.
Salar Jung Museum-It is an art museum established in the year 1951 and located at Dar-ul-Shifa, on the southern bank of the Musi River in the city of Hyderabad. The Salar Jung family is responsible for its collection of rare art objects from all over the world. The family is one of the most illustrious families in Deccan history, five of them having been prime-ministers in the erstwhile Nizam rule of Hyderabad-Deccan.
Warangal Fort- This fort appears to have existed since at least the 12th century when it was the capital of the Kakatiya dynasty. The fort has four ornamental gates, known as Kakatiya Kala Thoranam that originally formed the entrances to a now ruined great Shiva temple.
QutubShahiWooden Palace- This Palace is on trade route.
Trade Route: The importance of trade route was also showcased as structures were built around them. Golconda- Charminar- Pul-E-Narva connected the new capital with fort.
Twin City of Secunderabad
In 1798, the Subsidiary alliance was signed between the Second Nizam and the British. Far from the Charminar to the North, a part of the City was established as a cantonment and called Secunderabad after the name of NawabSikander Jah, the third Nizam. The construction of European style structures started in 1908 when there was flood followed by plague in 1911.
Hyderabad is also famous for
Apart from the combination old heritage structure and modern buildings, Hyderabad is also famous for lac bangles, glass bangles at Laad bazaar, Pearls and jewellery at Patharghatti, ethnic wear at laad bazaar and Patharghatti and calligraphy at Chata bazaar. The City is famous for edible silver foil, Zardozi work, Calligraphy etc.
Hyderabad has been selected as a creative city in the category of gastronomy by UNESCO.
Current News Ecology & Environment Pollution
Strict Conditions For Commercial Use Of Groundwater
---
Recently, in a major revamp of regulations, the National Green Tribunal (NGT) has set out stringent conditions for commercial groundwater use.
The NGT order came while hearing a plea filed by a Haryana-resident alleging illegal extraction of groundwater and discharge of polluted water into drain by an industrial unit in Panipat (Haryana).
In addition, NGT has also struck down the Central Ground Water Authority's (CGWA) 2020 guidelines, saying they were against the law.
The 2018 version of the guidelines had been struck down by the NGT last year.
Need for Conditions
Extraction of groundwater has been liberalised, adding to the crisis, unmindful of the ground situation and likely impact it will have on the environment.
India was at the bottom of the water quality index, at 120 among 122 countries.
54% of India's groundwater wells have decreased in levels, with 21 major cities across the country expected to run out of groundwater by 2020.
India accounted for 25 percent of the total annual global water extracted, with the extraction level steadily increasing.
According to a report by the Central Water Commission (CWC), the annual replenishable groundwater resources in India (2017) are 432 BCM, out of which 393 BCM is the annual "extractable" groundwater availability.
No state in India has shown any confidence inspiring attempt to regulate groundwater use or ensure that groundwater recharge mechanisms are protected and enhanced.
If the present rate of groundwater depletion persists, India will only have 22% of the present daily per capita water available in 2050, possibly forcing the country to import its water.
New Conditions laid by NGT
NGT has specifically banned the general permission for the withdrawal of groundwater, especially to the commercial entities without an Environment Impact Assessment (EIA).
Industries must expect a complete overhaul in the manner in which the permits are issued for the extraction of groundwater for commercial activities. They must ensure that all the conditions are complied with.
Permits must be for the specified quantity of water and must be monitored with digital flow metres and audited every year by the third parties.
Strict actions, including prosecution and blacklisting, must be taken against those who will fail the audit.
As per the new rules, the authorities are given three months to make water management plans for all the overexploited, semi-critical, and critical areas.
Impact and Associated Concerns
The policy vacuum triggered by a NGT order on the use of groundwater has impacted businesses across sectors.
These directions may put rigorous requirements on the businesses at a time when they have been trying to find their way amid COVID-19.
Further, the restrictions make access of groundwater very difficult.
The move by NGT has also been interfering with the legislative functions of the Jal Shakti Ministry.
Way Forward
In order to address various issues related to ground water, keeping in view the climatic change, there is a need to prepare a comprehensive road map with identified strategies for scientific and sustainablemanagement of the available ground water resources in the country so as to avert the looming watercrisis.
The strategies should also focus on the imbalances in ground water development in the country, reasons thereof and suggesting measures including accelerated development of ground water in areas with low stage of ground water development.
There is an urgent need to change the status quo with tough regulations. Besides appropriate pricing of groundwater, policies that promote judicious use of groundwater in every sector is required.
Efforts also needed to institutionalise and strengthen community-based groundwater management.
Generating awareness about the status of local groundwater resources, education and social mobilisation should form the core elements of community-based groundwater management.
State governments need to take policy action to facilitate formation of Groundwater User's Associations which possess the power to manage, maintain and distribute water resources efficiently.
A groundwater literacy movement should be launched to highlight the irreparable consequences of its over-exploitation.
National Green Tribunal
Established in 2010 under the National Green Tribunal Act, it is a specialized environmental court that deals with cases relating to environmental protection and the conservation of forests.
It has judicial powers that allow it to exclusively decide civil environmental matters.
The tribunal is guided by principles of natural justice and is not bound by the mainstream code of civil procedure.
Current News Indian Economy
Inclusion Of Disabled In NFSA, 2013
---
The Ministry of Consumer Affairs, Food & Public Distribution has asked State Governments/UTs to include all eligible disabled persons under the National Food Security Act (NFSA), 2013.
Highlights
The disabled persons should get their entitled quota of food grains under NFSA & Pradhan MantriGaribKalyan Anna Yojana (PMGKAY) as per provisions of the Act.
Those not already covered should be issued fresh ration cards as per the eligibility criteria.
The disable person should also be covered by States/UTs under the priority households as per the criteria of identification evolved by them.
The Section 10 of the NFSA provides for identification and coverage of persons under the Antyodaya Anna Yojana (AAY) and Disability is one of the criteria for inclusion of beneficiaries under AAY households.
Current News Indian Economy
National Council For Transgender Persons
---
In exercise of the powers conferred by section 16 of the Transgender Persons (Protection of Rights) Act, 2019 the Central Government has constituted a National Council for Transgender Persons vide notification dated 21st August, 2020.
What will be the Functions of the National Council?
To advise the Central Government on the formulation of policies, programmes, legislation and projects with respect to transgender persons;
To monitor and evaluate the impact of policies and programmes designed for achieving equality and full participation of transgender persons;
To review and coordinate the activities of all the departments of Government and other Governmental and non-Governmental Organisations which are dealing with matters relating to transgender persons;
To redress the grievances of transgender persons; and
To perform such other functions as may be prescribed by the Central Government.
Composition of the Council & Tenure of Members
Chairperson: The Union Minister of Social Justice & Empowerment will be Chairperson (ex-officio).
Vice-chairperson:The Union Minister of State for Social Justice & Empowerment will be Vice-Chairperson (ex-officio).
Other Members:
Representatives from five states or Union Territories(one each from the north, south, east, west and northeast regions), on a rotational basis.
Five members of the transgender community(one each from the north, south, east, west and northeast regions).
Representatives from 10 central departments: The council will have joint secretary-level members from the Ministries of Health, Home, Minority Affairs, Education, Rural Development, Labour and Law.In addition, there will be a member from the Department of Pensions (Ministry of Personnel, Public Grievances & Pensions), NITI Aayog, National Human Rights Commission and National Commission for Women.
Tenure of Members: A Member of National Council, other than ex officio member, shall hold office for a term of three years from the date of his nomination.
Current News Indian Economy Banking & Finance
National Strategy For Financial Education
---
On 20th August, 2020, the Reserve Bank of India (RBI) released the National Strategy for Financial Education(NSFE): 2020-2025 document in order achieve the vision of creating a financially aware and empowered India.
This is the second national strategy; the first NSFE was launched in 2013.
Background and Rationale of NSFE
India has a large population of adults.This demographic advantage can beleveraged to ensure that India becomes one of the fastest growing economies, with emphasis on inclusive growth through a vibrant and stable financial system.
Over the last few years, there has been rapid progress towards digitalization which has brought newer opportunities to the forefront like never before.
There is a paradigm shift in digital transactions and Payment Infrastructure in the country (Goal of Less Cash Economy). Due to all these developments, it has become imperative to revise the existing National Strategy for Financial Education (NSFE) and to adopt innovative measures to implement the same.
Towards this objective, the National Centre for Financial Education (NCFE) has been set up by all the Financial Sector Regulators as a Section (8) company under Companies Act, 2013 to undertake basic financial education and to develop suitable content for increasing financial literacy among the masses in the country.
Strategic Objectives of NFSE
Inculcate financial literacy concepts among the various sections of the population through financial education to make it an important life skill.
Encourage participation in financial markets to meet financial goals and objectives.
Develop credit discipline and encourage availing credit from formal financial institutions as per requirement.
Improve usage of digital financial services in a safe and secure manner.
Manage risk at various life stages through relevant and suitable insurance cover.
Knowledge about rights, duties and avenues for grievance redressal.
Major Highlights
This NSFE has been prepared by the National Centre for Financial Education (NCFE) in consultation with all the Financial Sector Regulators viz. RBI, Securities and Exchange Board of India (SEBI), Insurance Regulatory and Development Authority of India (IRDAI), Pension Fund Regulatory and Development Authority (PFRDA), etc. under the aegis of the Technical Group on Financial Inclusion and Financial Literacy (TGFIFL).
To prepare a comprehensive Strategy based on people's needs and the country'savailable resources, the following process has been adopted in the Indian context:
Assessing and evaluating gaps in financial literacy.
Comparison of NSFE with the OECD International Network on Financial Education(OECD-INFE) Policy Handbook on National Strategies for Financial Education.
It focuses on advancement of skills of financial service providers and other intermediaries involved in dissemination of financial literacy.
It intends to support the vision of the Government of India and the Financial Sector Regulators by empowering various sections of the population to develop adequate knowledge, skills, attitudes and behaviour which are needed to manage their money better and to plan for the future.
The Strategic Objectives are envisaged to be achieved through the following dimensions-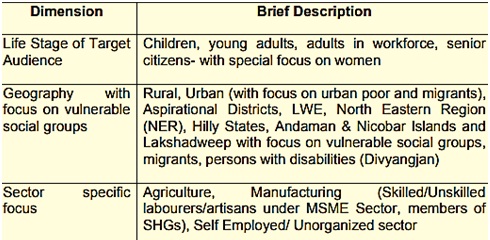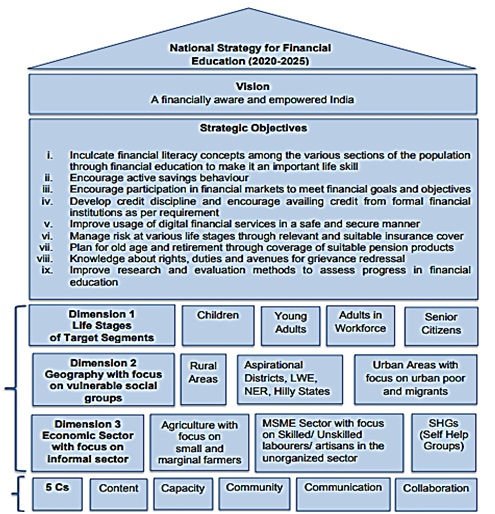 Key Recommendations
In order to achieve the Strategic Objectives laid down, the document recommends adoption of a '5 C' approach-
Content
Financial Literacy content for school children (including curriculum and co-scholastic), teachers, young adults, women, new entrants at workplace/ entrepreneurs (MSMEs), senior citizens, persons with disabilities, illiteratepeople, etc.
Capacity
Develop the capacity of various intermediaries who can be involved in providing financial literacy.
Develop a 'Code of Conduct' for financial education providers.
Community
Evolve community led approaches for disseminating financial literacy in asustainable manner.
Communication
Use technology, mass media channels and innovative ways of communicationfor dissemination of financial education messages.
Identify a specific period in the year to disseminate financial literacy messageson a large/ focused scale.
Leverage on Public Places with greater visibility (e.g. Bus Stands, RailwayStations, etc.) for meaningful dissemination of financial literacy messages.
Collaboration
Preparation of an Information Dashboard.
Streamline efforts of other stakeholders for financial literacy.
The Strategy also suggests adoption of a robust 'Monitoring and Evaluation Framework' to assess the progress made under the Strategy.
Expected Impact
The strategy will develop credit discipline and encourage availing credit from formal financial institutions as per requirement. It will improve usage of digital financial services in a safe and secure manner.
Besides encouraging active savings behavior, it will encourage participation in financial markets to meet financial goals and objectives.
It will help improve research and evaluation methods to assess progress in financial education.
OECD/INFE Policy Handbook on National Strategies for Financial Education
It support policy makers and public authorities to design and implement national strategies for financial education and individual financial education programmes, while also proposing innovative methods for enhancing financial literacy among the populations of partner countries.
The Policy Handbook was developed at the OECD/INFE technical meeting in Istanbul, Turkey, in May 2014.
Four Key Policy Areas Related to Financial Education
Standard setting, implementation and evaluation
Financial education and the impact of digitalisation
Financial Education in the workplace
The impact of ageing populations and the needs of older consumers
About Financial Education
Financial Education is defined as the process by which financial consumers/investors improve their understanding of financial products, concepts and risks and through information, instruction and/or objective advice, develop the skills and confidence to become more aware of financial risks and opportunities, to make informed choices, to know where to go for help and to take other effective actions to improve their financial well-being.
While, Financial Literacy is defined as a combination of financial awareness, knowledge, skills, attitude and behaviour necessary to make sound financial decisions and ultimately achieve individual financial well-being.

OECD-INFE Definition of Components of Financial Literacy
Financial literacy encompasses aspects of knowledge, attitude and behaviour coveringthe range of context such as money management, planning for short and long termfinancial goals and awareness and choice of financial products.Financial Knowledge involves understanding of key financial concepts and ability toevaluate benefit in real life financial situations. The concept of simple interest, compoundinterest, time value of money, inflation, diversification, division, risk-return and interestpaid on loan are tested to determine the financial knowledge of an individual.
Financial Behaviour involves study of day-to-day money management, financialplanning, spending, savings, investment, reliance on credit to meet daily requirement andbuilding a safety net for future well-being.
Financial Attitude aims at studying people's response towards savings, prioritization ofshort-term wants over long-term security, inclination towards risk for future wellbeing.
Components of Financial Education
Basic Financial Education
The basic financial education consists of fundamental tenets of financial well-being.With the introduction of Government's Pradhan Mantri Jan DhanYojana (PMJDY) scheme along with APY, PMJJBY &PMSBY besides MUDRA Yojana, many people have already been included. They alsorequire financial education so that they can take full benefits from these schemes.
These basic concepts need to be communicated to everyone by adopting different modes ofdelivery, suitable to the target audience.
Special emphasis shall be laid on the financially excluded and those newly included but not operating their accounts.
The basic financialeducation acts as a foundation for sector-specific and process education.
Sector Specific Financial Education
Sector specific financial education is being imparted by the Financial Sector Regulators and focuses on "What" of the financial services and the contents cover awareness on 'Do's & Don'ts', 'Rights & Responsibilities', 'Safe usage of digital financial services' and approaching 'Grievance Redressal' Authority.
Process Education
Process education is crucial to ensure that the knowledge translates into behavior.
Way Forward
Financial education plays a vital role in creating demand side response to the initiatives of the supply side interventions.
Incidentally, financial education also supports achievement of Sustainable Development Goal (SDG) No. 4 on Education which aims to ensure inclusive and equitable quality education and promote life-long learning opportunities for all (SDG Target 4.6 on Literacy and SDG Target 4.4 on Life Skills under SDG 4 on Education).
Financial education initiatives by concerned stakeholders will help people achieve financial well-being by accessing appropriate financial products and services through regulated entities.
There is a need to increase the size of banking as well as other financial sectors to ensure that the benefits of these developments reach the common masses.
Keeping in view the vast and rapid changes taking place in the financial sector, all the stakeholders need to appreciate the dynamic nature of evolution of financial services and the concomitant changes that are required towards financial literacy.
Arobust and scientific assessment method would go a long way in helping Policy makers identify priorities and assess the impact of their interventions.
Some of the broad issues that need to be considered in this regard are as under:
National Strategy evaluation to include an assessment of the governance, co-ordination and monitoring mechanisms of the implementation methods, the role of stakeholders and the effects of any communication or publicity plans/ initiatives.
Each stakeholder needs to clearly plan and articulate their role in the design, development and implementation of the Strategy which shall be monitored through qualitative and quantitative indicators.
A scientifically designed template for gathering feedback through various channels, from both the beneficiaries of financial literacy programmes and the intermediaries involved in disseminating the same, needs to be prepared and periodically reviewed keeping in view the vast changes in the financial sector.
Selection of appropriate evaluation methods need to be finalized in view of the challenges involved in evaluation.
Current News National
National Sports Awards 2020
---
The Ministry of Youth Affairs and Sports announced the National Sports Awards 2020.
The Selection Committee was headed by Justice (Retd.) Mukundakam Sharma, the former Judge of Supreme Court of India.
In a first, the awards will be held virtually on August 29, the National Sports Day (birth anniversary of hockey legend Major Dhyan Chand), instead of the Rashtrapati Bhavan this year due to the COVID-19 pandemic.
Awards/Awardees and Discipline

Rajiv Gandhi Khel Ratna Award
Shri Rohit Sharma - Cricket
Shri Mariyappan T. - Para Athletics
Manika Batra - Table Tennis
Vinesh - Wrestling
Rani - Hockey
Dronacharya Award

(A) Life- Time Category
Shri Dharmendra Tiwary - Archery
Shri Purushotham Rai - Athletics
Shri Shiv Singh - Boxing
Shri Romesh Pathania - Hockey
Shri Krishan Kumar Hooda - Kabaddi
Shri Vijay Bhalchandra Munishwar - Para Powerlifting
Shri Naresh Kumar - Tennis
Shri Om Parkash Dahiya - Wrestling
(B) Regular Category
Shri Jude Felix Sebastian - Hockey
Shri Yogesh Malviya - Mallakhamb
Shri Jaspal Rana - Shooting
Shri Kuldeep Kumar Handoo - Wushu
Shri Gaurav Khanna - Para Badminton
Arjuna Award
Shri Atanu Das - Archery
Dutee Chand - Athletics
Shri Satwik Sairaj Rankireddy - Badminton
Shri Chirag Chandrasekhar Shetty - Badminton
Shri Vishesh Bhriguvanshi - Basketball
Subedar Manish Kaushik - Boxing
Lovlina Borgohain - Boxing
Shri Ishant Sharma - Cricket
Deepti Sharma - Cricket
Shri Sawant Ajay Anant -Equestrian
Shri Sandesh Jhingan - Football
Aditi Ashok - Golf
Shri Akashdeep Singh - Hockey
Deepika - Hockey
Shri Deepak - Kabaddi
Shri Kale Sarika Sudhakar - Kho Kho
Shri Dattu Baban Bhokanal - Rowing
Manu Bhaker - Shooting
Shri Saurabh Chaudhary - Shooting
Madhurika Suhas Patkar - Table Tennis
Shri Divij Sharan - Tennis
Shri Shiva Keshavan - Winter Sports
Divya Kakran - Wrestling
Shri Rahul Aware - Wrestling
Shri Suyash Narayan Jadhav - Para Swimming
Shri Sandeep - Para Athletics
Shri Manish Narwal - Para Shooting
Dhyan Chand Award
Shri Kuldip Singh Bhullar - Athletics
Jincy Philips - Athletics
Shri Pradeep Shrikrishna Gandhe - Badminton
Trupti Murgunde - Badminton
N. Usha - Boxing
Shri Lakha Singh - Boxing
Shri Sukhvinder Singh Sandhu - Football
Shri Ajit Singh - Hockey
Shri Manpreet Singh -Kabaddi
Shri J. Ranjith Kumar - Para Athletics
Shri Satyaprakash Tiwari - Para Badminton
Shri Manjeet Singh - Rowing
Late Shri Sachin Nag -Swimming
Shri Nandan P Bal - Tennis
Shri Netarpal Hooda - Wrestling
Tenzing Norgay National Adventure Awards 2019
Anita Devi - Land Adventure
Sarfraz Singh - Land Adventure
Shri Taka Tamut - Land Adventure
Shri Narender Singh - Land Adventure
Shri Keval Hiren Kakka - Land Adventure
Shri Satendra Singh - Water Adventure
Shri Gajanand Yadava - Air Adventure
Late Shri Magan Bissa - Life Time Achievement
Maulana Abul Kalam Azad (Maka) Trophy
Panjab University, Chandigarh
Rashtriya Khel Protsahan Puruskar
Identification and Nurturing of Budding and Young Talent - 1. Lakshya Institute, 2. Army Sports Institute
Encouragement to sports through Corporate Social Responsibility - Oil and Natural Gas Corporation (ONGC) Ltd.
Employment of sportspersons and sports welfare measures - Air Force Sports Control Board
Sports for Development - International Institute of Sports Management (IISM)
PIB News National
MoTA & MoRD Join Hands To Promote Sustainable Livelihood Opportunities Among Tribal Women SHGs In Rural India
---
On 18th August 2020, the Ministry of Tribal Affairs (MoTA) and the Ministry of Rural Development (MoRD) signed a Joint Communication for leveraging each other's strengths to propel the rural economy and jointly promote sustainable livelihood opportunities among tribal women Self Help Groups (SHGs) under National Rural Livelihood Mission (NRLM).
Both MoTA and RD have developed robust IT system and has developed mechanism to share data amongst themselves. On the basis of data of Anatodya Mission provided by the Ministry of Rural Development, MoTA has done Infrastructural gap analysis of 1170000 villages with population more than 50% and States have been asked to use this data for making plans in SCA to TSS and 275(1) schemes.
The present collaboration between Ministry of Rural Development and MoTA is part of such collaborative mechanism, which will go a long way in socio-economic development of STs across the country and strengthen STC mechanism. There is vast scope of expanding such mechanism with other Ministries like Agriculture, Health, Education, MSME and Food Processing to achieve real objective of STC mechanism.
Ministry of Rural Development's Role towards SHGs
The Deendayal Antyodaya Yojana- National Rural Livelihoods Mission (DAY-NRLM) implemented by the Ministry of Rural Development has built an extensive network of women-led Self-Help Groups (SHGs) in India, including 8.9 lakh ST SHGs. The programme provides institutionalsupports, livelihood services, access to credit and market through its SHGs.
Ministry of Tribal Affairs' Role towards STs/PVTGs
Similarly, the Ministry of Tribal Affairs provides grants to the States based on prefixed criteria through a number of initiatives such as Special Central Assistance to Tribal Sub-Schemes (SCA to TSS), Grant-in-Aid under Proviso to Article 275 (1) of Constitution of Indiatothe States having notified STs, Development ofParticularly Vulnerable Tribal Groups (PVTGs) to the States / UTshaving notified PVTGs, etc.
Why this Joint Initiative
Since the initiatives of the Ministry of Tribal Affairs and objectives of DAY-NRLM deeply complement each other, the Ministries have decided to come together to improve the economic opportunities available to tribal women.
What will these Ministries do?
To take this convergence initiativeforward, a series of activities will be carried out by both theMinistries to synergize the efforts to fetch tangibleresults.
Activities by Ministry of Rural Development will include:Identification and mapping of tribal women SHG members and their individual livelihood assets; mapping of common tribal community assets; development of comprehensive proposal for the economic development of PVTGs through the strengthening of their traditional livelihood and occupations; convergence of GPDPs and CCD plan of OVTG habitations; assistance of SHGs to identify tribal households for enrolment under Van Dhan Yojana; and capacity building and credit access support to tribal communities through SHGs
Activities by Ministry of Tribal Affairs will include:Planning support to SRLM to finalize the State Annual Action Plan and inclusion of the plan in its Livelihood Annual Action Plan; promotion of livelihood opportunities among women identified by SRLM through avenues such as Mass Management,Outsourcing works of EMRS schools like housekeeping, cleaning and otheractivities in the EMRSs and Ashram Schools; augmenting the creation of individual as well as common livelihood assets as per beneficiaries identified by SRLM; implementing proposals for PVTG inco-ordination with the SRLM; inclusion of tribal SHGs / PG with majority of members from tribal households in Van Dhan Yojana and providing marketing support to produces fromSHGs and PGs through its marketing network.
Current News International WHO
Saliva Test For Covid-19
---
On 15th August, 2020, the US Food and Drug Administration (FDA) approved a new method of testing for Covid-19 — processing saliva samples — and termed it "ground-breaking".
Israel's Center for Geographic Medicine and Tropical Diseases, too, has developed a saliva test that it claims will detect the novel coronavirus "in less than a second". That test, however, is still in the process of getting regulatory approval.
Background
The first was on May 8, 2020 — emergency-use authorisation to Rutgers Clinical Genomics Laboratory's molecular test, commercially manufactured by Spectrum Solution. This was after results showed the device could be used for collection, transportation, and storage, following home collection of saliva.
What is a saliva test for Covid-19?
Broadly, there are two types of tests for Covid-19.
One type, which detects the virus itself, includes the RT-PCR test and the antigen test.
The second is the serological test, which looks for antibodies developed by the body against the virus. This determines if a person has been exposed to the infection, and is used for surveillance of infection in a community.
In the first category of tests, nose and throat swabs are used as the sampling technique. After the swab is removed, the sample is placed in a viral transport media and is preserved for analysis.
Researchers have developed the saliva test as a low-cost alternative; the suspected patient has only to spit into a sterile tube and the sample is then sent it to the laboratory.
What are the advantages of a saliva test?
Cost Effective: Saliva does not require a certified swab and collection receptacle and does not necessarily have to be obtained by a skilled healthcare provider, both of which increase diagnostic-associated costs. Therefore, cost is the biggest advantage.
Accuracy: A saliva test is reported to be prone to less error than has been reported in nasal swab collection, which sometimes give false negatives.
Safer for Health workers: The test is less invasive than a procedure that goes to the back of the nose to collect the swab. It is also safer for healthcare workers who collect the swab. Inserting the swab into the back of the nose often results in sneezing and coughing.
Not Travelling: It is a convenient option that does not require travelling to a hospital or lab.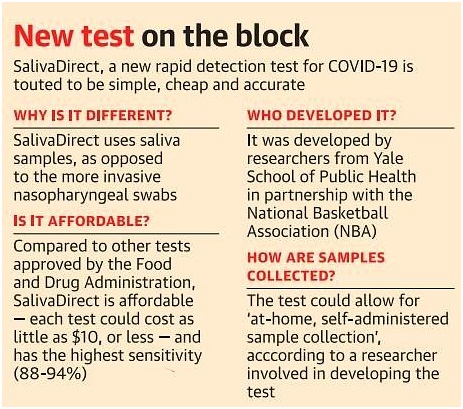 How is the saliva test different from RT-PCR?
Like RT-PCR, a saliva test too converts the virus RNA into DNA, then amplifies the DNA to detect presence of the virus.
What makes the SalivaDirect kit unique is that the researchers have done away with a separate step or specialised equipment to extract the virus RNA.
It can be broadly implemented as it does not require saliva collection tubes containing preservatives and does not require specialized reagents or equipment for nucleic acid extraction.
What are the limitations of the saliva test?
In the case of the kit developed by Rutgers, the specimens must be transported and stored at ambient temperature and tested within 48 hours of collection.
Again, the possibility of false negatives remains. As noted by the US FDA, SARS-CoV-2 nucleic acid is generally detectable in saliva specimens during the acute phase of infection.
Negative results must be combined with clinical observations, patient history, and epidemiological information.
Negative results for SARS-CoV-2 RNA from saliva should be confirmed by testing of an alternative specimen type if clinically indicated.
Researchers have also flagged the fact that saliva from patients can contain blood or mucus, which can interfere with testing and results.
Current News International WHO
Vaccine Nationalism
---
Recently, the World Health Organization (WHO) has warned against "vaccine nationalism", cautioning richer countries that if they keep treatments to themselves they cannot expect to remain safe if poor nations remain exposed.
It is being feared that such advance agreements will make the initial few vaccines unaffordable and inaccessible to everyone apart from the rich countries in a world of roughly 8 billion people.
Vaccine Nationalism
Vaccine nationalism occurs when a country manages to secure doses of vaccine for its own citizens or residents before they are made available in other countries.
This is done through pre-purchase agreements between a government and a vaccine manufacturer.
For example, the United States, the United Kingdom, Japan, and the European Union have spent tens of billions of dollars on deals with vaccine frontrunners such as Pfizer Inc, Johnson & Johnson and AstraZeneca Plc even before their effectiveness is proven.
If seen country wise, the US has already agreed to buy some 800 million doses from six drug makers, and the UK 280 million from five.
Past Example of Vaccine Nationalism
H1N1 Flu Pandemic
The present race to hoard Covid-19 vaccines harks back to a similar situation that happened in 2009 during the H1N1 flu pandemic.
Australia, the first country to come up with a vaccine, blocked exports while some of the wealthiest countries entered into pre-purchase agreements with several pharmaceutical companies. The US alone obtained the right to buy 600,000 doses.
Only when the 2009 pandemic began to unwind and demand for a vaccine dropped did developed countries offer to donate vaccine doses to poorer economies.
Laws to prevent Vaccine Nationalism
Interestingly, even though vaccine nationalism runs against global public health principles, there are no provisions in international laws that prevent pre-purchase agreements.
Problems Posed by Vaccine Nationalism
Poor Countries are Hard Hit:The most immediate effect of vaccine nationalism is that it further disadvantages countries with fewer resources and bargaining power.
Non-access to Health Goods:It deprives populations from timely access to vital public health goods.
Prioritizing Wealthy Countries: Taken to its extreme, it allocates vaccines to moderately at-risk populations in wealthy countries over populations at higher risk in developing economies.
Disrupting Global Supply Chains: Thus, if countries with a large number of cases lag in obtaining the vaccine, the disease will continue to disrupt global supply chains and, as a result, economies around the world.
Against Fundamental Principle of Vaccine Development:Vaccine nationalism also runs against the fundamental principles of vaccine development and global public health.Most vaccine development projects involve several parties from multiple countries.
WHO Solution against Vaccine Nationalism
The alternative to arrest vaccine nationalism is global collaboration.
In order to bring about equitable and broad access, WHO, the Coalition for Epidemic Preparedness Innovations, and Gavi, the Vaccine Alliance, have come up with an initiative known as "Covax Facility".
The facility aims to procure at least two billion doses of Covid-19 vaccines by the end of next year for deployment and distribution mainly in the low- and middle-income countries.
The countries that join the initiative are assured supply of vaccines whenever they become successful.
Moreover, the countries will get assured supplies to protect at least 20 percent of their populations.
Need of the Hour
Nationalism is at odds with global public health principles. Yet, there are no provisions in international laws that prevent pre-purchase agreements like the ones described above. There is nothing inherently wrong with pre-purchase agreements of pharmaceutical products.
Further, vaccines typically do not generate as much in sales as other medical products. If used correctly, pre-purchase agreements can even be an incentive for companies to manufacture vaccines that otherwise would not be commercialised.
But more needs to be done. International institutions — including the WHO — should coordinate negotiations ahead of the next pandemic to produce a framework for equitable access to vaccines during public health crises.
Equity entails both, affordability of vaccines and access opportunities for populations across the world, irrespective of geography and geopolitics.
The world needs to prevent vaccine nationalism by sharing finite supplies strategically and globally, in order to have upper hand in fight against the COVId-19 pandemic.
Current News National
National Recruitment Agency: A Transformational Reform In Recruitment Process For Central Government Jobs
---
Context
The Union Cabinet has cleared a proposal to set up a National Recruitment Agency (NRA). The NRA will conduct a common preliminary examination for various recruitments in the central government.
Current Trend
At present, aspirants have to take different exams that are conducted by various agencies for central government jobs that have many drawbacks as students have to spend more money and place of tests also vary. Further, the recruiting agencies are busy with recruitment cycles.
What will NRA do?
The NRA will conduct a Common Eligibility Test (CET) and that score will be basis for a candidate to apply for a vacancy with the respective agency.
Validity of the Score: The CET score of a candidate shall be valid for a period of three years from the date of declaration of the result.
Attempts: There will be no restriction on the number of attempts to be taken by a candidate to appear in the CET but, it will be subject to the upper age limit. There will be relaxation in the upper age limit for SC/ST/OBC and other categories as per the policy of the Government.
Mode of Examination: The CET will be conducted in multiple languages - in 12 languages that are in the Eighth Schedule of the Constitution of India.
Curriculum: The curriculum for CET would be common.
Frequency: The Common Eligibility Test will be held twice a year.
Which category of jobs come under this system?
NRA will organise a Common Eligibility Test for Group B and C (non -technical) posts, which are now being conducted by the Staff Selection Commission, Railways Recruitment Board and Institute of Banking Personnel Selection.
The Procedure
The test will be conducted for graduate, higher secondary (12th pass) and the matriculate (10th pass) candidates.
On the basis of CET score, final selection for recruitment will be made through separate specialised examination which will be conducted by the respective recruitment agencies such as SSC, IBPS and RRB.
What will happen to SSC, IBPS and RRB?
The present recruitment agencies i.e. IBPS, RRB and SCC will remain in place. The NRA will have representatives from SSC, IBPS and RRB.
Centre for CET
To carry out CET, examination centres would be set up in every district of the country. Examination infrastructure in the 117 'Aspirational Districts' will be the focus of this initiative.
Benefits of the New System
Reduce Financial Burden on Candidates: It will benefit the poor candidates, as they will appear a single examination near their home as every district will have such centres.
Reduction in Recruitment Cycle: CET will "significantly reduce" the recruitment cycle that will help respective agenciesin precious time as well as resources.

Current News Ecology & Environment Pollution
Microplastic Pollution In Atlantic Ocean
---
Recently, a new study published in Nature Communications has estimated early 11.6-21.1 million tones amount of microplastic pollution in the Atlantic Ocean.
Key Findings
In the study, scientists studied pollution of the Atlantic Ocean caused by three types of plastics: polyethylene, polypropylene, and polystyrene, which were suspended in the top 200 metres of the ocean. These three types of plastic are most commonly used for packaging.
Smaller plastic particles are a hazard, as it is easier for them to sink to greater ocean depths and some marine species such as zooplanktons show preferential ingestion of smaller particles, making them easier to enter the food chain.
They also estimate that based on plastic waste generation trends from 1950-2015 and considering that the Atlantic Ocean has received 0.3-0.8 per cent of the global plastic waste for 65 years, the Atlantic waters could hold 17-47 million tonnes of plastic waste.
Analysis of water and sediment worldwide indicates that microplastics are ubiquitous in freshwater, marine ecosystems and soils.
Microplastics
These are plastic debris smaller than 5mm in length, or about the size of a sesame seed.
These particles are mostly made from polyethylene (PE), polypropylene (PP), polystyrene (PS), polyethylene terephthalate (PET) and polyesters.
Microplastics come in a large variety of sizes, colours and chemical compositions, and include fibres, fragments, pellets, flakes, sheets or foams.
Categories
They can be divided into two main categories according to their source:
Primary Microplastics
Directly released in the environment as small particles.
Are estimated to represent between 15-31% of microplastics in the oceans.
Main sources: Laundering of synthetic clothes (35% of primary microplastics); abrasion of tyres through driving (28%); intentionally added microplastics in personal care products, for example microbeads in facial scrubs (2%).
Secondary Microplastics
Originate from degradation of larger plastic objects, such as plastic bags, bottles or fishing nets
Account for 69-81% of microplastics found in the oceans.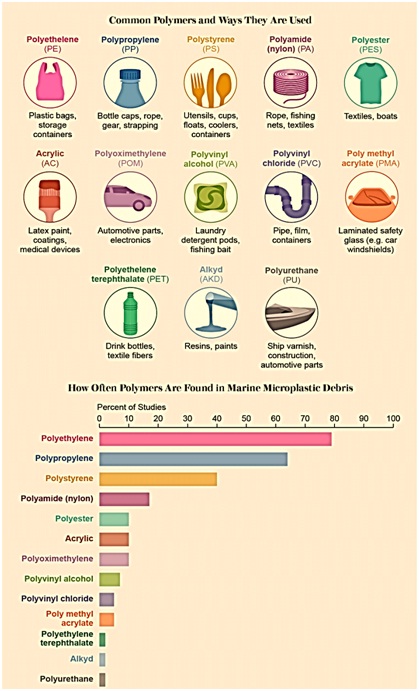 How does plastic reach the oceans?
Major sources of microplastics include:
Agricultural runoff
Aquaculture
Cruise ships
Ocean dumping
Stormwater
The shipping and fishing industries
Urban runoff
Waste management
Wastewater treatment plants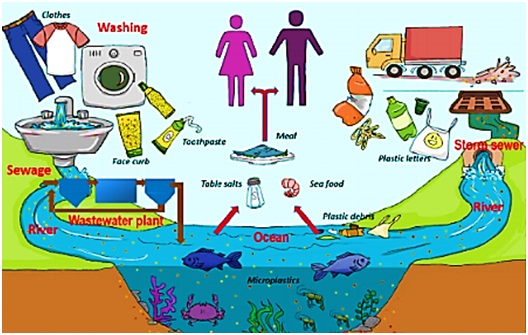 Impact
Impact on Marine Ecosystem
Many persistent organic pollutants (for example, pesticides, polychlorinated biphenyls-PCBs, DDT, and dioxins) float around the oceans at low concentrations, but their hydrophobic nature concentrates them on the surface of plastic particles.
Marine animals mistakenly feed on the microplastics, and at the same time ingest the toxic pollutants. The chemicals accumulate in the animal tissues and then increase in concentration as the pollutants are transferred up the food chain.
Besides the associated chemical loads, ingested plastic materials can be damaging for marine organisms, as they can lead to digestive blockage or internal damage from abrasion.
Microfibres, which have been reported as the most abundant type of microplastics in wastewater and freshwaters, are of particular concern. They have been identified in the intestinal tract of zooplankton, river-bed organisms, and mussels. They can result in gut blockage and starvation.
Impact on Human Health
For humans, too, marine plastic pollution is harmful if it reaches the food chain. For instance, microplastics have been found in tap water, beer and even salt.
Plastic swallowed by fish, shellfish and crustaceans also ends up on our tables. So the effects are also felt by humans: the pollutants released by microplastics can be ingested and absorbed by humans. These can interfere with the human endocrine system and produce genetic modifications.
Consumption of plastic by humans is harmful since several chemicals that are used to produce plastics can be carcinogenic.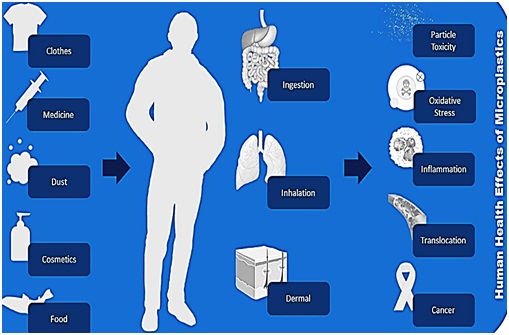 Global Efforts to Control Use of Microplastics
United States
Former president Barack Obama signed the Microbead-Free Waters Act 2015, banning the use of small plastic beads in rinse-off cosmetics like toothpastes and skin lotions.
Canada
The Canadian government also prohibited production of toiletries containing microplastics from January 2018.
Europe
The United Kingdom has adopted the same ban on microplastics in all cosmetic products.
Italy has banned non-biodegradable cotton swabs and has introduced the use of biodegradable plastic bags in all commercial activities.
Ireland was one of the first countries to move in this direction, as early as 2002, implementing a tax on every bag that was sold (which is currently more than 20 Eurocents). The same measure was adopted in Wales, Belgium and Denmark.
China
China has announced plans to ban the production of cosmetics that contain plastic microbeads by 31stDecember 2020, with sales of existing stock to be prohibited by 31st December 2022.
India
On the order given by National Green Tribunal (NGT) for analysis of microbeads in cosmetics, the Bureau of Indian Standards did a study and classified microbead products as 'not fit for use' in May 2017.
However, after that there has been no notification or instruction from the government banning the use of mircrobeads in cosmetics in India.
Mitigation and Control Measures
Short-term Measures
Regulation of production and consumption through bans or taxes of plastic products thatare harmful to the environment, without compromising public health or food safety.
Reducing the consumption of plastics through removal of unnecessary packaging (e.g., double packaging), labelling, awareness, education, and by providing eco-friendlyalternatives to plastics when possible without unintended consequences.
Increasing demand for recycled plastics through benefits, sanctions, or taxes on virgin plastics.
Mid-term Measures
Implementation of waste collection systems that lead to reductions in waste production, improve recycling rates following the "pay-as-you-throw" principle, such as door-to-doorcollection and deposit-refund systems.
Prioritizing recycling followed by feedstock and waste-to-energy that allow recovery of valuable chemicals and energy; landfill should only be used in waste produced in the previous processes.
Reduction and recycling of waste formed during production and responsibility over wasteand impacts caused by products.
Long-term Measures
Using renewable energy during collection of waste and recycling to reduce environmental impacts of recycled plastics.
Implementing Life Cycle Assessment (LCA) for each product and process to improve eco-design (including reuse, repair, and recyclability), taking into consideration expected end-of-life of products.
Using bio-based plastics to reduce environmental impacts from fuel-based plastics; reducing production of degradable plastics that produce harmful fragments (microplastics);using biodegradable plastics in applications where composting is beneficial (e.g., agriculturalfilms) while providing specific collection and waste treatment (since biodegradation maybe slower or not possible in the environment).
Improving recyclability of e-waste and in the interim, disposal through waste-to-energy.
Way Forward
An integrated waste management system, focused on the four R's hierarchy (reduce, reuse, recycle, recover) and improving the life-cycle of plastics is important to reduce energy and resources consumptions, avoid harmful emissions, and reduce quantities of mismanaged plastic waste reaching the oceans.
These measures require command and control and economic measures created by governments, voluntary measures from industries, and changesin consumer behavior.
Since plastic marine litter knows no boundaries, international cooperation is the need of the hour in order to improve waste management systems in all countries (or at least coastal countries).
Current News National
National Cancer Registry Programme Report 2020
---
The National Cancer Registry Programme (2012-2016) report has been released by the Indian Council of Medical Research (ICMR) and National Centre for Disease Informatics and Research (NCDIR), Bengaluru.
Major Findings
Number of Cancer Cases: The report has estimated that in 2020, cancer cases in the country will be at 13.9 lakh and are likely to increase to 15.7 lakh by 2025, based on current trends.
Cancer incidence rate among males per 1,00,000 population ranges from 269.4 in Aizawl district, which is the highest in India, to 39.5 in Osmanabad and Beed districts.
Cancer incidence rate among females per 1,00,000 population ranges from 219.8 in Papumpare district Arunachal Pradesh to 49.4 in Osmanabad and Beed district in Maharashtra.
One out of every four persons in Papumpare district, in the age group of 0-74 years, faces the possibility of developing cancer through the course of a lifetime.
Tobacco Related Cases
In 2020, according to the report, tobacco-related cancers are estimated to contribute 3.7 lakh cases, or 27.1 per cent of the total cancer burden.
Cancers related to use of any form of tobacco were found to be the highest in the north-eastern region of the country and in higher proportions in men.
Cancer in Men
Cancers of lung, mouth, stomach and oesophagus were the most common cancers among men.
Cancer in Women
Cancer of breast and cervix uteri were the most common cancers among women.
Cancer in Both Men and Women
For both men and women, cancer of the gastrointestinal tract is estimated to contribute 2.7 lakh cases (19.7 per cent).
Other Findings
A significant increase in the incidence rates of breast cancers in women, and lung and head and neck cancers in both men and women, was observed in most of the registries. However, a declining trend was seen in most of the registries for cancer of the cervix.
Cancers of lung were diagnosed at a stage of spread to distant sites, while cancers of head and neck, stomach, breast and cervix were in higher proportions with loco-regional spread.
Multimodality treatment (a varied combination of surgery, chemotherapy and radiation therapy) was administered for cancers of breast and head and neck, while cancer cervix was treated mainly with radiotherapy and chemotherapy, according to the report.
PIB News National Science & Technology
Invisible Shield For Electromagnetic Interference
---
Scientists from Centre for Nano and Soft Matter Sciences (CeNS), Bengaluru have fabricated a metal mesh structure instead of continuous film on desired transparent substrates to make it a transparent shield for electromagnetic interference (EMI).
These transparent and flexible EMI shields are made of metal meshes using the crack templating method via spray coating which is pioneered in their laboratory.
The CeNS team has developed a copper metal mesh on polyethylene terephthalate (PET) sheet as its substrate, which exhibited a visible transmittance, a parameter of visible transparency of about 85% and sheet resistance. These transparent and flexible EMI shields made of metal mesh coatings on desired transparent substrate showed remarkably high values for total EMI shielding.
What is new?Metal Mesh is Superior to Continuous Metal Film
Instead of continuous film of metal (Cu) coating on any transparent substrate (glass, PET) where transparency can be compromised. In this method, the CeNS team has deposited metal mesh networks on the substrate, which covers only 7% area of substate, unlike 100% coverage of continuous film. This makes metal mesh transparent compared to continuous metal film. Metal mesh provides better electromagnetic shielding compared to same thickness of continuous metal film where transparency can be compromised.
Uses and Advantages
The invisible shield can be used in various military stealth applications and can cover electromagnetic wave emitter or absorber devices without compromising their aesthetics.
This metal mesh can be created on any desired substrates such as acrylic, polycarbonate, glass, etc. without compromising the conductivity of the electrodes.
PIB News National Science & Technology
"Swadeshi Microprocessor Challenge"
---
On 18th August 2020, Shri Ravi Shankar Prasad, Union Minister of Law & Justice, Communications and Electronics & Information Technology, launched "Swadeshi Microprocessor Challenge- Innovate Solutionsfor #Aatmanirbhar Bharat" to provide further impetus to the strong ecosystem of Start-up, innovation and research in the country.
Aim of this Initiative
"Swadeshi Microprocessor Challenge- Innovate Solutions for #Aatmanirbhar Bharat" seeks to invite innovators, startups and students to use these microprocessors to develop various technology products.
As one of the concrete steps towards realizing the ambition of self-reliance and a momentous stride towards "Atmanirbhar Bharat", this initiative is aimed at not only meeting India's future requirements of strategic and industrial sectors but also has the potential to mitigate the issues of security, licensing, technology obsolescence and most crucially cutting dependency on imports. The design, development & fabrication of these state-of-the-art processor variants at foundry in the country and abroad, is the successful step to leapfrog to ultimate goal of vibrant ecosystem of Electronic System Design & Manufacturing in the country.
Open to students at all levels and startups, the Challenge demands contestants to not only tinker with these Swadeshi Processor IPs & facilitate them with innovating the frugal solutions for societal needs but also make available the entire home-grown ecosystem around Swadeshi Processors to develop the complex designs for catering to both global and domestic requirements in near future.
Support by the Ministry
Ministry of Electronics and IToffers a slew of benefits to the contestants and technology resources that include not only the internship opportunities and regular technical guidance from the best VLSI & Electronics System Design Experts in the country but also the business mentorship & funding support, facilitated by Incubation Centres. Financial support to the tune of Rs. 4.30 Crore at various stages of the Challenge for developing the hardware prototype and incubating a start-up is being offered.
Recent Achievements in this Field
IIT Madras and Center for Development of Advance Computing (CDAC) have developed two microprocessors named SHAKTI (32 bit) and VEGA (64 bit) respectively using Open Source Architecture under the aegis of Microprocessor Development Programme of Ministry of Electronics and IT.
The Challenge
The Challenge spread over 10 months, kick-starts with registration process at https://innovate.mygov.in on 18th August 2020 and culminates in June 2021, with an opportunity for 100 Semi-finalists to win total Rs. 1.00 Crore of Award, 25 Finalists to win total Rs. 1.00 Crore of Award and top 10 teams entering the finale, will get the seed fund of total Rs 2.30 Crore and 12 months incubation support. Above all, participants will get an opportunity to translate their innovations around Swadeshi Processors, showcase them at a higher viewership platform and facilitate them to scale from ideation to marketplace, thereby standing a chance to contribute to the overall mission of #AtmaNirbharta of Government.
News Crux Obituary
Legendary Indian Classical Singer Pandit Jasraj Passed Away
---
Pandit Jasraj was born on January 28, 1930 in Pili Mandori, a village in the Hisar district of Haryana, in a family of Indian classical musicians.
Jasraj belongs to the Mewatigharana, a school of music known for its traditional performances of khayals.
He also created a novel form of 'jugalbandi' called 'Jasrangi' that is styled on the ancient system of 'moorchhana', between a male and a female vocalist, who each sing different ragas at the same time.
PanditJasraj will be remembered as the pioneer who added elements of the thumri to the khayal, giving it more flexibility and making it more audience-friendly.
In 2019, the International Astronomical Union has named a minor planet between Mars and Jupiter as 'Panditjasraj'.
PanditJasraj was recipient of various prestigious awards and honours including Padma Shri, Padma Bhushan and Padma Vibhushan.
Current News Indian Economy Plan Policy
Transparent Taxation – Honoring The Honest
---
In a bid to reward the taxpaying citizens of India, the government on 13th August, 2020, launched a new platform 'Transparent Taxation – Honoring the Honest', to honour the honest taxpayers of the country.
Aim
To ease compliance by making the tax system, "People-Centric & Public Friendly" and issue refunds faster to benefit honest taxpayers in the midst of coronavirus (COVID-19) pandemic.
Need
The number of taxpayers is significantly low with only 1.5 Crore paying taxes in a country of 130 Crore people.
Background
It is to be noted that the new scheme, Transparent Taxation – Honouring the Honest is an extension of E-assessment scheme- 2019 launched by Government of India in September 2019.
Key Features
Faceless Assessment
It aims to eliminate the interface between the taxpayer and the Income Tax Department.
There will be no need for the taxpayer to visit the income tax office or the officer.
The selection of a taxpayer is possible through systems using analytics and Artificial Intelligence.
The system abolishes territorial jurisdiction.
A taxpayer may belong to a particular city but the assessment order, review and the finalisation will take place in different cities.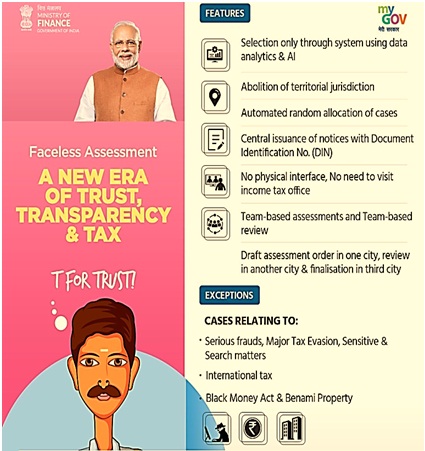 Faceless Appeal
Under the system, appeals will be randomly allotted to any officer in the country.The identity of the officer deciding the appeal will remain unknown.
The taxpayer will also not be required to visit the income tax office or the officer and the appellate decision will be team-based and reviewed.
The appellate decision will be team-based and the appeals will be reviewed.
Exceptions:The benefits of Faceless Tax Assessment and Appeals do not apply to cases relating to:
Serious frauds
Major Tax Evasions
Sensitive & Search Matters
International Tax
Black Money Act & Benami Property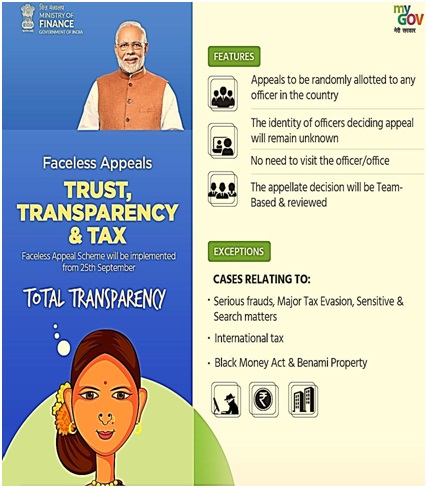 Taxpayer Charter
It outlines the rights and responsibilities of both tax officers and taxpayers.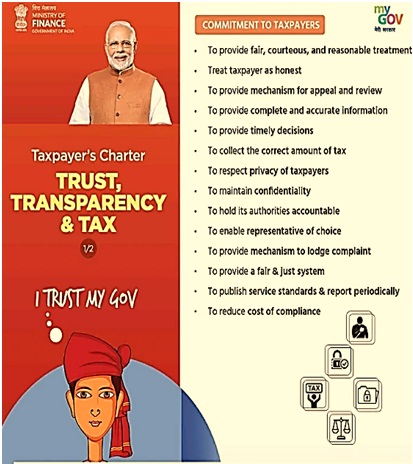 Implementation
Faceless Assessment and Taxpayer's Charter is implemented with immediate effect; the Faceless Appeal will be effective from 25th September 2020.
Impact
Strengthening Tax System: The platform will add strength to the government's efforts of reforming and simplifying the tax system. It will benefit several honest tax payers, whose hard work powers national progress. It will also give a big push to a seamless, faceless, and paperless administration.
More Transparency:The launch will initiate major tax reforms aimed at bringing transparency in income tax systems, easing the tax compliance and also rewarding honest taxpayers amid the coronavirus crisis.
Nation Building:The honest taxpayers of the country play a very big role in nation-building. When the life of the country's honest taxpayers becomes easier, the country also develops, the country also moves forward.Further, this would help in achieving the goal of a Self - Reliant India, AtmaNirbharBharat.
Recent Tax Reforms
With a view to providing for the resolution of pending tax disputes the IT Department also brought out the Direct Tax "Vivad se Vishwas Act, 2020" under which declarations for settling disputes are being filed currently.
In March, 2020, the Dividend distribution Tax was also abolished.
Document Identification Number (DIN) was introduced wherein every communication of the Department would carry a computer-generated unique document identification number, bringing more transparency in official communication.
In September, 2019, the Corporate Tax rates were reduced from 30 percent to 22 percent and for new manufacturing units the rates were reduced to 15 percent.
The tax slabs have also been rationalised as a part of the ongoing reforms where there is zero tax upto an income of 5 lakh rupees, while the tax rate has reduced in the remaining slabs too.
To effectively reduce taxpayer grievances / litigation, the monetary thresholds for filing of departmental appeals in various appellate Courts have been raised.
Issues Involved
In the newly announced system, serious frauds, major tax evasion, sensitive and search mattershave been kept out of the ambit of the faceless appeals .
Further, italso excludes international taxation and Black Money Act as well as the Benami Property Act.
Moreover, Tax officials are pushing back against the new faceless tax assessment program. They see problems in the lack of consultation and inadequate resource to implement the changes.
According to them, faceless tax assessment may reduce tax collection, which in turn mayraise pressure on officers to meet lofty tax targets for the current fiscal year.
Way Forward
India's tax administration has been known for tax harassment, where overzealous well-intentioned officials while raising tax revenues, have dampened growth and at times done more damage than good.
The issue of alleged tax harassment by officers gained much attention in India after VG Siddharta, the founder of India's largest coffee shop chain, committed suicide in July, 2019 and left behind a note accusing tax authorities of persecuting him.
The launch of the platform is a landmark decision and carries forward the journey of direct tax reforms, following the several measures that have been taken by the CBDT to aid taxpayers.
Current News Science & Technology
Indian Scientists Have Developed A Process To Make Space Bricks For Habitation On Moon
---
Research scientists from the Indian Institute of Science (IISc) and the Indian Space Research Organisation (ISRO) have developed a process to make bricks on the moon for habitation using biology and mechanical engineering together.
The Process
"The process involves extracting lunar soil and using bacteria and guar beans to harden it (soil) into brick-like structures for habitation on the moon in the future.
In this process urea willbe sourced from human urine and lunar soil will be used as raw materials for the construction.
As guar gum is used instead of cement for structures, space bricks will also lower carbon footprint in the lunar atmosphere.
Since micro-organisms produce minerals through metabolism, one bacterium called 'sporosarcinapasteurii' can be used to form calcium carbonate crystals through a metabolic pathway called the ureolytic cycle.
Current News Indian Economy Plan Policy
National Digital Health Mission
---
On 15th August, 2020, the Prime Minister launched the National Digital Health Mission(NDHM) while addressing the nation from Red Fort on India's 74th Independence Day.
Background
The National Health Policy 2017 had envisaged creation of a digital health technology eco-system aiming at developing an integrated health information system that serves the needs of all stakeholders and improves efficiency, transparency and citizens' experience with linkage across public and private healthcare.
In the context of this, central government's think-tank NitiAayog, in June 2018, floated a consultation of a digital backbone for India's health system — National Health Stack.
As part of its consultation, NitiAayog proposed a Digital Health ID to "greatly reduce the risk of preventable medical errors and significantly increase quality of care".
This proposal was then further taken up by the Central government with the Ministry of Health and Family Welfare, the NHA, and the Ministry of Electronics and IT preparing a strategy overview document for "Making India a Digital Health Nation Enabling Digital Healthcare for all".
Salient Features NDHM
Implementation
National Health Authority (NHA), the attached office of the Ministry of Health & Family Welfare and the apex Central Government agency responsible for the implementation of Ayushman Bharat Pradhan Mantri Jan ArogyaYojana, has been given the mandate by the Government of India to design, build, roll-out and implement the NDHM in the country.
Pilot Project
In its first phase, the mission will begin in Union Territories such as Andaman & Nicobar Islands, Chandigarh, Dadra & Nagar Haveli, Daman & Diu, Lakshadweep, Ladakh and Puducherry.
Creation of National Health Id System
Under the mission, every Indian will get a new Aadhar-like health ID that will store the individual's medical records, including doctor visits, diseases, the line of treatment and drugs taken.
This will also come integrated with the facility of using telemedicine, e-pharmacy, creating a national health registry.
One copy of a patient's records are stored in their doctor's files and one is stored in their own individual locker (which can be owned by a company or by the government).
Other than the registry of doctors, professionals, and institutions, this allows for decentralised storing.
From a doctor's appointment to hospitalisation for any treatment, this ID will become essential.
Key Building Blocks
The NDHM comprises six key building blocks or digital systems namely, Health ID, Digi Doctor, Health Facility Registry, Personal Health Records, e-Pharmacy & Telemedicine – that will enable access to timely, safe and affordable healthcare through a 'citizen-centric' approach.
The vision is to create a national digital health ecosystem which provides timely and efficient access to inclusive, affordable, and safe healthcare to all citizens.
Leveraging Technology
The key feature of this mission is the technology part - it will leverage open digital systems to provide high-quality healthcare for all.
It will integrate various digital health services to create an ecosystem which can assimilate existing health information systems.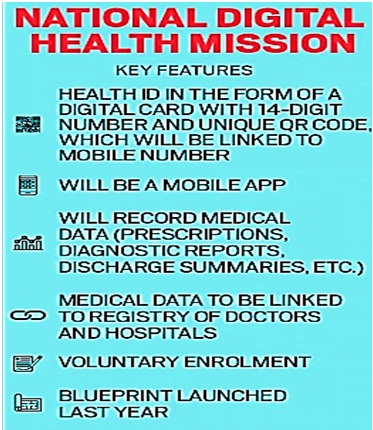 Significance
Achieving Universal Health Coverage:NDHM will significantly improve the efficiency, effectiveness, and transparency of health service delivery and will be a major stride towards achievement of the United Nations Sustainable Development Goal 3.8 of Universal Health Coverage, including financial risk protection.
Reducing Existing Gaps:The NDHM is a holistic, voluntary healthcare programme that will reduce the existing gap between various stakeholders such as doctors, hospitals and other healthcare providers, pharmacies, insurance companies, and citizens by bringing them together and connecting them in an integrated digital health infrastructure.
Empowering Citizens:It will help to liberate citizens from the challenges of finding the right doctors, seeking appointment with them, payment of consultation fee, making several rounds of hospitals for prescription sheets, among several others and will empower all Indians with the correct information and sources enabling them to take an informed decision to avail the best possible healthcare.
Challenges
However, with India still lacking a law on data protection, the digital health mission and the semblance of the policy to Aadhaar is expected to trigger privacy concerns in the days to come.
Global Instances of Centralised Health Record System
In 2005, the UK's National Health Service (NHS) started deployment of an electronic health record systems with a goal to have all patients with a centralised electronic health record by 2010.
While several hospitals acquired electronic patient records systems as part of this process, there was no national healthcare information exchange.
The program was ultimately dismantled after a cost to the UK taxpayer was more than £12 billion, and is considered one of the most expensive healthcare IT failures.
The project had been beset by changing specifications, technical challenges and clashes with suppliers, which left it years behind schedule and way over cost.
Current News International
Israel-UAE Peace Deal
---
On 13th August 2020 the President of the USA has announced that Israel and the United Arab Emirates (UAE) have agreed to establish full diplomatic ties.
Both the UAE and Israel are the USA's close allies in West Asia.
After this announcement, the UAE has become the first Gulf Arab state to do so and only the third Arab nation to have active diplomatic ties with Israel.
Only Egypt and Jordan have active diplomatic ties with Israel.Egypt made a peace deal with Israel in 1979, followed by Jordan in 1994.
Mauritania recognised Israel in 1999 but later ended relations in 2009 over Israel's war in Gaza.
Under the deal, Israel would suspend its plans to annex large parts of the occupied West Bank.Israel has occupied the West Bank and east Jerusalem since the 1967 Middle East war – territories that the Palestinians hope to be part of their future state.However, Israelis see these lands as theirs, and so has built hundreds of settlements and outposts over the past few decades.
In recent years, ties between Gulf Arab nations and Israel have quietly grown, in part over their shared enmity of Iran and the Lebanese militant group Hezbollah.
The agreement is also officially called the "Abraham Accord" in honor of Abraham, the patriarch of the three major Abrahamic religions of the world—Judaism, Islamand Christianity.
Current News Indian Economy
ILO Child Labour Convention (No. 182) Achieves Universal Ratification
---
On 4th August, Convention No. 182 on the Worst Forms of Child Labour achieved universal ratification, following last submission by the Kingdom of Tonga.
It is for the first time in the ILO's history, an International Labour Convention has been ratified by all member States.
All 187 member States of the International Labour Organization (ILO) have ratified the ILO Convention on the Worst Forms of Child Labour, 1999 (No. 182).
India ratified Convention 182 and the instrument prescribing the minimum age of work for children in 2017.
Convention No. 182 and its Goals
It is one of the ILO's eight Fundamental Conventions.
Convention No. 182 calls for the prohibition and elimination of the worst forms of child labour, including slavery, forced labour and trafficking. It prohibits the use of children in armed conflict, prostitution, pornography and illicit activities such as drug trafficking, and in hazardous work.
Other Information
Sustainable Development Goals & Child Labour
"Ending child labour by 2025 in all its forms" is included under Target 8.7of the Sustainable Development Goals, adopted by all UN Member States in 2015.
International Year for the Elimination of Child Labour
This landmark achievement comes just months before the start of theInternational Year for the Elimination of Child Labour in 2021, to be led by the ILO in collaboration with partners. Its aim is to raise awareness of the issue and to help accelerate the pace of progress.
Current News National
Transparent Taxation – Honoring The Honest
---
Prime Minister Narendra Modi on 13th August 2020 launched the platform for 'Transparent Taxation – Honoring the Honest' aimed at easing compliance and expediting refunds, benefiting honest taxpayers.
Three main features of the platform are
Faceless Assessment: It will eliminate the interface between the taxpayer and the income tax department. There will be no need for the taxpayer to visit the income tax office or the officer.The selection of a taxpayer is possible through systems using analytics and Artificial Intelligence.
Faceless Appeal: Under the system, appeals will be randomly allotted to any officer in the country. The identity of the officer deciding the appeal will remain unknown.
Tax Payers' Charter:This outlines the rights and responsibilities of both tax officers and taxpayers.
When will it be implemented?
While the faceless assessment and taxpayers' charter came into force on 13th August 2020, the faceless appeal system will be available from September 25, birth anniversary of DeendayalUpadhyaya.
Current News National
Clause 6 Of Assam Accord: Defining Assamese People And Safeguards For Them
---
On 11th August 2020, the All Assam Students Union (AASU), a party to the Assam Accord made public a high-level committee's confidential report on the implementation of 1985 Assam Accord's Clause 6.
About Assam Accord
It is a tripartite accord by the Government of India, State Government of Assam and the leaders of the Assam Movement in 1985 that was followed by a six-year agitation that was launched by the All Assam Students' Union (AASU) in 1979, demanding the identification and deportation of illegal immigrants from Assam.
About Clause 6 of the Assam Accord
It is a part of the Assam Accord that reads: "Constitutional, legislative and administrative safeguards, as may be appropriate, shall be provided to protect, preserve and promote the cultural, social, linguistic identity and heritage of the Assamese people."
The Home Ministry in 2019 constituted a 14 member committee headed by retired High Court judge Biplab Kumar Sarma to implement Clause 6 of Assam Accord.
Recommendations of the Committee
Definition of Assamese People
All citizens of India who are part of:
Assamese community, residing in the Territory of Assam on or before January 1, 1951; or
Any indigenous tribal community of Assam residing in the territory of Assam on or before January 1, 1951; or
Any other indigenous community of Assam residing in the territory of Assam on or before January 1, 1951; or
All other citizens of India residing in the territory of Assam on or before January 1, 1951; and
Descendants of the above categories
Why 1951?
During the Assam agitation, the demand was for detection and deportation of migrants who had illegally entered Assam after 1951. The Assam Accord, however, set the cut-off at March 24, 1971. The National Register of Citizens (NRC) was updated based on this cut-off.
Issues
Clause 6 is meant to give the Assamese people certain safeguards, which would not be available to migrants between 1951 and 1971.If the recommendation is accepted, those who migrated between 1951 and 1971 would be Indian citizens under the Assam Accord and NRC, but they would not be eligible for safeguards meant for "Assamese people".
Key Safeguards Recommended by the Panel
Reservation
80 to 100% reservation in the parliamentary seats of Assam, Assembly seats and local body seats be reserved for the "Assamese people".
80 to 100% of Group C and D level posts (in Assam) in central government/semi-central government/central PSUs/private sector
80 to 100% of jobs under Government of Assam and state government undertakings; and 70 to 100% of vacancies arising in private partnerships
Land Rights
Land rights, with restrictions imposed on transferring land by any means to persons other than "Assamese people".
Language
Assamese language shall continue to be official language throughout the state with provisions for use of local languages in Barak Valley, Hill Districts and the Bodoland Territorial Area Districts.
Mandatory provision of an Assamese language paper for recruitment in state government services with alternatives for Barak Valley districts, BTAD and Hills Districts.
To set up Academies for all-round development of each of the indigenous tribal languages including, Bodo, Mishing, Karbi, Dimasa, Koch-Rajbongshi, Rabha, Deuri, Tiwa, Tai and other indigenous languages.
Current News National DEFENCE
Pune Ammunition Factory Sends First Consignment Of Fully Indigenised UBGL
---
The Ammunition Factory in Pune's Khadki on August 12, 2020 sent the first consignment of indigenised 40 mm Under Barrel Grenade Launcher (UBGL) to the Border Security Force.
This ammunition is fired from a launcher fitted under the barrel of 5.56 mm Rifle (INSAS).
The 40 mm UBGL ammunition has several advantages over the traditional hand grenade -
It is lightweight, has a range of 400 Meters as against the hand grenade which has a range of 30 Meters
It can be fired by the same equipment by the soldier and it is also very safe ammunition for carrying by soldiers.
Current News Ecology & Environment
New Norms For Import Of Certain Chemicals And Plastics
---
On 11th August, the Directorate General of Foreign Trade (DGFT) inserted a new policy condition for import of various chemicals including organic chemicals.
It tightened the import norms for certain chemicals and plastics.
Now, the importers shall, for each import consignment, submit a copy of the bill of entry within 30 days to the Ozone Cell of the Ministry Of Environment, Forests and Climate Change for some items.
DGFT also prohibited the imports of those chemicals which contain HCFC, an ozone-depleting chemical. These chemicals are used in cleaning agents, fire extinguishers and refrigerants and China is the largest exporter of these goods to India.
For dicholoroflouroethanes, it said the import of HCFC-141b- a chemical used by foam manufacturing enterprises and one of the most potent ozone depleting chemical after Chlorofluorocarbons- is prohibited except for feedstock applications. HCFC-141b is not produced in the country and all the domestic requirements are met through imports.
India had phased out HCFC-141 b by January 1, 2020 wherein it said the issuance of import license for the chemical is prohibited under the Environment (Protection) Act, 1986.
DGFT also prohibited the import of other polyesters and pre-blended polyols- that are used by the foam industry.
PIB News National India
Journey Of India's Independence Struggle Through The Galleries And Cells Of Cellular Jail
---
As India gears up to celebrate its 74thIndependence Day celebrations , the Ministry of Tourism's DekhoApnaDesh Webinar Series presented the webinar titled "Cellular Jail : Letters , Memoirs & Memories on 10th August 2020.
The Webinar showcased the journey of India's independence struggle through the galleries and cells of the Cellular jail.
The lives and stories of some of the most famous political prisoners like Veer Savarkar, B.K.Dutt, Fazl-e-HaqKhairabadi, Barindra Kumar Ghose, SushilDasgupta were presented.
The important contribution made by NetajiSubhas Chandra Bose in Andaman towards India's independence also had a mention in the presentation.
The sacrifices of following freedom fighters who had to go through the inhuman sufferings at the Cellular Jail were highlighted:
Veer Savarkar: In 1911, freedom fighter Vinayak Damodar Savarkar was sentenced to 50 years in the cellular jail of Andamans (also known as Kala Pani) for revolting against the Morley-Minto reforms (Indian Councils Act 1909). He was released in 1924. He was known for his bravery and hence nicknamed 'Veer'.
K. Dutt: Batukeshwar Dutt, also known as B K Dutt, was a Revolutionary Freedom Fighter. He, along with Bhagat Singh was involved in the Central Legislative Assembly Bombing Case of 1929, passed away on 20th July 1965 after an illness at the age of 54. Both Singh and Dutt were sentenced to life imprisonment and deported to the Cellular Jail in Port Blair.
Fazl-E-HaqKhairabadi: After the Indian Rebellion of 1857 failed, Fazl-E-Haq was covered by an amnesty and was arrested by the British authorities on 30 January 1859 at Khairabad for inciting violence. He was tried and found guilty of encouraging murder and role in the 'jihad'. He had chosen to be his own counsel and defended himself. His arguments and the way he defended his case was so convincing that the presiding magistrate was writing a judgement to exonerate him, when he confessed to giving the fatwa, declaring that he could not lie. He was sentenced for life to the prison at Kalapani (Cellular Jail) on Andaman Island, and his property was confiscated by the judicial commissioner of Awadh court.
Barindra Kumar Ghose: BarindraGhose was born at Croydon, near London on 5 January 1880. Following the attempted killing of Kingsford by two revolutionaries Khudiram and Prafulla on 30 April 1908, the police intensified its investigation which led to the arrest of Barin and AurobindoGhosh on 2 May 1908, along with many of his comrades. The trial (known as the Alipore Bomb Case) initially sentenced BarinGhosh and UllaskarDatta to death. However, the sentence was reduced to life imprisonment, by DeshbandhuChittaranjan Das and Barin was deported to the Cellular Jail in Andaman in 1909 along with other convicts.
Sushil Dasgupta: Sushil Kumar Dasgupta (1910-1947) was born in Barishal, now in Bangladesh. He was a member of the revolutionary Yugantar Dal of Bengal, and the Putiya Mail Robbery case of 1929 took him to Medinipur prison. From there, he escaped along with fellow revolutionaries, SachinKar Gupta and Dinesh Majumdar. They were absconding for seven months. Eventually Dinesh was caught and hanged, Sushil was sent to Cellular Jail, and Sachin first to Mandalay Jail and, then, to Cellular Jail.
Contribution of Subhas Chandra Bose
On December 29, 1943, political control of the islands was passed to the Azad Hind government of Subhas Chandra Bose. Bose visited Port Blair to raise the tricolour flag of the Indian National Army.
Cellular Jail
The Cellular Jail in Port Blair, Andaman & Nicobar Islands is a prison where Indians fighting for freedom from the British were exiled and incarcerated under very inhuman conditions. Today, a national memorial, it is called cellular because it was constructed to host only individual cells for the purpose of solitary confinement.
Viper Jail
Prior to Cellular jail, it was the jail at Viper Island that was used by the British to inflict the worst form of torture and hardship on those who strove to free the country from the British rule.
Solitary cells, lock-ups, stocks and whipping stands characterized the Viper Jail. Women were also held. The conditions at the jail were such that the place got the notorious name, "Viper Chain Gang Jail."
News Crux Reports/Committee/Commission
SC Gives Equal Inheritance Rightsto Daughters From 1956
---
The Supreme Court on 11th August clarified that daughters would have equal share in a Hindu Undivided Family (HUF) property, irrespective of whether the father was alive or not on 9 September, 2005, the date when the amendment of The Hindu Succession Act, 1956 was notified.
Why this Clarification?
The Hindu Succession (Amendment) Act 2005 provided rights at par with sons to daughters in ancestral property.
But, a bunch of appeals had raised a question of law whether "a daughter of a coparcener (is a person who shares equally with others in the inheritance of an undivided estate or in the rights to it) shall by birth become a coparcener in her own right in the same manner as the son," meaning the daughter would have the same right as the son since birth or only after the amendment to the act was made and can be denied the legal right if born before the enactment of the amendment.
Current News National STATES IN NEWS
Gujarat Launches New Industrial Policy 2020
---
On 7th August 2020, the Gujarat government has announced the new Industrial Policy 2020 for the State, with an average annual outlay of up to Rs 8,000 crore.
The policy stresses on bringing investments for job creation, value-addition, adoption of state-of-the-art technology, increasing productivity with Industry 4.0 manufacturing, and creating an innovation-driven ecosystem.
The state will provide Rs 5 crore for setting up research and development (R&D) or product development centres.
The new Industrial policy is divided in 15 thrust areas in core sectors and sunrise sectors.

Core Sectors- the thrust areas will be Electrical machinery & equipment, Industrial Machinery & equipment, Auto & Auto Components, Ceramics, Technical Textiles, Agro & Food Processing, Pharmaceuticals & Medical devices, Gems & Jewelry and Chemicals.
Sunrise Sectors - will have thrust areas like Industry 4.0 manufacturing, Electric Vehicle and its components, Waste management projects, Green Energy including Solar & Wind Equipment and Eco-friendly compostable material for substitutes to traditional plastics.
Highlights
Long-term Lease of Land:Industries will now be able to get government land for projects on long-term lease up to 50 years (further extendable as per prevailing policy) to industrial enterprises at 6 per cent of the market rate.
Mortgage of Land: The industries will be able to mortgage the land.
Capital Subsidy and Tax Incentives: The policy offers capital subsidy and tax incentives to industrial units:

In a first, the state has taken a decision to de-link incentives from the State Goods and Services Tax (SGST), with up to 12 per cent of fixed capital investment to be given to large industries for setting up manufacturing operations in Gujarat in the form of capital subsidy.
Gujarat government will provide special incentives to companies planning to relocate their operations from abroad to the State.
Industries will continue to get exemption from electricity duty for five years.
Seed capital for start-ups has been increased from Rs 10 lakh to Rs 30 lakh.
Ease of Doing Business: Permissions to start new units will be granted smoothly. To further strengthen the ease of doing business in the state, a framework for `Mega Permission' is being prepared, which requires investors to submit one application form for 26 different approvals.
The policy lays much stress on the MSMEs
The new policy enables MSMEs to source foreign technologies with up to 65 per cent of the total cost of technology acquisition being supported by government with a ceiling of Rs 50 lakh.
The MSMEs will also be eligible for capital subsidy of up to 25 per cent of the eligible loan amount up to Rs 35 lakh, while they will be encouraged to install solar rooftop projects on the units with higher tariff for the solar power generated at Rs 2.25 per unit against Rs 1.75.
While the State is preparing a separate Services Sector Policy, the New Gujarat Industrial Policy 2020 offers interest subsidy of up to 7 per cent up to Rs 35 lakh per annum for seven years to service sector MSMEs in the areas of financial services, healthcare, audio-visual, and environmental services, among others.
Current News National STATES IN NEWS
Mukhya MantriKisan Sahay Yojana
---
On 10th August Gujarat Chief Minister Vijay Rupani has announced MukhyaMantriKisan Sahay Yojana for the current Kharif season.
The new scheme - MukhyaMantriKisan Sahay Yojana - will replace the Pradhan MantriFasalBimaYojana (PMFBY) for this year only because insurance firms have sought very high premium.
Highlights
Under this scheme, farmers facing crop losses due to drought, excess rain or unseasonal rain will get compensation without giving any premium for them or for the registration process.
All farmers of the state will be covered under this scheme.
Tribal farmers registered under the Forest Rights Act are also eligible for this scheme.
The compensation will be given only if the loss of crop is more than 33 per cent either due to drought, or excess rain, or due to unseasonal rainfall.
A farmer is eligible to get compensation for maximum four hectares of land.
For crop loss between 33 and 66 per cent, a farmer will get a compensation of 20,000 per hectare for maximum four hectares. For crop loss above 60 per cent, a farmer will get 25,000 per hectare for maximum four hectares.
Apart from the compensation paid under this scheme, farmers are also eligible to get additional compensation under the State Disaster Response Fund in case of crop loss due to natural calamities.
PIB News National Ecology & Environment
Himalayan Geothermal Springs Release Huge Amount Of Carbon Dioxide In The Atmosphere
---
The Himalayan geothermal springs which cover about 10,000 square km in the Garhwal region of Himalaya, show a significant discharge of Carbon dioxide (CO2) rich water. This was found by Wadia Institute of Himalayan Geology, an autonomous institute under the Department of Science & Technology, Govt. of India, which investigated and characterised the gas emissions from these springs. The estimated carbon dioxide degassing (removal of dissolved gases from liquids, especially water or aqueous solutions) flux is nearly 7.2 ×106 mol/year to the atmosphere.
The study suggested that CO2 in these thermal springs are sourced from metamorphic decarbonation of carbonate rocks present deep in the Himalayan core along with magmatism and oxidation of graphite. Most of the geothermal water is dominated by evaporation followed by weathering of silicate rocks. Isotopic analyses further point towards a meteoric source for geothermal water.
Why the Study is Important?
Carbon outflux from Earth's interior to the exosphere through volcanic eruptions, fault zones, and geothermal systems contribute to the global carbon cycle that effects short and long term climate of the Earth. Himalaya hosts about 600 geothermal springs having varied temperature and chemical conditions. Their role in regional and global climate, as well as the process of tectonic driven gas emission, needs to be considered while estimating emissions to the carbon cycle and thereby to global warming.
Current News National Polity & Governance
National Handloom Day
---
The 6th National Handloom Day was celebrated on 7th August, 2020, to honour the handloom community, and acknowledge their contribution towards India's socio-economic development.
It aims to resolve to protect this heritage and to empower the workers in this sector.
The first National Handloom Day was organised in 2015 by the government in Chennai.
Significance
The handloom sector is one of the major symbols of the cultural heritage of India.
National Handloom Day seeks to highlight the contribution of handloom to the socioeconomic development of the country and increase income of the weavers.
It continues to be an important source of livelihood, especially for women, who form around 70% of the weavers or allied workers in the sector.
Reason to Choose 7th August
The Union government had declared 7thAugust as the National Handloom Day in July 2015 with the objective to generate awareness about the importance of handloom industry.
August 7 was chosen as the National Handloom Day to commemorate the Swadeshi Movement which was launched on this day in 1905 in the Calcutta Town Hall to protest against partition of Bengal by the British Government.
The movement had aimed at reviving domestic products and production processes.
Issues with Handloom Sector
Stigma of being Unorganized Sector
Primarily a household industry, the weavers are unorganized and the production pattern is mostly dispersed and decentralized and there are no marketing strategies in place, unlike in a cooperative sector.
Non Availability of Raw Material
The Fourth All India Handloom Census (2019-2020) cites raw material support needed by nearly 59.5 percent of weaver household. From cotton, silk, and woollen yarn to dyes, costs have increased and so has the shortage.
In 2015, concerns had been raised regarding shortage of cotton for weavers in Andhra Pradesh, Telangana and Maharashtra. The weavers had to travel long distances to get cotton added to their transportation costs. Besides, smaller weavers have been unable to buy in bulk leading to lower output of material.
Decreasing Credit Support
The Textile Association of India records that the budget allocation for the textile sector came down to Rs 4,831 crore in (2019-2020) from Rs 6,943 in the previous fiscal.
This also means that various schemes be it housing, subsidies, health insurance will affect the weaver too.
Quite often smaller weavers are at the mercy of money lenders, and suicides have made headlines in recent years.
Migration to Other Fields
With many traditional families moving to cities for jobs as labourers, weavers have been leaving the loom.
While the recent Handloom Census (2019-2020) records that there are nearly 31.44 lakh handloom households, and it has seen a rise from 27.83 lakh in the last census, the numbers are still dismal.
Poor Infrastructure
Since handloom manufacturing is carried on in the houses of weavers spread over a vast geographical area, it lacks the necessary infrastructure which is available in industrial estates. There are no separate sheds, water and power supply, technology support effluent treatment plants and waste management arrangements. The poor infrastructure affects the productivity, quality and cost.
Obsolete Technology
The handloom industry has been using age old technology and looms. These results into low productivity and high cost.
Lack of Awareness
The unawareness of weavers about market trends is also a reason of low demand of their articles, lack of market information to weavers by the government and illiteracy of the weavers are the responsible factor for this problem.
While there are nearly 13 government schemes currently for weavers, there's basically three per cent that is aware of the Weavers Health Insurance Scheme and only 10.5 per cent know of the credit waivers for loans that they can avail (Handloom Census 2019-2020).
Competition from Power Loom
Competition from Power loom is the major problem in marketing of handloom products.
This competition over the years has increased after the mushrooming of Power loom, and the power loom sector took several benefits in the name of handloom industry in relation to consumption of yarn, production of reserved items.
Welfare Schemes for Handloom Sector
Handloom Weavers Comprehensive Welfare Scheme
It is providing life, accidental and disability insurance coverage to handloom weavers/workers under the components Pradhan MantriJivanJyotiBimaYojana(PMJJBY), Pradhan Mantri Suraksha BimaYojana(PMSBY) and Converged Mahatma Gandhi BunkarBimaYojana(MGBBY).
National Handloom Development Programme (NHDP)
Components of NHDP
Education of Handloom Weavers and their Children: Ministry of Textiles has signed Memorandums of Understanding with Indira Gandhi National Open University (IGNOU) and National Institute of Open Schooling (NIOS) to secure educational facilities for the weavers and their families.
Weavers MUDRA Scheme: Under the Weavers Mudra Scheme, credit at concessional interest rate of 6% is provided to the handloom weavers.
Block Level Cluster: Introduced in 2015-16 as one of the components of NHDP. Financial assistance upto Rs.2.00 crore per BLC for various interventions such as skill upgradation, product development, etc.
HathkarghaSamvardhanSahayata (HSS): Introduced in 2016 to provide looms/accessories to the weavers. 90% of the cost of loom/accessory is borne by the Government of India while remaining 10% is borne by the beneficiary.
Handloom Marketing Assistance: Provide marketing platform to the handloom agencies/weavers to sell their products directly to the consumers.
India Handloom Brand:During the celebration of 7th August 2015 as National Handloom Day, 'India Handloom' Brand was launched for branding of high quality handloom products.
Comprehensive Handloom Cluster Development Scheme
It is implemented for development of Mega Handloom Clusters covering atleast 15000 to 25,000 handlooms.
Yarn Supply Scheme
This scheme is being implemented throughout the country to make available all types of yarn at Mill Gate Price.
Way Forward
With a view to promote this industry on a sustainable basis, it is deemed necessary to produce quality fabrics with new design for winning the trust and confidence of the customers.
In order to increase the number of active members in the society the Government can increase the wages of the weavers so that they will be motivated to work continuously.
The Government can organize training programmes to weavers with respect to weaving clothes of improved designs, so that through training they will be able to earn more wages and their economic conditions will improve.
Weavers must get the credit on soft terms as they are supposed to with the new initiatives like opening up of bank accounts, direct delivery of subsidies and digital governance.
In order to avoid the competition from mechanized sector the Government should insist the compulsory usage of handloom mark for all the products produced by Handloom Weavers Co-operative Societies.
There is a need to revamp the working of NHDC which is presently limited in nature as it is the only agency to support supply of yarn at subsidised prices.
There is a need to put an end to the process of advance payment and procuring material by the Primary Weaver Cooperative Societies (PWCS) and instead, the market may be opened up for the weavers for purchase of yarn.
The need for awareness, accessibility to markets and design R&D, easy access to raw material and better credit support can make a difference to weavers in different corners of the country. And then we can truly celebrate a National Handloom Day.
PIB News National
MoD's Big Push To Atmanirbhar Bharat Initiative
---
Prime Minister Shri Narendra Modi in his address to the Nation on May 12, 2020 had given a clarion call for a self-reliant India based on the five pillars, i.e., Economy, Infrastructure, System, Demography & Demand and announced a special economic package for Self-Reliant India named 'Atmanirbhar Bharat'.
Taking cue from that evocation, the Department of Military Affairs (DMA), Ministry of Defence (MoD) has prepared a list of 101 items for which there would be an embargo on the import beyond the timeline indicated against them.
This is a big step towards self-reliance in defence. It also offers a great opportunity to the Indian defence industry to rise to the occasion to manufacture the items in the negative list by using their own design and development capabilities or adopting the technologies designed and developed by Defence Research and Development Organisation (DRDO) to meet the requirements of the Armed Forces in the coming years.
The list is prepared by MoD after several rounds of consultations with all stakeholders, including Army, Air Force, Navy, DRDO, Defence Public Sector Undertakings (DPSUs), Ordnance Factory Board (OFB) and private industry to assess current and future capabilities of the Indian industry for manufacturing various ammunition/weapons/platforms/equipment within India.
Almost 260 schemes of such items were contracted by the Tri-Services at an approximate cost of Rs 3.5 lakh crore between April 2015 and August 2020. With latest embargo on import of 101 items, it is estimated that contracts worth almost Rs four lakh crore will be placed upon the domestic industry within the next five to seven years. Of these, items worth almost Rs 1,30,000 crore each are anticipated for the Army and the Air Force while items worth almost Rs 1,40,000 crore are anticipated by the Navy over the same period.
The List Includes
The list of 101 embargoed items comprises of not just simple parts but also some high technology weapon systems like artillery guns, assault rifles, corvettes, sonar systems, transport aircrafts, light combat helicopters (LCHs), radars and many other items to fulfil the needs of our Defence Services. The list also includes, wheeled armoured fighting vehicles (AFVs) with indicative import embargo date of December 2021, of which the Army is expected to contract almost 200 at an approximate cost of over Rs 5,000 crore. Similarly, the Navy is likely to place demands for submarines with indicative import embargo date of December 2021, of which it expects to contract about six at an approximate cost of almost Rs 42,000 crore. For the Air Force, it is decided to enlist the light combat aircraft LCA MK 1A with an indicative embargo date of December 2020. Of these, 123 are anticipated at an approximate cost of over Rs 85,000 crore. Hence, there are highly complex platforms that are included in the list of 101 items.
Timeline
The embargo on imports is planned to be progressively implemented during 2020 to 2024.
Aim
The aim behind promulgation of the list is to apprise the Indian defence industry about the anticipated requirements of the Armed Forces so that they are better prepared to realise the goal of indigenisation. The MoD has adopted many progressive measures to encourage and facilitate 'Ease of Doing Business' by the defence Production entities. All necessary steps would be taken to ensure that timelines for production of equipment as per the Negative Import List are met, which will include a co-ordinated mechanism for hand holding of the industry by the Defence Services.
More such equipment for import embargo would be identified progressively by the DMA in consultation with all stakeholders.
A due note of this will also be made in the Defence Acquisition Procedure (DAP) to ensure that no item in the negative list is processed for import in the future.
Other Initiatives
In another relevant step, the MoD has bifurcated the capital procurement budget for 2020-21 between domestic and foreign capital procurement routes. A separate budget head has been created with an outlay of nearly Rs 52,000 crore for domestic capital procurement in the current financial year.
State In News Delhi
Delhi's Electric Vehicle Policy Announced
---
The Delhi Government on 7th August announced its electric vehicles (EVs) policy aimed at boosting the adoption of cleaner vehicles in the national capital after the Centre's EV push did not yield results as expected.
Highlights
On purchase of a two-wheeler, an e-rickshaw or freight vehicles, the Delhi government will give a benefit of up to Rs 30,000 and for a four-wheeler, a benefit of up to 1.5 lakh.
For those who want to purchase electric vehicles for commercial purposes, loans will be given from the Delhi government at very low-interest rates, and registration and road tax fees will be waived.
The EV policies are aimed at faster adoption of EVs both in personal and shared mobility segments.
The policy also aims to constitute 25% electric vehicles by 2024, which is currently just 0.29% in the in the national capital.
There is already the Centre's scheme on electric vehicles called 'Fame India Phase-2', under which the Union government also provides some incentives. And the Delhi government scheme will be an addition to the Centre's scheme and people can also avail benefits under both the schemes.
Current News Indian Economy Banking & Finance
RBI's New Loan Recast Scheme
---
On 6th August, 2020, the Reserve Bankof India(RBI) gave the green signal to a loan restructuring scheme for stressed borrowers.
The so called 'Resolution Framework for Covid19-related Stress', has been announced as a special window under the Prudential Framework on Resolution of Stressed Assets issued on June 7, 2019.
Beneficiaries
Only those companies and individuals whose loans accounts are in default for not more than 30 days as on March 1, 2020, are eligible for one-time restructuring.
For corporate borrowers, banks can invoke a resolution plan till December 31, 2020 and implement it till June 30, 2021.
For personal loans, the resolution plan can be invoked till December 31, 2020 and will be implemented within 90 days thereafter.
Implementation
The RBI has set up a five-member expert committee headed by K V Kamath, former Chairman of ICICI Bank, which will make recommendations on the financial parameters required.
How it is Differentfrom Previous Recast Schemes
Entry Barriers:The earlier restructuring schemes did not have any entry barrier, unlike the current scheme that is available only for companies facing Covid-related stress, as identified by the cut-off date of March 1, 2020.
Defined Timeline:Strict timelines for invocation of resolution plan and its implementation have been defined in the scheme, unlike in the past when this was largely open-ended.
ICA Signing Mandatory:The structuring of the scheme makes signing of theInter-Creditor Agreements (ICA) largely mandatory for all lenders once the resolution plans has been majority-voted for, otherwise they face twice the amount of provisioning required.
Independent Validation:Loans above Rs 100 crore will require only one credit agency's validation.Large loans above Rs 1,500 crore will also require to be vetted by Kamath committee.
Penalties for Delays: Earlier schemes had no disincentives for lenders delaying an agreement for restructuring. The present scheme provides a for a 20% penal provision for lenders not signing the ICA.
Post-Monitoring Performance: In this scheme a default with any of the lenders will automatically lead to a 30-day review period. Loans will be classified as NPAs if 10% repayment is not done during this period.
Impact
Key sectors, such as micro, small and medium enterprises (MSMEs), hospitality, aviation, retail, real estate and auto, which are facing liquidity crunch, will benefit from the move.
This restructuring plan will also enable lenders to implement a resolution plan in respect of eligible corporate debtors without a change in ownership, while classifying such exposures as standard, if they meet certain conditions.
The central bank's move will also incentivise banks to lend more to corporates through bonds, something that had stalled in the wake of covid-19.
The biggest impact will be that banks will be able to check the rise in non-performing assets (NPAs) to a great extent.
However, it will not bring down the NPAs from the present levels; legacy bad loans of close to Rs 9 lakh crore will remain within the system.
Banks will have to maintain additional 10% provisions against post-resolution debt, and lenders that do not sign the ICA within 30 days of invocation of the plan will have to create a 20% provision.
Misuse of Earlier Restructuring Scheme by Banks and Corporates
Corporate Debt Restructuring (CDR)
The RBI discontinued the CDR scheme from April 1, 2015.
For several years, corporates were misusing the debt recast plans with the regulator turning a blind eye to manipulations by shady promoters in connivance with some banks.
The promoters of many big corporates siphoned off bank funds while their units suffered. They approached the CDR Cell and to get their loans recast, some of them more than once.
These promoters managed to get fresh loans and they used liberal loan recasts to evergreen their accounts and keep out of the NPA books.
Strategic Debt Restructuring (SDR)
Under the SDR scheme, banks were given an opportunity to convert the loan amount into 51% of equity which was to be sold to the highest bidder, once the firm became viable.
This was unable to help banks resolve their bad loan problem as only two sales have taken place through this measure due to viability issues.
Sustainable Structuring of Stressed Assets (S4A) Scheme
Under this, banks were unwilling to grant write-downs as there were no incentives to do so, and write-downs of large debtors could exhaust banks' capital cushions.
5/25
The 5/25 scheme was derailed because refinancing was done at a higher rate of interest so that banks could preserve the net present value of the loan amount.
There was a perception that this was one of the tools deployed to cover NPAs by banks.
Asset Reconstruction Scheme(ARC)
In the ARC, the major problem was that asset reconstruction companies (ARCs) were finding it difficult to resolve assets they had bought from banks. Therefore, they wanted to purchase the loans only on low prices.
Consequently, banks were reluctant to sell them loans on a large scale.
Provisions against Misuse
The RBI has built in safeguards in the resolution framework to ensure it does not lead to ever-greening of bad loans as in the past.
Restructuring of large exposures will require independent credit evaluation done by rating agencies and a process validation by the Kamath-led expert committee.
Unlike in the case of restructuring of larger corporate exposures, for personal loans there will be no requirement for third party validation by the expert committee, or by credit rating agencies.
The RBI has said that the term of loans under resolution cannot be extended by more than two years.
To mitigate the impact of expected loan losses, banks need to make a 10% provision against such accounts under resolution.
KV Kamath Committee
On 7th August, 2020, the RBI constituted an expert panel headed by K V Kamath, to give recommendations on the required financial parameters, along with the sector specific benchmark ranges which need to be factored into the resolution plans.
Other Members:Diwakar Gupta (effective September 1, 2020, after the completion of his term as Vice President, ADB);T.N. Manoharan (effective August 14, 2020, after the completion of his term as Chairman, Canara Bank);Ashvin Parekh, Strategy AdvisorCEO, Indian Banks' Association, as the Member Secretary.
The expert committee shall undertake the process validation for the resolution plans to be implemented under this framework, without going into the commercial aspects, in respect of all accounts with aggregate exposure of Rs1,500 crore and above at the time of invocation.
The Indian Banks' Association (IBA) will function as the secretariat to the committee and the committee will be fully empowered to consult or invite any person it deems fit.
The Committee shall submit its recommendations on the financial parameters to the Reserve Bank which, in turn, shall notify the same along with modifications, if any, in 30 days.
Current News Ecology & Environment
Odisha: First State With Tsunami Ready Villages
---
In a first two coastal villages of Odisha - Venkatraipur (Boxipalli) village of Rangeilunda block in Ganjam district and Noliasahi village of Ersama block in Jagatsinghpur district have been recognised as being "Tsunami Ready" by UNESCO for their overall preparedness to face the calamity.
With it, Odisha became the first state in the country to have such villages and the country the first in the Indian Ocean region to achieve the honour from the Intergovernmental Oceanographic Commission (IOC) of UNESCO.
About Indian Ocean Tsunami Ready Programme
The Indian Ocean Tsunami Ready Programme of IOC-UNESCO is a community performance-based programme that facilitates tsunami preparedness as an active collaboration of the community, community leaders, and national and local emergency management agencies.
The main objective of this programme is to improve coastal community preparedness for tsunami emergencies, to minimize the loss of life and property and to ensure structural and systematic approach in building community preparedness.
About IOC-UNESCO
The Intergovernmental Oceanographic Commission of UNESCO (IOC-UNESCO), established in 1960 as a body with functional autonomy within UNESCO, is the only competent organization for marine science within the UN system.
The purpose of the Commission is to promote international cooperation and to coordinate programmes in research, services and capacity-building, in order to learn more about the nature and resources of the ocean and coastal areas and to apply that knowledge for the improvement of management, sustainable development, the protection of the marine environment, and the decision-making processes of its Member States. In addition, IOC is recognized through the United Nations Convention on the Law of the Sea (UNCLOS) as the competent international organization in the fields of Marine Scientific Research and Transfer of Marine Technology.
State In News Haryana
Haryana Govt. Launches Welfare Schemes For Women, Kids
---
On August 5, 2020, state government of Haryana has launched two schemes towards welfare of women, kids:
MahilaEvamKishoriSammanYojana: To provide free sanitary napkins to girls and women of below poverty line (BPL) families.
MukhyaMantriDoodhUpharYojana: To provide fortified flavoured skimmed milk powder to women and children.
Current News Science & Technology
Regulations On Ammonium Nitrate In India
---
On 4th August, 2020 a devastating blast destroyed a large area of Beirut, capital of Lebanon with heavy loss of lives and damage to its port and other property.
The blast was triggered by huge amount of ammonium nitrate that had been stored by authorities near the port.
Regulations in India
Explosives Act, 1884


The Explosives Act, 1884, define ammonium nitrate as the "compound with formula NH4NO3 including any mixture or compound having more than 45% ammonium nitrate by weight including emulsions, suspensions, melts or gels but excluding emulsion or slurry explosives and non-explosives emulsion matrix and fertilizers from which the ammonium nitrate cannot be separated".
Storage of ammonium nitrate in large quantities in populated areas is illegal in India.
Industrial Development and Regulation Act, 1951
For the manufacture of ammonium nitrate, an Industrial licence is required under the Industrial Development and Regulation Act, 1951.
Manufacture, Storage and Import of Hazardous Chemicals (MSIHC) Rules, 1989
It prescribe how hazardous and industrial chemicals ought to be stored.
Ammonium Nitrate Rules, 2012
The manufacture, conversion, bagging, import, export, transport, possession for sale or use of ammonium nitrate is covered under The Ammonium Nitrate Rules, 2012.
A license under the Ammonium Nitrate Rules, 2012 is also required for any activity related to ammonium nitrate.
About Ammonium Nitrate
Ammonium Nitrate (NH4NO3) is a nitrogen-rich white, crystalline chemical which is soluble in water.
It is a common chemical ingredient of agricultural fertilisers and used as an ingredient for the production of anaesthetic gases and cold packs.
It is also the main ingredient in the manufacture of commercial explosives used in mining and construction.
It is the main component of the explosive composition known as ANFO- ammonium nitrate fuel oil.
Pure ammonium nitrate is not an explosive on its own. For Ammonium nitrate to be explosive a primary explosive or detonator like RDX or TNT is required.
Many Improvised Explosive Devices (IEDs) used by terrorists around the world have ANFO as the main explosive.
How Ammonium Nitrate Explodes
Ammonium nitrate does not burn on its own, instead it acts as a source of oxygen that can accelerate the combustion (burning) of other materials.
Ammonium nitrate pellets provide a much more concentrated supply of oxygen than the air around us.
At high enough temperatures, however, ammonium nitrate can violently decompose on its own. This process creates gases including nitrogen oxides and water vapour. It is this rapid release of gases that causes an explosion.
PIB News National Economy
Developmental And Regulatory Policy Measures By RBI
---
On 6th August 2020, the Reserve Bank of India has announced a set of additional developmental and regulatory policy measures to improve flow of money and provide further support to the financial system, in the wake of rising COVID-19 infections in India and the world.
The Governor Shri Shaktikanta Das stated that the measures will ease the financial stress caused by disruptions due to "the worst peacetime health and economic crisis of the last 100 years".
Summary of the Announcements
You can now borrow more against Gold and Jewellery: To mitigate impact of COVID-19 on ordinary citizens, RBI has decided to allow loans for non-agricultural purposes, against gold and jewellery, to be granted up to 90 per cent of the pledged value of gold ornaments and jewellery. This relaxation of the limit, up from current limit of 75%, shall be available till March 31, 2021.
Sharper Focus on Inclusive Development, through greater Priority Sector Lending: Banks will now be incentivized to address regional disparities in flow of priority sector lending. The weightage given for fresh credit given to priority sectors will be adjusted based on current credit flow of districts. Start-ups too will now get this type of credit support; green energy sectors will now get higher lending under the framework.
Additional credit support for housing and rural sectors: A special liquidity facility of ₹ 5,000 crore is being provided to National Housing Bank, to improve fund flow to the housing sector. A ₹ 5,000 crore fund has been earmarked for NABARD too, to improve fund availability for Non-Banking Finance Companies and Micro Finance Institutions.
Relieving stress of borrowers: To address the heightened debt burdens being faced by borrowing firms, RBI has decided to enable lenders to implement a debt resolution plan for eligible corporate debts as well as personal loans. This shall be done without any change in ownership, while classifying such exposures as standard assets, subject to specified conditions. An Expert Committee chaired by K. V. Kamath is being constituted to make recommendations on the parameters for such debt resolution plans.
Further support for MSME sector:In addition to the debt restructuring framework in place for MSMEs, RBI has announced that stressed MSME borrowers will be made eligible for restructuring their debt under existing framework, provided their accounts with the concerned lender were classified as standard as on March 1, 2020. This restructuring will have to be implemented by March 31, 2021.
Reduced Capital Charge for Market Risk: The capital charge on banks for holding Mutual Fund /Exchange Traded Fund will be brought in harmony with the charge for directly holding a debt instrument. The Governor has said that this will result in substantial capital savings for banks and boost the corporate bond market.
Banks get more flexibility in managing liquidity and cash reserves: RBI is introducing an automated mechanism in e-Kuber system, its core banking solution, to provide banks more flexibility/discretion in managing their liquidity and maintenance of cash reserve requirements.
Safeguards to bring in better credit discipline:RBI is bringing in safeguards for opening of current accounts and cash credit (CC)/overdraft (OD) accounts, for borrowers availing credit facilities from multiple banks. This has been done in view of the concerns emanating from use of multiple operating accounts by borrowers.
Powering Responsible Financial Innovation: RBI will set up an Innovation Hub in India, to further promote and facilitate an environment that can accelerate innovation across the financial sector.
Cheque Payments to be Safer: To improve safety of cheque payments, a mechanism of Positive Pay is going to be introduced, for all cheques of value ₹ 50,000 and above. This will cover approximately 20 per cent of total cheques, and 80 per cent of total cheques by value.
Soon, make Retail Payments using Your Card or Mobile Phone: A system will soon be introduced enabling retail payments to be made in offline mode using cards and mobile devices. Citizens will also be able to resolve disputes arising from digital payments, through an online dispute resolution mechanism.
Key Rates Untouched: The RBI Governor announced that the policy repo rate stands unchanged at 4.0%. Other key rates such as Marginal Standing Facility, reverse repo rate and bank rate too have been kept untouched. The supportive stance of monetary policy will continue as long as necessary to revive growth and mitigate impact, while keeping inflation within target.
PIB News National Ecology & Environment
Localized Strain And Partial Melts In Shear Zones May Control Seismicity In Kumaun Himalaya
---
o Most research on seismic and landslide hazards in the Himalaya focus on geophysical and geomorphological characteristics. However, in many instances, the inherent cause of these natural disasters may lie deep in the subsurface and have geological implications like rock types, rheology (the study of deformation and flow of matter), strain localization, and so on. Therefore, understanding the geodynamic scenario of a given section of Himalaya is as important as its seismic and geomorphic characteristics in following natural disasters.
o
o A study by the Scientists from Wadia Institute of Himalayan Geology, Dehradun suggests that, unlike other parts of the western Himalaya, in Kumaun, partial melting of the crust is caused by activation of a tabular to sheet like, planar or curvi-planar zone composed of rocks that are more strained than rocks adjacent to the zone (major shear zones), instead of continuous zone of mid-crustal partial melts. The study also suggests that brittle deformation of these shear zones/ thrust planes may still control exhumation and seismicity in this region of the Himalaya.
Highlights
Inverted Metamorphism: The research shows inverted metamorphism (condition in which higher-grade metamorphic rocks lie on top of lower-grade rocks), leading to partial melting of the Himalayan crust in two short spans of 27 to 32 and 22 to 26 million years.
One Uniform Mechanism can't explain evolution of the Himalayan metamorphic core: The study agrees with recent studies which suggest that one uniform mechanism cannot explain the evolution of the Himalayan metamorphic core. Activation of major thrusts and different mechanisms may operate at different cross-sections of this orogeny with channel flow (long-lasting flow of a weak, viscous crustal layer between relatively rigid yet deformable bounding crustal slabs) being dominant in the hinterland, and at ductile regime.On the other hand, the critical taper, or wedge-like extrusion and forward propagation of thrust sheets, is more pronounced on the foreland and in the brittle regime. It has also been shown that the effect of channel flow is completely absent in various sections of the Himalaya. Therefore, different transects may have different mechanisms of exhumations (exposure of land surface that was formerly buried), thrust activity, and hence, different seismic and erosional characteristics.

The Kali River Valley of Kumaun marks the international border between India and Nepal. This region experiences intense seismic and landslide events. The scientists carried out an integrated field, metamorphic modelling and geochronological investigation in the remote higher parts of the Kali River Valley and found the absence of any 'channel flow' or a regional scale mid-crustal zone of partial melt. The most important prerequisite for channel flow mechanism is protracted period of partial melting (20 to 30 million years at least).

Short and Distinct Pulses of Magmatism:However, this study has shown short and distinct pulses of magmatism, which indicate events of strain localization and deformation along discreet shear zones. These shear zones, later in brittle regime, controlled exhumation along with the formation of new shear zones or thrusts that helped propagate and exhume the Himalayan core. Identification of these thrust zones on the basis of geological proxies help denote zones of seismicity and even landslides, as highly strained and crushed rocks present in thrust or fault zones are more susceptible to slope failure.
Current News National
FDI In Commercial Coal Mining: Nations Sharing Land Border Need Government Approval
---
The Government of India had amended the Foreign Direct Investment (FDI) Policy, 2017 recently to allow 100 percent Foreign Direct Investment in coal mining activities including associated processing infrastructure.
Further, on 3rd August, 2020 the Union Government clarified in a statement that any Foreign Direct Investment (FDI) in commercial coal mining an entity of a country, which shares a land border with India or where the beneficial owner of investment into India is situated in or is a citizen of any such country, can invest only under the Government route.
In case of a Pakistani citizen or an entity incorporated in Pakistan, the individual or entity can invest only with the approval of the Indian Government in sectors and activities other than defence, space, atomic energy and sectors and activities that are prohibited for foreign investment.
Current News National National Security
Draft Defence Production And Export Promotion Policy – 2020
---
On 3rd August, 2020, the Ministry of Defence (MoD) released a draft Defence Production and Export Promotion Policy 2020 (DPEPP 2020).
Goals and Objectives
To achieve a turnover of Rs 1,75,000 Crores (US$ 25Bn) including export of Rs 35,000 Crore (US$ 5 Billion) in Aerospace and Defence goods and services by 2025.
To develop a dynamic, robust and competitive Defence industry, including Aerospace and Naval Shipbuilding industry to cater to the needs of Armed forces with quality products.
To reduce dependence on imports and take forward "Make in India" initiatives through domestic design and development.
To promote export of defence products and become part of the global defence value chains.
To create an environment that encourages R&D, rewards innovation, creates Indian IP ownership and promotes a robust and self-reliant defence industry.
Major Highlights
Procurement Reforms
A negative list of weapons/platforms would be notified with year-wise timelines for placing an embargo on import of such items from those dates.
A Project Management Unit (PMU), with representation from the Services, would be set up to support the acquisition process and facilitate management of the contracts. This setup would bring in expertise to the process of acquisition as well as create focus and synergy in building military
In addition, with the aim to move away from licensed production to design, develop and produce indigenously and own the design rights and Intellectual Property (IP) of the systems projected in Long Term Integrated Perspective Plan (LTIPP) of the Services, a Technology Assessment Cell (TAC) would be created.
The TAC would also assess the industrial capability for design, development and production including re-engineering for production of various major systems like Armoured Vehicles, Submarines, Fighter Aircraft, Helicopters, Radars with the major industries in the country
Indigenization and Support to Msmes/Start-ups
The indigenisation policy aims to create an industry ecosystem to indigenise the imported components (including alloys and special materials) and sub-assemblies for defence equipment and platforms manufactured in India. 5,000 such items are proposed to be indigenised by 2025.
Optimize Resource Allocation
The share of domestic procurement in overall Defence procurement is about 60 percent.
In order to enhance procurement from domestic industry, it is incumbent that procurement is doubled from the current Rs 70,000 crore to Rs 1,40,000 crore by 2025.
Investment Promotion, FDI and Ease of Doing Business
India is emerging as an attractive investment destination.
The improvement in market size, demographic dividend and availability of diverse skill sets are evident from India's ranking in the World Bank's 'Ease of Doing Business' (EoDB) report.
Defence being a monopsony, investments in this sector is incumbent on regular supply of orders.
India is already a large aerospace market with rising passenger traffic and increasing military expenditure, as a result of which the demand for aircrafts (fixed and rotary wings) is increasing.
Innovation and R&D
By harnessing the nationwide R&D capabilities, future requirements of the services could be met and critical gaps in related technologies would get addressed.
Innovations for Defence Excellence (iDEX) has been operationalized to provide necessary incubation and infrastructure support to the start-ups in defence area.
Mission RakshaGyan Shakti was launched to promote greater culture of innovation and technology development and to file greater number of patents in Defence PSUs and Ordnance Factory Board (OFB).
Quality Assurance and Testing Infrastructure
The entire process of quality assurance and its time bound delivery would be rationalized and monitored by developing an IT platform withan industry interface.
For the MSMEs to be more quality conscious, 'Zero Defect Zero Effect'is being encouraged. This would help industry to adopt Self Certification and Green Channel route through a process facilitated by DGQA/DGAQA.
Efforts would be made to create testing infrastructure through DefenceTesting Infrastructure Scheme (DTIS) by providing assistance to industry to set up common testing facilities.
Export Promotion
Defence Attachés have been mandated and are supported to promote export of indigenous defence equipment abroad.
Export Promotion Cell set up to promote Defence exports through coordinated action to support the Industry would be further strengthened and professionalized.
The end-to-end export clearance process in the Department of Defence Production would be further upgraded to make the process seamless and time-bound.
Open General Export License (OGEL) regime would be utilized to encourage export of selected defence equipment/items to identified friendly countries.
Way Forward
The DPEPP-2020 is envisaged as overarching guiding document of MoD to provide a focused, structured and significant thrust to defence production capabilities of the country for self-reliance and exports under 'Atmanirbhar Bharat Package'.
Current News Ecology & Environment Agriculture & Allied Sector
High Level Group On Agricultural Exports
---
On 31st July, 2020, the High Level Group (HLEG) on Agricultural Exports set up by the Fifteenth Finance Commission submitted its report to the Commission.
The HLEG was set up in February, 2020 under the Chairmanship of Sanjiv Puri (ITC Chairman) to recommend measurable performance incentives for states to encourage agricultural exports and to promote crops to enable high import substitution.
Objectives
To assess export & import substitution opportunities for Indian agricultural products in the changing international trade scenario.
To recommend strategies and measures to increase farm productivity, enable higher value addition, ensure waste reduction, strengthen logistics infrastructure, etc.
To identify the impediments for private sector investments along the agricultural value chain and suggest policy measures and reforms.
To suggest appropriate performance-based incentives to the state governments for the period 2021-22 to 2025-26, to accelerate reforms in the agriculture sector.
Key Findings
India's agricultural export has the potential to grow from USD 40 billion to USD 70 billion in a few years.
The estimated investment in agricultural export could be in the tune to USD 8-10 billion across inputs, infrastructure, processing and demand enablers.
Additional exports are likely to create an estimated 7-10 million jobs.
It will lead to higher farm productivity and farmer income.
Major Recommendations
Crop Value Chains
It recommended a greater focus on 22 crop value chainswith a demand driven approach.
It has also suggested solving Value Chain Clusters (VCC) holistically with focus on value addition and performance-based incentives to the state governments for the period 2021-22 to 2025-26, to accelerate reforms in the agriculture sector.
State-led Export Plan
It recommended a State-led Export Plan - a business plan for a crop value chain cluster that will lay out the opportunity, initiatives and investment required to meet the desired value chain export aspiration.
These plans will be action-oriented, time-bound and outcome-focused.
For the success of the State-led Export Plan, the following factors need to be considered:
Plans should be collaboratively prepared with private sector players and Commodity Boards.
Leveraging of state plan guide and value chain deep dives.
Institutional governance should be promoted across state and centre.
Funding through convergence of existing schemes, Finance Commission allocation and private sector investment.
Centre should be an Enabler
As per the suggestions of the group, the Centre should enable state-led plans and institutional governance should be promoted across states and Centre.
Thus, robust institutional mechanisms need to be enforced to fund and support implementation.
Pivotal Role of Private Sector
The HELG pushed for private sector players to have a pivotal role in ensuring demand orientation, feasible project plans and in providing funds for technology, based on business case and for creating urgency and discipline for project implementation.
Finance Commission
Set up under Article 280 of the Constitution, its core responsibility is to evaluate the state of finances of the Union and State Governments, recommend the sharing of taxes between them, and lay down the principles determining the distribution of these taxes among States.
Under Article 281 of the Constitution, the President of India is required to cause laying of the Finance Commission report before each House of Parliament along with an explanatory note and the action taken by the government on the Commission's recommendations.
15th Finance Commission
It was constituted on 27thNovember 2017 against the backdrop of the abolition of Planning Commission (as also of the distinction between Plan and non-Plan expenditure) and the introduction of the goods and services tax (GST), which has fundamentally redefined federal fiscal relations.
The Terms of Reference of the current Commission have some distinctive features, including recommending monitorable performance criteria for important national flagship programmes and examining the possibility of setting up a permanent non lapsable funding for India's defence needs.
Its recommendations will cover a period of five years from April 2020 to March 2025.
PIB News National India
NashaMukt Bharat: Annual Action Plan (2020-21)
---
NashaMukt Bharat: Annual Action Plan (2020-21) for 272 'Most Affected Districts' was e-launched by Minister of State for Social Justice and Empowerment on the occasion of "International Day Against Drug Abuse and Illicit Trafficking" (26th June).
The Plan would focus on 272 most affected districts and launch a three-pronged attack combining efforts of Narcotics Bureau, Outreach/Awareness by Social Justice and Treatment through the Health Dept.
The Components of the Action Plan are: Awareness generation programmes;Focus on HigherEducational institutions, University Campuses and Schools; Community outreach and identification of dependent population; Focus on Treatment facilities in Hospital settings; andCapacity Building Programmes for Service Provider.
PIB News National India
Niti Aayog Panel To Develop Job Platform For Migrant Labours
---
Government think tank Niti Aayog, under the leadership of its CEO, Amitabh Kant has formed a panel including top officials of tech companies to develop a job platform for migrant labours.
The goal is to develop a platform that can help blue-collar workers find job opportunities in their own language and location.
The platform will connect job seekers, employers, government agencies, skill centres and external partners using new-age technologies like artificial intelligence and machine learning.
As per estimates, there are over 40 crore workers in the unorganized sector accounting for around 30 per cent of India's GDP and nearly 60 per cent of these migrant workers are either semi-skilled or unskilled who struggle every day to find the right job opportunity.
PIB News National India
Kumhar Sashaktikaran Yojana
---
The Khadi and Village Industries Commission (KVIC) has launched its flagship "KumharSashaktikaran Yojana" in Pokhran in Jaisalmer district of Rajasthan.
The KVIC distributed 80 electric potter wheels to 80 potter families in Pokhran which has a rich heritage in terracotta products.
Pokhran is one of the aspirational districts identified by the Niti Aayog.
PIB News National India
SWADES Scheme
---
The government has launched a new initiative SWADES (Skilled Workers Arrival Database for Employment Support) to conduct a skill mapping exercise and provide employment opportunities to the returning citizens under the Vande Bharat Mission.
This is a joint initiative of the Ministry of Skill Development & Entrepreneurship, the Ministry of Civil Aviation and the Ministry of External Affairs.
The collected information will be shared with the companies for suitable placement opportunities in the country.
PIB News National India
Skills Build Reignite: Free Digital Learning Platform
---
Ministry of Skill Development and Entrepreneurship (MSDE) in partnership with IBM has unveiled Free Digital Learning Platform 'Skills Build Reignite' to reach more job seekers and provide new resources to business owners in India.
Directorate General of Trainingunder the aegis of MSDE has also announced a 10-week duration Skills Build Innovation Camp for studentsin association with IBM, providing hands on project experience, enhanced learning and increased employability.

PIB News National India
KVIC To Promote Palm Products
---
The Khadi and Village Industries Commission (KVIC) has launched a project at Dahanu in Palghar district of Maharashtra, a state with more than 50 lakh palm trees to produce Neera and Palmgur which has huge potential to create employment in the country.
The project aims at promoting Neera as a substitute to soft drinks while also creating self-employment for Adivasis and traditional trappers.
Neera, extracted from the palm trees before sunrise, is a nutrient-rich health drink consumed in many Indian states.
KVIC also plans to explore other palm derived products.
PIB News National Economy
India 3rd-Largest Economy On PPP Basis For 2017
---
India has retained its position as the third-largest economy after China and the US in terms of purchasing power parity (PPP) for 2017, according to a government release that quoted the World Bank data.
India is also third-largest economy in terms of its PPP-based share in global actual individual consumption and global gross capital formation.
The World Bank has released new PPPs for the reference year 2017, under the International Comparison Program (ICP) that adjust for differences in the cost of living across economies of the world.
The ICP is the largest worldwide data collection initiative, under the guidance of UN Statistical Commission (UNSC), with the goal of producing PPPs, which are vital for converting measures of economic activities to be comparable across economies.
Regional Position of India
As per the release, in 2017, India retained its regional position, as the second-largest economy, accounted for 20.83 per cent of the regional gross domestic product (GDP) in terms of PPPwhereas China was at 50.76 per cent (first) and Indonesia at 7.49 per cent (third).
India is also the second-largest economy in terms of its PPP-based share in regional actual individual consumption and regional gross capital formation.
PIB News National Economy
15th Finance Commission Grant To Local Bodies
---
The Fifteenth Finance Commissionhas submitted its interim report for the period FY 2020-21 and the Government of India has accepted its recommendations in respect of the Local Bodies.
The Commission has worked out the total size of the grant to be Rs.60,750 crore for the period FY 2020-21 which is the highest ever allocation made by the Finance Commission in any single year.
The Commission has recommended Grants-in-aid to all tiers of the Panchayati Raj including the Traditional Bodies of Fifth and Sixth Schedule areas, in 28 States, in two parts, namely, (i) a Basic Grant and (ii) a Tied Grant.
50 % of the grant will be Basic Grant and 50 % will be the Tied Grant. The basic grants are untied and can be used by RLBs for location-specific felt needs, except for salary or other establishment expenditure.
The Tied Grants are to be used for the basic services of (a) sanitation and maintenance of open-defecation free (ODF) status and (b) supply of drinking water, rain water harvesting and water recycling. The RLBs shall, as far as possible, earmark one half of these Tied Grants each to these two critical services. However, if any RLB has fully saturated the needs of one category it can utilize the funds for the other category.
PIB News National Economy
Border Adjustment Tax
---
Niti Aayog member VK Saraswat recently favoured imposing a border adjustment tax (BAT) on imports to provide a level-playing field to domestic industries.
BAT is a duty that is proposed to be imposed on imported goods in addition to the customs levy that gets charged at the port of entry.
The Indian industry has been complaining to the government about domestic taxes like electricity duty, duties on fuel, clean energy cess, mandi tax, royalties, biodiversity fees that get charged on domestically produced goods as these duties get embedded into the product. But many imported goods do not get loaded with such levies in their respective country of origin and this gives such products price advantage in the Indian market.
Will a Border Adjustment Tax be WTO Compatible?
Countries that are members of World Trade Organisation have locked the upper limits of customs levies for product lines that they trade in. Any additional duty that gets imposed by WTO members are scoffed upon and in many instances, extra customs duties led to countries being dragged to international arbitration under WTO.
India's Commerce Ministry believes that the proposed extra customs duty through the BAT is compatible with global trade norms as article II: 2(a) of GATT allows for import charge that is equal to the internal tax of the country with respect to a "Like Product" or an item from which the imported product is made.
PIB News National Economy
Import Duty On Bamboo Sticks Increased From 10% To 25%
---
The Central Government has increased import duty on bamboo sticks from 10% to 25%.
The decision assumes great significance as heavy import of bamboo sticks from China and Vietnam caused huge employment loss in India. This decision will pave the way for setting up of new agarbatti stick manufacturing units to meet the ever-growing demand of Agarbatti in India.
While 136 varieties of bamboo are found in India; the BambusaTulda variety, which is used for making agarbatti sticks, is found in abundance in the North eastern region.
The KVIC has also launched a bamboo plantation drive to make India self-sufficient to meet the growing demand of bamboo in the next 3-4 years.
PIB News National Economy
Waterfall Mechanism For Liquidation
---
The waterfall mechanism under Insolvency and Bankruptcy Code gives priority to secured financial creditors over unsecured financial creditors.
The mechanism says that if a company is being liquidated, these secured financial creditors must be first paid the full extent of their admitted claim, before any sale proceedings are distributed to any other unsecured creditor.
Under Section 53 of the IBC, which deals with waterfall mechanism, the top most priority, however, is given to costs related to the liquidation process and dues of workmen of the corporate debtor. The dues of the workmen include all their salaries, provident, pension, retirement and gratuity fund, as well as any other funds maintained for the welfare of the workmen.
PIB News National Economy
Payment Infrastructure Development Fund
---
To encourage acquirers to deploy point of sale (PoS) infrastructure, both physical and digital, in tier-3 to tier-6 centres and north eastern states, the Reserve Bank of India is setting up a Payment Infrastructure Development Fund (PIDF) of Rs 500 crore.
The RBI has made an initial contribution of Rs 250 crore covering half the fund. The remaining will come from the card issuing banks and card networks operating in the country.
PIB News National World
70th Anniversary Of Korean War
---
After theend of the second World War, Korea was divided into two parts.The Soviet Union occupied the area north of the 38th parallel and the United States occupied the area south until 1948.
Two new ideologically opposite countries were established in 1948: The Republic of Korea (South Korea) and the Democratic People's Republic of Korea (North Korea).
The Korean War broke out between North Korea and South Korea on 25 June 1950 when North Korea invaded South Korea.
Although hostilities ceased in 1953, there has never been a peace treaty, so technically, the Korean War has never ended.
North Korea wants reunification under communist rule.
PIB News National World
Socotra Island Seized By STC
---
Yemen's Southern Transitional Council (STC) fighters have seized control of the strategic island of Socotra, which had been in the hands of pro-government forces, and have begun implementing self-rule.
The move deepens the crisis between the STC and the government after the failure of a power-sharing deal in areas beyond the control of Huthi rebels, who hold the capital Sanaa and much of northern Yemen.
The island of Socotra is a UNESCO World Heritage site, and the largest island in an archipelago chain located at the mouth of the Gulf of Aden.
Socotra, sometimes referred to as the "Galapagos" of the Indian Ocean, is famed worldwide for its beauty and its incredible biodiversity.
PIB News National World
US Sanctions Against ICC
---
US Presidenthas authorised sanctions against International Criminal Court (ICC) officials involved in investigations into possible war crimes by US troops or those of its allies.
The ICC, a permanent judicial body based at The Hague in the Netherlands, was created by the 1998 Rome Statute of the International Criminal Court (its founding and governing document), and began functioning on 1 July 2002 when the Statute came into force.
The forum was established as a court of last resort to prosecute offences that would otherwise go unpunished, and has jurisdiction over four main crimes: genocide, crimes against humanity, war crimes, and the crime of aggression.
123 nations are States Parties to the Rome Statute and recognise the ICC's authority; the notable exceptions being the US, China, Russia, and India.
Unlike the International Court of Justice (ICJ), the ICC is not a part of the United Nations system, with the UN-ICC relationship being governed by a separate agreement. The ICJ, which is among the UN's 6 principal organs, mainly hears disputes between nations. The ICC, on the other hand, prosecutes individuals– its authority extending to offences committed in a member state or by a national of such a state.
Washington and the ICC
The Clinton administration (1993-2001) was involved in Rome Statute negotiations, and signed the document in 2000. However, the next president, George W. Bush in 2002 had the US "unsign" the Statute and signed into law the American Service-Members' Protection Act to protect US nationals from the ICC's reach.
PIB News National World
Afghan Government-Taliban Peace Meet
---
The Afghan government and Taliban have announced that the first peace talks between the two sides will take place in the Qatari capital of Doha, where the militant group has its political office and had signed a long-awaited peace agreement with the US on February 29.
PIB News National World
75th Anniversary Of The Victory Over Nazism
---
The world celebrates the year 2020 to mark the 75th anniversary of the Victory over Nazism during the Second World War.
For the first time in the history, Russia postponed its military parade traditionally held on Moscow's Red Square on May 9 due to coronavirus pandemic and observed the event on June 24.
For Russia, the celebration of the 75th anniversary of the Soviet Union's victory over Nazi Germany in the 1941-1945 Great Patriotic War is unique.
June 24 was the day when in 1945 the legendary historic parade of victors took place, when soldiers, who fought for Moscow and defended Leningrad, who stood their ground for Stalingrad, liberated Europe and stormed Berlin, marched on Red Square, and provincial cities throughout the Russian Federation.
A 75-member Tri-Service contingent from India took part in the Victory Day Parade.
PIB News National Science & Technology
Mystery Of Extreme Helium Stars Solved
---
A study by the Indian Institute of Astrophysics (IIA) detected the presence of singly ionised fluorine for the first time in the atmospheres of hot Extreme Helium Stars(EHe).
The origin and evolution of these Hydrogen deficient objects have been shrouded in mystery. Their severe chemical peculiarities challenge the theory of well-accepted stellar evolution as the observed chemical composition of these stars do not match with that predicted for low mass evolved stars.
Detection of fluorine in hot extreme Helium Stars solves their evolution mystery.
An extreme helium star or EHe is a low-mass supergiant that is almost devoid of hydrogen, the most common chemical element of the universe.There are 21 of them detected so far in our galaxy.
PIB News National Science & Technology
Annular Solar Eclipse
---
An annular solar eclipse occurred on June 21, 2020. This was the first solar eclipse of 2020. It was visible in parts of north India. The rest of the country, however, could observe a partial eclipse.
A solar eclipse occurs when the moon moves between the Sun and the Earth. There are three types of solar eclipses – total, partial and annular.
In a total eclipse, the disk of the Sun is fully obscured by the Moon.
In partial and annular eclipses, only part of the Sun is obscured.
In an annular solar eclipse, the Moon covers the Sun from the centre. This leaves the outer rim of the Sun perceptible.
The phenomenon is popularly known as the 'ring of fire.'
PIB News National Science & Technology
Sentinel-6 Michael Freilich
---
The Sentinel-6 Michael Freilich spacecraft is a part of the Copernicus Sentinel-6/Jason-CS (Continuity of Service) mission, a joint U.S.-European effort in which two identical satellites will be launched five years apart.
The spacecraft will join the Copernicus constellation of satellites that constitutes the European Union's Earth Observation Programme.
Once in orbit, each satellite will collect sea level measurements down to the centimeter for 90% of the world's oceans. The data will add to almost 30 years of information gathered by an uninterrupted series of joint U.S.-European satellites, creating an unprecedented — and unbroken — 40-year sea level dataset. The spacecraft will also measure the temperature and humidity of Earth's atmosphere, which can be used to help improve weather forecasts and hurricane predictions.
PIB News National Science & Technology
Stars Of Varied Ages Can Co-Exist In Open Clusters
---
Using the 1.3-m telescope at Devasthal (Uttarakhand) astronomers at the Aryabhatta Research Institute of Observational Sciences (ARIES) have found that stars of varied ages can co-exist in open clusters. This challenges earlier understanding that stars in an open cluster have the same age.
Open star clusters are a system of stars bound by gravity in which stars are born from the same molecular clouds. All the stars in a cluster follow the evolutionary sequence as per their initial masses at the time of formation of these stars. Open clusters are also important in probing formation and evolution of Milky Way Galaxy as they are distributed throughout the Galactic disk.
Stellar Evolution is the process by which a star changes over the course of time depending on the mass of the star.

PIB News National Science & Technology
Pulsars: Cosmic Lighthouses
---
Just as lighthouses have helped sailors navigate safely into harbor for centuries, future space travellers may receive similar guidance from the steady signals created by pulsars.
Scientists and engineers are using the International Space Station to develop pulsar-based navigation using these cosmic lighthouses to assist with wayfinding on trips to the Moon under NASA's Artemis programme and on future human missions to Mars.
Pulsars, or rapidly spinning neutron stars, are the extremely dense remains of stars that exploded as supernovas. They emit X-ray photons in bright, narrow beams that sweep the sky like a lighthouse as the stars spin.
An X-ray telescope on the exterior of the space station, the Neutron star Interior Composition Explorer or NICER, collects and timestamps the arrival of X-ray light from neutron stars across the sky.
Software embedded in NICER, called the Station Explorer for X-ray Timing and Navigation Technology or SEXTANT is using the beacons from pulsars to create a GPS-like system.
This concept, often referred to as XNAV, could provide autonomous navigation throughout the solar system and beyond.
The stability of the pulses allows highly accurate predictions of their time of arrival to any reference point in the solar system.
Navigation information provided by pulsars does not degrade by moving away from Earth since pulsars are distributed throughout our Milky Way galaxy.
PIB News National Science & Technology
Magnetocaloric Material For Cancer Treatment
---
Scientists at the International Advanced Research Centre for Powder Metallurgy and New Materials (ARCI) have developed a rare-earth-based magnetocaloric material (certain materials in which application and removal of a magnetic field causes the materials to become warmer or cooler) that can be effectively used for cancer treatment.
Advancements in magnetic materials led to the development of magnetic hyperthermia to address the issues of side effects of cancer treatment like chemotherapy.
In magnetic hyperthermia, magnetic nanoparticles are subjected to alternating magnetic fields of few Gauss, which produce heat due to magnetic relaxation losses. Usually, the temperature required to kill the tumor cells is between 40 and 45°C. However, the drawback in magnetic hyperthermia is the lack of control of temperature, which may damage the healthy cells in the body and also have side effects like increased blood pressure, etc.
These problems can be avoided by using magnetocaloric materials, as it can provide controlled heating. The advantage of magnetocaloric materials which heat up or cool down with the application and removal of the magnetic field, respectively is that as soon as the magnetic field is removed, cooling effect is generated, unlike in magnetic nanoparticles where overheating persists, even after removal of the magnetic field.
This method, when used in conjunction with radiation therapy, would reduce the side effects, damage caused to the human body and also reduce the treatment time of cancer tumours.
PIB News National Science & Technology
AU Microscopii B
---
AU Microscopii b or AU Mic b for short is a new planet discovered by NASA scientists while analysing data gathered by the agency's Transiting Exoplanet Survey Satellite (TESS), as well as the recently retired NASA Spitzer Space Telescope.
It is as big as Neptune and rotates around a young star (AU Mic) in just over a week.
PIB News National Ecology & Environment
Interdecadal Pacific Oscillation Behind India's 5-Decade Long Rainfall Decline
---
In novel approach to understand natural variability factors behind five-decade long rainfall decline till the year 2000 in India, a group of scientists has now examined the differing trends in pre- and post-2000 Indian summer monsoon, its decline and recovery.
The variability manifested itself in a decline in monsoon rainfall over north central India starting in the 1950s, which persisted for as long as five decades before a reversal from 1999 onwards.
The study found that neither the five-decade long decline before 2000 nor the subsequent increase can be solely explained as a response to external climate forcing, instead, natural variability factor played the key role.
External forcing includes changes in greenhouse gases, anthropogenic aerosols,land use, etc.
Natural variability refers to variations in the mean state due to internal processes within the climate system.
In addition to anthropogenic climate change, rainfall changes in recent decades are also influenced by natural sea surface temperature oscillation over Pacific basin.
The prominent natural variability in Pacific sea surface temperature is usually described as the Interdecadal Pacific Oscillation (IPO).
The scientists found that the differing phases of the IPO played subtle, but crucial supplementary roles in the recent inter-decadal variations of the ISM rainfall.
Fluctuations in the IPO induced anomalous thermal contrasts between the north and south and changes to ascent and descent throughout the region. These, in turn, resulted in changes to the horizontal advection, from the west and east, of moisture into India.
PIB News National Ecology & Environment
Decarbonising Transport In India
---
NITI Aayog in collaboration with International Transport Forum (ITF) has launched the "Decarbonising Transport in India" project on 24 June, with the intention to develop a pathway towards a low-carbon transport system for India.
India has been a member of ITF, an intergovernmental organisation for transport policy, since 2008.
PIB News National Ecology & Environment
5 Mn-Year-Old Elephant Fossils Found Near Dehradun
---
A camera-trap study in the reserve forests near Dehradun, which was conducted to develop a new tiger reserve, led to the discovery of one of the world's oldest fossil remains of elephants, dating back to 5 million years.
The rare fossils of elephants suggest that the foothills of the Himalayas, the beautiful lush green Terai region in Uttarakhand and Uttar Pradesh, were once inhabited by giant elephants, giraffes, horses and hippopotamus.
The sample, dating back to 5 to 8 million years, suggest the presence of Stegodon in the region.
Stegodon is a genus of the extinct subfamily Stegodontinae of the order Proboscidea.Stegodonts were present from 11.6 million years ago (mya) to the late Pleistocene. There are unconfirmed records of regional survival until 4,100 years ago. Fossils are found in Asian and African strata dating from the late Miocene.
PIB News National Ecology & Environment
Schizothorax Sikusirumensis: New Fish Species
---
A new species of fish has been discovered in Arunachal Pradesh and is named as Schizothoraxsikusirumensis. The name of this fish species has been derived from the name of the rivers where it was found.
This fish was collected from the junction of River Siku and Sirum near Gakang area under Mebo circle of East Siang District. The fish inhabits the water logged area of torrential river drainage.
PIB News National Ecology & Environment
Magallanodon Baikashkenke
---
Researchers have unearthed teeth belonging to a mammal called MagallanodonBaikashkenke that lived 74 million years ago, on a dig near Torres del Paine National Park, a remote area of Patagonia famous for its glacier-capped Andean spires and frigid ocean waters.
The small mammal would have lived in southern Patagonia during the late Cretaceous era, alongside dinosaurs, crocodiles, turtles and birds.
---