Current Affairs - Survey/Index
On March 1, 2023, the Centre for Monitoring Indian Economy (CMIE) released data indicating that India's unemployment rate had risen from 7.14% in the previous month to 7.45% in February.
The urban unemployment rate decreased from 8.55% in January to 7.93% in February.
The rural unemployment rate increased from 6.48% in January to 7.23% in February.
This indicates a divergence in unemployment trends between rural and urban areas in India.
The decrease in urban unemployment may be due to a gradual improvement in economic activity and job opportunities in urban areas.
On 27 June 2022, Ecowrap – a State Bank of India (SBI) research report, revealed that Poverty Ratio has declined in India.

Findings
All India poverty ratio has declined modestly to 17.9% in 2020-21 from 21.9% in 2011-12.
Poverty in urban areas lower than in rural areas.
States where poverty increased
Poverty has increased in some states including Karnataka, Maharashtra, Rajasthan, J&K, Uttarakhand and Sikkim.
States where poverty decreased
Poverty has decreased in states including Assam, Bihar, Chhattisgarh, MP, UP, Odisha and West Bengal.
The Economist Intelligence Unit (EIU) has released its annual ranking of the world's most livable cities, and the Global Liveability Index for 2022.

This year's edition of EIU's Global Liveability Ranking finds that Vienna, capital city of Austria is the most liveable city in the world, whereas Damascus, capital city of Syria is the least livable out of 173 countries surveyed.
Top 3- Most Liveable Cities
Vienna, Austria
Copenhagen, Denmark
Zurich, Switzerland
Bottom 3 - Least Liveable Cities
Damascus, Syria
Lagos, Nigeria
Tripoli, Libya
Indian Cities in the Index
The cities in India have fared poorly in the list of the world's most liveable cities.
India's national capital New Delhi has been ranked 112th in the list of most liveable cities.
India's financial capital Mumbai is ranked at 117th position.
India jumped one position to 7th among the top recipients of foreign direct investment (FDI) in the last calendar year (2021) despite FDI inflows into the country declining, according to the United Nations Conference on Trade and Development (UNCTAD).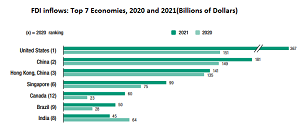 In its latest World Investment Report, UNCTAD said FDI inflows into India declined to $45 billion in 2021 from $64 billion in the preceding year.
While the United States ($367 billion) remained the top recipient of FDI, China ($181 billion) and Hong Kong ($141 billion) also retained second and third position respectively.
Among the top 10 host economies, only India saw a decline in its inflows. However, outward FDI from India rose 43 per cent to $15.5 billion in 2021.
Flows into India declined to $45 billion. However, a flurry of new international projects were announced. The largest number of projects (23) was in renewables. Large projects include the construction in India of a steel and cement plant for $13.5 billion by ArcelorMittal--Nippon Steel (Japan) and the construction of a new car manufacturing facility by Suzuki Motor (Japan) for $2.4 billion.
Other Observations
According to the report, global FDI flows recovered to pre-pandemic levels last year, growing 64 per cent to $1.6 trillion.
The prospects this year are grim with the war in Ukraine results in a triple crisis of high food and fuel prices and tighter financing.
Other factors clouding the FDI horizon include renewed pandemic impacts, the likelihood of more interest rate rises in major economies, negative sentiment in financial markets and a potential recession.
In the biennial Environment Performance Index-2022, an international ranking system that measures environmental health and sustainability of countries, India came at the bottom (180th) out of 180 countries.

With a paltry score of 18.9, India's 180th ranking comes after Pakistan, Bangladesh, Vietnam and Myanmar — the bottom five together make up the poorest performing countries for environmental health.
In 2020, India was ranked 168th with a score of 27.6.
Denmark was the top performer in the 2022 Index.
Who Publishes the Index?
The EPI, a biennial index, is brought out by the World Economic Forum in collaboration with the Yale Center for Environmental Law and Policy and the Columbia University Center for International Earth Science Information Network.
India's Response to the Index
The Ministry of Environment, Forest and Climate Change rebutted the Environmental Performance Index 2022 saying it has many indicators based on unfounded assumptions. Some of these indicators used for assessing performance are extrapolated and based on surmises and unscientific methods.
India has been ranked at the 54th place in a global Travel and Tourism Development Index 2021, down from 46th in 2019, but still remained on the top within South Asia.

Japan has topped the global charts, followed by the US, Spain, France, Germany, Switzerland, Austraila, UK, Singapore and Italy in the top ten.
This biennial Index is brought out by the World Economic Forum with the theme "Rebuilding for a Sustainable and Resilient Future".
The Travel and Tourism Development Index assesses 117 economies, identifying key factors in enabling the sustainable and resilient growth of travel and tourism economies.
India's ranking in the 2022 World Press Freedom Index has fallen to 150 out of 180 countries, according to the latest report released by the global media watchdog, Reporters Without Borders (RSF).

In last year's report, India was ranked 142.
The top three positions for countries with the highest press freedom were taken by the Nordic trio of Norway, Denmark and Sweden.
North Korea is the worst-ranked country (180) in the world.
Countries are evaluated on five contextual indicators: political context, legal framework, economic context, socio-cultural context, and safety.
India has slipped to 82nd position in 2021, five places down from 77th rank last year, in a global list that measures business bribery risks.
According to this year's data, North Korea, Turkmenistan, Venezuela and Eritrea pose the highest commercial bribery risk, while Denmark, Norway, Finland, Sweden and New Zealand present the lowest.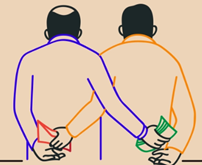 (Image Source: Ides.ted.com)
About the Index
The list by TRACE, an anti-bribery standard setting organisation, measures business bribery risk in 194 countries, territories, and autonomous and semi-autonomous regions.
This score is based on four factors
Business interactions with the government
Anti-bribery deterrence and enforcement
Government and civil service transparency
Capacity for civil society oversight which includes the role of the media
On 26th August, 2021 the first edition of the North Eastern Region (NER) District SDG Index Report and Dashboard 2021–22 was released by NITI Aayog and Ministry of Development of North Eastern Region (M/DoNER) with technical support from UNDP.
Aim of the Index
The NER District SDG Index aims at delineating progress at the district level on a basket of indicators and enhancing analytical understanding of sectoral issues as well as data gaps, while assisting in designing future courses of action in the region.
The modular nature of the index makes it a policy tool and a ready reckoner for gauging progress of districts on the expansive set of the Global Goals, including health, education, gender, economic growth, institutions, climate change and environment, among others.
About the Index
The index is based on NITI Aayog's SDG India Index –the principal and official tool for monitoring progress on the SDGs at the national and State/ Union Territory levels and shares the common ethos of benchmarking performance and ranking on the SDGs to foster competition among the districts.
The index offers insights into the social, economic, and environmental status of the region and its districts in their march towards achieving the SDGs.
It is a unique policy tool which has immense potential to measure district level progress, highlight critical gaps, facilitate resource allocation, and will be a handy tool for policy makers in the eight North Eastern States, Ministry of DoNER and other Union Ministries.
Indicators & Goals
The NER District SDG Index and Dashboard 2021–22 tracks progress of the districts of all eight States of the region on 84 indicators that are aligned to the Ministry of Statistics and Programme Implementation's (MoSPI) National Indicator Framework (NIF). The 84 indicators cover 15 of the Global Goals across 50 targets.
Coverage: Eight States (103 Districts)
The Index measured the performance of 103 districts of the eight States of Arunachal Pradesh, Assam, Manipur, Meghalaya, Mizoram, Nagaland, Sikkim and Tripura on the Sustainable Development Goals and their corresponding targets and ranks the districts based on the same.
Overall Results and Findings
Out of the 103 districts considered for ranking, 64 districts belonged to the Front Runner category while 39 districts were in the Performer category in the composite score and ranking of districts.
All districts in Sikkim and Tripura fall in the Front Runner category and there are no districts in the Aspirant or Achiever categories.
Top Three Districts
East Sikkim
Gomati and North Tripura
West Tripura
Bottom Three Districts
North Garo Hills
Kamle
East Kameng, Phek
Goal-wise: Good Performers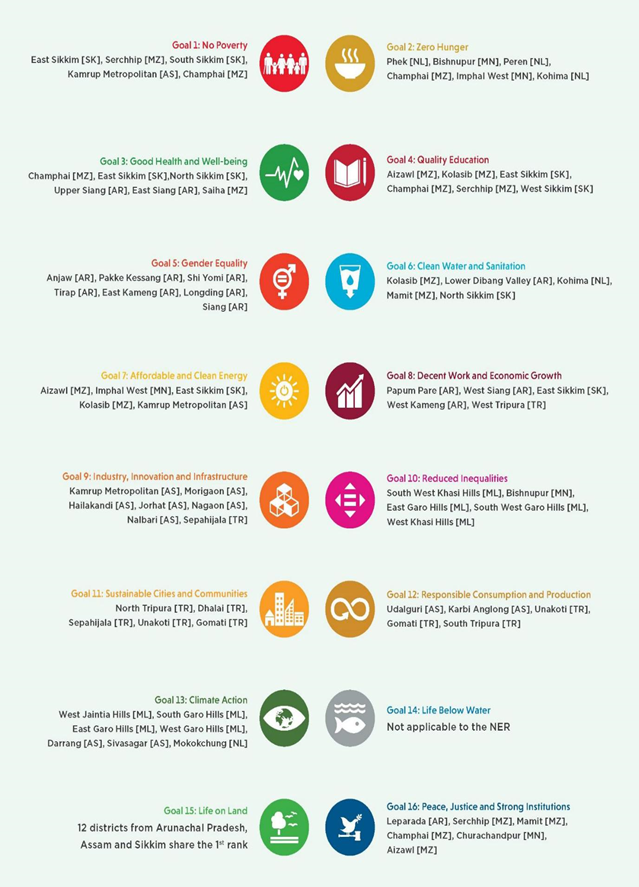 India is ranked 122nd on a new Global Youth Development Index measuring the condition of young people across 181 countries, released by the Commonwealth Secretariat in London on 10th August 2021.
The triennial rankings of youth development found India among the top five risers on the index between 2010 and 2018, alongside Afghanistan and Russia, advancing their score on average by 15.74 per cent across areas such as education and employment.
Singapore ranked topmost followed by Slovenia, Norway, Malta and Denmark. Chad, the Central African Republic, South Sudan, Afghanistan and Niger came last respectively.
The index ranks countries between 0.00 (lowest) and 1.00 (highest) according to the developments in youth education, employment, health, equality and inclusion, peace and security, and political and civic participation. It looks at 27 indicators including literacy and voting to showcase the state of the world's 1.8 billion people between the age of 15 and 29.
The 2020 Global Youth Development Index reveals that the conditions of young people have improved around the world by 3.1 per cent between 2010 and 2018. Overall, the index shows advances in youth's participation in peace processes and their education, employment, inclusion and health care since 2010.