Burden Of Malnutrition
Recently, the India State-Level Disease Burden Initiative, led by Indian Council of Medical Research (ICMR), published the first comprehensive estimate of disease burden due to child and maternal malnutrition and the trends of its indicators in every State from 1990.
The estimates were produced as part of the Global Burden of Diseases, Injuries, and Risk Factors Study (GBD) 2017.
Major Findings of the Report
The death rate due to malnutrition in children under five years of age in India has dropped by two-thirds between 1990 and 2017, but still accounts for 68% of deaths in children of the age group.
The Disability-Adjusted Life Years (DALY) rate attributable to malnutrition in children varies 7-fold among the states — a gap between a high of 74,782 in Uttar Pradesh and a low of 11,002 in Kerala.
The prevalence of low birth weight in India was 21·4% in 2017. Among the malnutrition indicators, low birth weight(less than 2500 g) is the largest contributor to child deaths in India, followed by child growth failure which includes stunting, underweight, and wasting.
The prevalence of child stunting was 39.3% in India in 2017.
The prevalence of child underweight was 32·7% in India in 2017.
The prevalence of child wasting was 15·7% in India in 2017.
The prevalence of anaemia in women 15–49 years of age was 54·4% in India in 2017.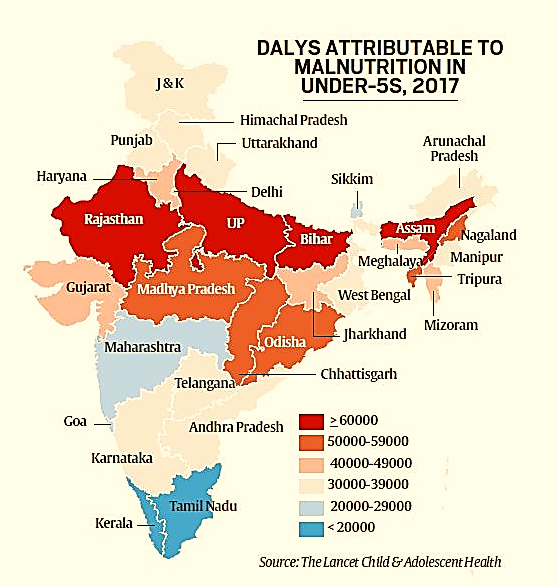 State-Level Disease Burden Initiative(SLDBI)
Launched in October 2015, it is collaboration between the Indian Council of Medical Research (ICMR), the Public Health Foundation of India (PHFI), Institute for Health Metrics and Evaluation (IHME), and senior experts and stakeholders currently from about 100 institutions across India.
Disability-Adjusted Life Years (DALY)
DALYs for a disease or health condition are calculated as the sum of the Years of Life Lost (YLL) due to premature mortality in the population and the Years Lost due to Disability (YLD) for people living with the health condition or its consequences.
DALY is the summary measure used to give an indication of overall burden of disease. One DALY represents the loss of the equivalent of one year of full health.
Significance
The finding in this report is an eye-opener for the government who is striving hard to address the menace of malnutrition across the country.
However, if the trends up to 2017 continue, the National Nutrition Mission (NNM)- 2022 and the WHO and UNICEF 2030 targets will not be achieved in most states of India.
Malnutrition
It refers to deficiencies, excesses or imbalances in a person's intake of energy and/or nutrients. It covers 2 groups of conditions:

Undernutrition: It includes stunting (low height for age), wasting (low weight for height), underweight (low weight for age) and micronutrient deficiencies or insufficiencies (a lack of important vitamins and minerals).
Overnutrition: Overconsumption of certain nutrients, such as protein, calories or fat, can also lead to malnutrition. This usually results in overweight or obesity.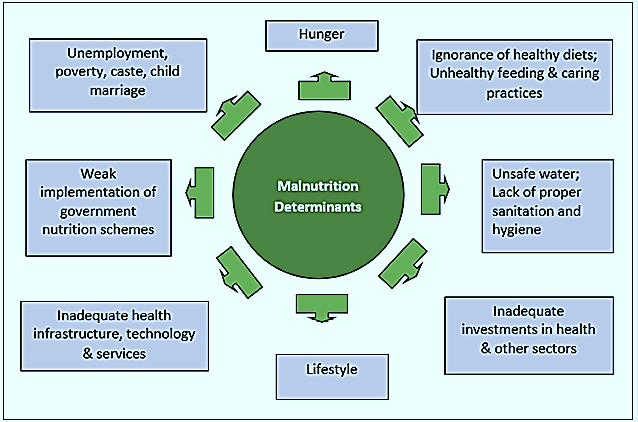 Government Measures towards Malnutrition
Prime Minister's Overarching Scheme for Holistic Nutrition (POSHAN Abhiyaan)
Launched in 2018, it is a multi-ministerial convergence mission with the vision to ensure attainment of malnutrition free India by 2022.
Its aim to ensure holistic development and adequate nutrition for pregnant women, mothers and children.
It targets to reduce stunting, under-nutrition, anaemia (among young children, women and adolescent girls) and reduce low birth weight by 2%, 2%, 3% and 2% per annum respectively.
Poshan Maah
To give momentum to POSHAN Abhiyan , 'National Council on India's Nutrition Challenges' on 24th July 2018 decided to celebrate the month of September now onward as Rashtriya Poshan Maah.
During this month activities related to nutrition awareness will be carried out by all the states/UTs up to the grass root level. OSHAN Maah has given a major impetus to the Abhiyaan.
Pradhan Mantri Matru Vandana Yojana (PMMVY)
Launched in 2017, It is maternity benefit scheme under which a cash incentive of 5000/- is provided directly to the Bank / Post Office Account of Pregnant Women and Lactating Mothers (PW&LM) for first living child of the family subject to fulfilling specific conditions relating to Maternal and Child Health.
It is implemented using the platform of Anganwadi Services scheme of Umbrella ICDS under Ministry of Women and Child Development.
National Food Security Act (NFSA), 2013
It gives legal entitlement to 67% of the population (75% in rural areas and 50% in urban areas) to receive highly subsidized foodgrains.
Under the Act, foodgrain is allocated @ 5 kg per person per month for priority households category and @ 35 kg per family per month for AAY families at a highly subsidized prices of Rs. 1/-, Rs. 2/- and Rs. 3/- per kg for nutri-cereals, wheat and rice respectively.
Mid-day Meal Scheme (MDMS)
The MDMS is a school meal programme of the Government of India designed to improve the nutritional status of school-age children nationwide.
In 2001 MDMS became a cooked Mid Day Meal Scheme under which every child in every Government and Government aided primary school was to be served a prepared Mid Day Meal with a minimum content of 300 calories of energy and 8-12 gram protein per day for a minimum of 200 days.
Integrated Child Development Scheme (ICDS)
Launched in 1975, ICDS is a unique early childhood development programme, aimed at addressing malnutrition, health and also development needs of young children, pregnant and nursing mothers.
International Initiative
In April 2016, the United Nations General Assembly adopted a resolution proclaiming the UN Decade of Action on Nutrition from 2016 to 2025. The Decade aims to catalyse policy commitments that result in measurable action to address all forms of malnutrition.
The aim is to ensure all people have access to healthier and more sustainable diets to eradicate all forms of malnutrition worldwide.
Goal 2 of the 2030 Sustainable Development agenda seeks to end hunger and all forms of malnutrition, and double agricultural productivity in the next 15 years. Ensuring this sustainable access to nutritious food universally will require sustainable food production and agricultural practices.
Way Forward
Nutrition is both a maker and a marker of development. Improved nutrition is the platform for progress in health, education, employment, empowerment of women and the reduction of poverty and inequality, and can lay the foundation for peaceful, secure and stable societies.
The governments along with the stakeholders involved, have to adopt a comprehensive and coordinated multi-sectoral approach which is formulated by taking into account the varied nature of local-level challenges.
In particular, attention needs to be paid on building neighbourhood health and nutrition profiles and carrying out interventions based on identified needs in order to deal effectively with the growing problems of malnutrition.