Country Cooperation Strategy 2019–2023
On 9th October, 2019, Ministry of Health & Family Welfare launched the 'WHO India Country Cooperation Strategy 2019–2023: A Time of Transition'.
Objectives
To aid Indian government towards achieving its health sector goals
To improve the health of country's population
To bring in transformative changes in the health sector
About India Country Cooperation Strategy
The India CCS is in alignment with the following –

WHO 13th General Programme of Work and its 'triple billion' targets
Sustainable Development Goals (SDGs)
WHO South-East Asia Region's eight Flagship Priorities.

CCS encapsulates the work of the United Nations Sustainable Development Framework for 2018–2022.
It defines how WHO can support the Ministry of Health & Family Welfare and other allied Ministries to drive impact at the country level.
It is build builds on other key strategic policy documents including India's National Health Policy 2017, Ayushman Bharat, National Viral Hepatitis programme and promotion of digital health amongst others.
Four areas for strategic cooperation of WHO with India:

Universal Health Coverage (UHC)
Health and wellness by addressing the determinants of health
Protection against health emergencies
India's global leadership in health
Significance
Providing Strategic Roadmap: CCS provides a strategic roadmap for WHO to work with the Government of India towards achieving its health sector goals, in improving the health of its population and bringing in transformative changes in the health sector.
Identifying Current Challenges: It helps India identifying the current and emerging health needs and challenges such as non-communicable diseases, antimicrobial resistance and air pollution.
India as a Role Model: It gives India a great to prove itself as a model to the world in initiatives such as digital health, access to quality medicines and medical products, comprehensive hepatitis control program and Ayushman Bharat.
Country Cooperation Strategy (CCS)
CCS is a medium-term vision for WHO's technical cooperation with a given Member State, and supports the country's national health policy, strategy or plan.
The CCS time frame is flexible to align with national cycles and processes. It is the basis for aligning WHO's collaboration with other United Nations bodies and development partners at the country level.
It summarizes:

main features of the country context in relation to health, development and cooperation with partners
WHO's main work priorities with the country in the medium term
key public health indicators, utilizing data from the WHO Global Health Observatory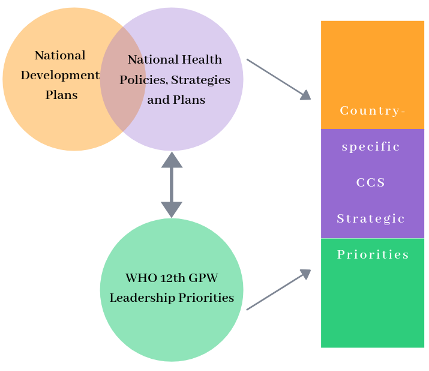 WHO Triple-Billion Target (TBT)
Announced in March, 2019, the TBT under WHO's 13th General Programme of Work (2019-2023) is a set of interconnected strategic priorities and goals to ensure healthy lives and promote well-being for all at all ages.
Aims
To provide a billion more people with universal health coverage
To protect another billion people from health emergencies
To provide a further billion with better health and well-being over the next five years.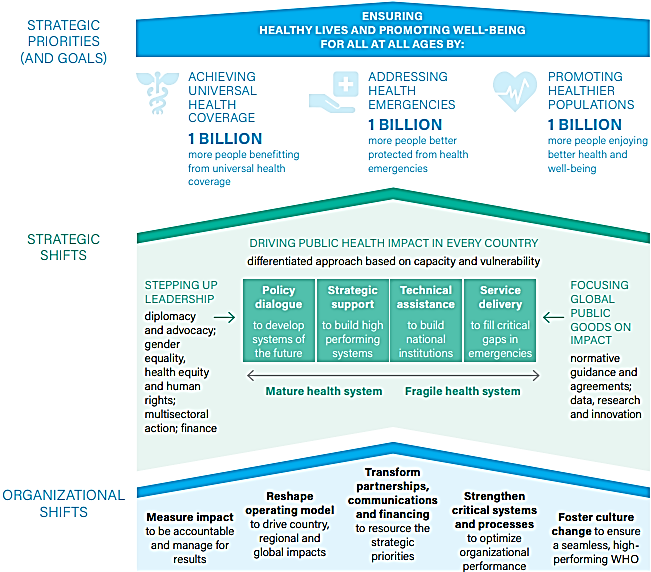 Source: WHO
WHO South-East Asia Region's Eight Flagship Priorities
In 2014, WHO, in consultation with the Member countries, identified seven flagship priorities while the eight priority was added in 2017.These priorities are as follows:

Achieving universal health coverage
Strengthening emergency response capacity
Reversing the non-communicable disease epidemics
Finishing off neglected tropical diseases
Combatting antimicrobial resistance
Preventing maternal, under-5 and neonatal deaths
Eliminating measles and controlling rubella
Eliminating tuberculosis by 2030
Way Forward
Besides the health priorities, focus needs to be given on other equally pertinent health areas of environmental and occupational health, accidents and road injuries, and good nutrition and food safety.
An inter-ministerial collaboration mechanism needs to be institutionalized wherein every ministry has a health section/department leading to the better and effective implementation of policies at every level.
The government should stress on the need for health to be made a people's movement where the positive health attitude is inculcated in everyone, and everyone takes responsibility of their own health through preventive and promotive health approach.