---
New NPA Norms Of RBI
---
Why is it in News?
RBI released new norms on NPA management for banks on 7 June 2019.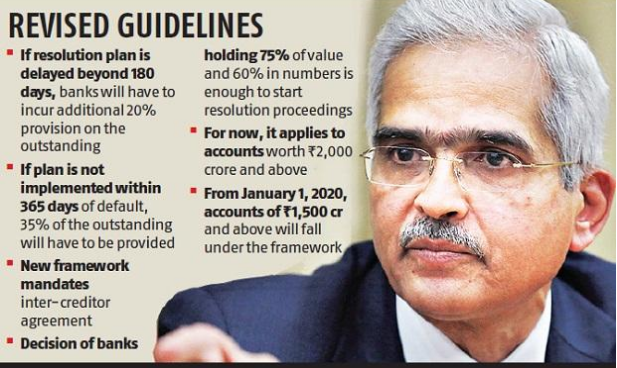 Relevance of the News: It lists the changes made in the NPA norms by the RBI which would help in curbing the menace of bad loans in Indian banking sector.
Some Changes made by the RBI include:
Balanced between tight timelines and extreme delays:
oIn the earlier circular even a single day's default in debt servicing would have required reporting to the RBI and implementation of Resolution Plan (RP). If RP is not completed in 180 days the company would be subject to IBC mandatorily.
oIn the changed rules lenders have been given 30 days (in place of one day earlier) to decide upon a strategy. If RP is not implemented in 180 days banks will have to pay penalty rather than mandatory IBC referral.
Improved realizations to banks:
oDoing away with the mandatory referral to the IBC after 180 days can lead to improved realizations as intrinsic value of assets can be preserved.
oIn case of mandatory referral RBI has placed penalties on banks if they fail to deliver within 180 days.
oIf RP is not implemented in 180 days from the start of the review period, banks will have to make additional provision of 20% and another 15% if the plan is not implemented within 365 days.
Accelerated provisioning by RBI: The central bank would issue directions to banks for initiation of insolvency proceedings against borrowers for specific defaults. This will force lenders to refer some specific cases to IBC.
ICA has been made more practical: The Inter Creditor Agreement has been made more practical as approval percentage has been reduced from 100% to 75% by value of total outstanding credit facilities and 60% of lenders by number which is mandatory now.