---
Centre To Undertake Study With IBM To Use AI In Agriculture
---
On 3rd July, 2019, Ministry of Agriculture and Farmers Welfare signed a Statement of Intent (SoI) for undertaking a pilot study with IBM India.
It will be launched in the three districts of Bhopal, Rajkot and Nanded in the States of Madhya Pradesh, Gujarat and Maharashtra respectively.
As part of the collaboration, IBM's Watson Decision Platform (WDM) for Agriculture will be leveraged to obtain farm level weather forecast and village level soil moisture in three districts.
Actions Sought under SoI:
WDM will give solution in the field of agriculture through Artificial Intelligence (AI) and weather technology at village level/ farm level.
It will provide information on weather forecast and soil moisture on pro bono basis to aid farmers in taking decisions regarding water and crop management for finer production and productivity.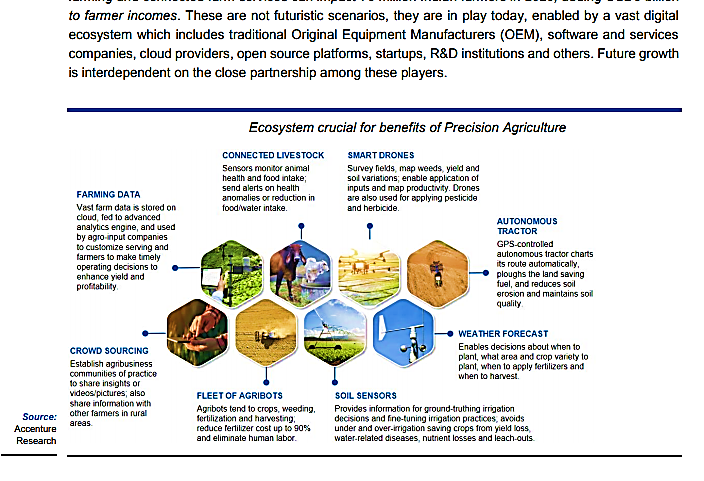 Benefits of AI in Agriculture
Soil Health Monitoring and Restoration
Image recognition and deep learning models have allowed distributed soil health monitoring without the need of laboratory testing infrastructure. AI solutions integrated with data signals from remote satellites, as well as local image capture in the farm, have made it viable for farmers to take immediate actions to restore soil health.
Crop Health Monitoring and Providing Real Time Action Advisories to Farmers
AI can be used to predict advisories for sowing, pest control, input control can help in ensuring increased income and providing stability for the agricultural community. For example, many agronomic factors (such as vegetation health and soil moisture) can be monitored up to the farm level through remote sensing.
Using remote sensed data, high resolution weather data, AI technologies, and AI platform, it is possible to monitor crops holistically and provide additional insights to the extension workers/farmers for their farms as & when required.
Increasing Efficiency of Farm Mechanization
Image classification tools combined with remote andlocal sensed data can bring a revolutionary change in utilisation and efficiency of farm machinery,in areas of weed removal, early disease identification, produce harvesting and grading.Horticultural practices require a lot of monitoring at all levels of plant growth and AI tools provide round the clock monitoring of these high value products.
Increasing the Share of Price Realisation to Producers
Current low levels of price realisation to farmers are primarily due to ineffective price discovery and dissemination mechanisms, supply chain intermediary inefficiency and local regulations.Predictive analytics using AI tools can bring more accurate supply and demand information to farmers,thus reducing information asymmetry between farmers and intermediaries. Data from e NAM, Agricultural Census, AGMARKET and over 110 million Soil Health Samples provide the volumes required for any predictive modelling.
Helps in Determining the Best Crop Choice
It could help in identification of the best crop choice or the best hybrid seed choices for a crop mix adapted to various objectives, conditions and which are suited better for farm's requirements.
By examining and matching up information about weather, seed types, types of soil or infestations in a particular area, possibility of diseases, year to year outcomes, marketplace trends, prices or consumer needs, farmers can make decisions to maximize return on crops.
Automated Irrigation and Water Management
Agriculture in India uses massive amounts of freshwater reserves to irrigate farmland. However, the real concern here is the sloppiness of manual irrigation and the amount of water wasted.AI can guide it in through automated irrigation and assist to narrow down the accurate amount of water needed. It could aid farmers evaluate exactly how much water a particular patch of agricultural land would need. It performs directly to lower freshwater waste.
Challenges for AI in India:
Lack of Expertise:
Owing to the age-old inept curricula adhered in most of the educational institutes in India, there's a deficiency of appropriate talent to raise and deploy AI systems at scale.
Low Awareness of AI
Low awareness of AI for resolving business problems in most public enterprises and government agencies, especially given the scarcity of AI professionals, is obstructing adoption. Most of the public enterprises and government agencies find the technology unreliable and, hence, refrain from adopting it for their businesses.
Lack of Adequate Computing Infrastructure
Unreasonable price and little availability of computer infrastructure have made the development and deployment of AI systems difficult. For example, although swiftly growing, the cloud infrastructure in India not as capable as that followed by developed countries.
Lack of infrastructure0 has led to many Indian AI startups to incorporate their business outside the country, which makes AI outside the reach of Indian researchers in government labs and many industries.
Concentration of Power
It is difficult for new entrants to deliver tailor made services that can compete with data rich incumbents such as Facebook or Google. This phenomenon results in the creation of a virtuous cycle which reinforces the hegemony of the big few, creating a huge entry barrier for startups.
Impact of the Decision:
Ensuring Better Productivity: It will help the farmers to take decisions regarding water and crop management for better production and productivity.
Boosting Farmer's Income: It will help in fulfilling government's assurance to bring digital technologies in helping the farmers to increase their income and transform Indian agriculture.