---
Aqueduct Water Risk Atlas
---
On 6th August, 2019, the World Resources Institute released a report- Aqueduct Water Risk Atlas, according to which seventeen countries, home to 25% of the global population are facing "extremely high" water stress.
Of the 17 nations, 12 are in the Middle East and North Africa. Two countries–India and Pakistan are in Asia. The remaining hotspots are San Marino in Europe, Botswana in Africa and Turkmenistan in Central Asia.
Key Findings of the Report
17 countries i.e. India, Pakistan, Saudi Arabia,Turkmenistan,Qatar, Israel, Lebanon, Iran, Jordan, Libya, Kuwait, Eritrea, UAE, San Marino, Bahrain, Oman and Botswana, face the risk of extremely high water stress.
Almost a quarter of the world's population lives in these countries facing extremely high water stress, close to "day zero" conditions when the taps completely run out of water.
While the Middle East and North Africa (MENA) region is hot and water supply can be low to begin with, rising demand has pushed countries into extreme stress, according to WRI. Qatar, the most at risk from water scarcity, depends heavily on seawater desalination systems to supply drinking water to people and industries.
The report states that even nations with low average water stress can have alarming hotspots. For instance, the US ranks 71 on the list, the state of New Mexico faces water stress much the same as UAE.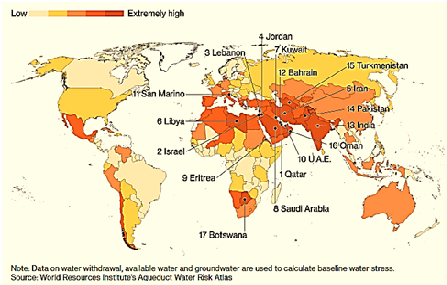 India's Water Woes
Of all the water-stressed countries, India has the highest population at risk.
India, which is ranked 13thon the list of countries with extremely high water risk, has more than three times the population of the other 16 countries in this category combined. The country, followed by neighbouring Pakistan, was under 'extremely high' levels of baseline water stress.
The problem in India is not isolated to the southern states. Northern India is facing extreme groundwater depletion.
Both surface water and groundwater in India was highly exploited. Groundwater levels, in fact, declined at more than eight centimetres per year between 1990 and 2014 in northern India.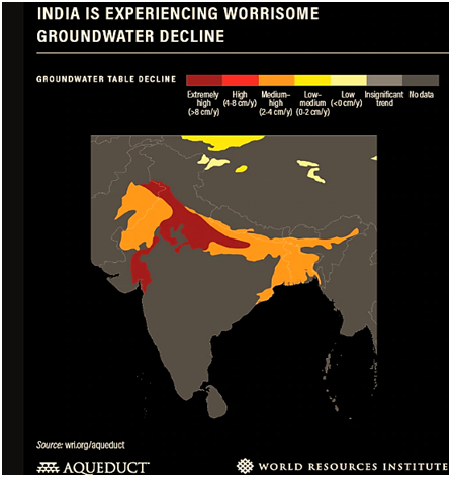 Aqueduct Water Risk Atlas(AWRA)
The AWRA, developed by the World Resources Institute, is a global water risk mapping tool that assistsfirms, investors, governments, and other users comprehend where and how water risks and opportunities are surfacingglobally.
The Atlas employs a sturdy, peer reviewed methodology and the most accurate available data to create high-resolution, customizable global maps of water risk.
Aqueduct now includes 13 indicators of water risk, including new additions such as groundwater availability and water depletion, and monthly snapshots of water stress and variability.
World Resources Institute (WRI)
It is a global research non-profit organization (based in USA) which focuses on 7 areas:

Food
Forests
Water
Energy
Cities
Climate
Ocean

The mission is to shift human society to live in ways that safegaurd Earth's environment.
Steps to Avoid Future Water Woes
Change Consumption and Lifestyles through Education:Education to motivate new behaviors will help in changing the face of this crisis. Major revamping of various forms of consumption, from personal use to the industrial use, leading to judicious and better use of water resources is much needed for coping up with coming era.
New Water Conservation Technologies:Innovation in areas where aquifers are drying up and rainwater is increasingly uncertain. Key factors contributing to this strategy are smart technology, regulation, metering and water-sensitive design.
Recycle Wastewater:Wastewater recycling helps customers optimise water costs and minimise their environmental footprint. Some countries, like Singapore, are trying to recycle to reduce water imports and become self-sufficient. The rich East Asian republic is a leader in developing advanced technology that cleanses wastewater for drinking and other uses.
Improve Irrigation and Agricultural Practices:Nearly 70 percent of the world's freshwater is used for agricultural purposes. Narrowing the supply and demand gaps can be done by making improvements in irrigation. Applying a more intelligent approach to water management by deploying precision irrigation systems and computer algorithms and modelling is already beginning to bring benefits to farmers in water scarce countries.
Develop Energy Efficient Desalination Plants:To date, desalination has been an energy-intensive way out to water scarcity. Typically the Middle East has capitalized on its huge energy reserves to construct desalination plants. But Saudi Arabia could be bringing up a new kind of desalination with its announcement to use solar-powered plants.But these innovations highlight another required resource - the capital for technological experimentation.
Improve Water Catchment and Harvesting:Water catchment systems are crucial for areas with no other dependable water sources. Countries like India and Pakistan, struggling with some of the worst effects of climate change, are revamping rainwater harvesting systems. These efforts offerunconstrained control of water resources.
Holistically Manage Ecosystems:Holistic management applies to a practical approach to manage natural resources that takes into account economic, cultural, and ecological objectives. In essence, the whole is greater than the sum of its parts, and each facet is related to and influences the others. Good examples of holistic management are communities that operate sewage treatment plants while pursuing partnerships with clean energy producers to use wastewater to fertilize algae and other biofuel crops. The crops, in turn, soak up nutrients and purify wastewater, significantly reducing pumping and treatment costs.
R&D / Innovation: Access to water in a water-scarce world will become a much higher priority in business decisions. Communities are likely to pursue public-private partnerships that draw on the innovative capacities of companies. One example - cities that operate sewage treatment plants are likely to pursue partnerships with clean energy producers to fertilize algae and other biofuel crops with wastewater.
Pollution Prevention: Less pollution creates more opportunity for water reuse and conserves natural water reserves. Regulatory policies are introduced on water discharging facilities. Also, numerous technologies exist to treat the effluents from domestic and industrial facilities.
Population Growth Control:Because of the accelerating growth in global population, parts of the world could see a supply-demand gap of up to 65 percent in water resources by 2030. Currently, more than one billion people don't have access to clean water. And with 70 percent of the world's freshwater used for agriculture, water's critical role in food production must be considered as climate and resource conditions change.
Way Forward
We can all be more efficient with the water that we use and help the environment along with helping with the scarcity problem. It is going to take a big change in politics to avoid one the biggest natural disasters of all time but we can all do our bit to try to help solve this major issue.