---
All India Tiger Estimation – 2018
---
KOn the occasion of Global Tiger Day(29th July), Prime Minister released the results of the fourth cycle of All India Tiger Estimation – 2018 in New Delhi.
The once-in-four-year survey, conducted by National Tiger Conservation Authority(NTCA) in collaboration with the State ForestDepartments, Conservation NGO's andcoordinated by the Wildlife Institute of India (WII), shows that the country witnessed a 33 percent increase in population since 2014.
Report Name: Status of Tigers Co-predators & Prey in India
Background
In 2006, when the survey was first conducted, India had only 1,411 tigers and since then the population has increased at six percent per annum.
In 2010, at the Tiger Summit of St. Petersburg, Russia, group of countries (Bangladesh, Bhutan, Cambodia, China, Indonesia, Laos PDR, Malaysia, Myanmar, Nepal, Russian Federation, Thailand and Vietnam) agreed to put in efforts to double the tiger population by
Need for Census
To Ensure Well-Being of Forest Ecosystem:The tiger sits at the peak of the food chain, and its conservation is important to ensure the well-being of the forest ecosystem.
Parameter of Government's Conservation Efforts:The numbers reflect the success or failure of conservation efforts. This is an especially important indicator in a fast-growing economy like India where the pressures of development often run counter to the demands of conservation. More than 80% of the world's wild tigers are in India, and it's crucial to keep track of their numbers.
To Achieve the International Goal:The Global Tiger Forum, an international collaboration of tiger-bearing countries, has set a goal of doubling the count of wild tigers by 2022.
Major Findings of the Survey
The total count has risen to 2,967 from 2,226 in 2014 - an increase of 741 individuals (aged more than one year), or 33%, in four years.
Madhya Pradesh witnessed the highest number of tigers at 526, followed by Karnataka (524) and Uttarakhand (442).
Chhattisgarh and Mizoram saw a decline in tiger population and all other States saw a positive increase.
The biggest increase has been in Madhya Pradesh - a massive 218 individuals (71%) from 308 in 2014 to 526. In Maharashtra, the number has gone up from 190 to 312 (64%), and in Karnataka, from 406 to 524 (118, or 29%). Uttarakhand has gained over 100 tigers (340 to 442; 30%).
Pench Tiger Reserve in Madhya Pradesh recorded the highest number of tigers, while Sathyamangalam Tiger Reserve in Tamil Nadu registered the "maximum improvement" since 2014.
No tigers were spotted at three tiger reserves - Buxa in West Bengal, Palamu in Jharkhand and Dampa in Mizoram.
Tiger populations at Nameri (Assam) and Pakke (Arunachal Pradesh) have also shown a decline.
Tigers colonised 25,709 sq km new areas; thier presence could not be ascertained in some areas, the report noted. Overall, areas occupied by tigers shrunk by 17,881 sq km (2014-18).
Since state boundaries do not apply to the movement of tigers, conservationists prefer to talk about tiger numbers in terms of landscapes rather than of states.
India's five tiger landscapes are: Shivalik Hills and Gangetic Plains, Central Indian Landscape and Eastern Ghats, Western Ghats, North-East Hills and Brahmaputra Plains, and the Sundarbans.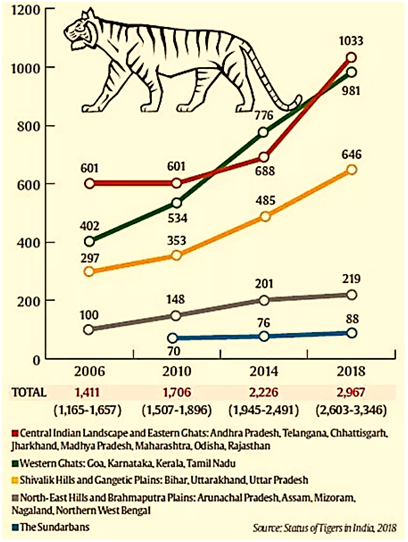 Reasons for Decline in Population of Tigers
Habitat Loss
Biggest concern is the habitat loss. Tiger habitat is being destroyed or fragmented by agricultural expansion and development. The fact that the forest covers are being cleared at an alarming rate is hugely impacting the lives of the big cats. This is why tigers move out and start feeding on livestock and some actually turn man-eater.
Conflict with Humans
As tigers continue to lose their habitat and prey species, they are increasingly coming into conflict with humans as they attack domestic animals and sometimes people. In retaliation, tigers are often killed by angry villagers.The most recent example is killing of a tigress by villagers near Pilibhit Tiger Reserve in Uttar Pradesh, on July, 24, 2019.
Poaching & Illegal Trade
Tigers are being killed indiscriminately for their skin, claws, teeth and bones. The tiger skin is a very costly and luxurious item and sought after in the west and among the rich and the luxurious. Its bones, teeth and claws are said to have magical medicinal properties and are of high demand especially in China and Thailand .In spite of legal actions against poaching and appointing forest guards, the big cats are not safe even in the sanctuaries.
Unregulated Tourism
Unfortunately and not surprisingly unregulated tourism is adding to its peril. Huge vehicles, too many safari rides & vehicles at the same time, littering and noisy tourists affect the already traumatized tigers. They move further deep into the forest, letting go of their favorite patches of the forest leading to more territorial fights and hence leading to less tigers.
Reasons for Increase in Tiger Population in India
Increased Conservation Efforts:
Sustained conservation efforts through continued "political will" have resulted in an increase in tiger numbers. The success owes a lot to increased conservation efforts by the Forest Department. From 28 in 2006, the number of tiger reserves went up to 50 in 2018, extending protection to larger numbers of tigers over the years.
Healthy increases in core area populations eventually lead to migrations to areas outside the core; this is why the 2018 census has found tigers in newer areas.
Over the years, there has been increased focus on tigers even in the areas under the territorial and commercial forestry arms of Forest Departments.
Increased Vigilance and Protection:
The other important reason is increased vigilance, and the fact that organised poaching rackets have been all but crushed.
According Wildlife Protection Society of India, there has been no organised poaching by traditional gangs in Central Indian landscapes since 2013.
The increased protection has encouraged the tiger to breed. According to Wildlife Institute of India, tigers are fast breeders when conditions are conducive.
More Availability of Space for Tigers:
The rehabilitation of villages outside core areas in many parts of the country has led to the availability of more inviolate space for tigers.
In the last five years, the number of protected areas (for tigers) increased from 692 to over 860 and community reserves from 43 to over 100.
Use of Technology and Digital Techniques:
Also, because estimation exercises have become increasingly more accurate over the years, it is possible that many tigers that eluded enumerators in earlier exercises were counted this time.
In this SURVEY, recording of primary field data digitally through mobile phone application like M-STrIPES (Monitoring System for tigers - intensive protection and ecological status), that uses GPS to geotag photo-evidences, and survey information made this exercise more accurate, with smaller margins of human error.
Way Forward
Maintaining the source values of tiger reserve populations through good management, protection and making the core areas inviolate through incentivized voluntary relocation of human habitation has been the most important reason for continued improvement in the status of tigers in India in the recent years.
Managing conflict promptly and providing economicincentives from tigers will foster coexistence in these multiple use forests and ensure the long-term future of tigers in India.
Further, India has managed to develop without compromising on the conservation of its natural heritage and has once again lived up to its expectations and contributed significantly to the common goalof the Global Tiger Recovery targets.