International Day Of Older Persons
---
On 1st October, 2019, the International Day of Older Persons was observed by United Nations under the theme- The Journey to Age Equality.
Aim
To draw attention to the existence of old age inequalities and highlight intergenerational risk of increased old age inequalities.
To bring awareness to the urgency of coping with existing and preventing future old age inequalities.
To explore societal and structural changes in view of life course policies
To reflect on best practices, lessons and progress on the journey to ending older age inequalities and changing negative narratives and stereotypes involving old age.
Background
On December 14, 1990, the UN General Assembly made October 1 as the International Day of Older Persons. The International Day of Older Persons was observed for the first time on October 1, 1991.
The day is celebrated annually to recognize the contributions of older persons and to examine issues that affect their lives. This day provides anopportunity to acknowledge the contribution, wisdom, dignity and needs of our senior citizens and to rededicate our efforts to ensure their well-being.
Old Age Population Scenario
India has nearly 10 crore elderly people, constituting nearly 8.6% of the total population.
In the next couple of decades, their population is expected to increase manifold.A whopping 1.5 crore elderly Indians live alone, and 75% of them are women.
Between 2017 and 2030, the number of persons aged 60 years or over is projected to grow by 46 percent (from 962 million to 1.4 billion) globally.
Moreover, this increase will be the greatest and most rapid in the developing world.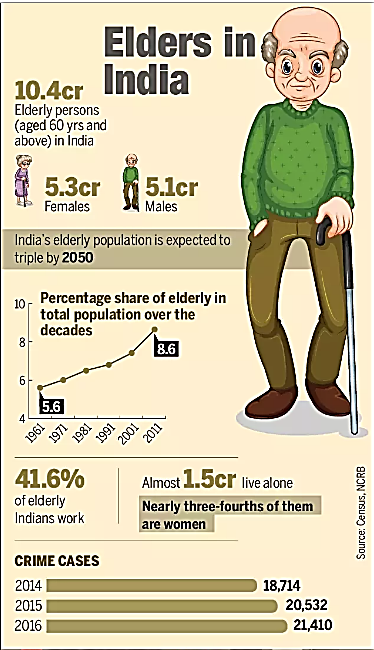 Source: ToI
Significance
Increasing Awareness:The International Day of Older Persons is an opportunity to highlight the important contributions that older people make to society and raise awareness of the opportunities and challenges of ageing in today's world
In align with Sustainable Development Goal:The 2019 theme is aligned with Sustainable Development Goal 10 (SDG 10) and focuses on pathways of coping with existing and preventing future old age inequalities.
Challenges Posed By Ageing Population
Economic Problems
A great anxiety in old age relates to financial insecurity. Economic factors definitely play a major role in generating care for elderly people. As many as 70% aged depend on othersfor their day-to-day maintenance. Thesituation is worse for elderly femaleswhere 85 – 87% are dependent either partially or fully.
Health Problems
Health problems are supposed to be the major concern of a society as older people are more prone to suffer from ill health than younger age groups. It is often claimed that ageing is accompanied by multiple illness and physical ailments.
The existing health care systems are not sufficient to meet the physical and health needs of the ageing population such as old age security, establishing old age homes, expanding geriatric services and liberalizing the welfare policy for older persons.
Lack of Social Support
The elderly in India are much more vulnerable because of the less government spending on social security system. The elderly in urban area rely primarily on hired domestic help to meet their basic needs in an increasingly-chaotic and crowded city. Social isolation and loneliness has increased aggravating the problems of old age people.
Crime against Senior People
The crime against elderly people is increasing day by day in our society, which has emerged as one the major problems faced by these people.
Prevalence of Abuse
Around 60% elders confirmed that elder abuse is prevalent in our society. Of those, who reported prevalence, 88% of them believed its existence is high. Nearly one-fourth (25%) elders have confirmedthey have been victim of abuse ever with no gender variation. The most common form of abusethey experienced was disrespect (56%), verbal abuse (49%) and neglect (33%).
Government Initiatives for Old Age Population
Pradhan Mantri Vaya Vandana Yojana (PMVVY)
Launched in 2017,it is a pension scheme for senior citizens which has been introduced by the government The aim of the scheme is to give senior citizens regular pension.
Rashtriya Vayoshri Yojana (RVY)
Launched in 2017 by the Ministry of Social Justice & Empowerment, the scheme is only available to those senior citizens who are below poverty line(BPL) category who suffer from age-related disabilities such as low vision, hearing impairment, loss of teeth and loco-motor disabilities.
Varishtha Pension Bima Yojana (VPBY)
VPBY was first launched in 2003 and then relaunched in 2014. Both are social security schemes for senior citizens intended to give an assured minimum pension on a guaranteed minimum return on the subscription amount.
Senior Citizens Savings Scheme (SCSS)
It is a deposit scheme introduced by the Government of India to provide guaranteed returns to senior citizens.
Integrated Programme for Senior Citizens (IPSC)
The main objective of the scheme is to improve the quality of life of the Senior Citizens by providing basic amenities like shelter, food, medical care and entertainment opportunities and by encouraging productive and active ageing through providing support for capacity building of State/ UT Governments/Non-Governmental Organizations (NGOs)/Panchayati Raj Institutions (PRIs) / local bodies and the community at large.
Maintenance and Welfare of Parents and Senior Citizens Act, 2007
It was enacted to ensure need based maintenance for parents and senior citizens and theirMaintenance of Parents/ senior citizens by children/ relatives made obligatory and justiciable through Tribunals, penal provision for abandonment of senior citizen, establishment of old age homes and adequate medical facilities and security for senior citizens.
Way Forward
Population ageing is poised to become one of the most significant social transformations of the 21st century.Older people have always played a significant role in society as leaders, caretakers and custodians of tradition. Yet they are also highly vulnerable, with many falling into poverty, becoming disabled or facing discrimination.
Empowering older persons in all dimensions of development, including promoting their active participation in social, economic and political life, is one way to ensure their inclusiveness and reduce inequalities.