---
20th Livestock Census Released
---
Recently, the Department of Animal Husbandry & Dairying, Ministry of Fisheries, Animal Husbandry and Dairying released the 20th Livestock Census report.
It was carried out in about 6.6 lakhs villages and 89 thousand urban wards across the country covering more than 27 Crores of Households and NonHouseholds
Background
The Livestock Census has been conducted in the country periodically since 1919-20.
So far 19 such censuses have been conducted in participation with State Governments and UT Administrations.
The 20th Livestock Census was launched in October, 2018. The enumeration was done in both rural and urban areas.
For the first time, livestock data were collected on line in 20th Livestock Census.
Another important feature of 20th Livestock Census is it has been designed to capture Breed-wise number of animals and poultry birds.
The breeds of various major species including Poultry as registered by National Bureau of Animal Genetic Resources(NBAGR) will be covered in the Livestock Census.
Key Outcomes
The total Livestock population is 78 million in the country showing an increase of 4.6% over Livestock Census-2012.
Total Bovine population (Cattle, Buffalo, Mithun and Yak) is 302.79 Million in 2019 which shows an increase of about 1% over the previous census.
The total number of cattle in the country in 2019 is 192.49 million showing an increase of 0.8 % over previous Census.
However, the number of indigenous cattle has gone down from 2012 to 2019. The number of milch animals has gone up by 6 percent.
The total buffaloes in the country is 109.85 million showing an increase of about 1.0% over previous Census.
The total sheep in the country is 74.26 million in 2019, increased by 14.1% over previous Census.
The Goat population in the country in 2019 is 148.88 million showing an increase of 10.1% over the previous census.
It shows a sharp increase in backyard poultry.
Among the States, Uttar Pradesh has the highest number of livestock of 67.8 million (68.7 million in 2012), followed by Rajasthan 8 million (57.7 million), Madhya Pradesh: 40.6 million (36.3 million) and West Bengal: 37.4 million (30.3 million).
Unfortunately, in Uttar Pradesh, the number of cattle is down from 19.6 million in 2012 to 18.8 million (down 3.93 percent).
Apart from Uttar Pradesh, the cattle count is down in Madhya Pradesh (by 4.42 percent), Maharashtra (10.07 percent) and Odisha (01 percent ).
West Bengal has seen a rise in cattle population by 15.18 per cent, Bihar by 25.18 per cent, and Jharkhand by 28.16 per cent between 2012 and 2019.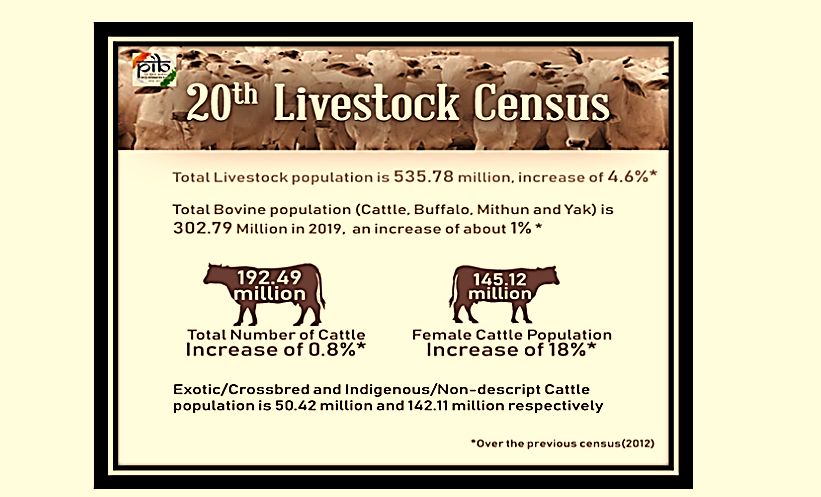 Source:PIB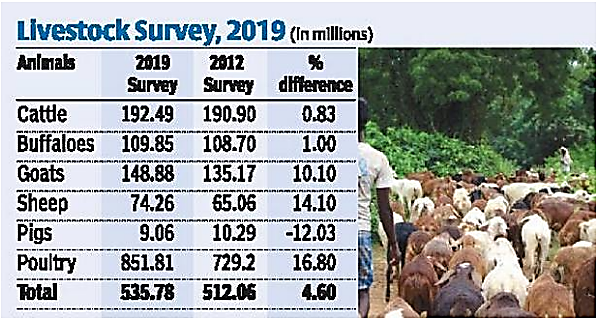 Source: BusinessLine
Government Schemes for Livestocks
Rashtriya Kamdhenu Aayog (RKA)
Established in Februrary, 2019, it aims to upscale sustainable genetic up-gradation of cow resources and to enhance production and productivity of cows.
The Aayog will also look after effective implementation of laws and welfare schemes for cows. Besides advising Gaushala and gausadan involved in protecting cows, the body will also help in coordination between livestock farmers and cooperatives, dairy entrepreneurs etc.
National Livestock Mission
Launched in 2014-15, it is designed to cover all the activities required to ensure quantitative and qualitative improvement in livestock production systems and capacity building of all stakeholders.
This Mission is formulated with the objective of sustainable development of livestock sector, focusing on improving availability of quality feed and fodder.
The scheme is being implemented as a sub scheme of White Revolution - Rashtriya Pashudhan Vikas Yojana since April, 2019.

It has following four sub-Missions:

--Sub-Mission on Livestock Development

--Sub-Mission on Pig Development in North-eastern Region

--Sub-Mission on Fodder and Feed Development

--Sub-Mission on Skill Development, Technology Transfer and Extension
Rashtriya Gokul Mission (RGM)
RGM has been launched in December 2014 for development and conservation of indigenous breeds through selective breeding in the breeding tract and genetic upgradation of nondescript bovine population.
The scheme comprises of two components namely National Programme for Bovine Breeding (NPBB) and National Mission on Bovine Productivity (NMBP).
It also envisages establishment of integrated cattle development centres 'Gokul Grams' to develop indigenous breeds including upto 40% nondescript breeds.
Objectives
Development and conservation of indigenous breeds
Breed improvement programme for indigenous breeds so as to improve the genetic makeup and increase the stock.
Enhancing milk production and productivity of bovine population by increasing disease free high genetic merit female population and check on spread of diseases.
Significance of Report
Help in Conservation of Indigenous Breed:
The initiatives on collection of breed-wise reliable information of various species will give vital information for determination of threatened indigenous breeds and to take initiatives accordingly for their conservation.
It will be helpful for framing policies or programmes for Breed improvement.Breed-wise information of livestock and poultry.
Fulfiling Digital India Objective:
The major thrust of 20th Livestock Census would be data collection through tablets computers which is aimed to fulfil the objective of Digital India Programme.
Wide Range of Beneficiaries:
The Census will prove beneficial not just for policy makers but also for agriculturists, traders, entrepreneurs, dairying industry and masses in general.
Way Forward
Indian livestock sector makes up for a significant amount of world's livestock resources. Both the national economy as well as the socio-economic growth of the country is backed by the livestock sector. Besides, offering great potential and outstanding contribution in the agricultural sector over the past years.
Rapid growth and transformation in the livestock sector offer both challenges and opportunities for smallholders and require a difficult balancing act by policy-makers.
Growth in the livestock sector offers significant opportunities to enhance food security and reduce poverty, but concerted gender-sensitive action is required to help those smallholders who can compete to take advantage of the emerging opportunities.
A mix of policy change, technological and institutional innovation and investment is needed. Building locally specific capacity that can respond to change is especially important.
Propelling livestock production into 'mission mode' is one of the keys for the present government as it will help in achieving the ambitious target of making India a $5 trillion economy by 2024.