'Hathei Chilli' & 'Tamenglong' Orange of Manipur got GI Tag
---
'Hathei Chilli' & 'Tamenglong' Orange of Manipur got GI Tag
---
The famous Hathei Chilli and Tamenglong Orange of Manipur have received the Geographical Index (GI) tag.
Manipur has been promoting these two produce by celebrating the Orange Festival every December and Sirarakhong Hathei festival every August for over a decade now.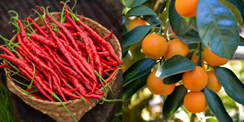 About the New GI Products
Tamenglong Orange: It is a unique fruit crop found mostly in Tamenglong district which contributes over 50% of the state's annual production. It is famous especially for its well-blended sweetness and acidic taste.
Hathei Chilli: It is one of the best varieties of chillies with a distinct flavour and colour, grown in Sirarakhong village in Ukhrul district.