42 Companies Selected Under PLI Scheme for White Goods
---
42 Companies Selected Under PLI Scheme for White Goods
---
42 applicants with committed investment of Rs 4,614 crore have been provisionally selected as beneficiaries under the PLI scheme.
The selected applicants include 26 for Air Conditioner manufacturing with committed investments of Rs. 3,898 crore and 16 for LED Lights manufacturing with committed investments of Rs. 716 crore.
The approved investments of Rs. 4,614 crore are likely to generate net incremental production of around Rs. 81,254 crore and direct employment of about 44 thousand people.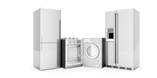 PLI Scheme
Government of India has given approval to introduce the Production-Linked Incentive (PLI) Scheme for 13 key sectors with total outlay of Rs. 1,97,291crore.
Department for Promotion of Industry & Internal Trade (DPIIT) is coordinating the implementation of all PLI Schemes. DPIIT is also the nodal department for the PLI Scheme for White Goods - Air Conditioners and LED lights sector - with an outlay of Rs. 6,238 crore.