President of European Parliament David Maria Sassoli Passed Away
---
President of European Parliament David Maria Sassoli Passed Away
---
On 11 January, 2022 Italian politician and journalist who served as the president of the European Parliament from 3 July 2019, has passed away.
After David Maria Sassoli's death, Roberta Metsola Tedesco Triccas - a Maltese politician has been serving as the acting President of the European Parliament.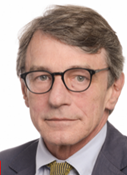 About European Parliament
The European Parliament (EP) is one of three legislative branches of the European Union and one of its seven institutions.
Together with the Council of the European Union, it adopts European legislation, commonly on the proposal of the European Commission. The Parliament is composed of 705 members (MEPs). It represents the second-largest democratic electorate in the world (after the Parliament of India).