12 January: National Youth Day
---
12 January: National Youth Day
---
January 12, the birth anniversary of India's greatest philosopher and spiritual leader, Swami Vivekananda is observed as National Youth Day.
This year, to mark his birth anniversary, the 25th National Youth Festival is being organized in Puducherry.
The National Youth Festival aims to shape minds of India's youth and transform them into a united force for nation-building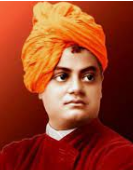 About Vivekananda
Swami Vivekananda was the chief disciple of 19th century mystic and yogi Ramakrishna Paramhansa.
He founded the Ramakrishna Math, a monastic order based on his guru's teachings in Kolkata and a worldwide spiritual movement known as the Ramakrishna Mission based on the ancient Hindu philosophy of Vedanta.
Vivekananda is credited with contributing to a revival of modern Hinduism and inspiring nationalist consciousness during colonial rule. But he is best known for his famous 1893 speech where he introduced Hinduism to the Western world in Chicago.