---
19 January: Kokborok Day
---
On 19 January 2022 Tripura observed 44th Kokborok Day, also known as the Tripuri Language Day.
The day commemorates the initial recognition of Kokborok as the official language in 1979.
The state Govt. is stressing more on regional languages and renamed Baramura hills to Hatai Kotor (literally translating to big hill in Kokborok) two years ago.
The government in Tripura officially rechristened two more locations with Kokborok names while observing the 44th Kokborok Day - Gandacherra was renamed as Ganda Twisa, where the picturesque Dumbur Lake is there and Atharomura range to Hachuk Berem in Kokborok language.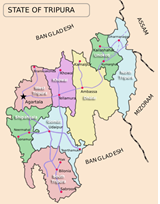 Garia Puja
In November, 2018, the state government announced a two-day holiday on Garia Puja, a Tripuri harvest festival celebrated on the 7th day of April.