Asset Monetisation exceeds FY22 Target
---
Asset Monetisation exceeds FY22 Target
---
The government garnered Rs. 96,000 crore under the National Monetisation Pipeline in FY22, surpassing the target of Rs. 88,000 crore.
The figure could touch Rs.1 lakh crore as data was still trickling in and was yet to be finalised.
The roads and highways sector monetised assets worth Rs. 23,000 crore, power sector garnered Rs.9,500 crore, coal mining generated Rs. 40,000 crore and mining of minerals fetched Rs. 18,700 crore, and railways added Rs. 900 crore.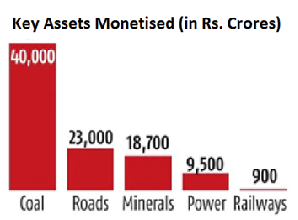 Targets for Monetization
FY23: Rs 1.62 trillion
FY24: Rs 1.79 trillion
FY25: Rs 1.67 trillion
What is Asset Monetisation?
Asset Monetisation involves creation of new sources of revenue by unlocking of value of hitherto unutilized or underutilized public assets. Internationally, it is recognized that public assets are a significant resource for all economies.
About National Monetisation Pipeline
The National Monetisation Pipeline was launched in August 2021.
It aims to unlock value in brownfield projects by engaging the private sector, transferring to them revenue rights and not ownership in the projects, and using the funds generated for infrastructure creation across the country.
The National Monetisation Pipeline (NMP) estimates an aggregate monetisation potential of Rs 6 lakh crores through core assets of the Central Government, over a period of four years from FY 2022 to FY 2025.