11th May: National Technology Day
---
11th May: National Technology Day
---
In India, National Technology Day is observed every year on 11th May to mark the anniversary of the Pokhran nuclear tests of 1998.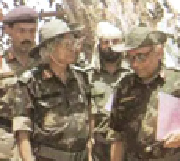 The day was first officially celebrated on May 11, 1999, to commemorate the scientific and technological accomplishments. The day pays respect to scientists, researchers, and engineers for their technological contributions to the nation.
The theme for the day this year is 'Integrated Approach in Science & Technology for Sustainable Future'.