Sela Macaque: A New Species of Primate
---
Sela Macaque: A New Species of Primate
---
Scientists from the Zoological Survey of India have discovered a new species of primate in Arunachal Pradesh.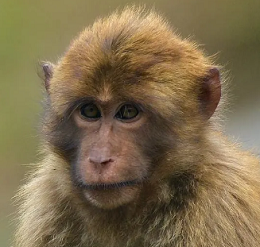 The species is called Sela Macaque, named after the Sela pass situated between Dirang and Tawang towns in western Arunachal Pradesh.
Sela macaque (Macaca selai) is a new macaque species genetically different from the other species of monkeys reported from this region.
The pass acted as a barrier by restricting the migration of individuals of these two species for approximately two million years.
This primate has evolved from the Arunachal macaque (Macaca munzala), an endangered and recently discovered species from the same region.
About Arunachal macaque
Arunachal macaque (Macaca munzala) is an endangered and recently discovered cercopithecine (a subfamily of the Old World monkeys, which comprises roughly 71 species, including the baboons, the macaques, and the vervet monkeys) primate from Western Arunachal Pradesh.
Arunachal macaque evolved into two phylogenetic species. Phylogenetics relates to the evolutionary development and diversification of a species or group of organisms.
Sela macaque vs. Arunachal macaque
Colour & Facial Feature: Although, Sela macaque shares certain similar physical characteristics to Arunachal macaque like heavy-build shape and long dorsal body hair, they are different in terms of color, and facial features. While the Sela macaque has a pale face and brown coat, the Arunachal macaque has a dark face and dark brown coat.
Longer Tail: Sela macaque has a longer tail compared to Tibetan macaque, Assamese macaque, Arunachal macaque and the white-cheeked macaque but shorter than the bonnet macaque and toque macaque. Other features of the species include brown collar hair and muzzle, thick brown hair around the neck, and the absence of chin whiskers.
Other Recently Found Species from Arunachal
In February 2022, researchers and scientists discovered the existence of the White-Cheeked Macaque (Macaca leucogenys) in Arunachal Pradesh's West Siang district.