23 June: International Olympic Day

---
23 June: International Olympic Day
---
The International Olympic Day is observed on 23 June to promote sports and health.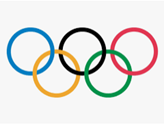 The day commemorates the foundation of the International Olympic Committee (IOC) in 1894.
It also highlights the idea of the Olympics and spreads the message of sports being an integral part of a healthy and fit life.
The theme for this year's International Olympic Day is 'Together for a peaceful world'. The theme celebrates the power of sports to bring people together and to contribute to a world full of solidarity and peace.