---
India Designates 5 New Ramsar Sites
---
India has designated five (5) new wetlands of International importance making a total of 54 Ramsar sites in the country.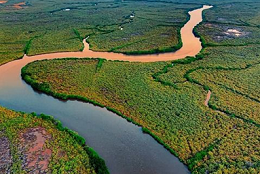 The recently added sites are in three states:
Tamil Nadu

Karikili Bird Sanctuary
Pallikaranai Marsh Reserve Forest
Pichavaram Mangrove

Mizoram

1. Pala Wetland

Madhya Pradesh

1. Sakhya Sagar
A Brief on the Newly Recognised Sites
Karikili Bird Sanctuary
The Karikili Bird Sanctuary is located partly in Maduranthagam Taluk, Chengalpattu District & partly in Kancheepuram District of Tamil Nadu.
It provides habitat for a variety of resident and migratory birds, most of them waterbirds, as well as a few species of scavengers.
The near-threatened oriental darter (Anhinga melanogaster) and spot-billed pelican (Pelecanus philippensis) breed here.
The wetland also supports several mammal, reptile and amphibian species such as the jungle cat, bonnet macaque, jackal, python, sand boa and frogs.
The Site was declared a Birds Sanctuary in 1972.
Pallikaranai Marsh Reserve Forest
This freshwater marsh and partly saline wetland situated about 20 kilometres south of the city of Chennai serves as an aquatic buffer of the flood-prone Chennai and Chengalpattu districts.
The diverse ecosystem of the marshland supports some 115 bird species, ten mammals, 21 reptiles, ten amphibians, 46 fish, nine molluscs, five crustaceans, and seven butterfly species. These include notable species such as Russell's viper (Daboia siamensis) and birds such as the glossy ibis (Plegadis falcinellus), grey-headed lapwings (Vanellus cinereus) and Pheasant-tailed jacana (Hydrophasianus chirurgus).
Apart from its biodiversity value, the wetland also plays a vital role in the prevention of flooding for the city of Chennai, soaking up water during wet periods and releasing it during dry spells.
Inhabitants of seven surrounding villages partially depend on the wetland for their subsistence.
Threat: The Site is threatened by invasive and non-native species, household sewage, urban wastewater and droughts.
Pichavaram Mangrove
It is one of the largest mangrove ecosystems in India, located between the prominent estuaries of the Vellar and Coleroon Rivers in Cuddalore district of Tamil Nadu.
Pichavaram Mangrove supports several threatened species such as the critically endangered great white-bellied heron (Ardea insignis) and spoon-billed sandpiper (Eurynorhynchus pygmeus), the endangered spotted greenshank (Tringa guttifer) and the vulnerable olive ridley turtle (Lepidochelys olivacea).
The Site also provides spawning and nursing ground for commercially important prawns, mainly white prawn (Penaeus indicus) and tiger prawn (P. monodon), crabs and fish.
In addition to this exceptional biodiversity, the Site supports the livelihoods of over 1,000 families through artisanal fishing, firewood collection, non-timber forest product harvesting, and grazing lands for livestock.
The mangroves are revered by the local communities due to the significant spiritual value associated with Excoecaria agallocha, a mangrove with toxic properties commonly known as "Tillai".
Pala Wetland
Pala Wetland is the largest natural wetland in the state of Mizoram.
The wetland supports a rich diversity of animal species, including at least seven mammals, 222 birds, 11 amphibians and 21 reptiles.
The low-lying marshy areas within the wetland provide excellent habitat for many herbivores such as sambar deer (Cervus unicolor), wild pig (Sus scrofa) and barking deer (Muntiacus muntjak). Various species of primate also inhabit the wetland, such as the endangered Hoolock gibbon (Hoolock hoolock) and Phayre's leaf monkey (Trachypithecus phayrei).
Pala Wetland is revered by the local Mara people and has a deep connection with their history.
Threat: Although classified as a Wetland Reserve by the national authorities, the Site is threatened by the construction of roads and railroads, hunting and collecting of land animals, illegal logging and wood harvesting.
Sakhya Sagar
Sakhya Sagar is a human-made reservoir on the outskirts of Shivpuri town of Madhya Pradesh within the Madhav National Park.
This wetland provides a permanent source of water for wildlife, and habitat for animals including thousands of migratory waterfowl and also mugger crocodile (Crocodylus palustris).
In total, the wetland supports 19 species of fish, nine reptiles and 19 mammals, and is an important staging ground for 73 bird species.
The wetland also plays a vital role in nutrient cycling, groundwater recharge, and regulating the micro-climate of the area.