India's First International Bullion Exchange
---
India's First International Bullion Exchange
---
On 29th July 2022, India International Bullion Exchange (IIBX) was launched at Gujarat International Finance Tec-City (GIFT City) - India's maiden International Financial Services Centre (IFSC).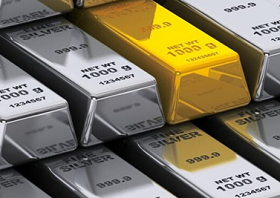 Operator of the IIBX
A holding company India International Bullion Holding IFSC will operate the International Bullion Exchange.
It has been established by the National Stock Exchange, Multi Commodity Exchange, India INX International Exchange, National Securities Depository and Central Depository Services Ltd.
Some Criteria for Trading in IIBX
To become a qualified jeweller, one must have a minimum net worth of Rs 25 crore and 90 per cent of the average annual turnover in the last three financial years through deals in goods categorised as precious metals.
Apart from qualified jewellers, non-resident Indians and institutions will also be able to participate on the exchange after registering with the IFSCA.
Some other Facts
The exchange will have three vaults – one operated by Sequel Global (ready and approved), the second one to be operated by Brinks India is ready and awaiting final approval and the third under construction.
Working Procedure
Once gold is imported, it will be stored at the IFSC Authority-approved vault.
Following this, a bullion depository receipt will be made and the gold will be ready for trading.
Being a spot exchange, all the open positions will be marked for delivery at the end of the day.
Advantages
The IIBX will be a gateway for bullion imports into India, where all bullion imports for domestic consumption shall be channelised through the exchange.
In addition to providing a trading avenue to various participants, a bullion exchange will also offer the advantages of price discovery, transparency in disclosures, guaranteed centralised clearing and assurance of quality.
A bullion exchange, apart from providing standardisation and transparent mechanism, will also be an important step towards financialisation of bullion-based products.
Bullion
Bullion refers to physical gold and silver of high purity often kept in the form of bars, ingots, or coins.
It can be considered legal tender and is often held as reserves by central banks or held by institutional investors.
Bullion Exchange
A bullion exchange allows buyers and sellers to trade gold and silver as well as associated derivatives.
Primary Bullion Trading Platform in the World
Though there are several bullion markets around the world, the London Bullion Market, which allows trading 24 hours a day and facilitates futures and options trading, is the primary global market trading platform for gold and silver.
These bullion markets are typically over-the-counter (OTC) markets, that is to say, they deal in physical gold and silver.