'Blue Plaque' Recognition to London Home of Dadabhai Naoroji

---
'Blue Plaque' Recognition to London Home of Dadabhai Naoroji
---
The south London home where Dadabhai Naoroji - the "grand old man of India" lived has been honoured with a commemorative Blue Plaque.
The Blue Plaque scheme, run by the English Heritage charity, honours the historic significance of particular buildings across London.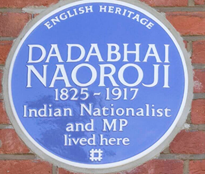 Some Notable Facts on Dadabhai Naoroji's London Sojourn
Much of his time here was occupied by his work as a member of the Welby Commission, set up by the British government to investigate wasteful spending in India.
His key text on drain theory – 'Poverty and Un-British Rule in India' (1901) – was published while he was living here.
Fellow Indian nationalists Romesh Chunder Dutt and Sister Nivedita are known to have been guests at the house.
Naoroji stood for Parliament in the general election as a Liberal candidate for Holborn in central London, but was defeated in the strongly Conservative constituency. He went on to be elected on a Liberal ticket for the north London constituency of Finsbury Central at the general election of July 1892 – making history as the first Indian (also the first Asian) to sit in the U.K. Parliament.
Welby Commission
It was a significant delegation to the consolidation of British India, thus trying to make the mixed population more concerned towards their monetary expenditures.
Towards achieving that goal, in May 1895, under the watchful eyes of the Secretary of State for India, a Royal Commission began its examination of military and civil expenditures incurred.
Welby Commission also had plans to look into the allocation of those charges between the Government of Great Britain and the Government of India.
The Commission's membership included: Lord Welby (1832-1915), named the Chairman, Lord Curzon (1859-1925), Leonard Courtney and T. R. Buchanan as Parliamentary representatives and William Wedderburn (1838-1918), Dadabhai Naoroji (1825-1917) and William S. Caine (1842-1903) as representatives of Indian interests. The latter members subsequently filed a minority report.
During the year of 1900, the Commission's final report appeared and called for the House of Commons to ensure impartiality of financial arrangements. English costs were not be relieved at the expense of Indian revenues. India, as a member of the British Empire, was to be prepared to provide support. The India Office was also mandatory to be consulted regarding charges affecting India and that India's payments to England should be tied to a fixed exchange rate.