Changed Habit of laying Two Eggs observed in Great Indian Bustards
---
Changed Habit of laying Two Eggs observed in Great Indian Bustards
---
Scientists working ex situ breeding of Great Indian Bustard (GIB) - a Critically Endangered birds species has discovered new trend of laying two eggs in Desert National Park (DNP) of Jaisalmer district.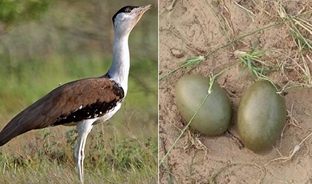 The GIBs showed this habit after consuming extra protein rich diet during the monsoon season.
This is important because all experts have been reporting a single set of eggs by the GIB over the course of more than a century of natural history.
The scientists cite reason of abundant natural fodder for birds when there is excessive rainfall in the DNP. By mid-August, rainfall in Jaisalmer district exceeded 20 mm.
Since the gib, which is the state bird of Rajasthan, primarily survives on reptiles, gerbils, grasshoppers, large insects and locusts, a rich amount of feed was produced this year, providing additional protein to endangered birds, who have doubled their clutch size.
GIB is now found only in small numbers in western Rajasthan, while Gujarat claims that there are few females left in its Banni Grassland Reserve.