---
Statue of Prosperity
---
Prime Minister Narendra Modi unveiled a 108 feet tall bronze statue of Sri Nadaprabhu Kempegowda in Bengaluru on November 11, 2022.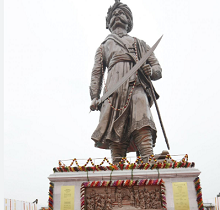 Also Bharat Gaurav Kashi Darshan Train was flagged off at Krantiveera Sangolli Rayanna (KSR) railway station in Bengaluru.

Chennai-Mysore Vande Bharat Express was also flagged off from KSR railway station by Prime Minister on the same day.
Nadaprabhu Kempegowda
Nadaprabhu Hiriye Kempe Gowda is also known as Kempe Gowda.
He was fourth in succession from Rana Bhairave Gowda, founder of the dynasty of the Avati Nadu and great grandson of Jaya Gowda, a separate Vijayanagara feudal vassal, Kempe Gowda is the most famous of the Yelahanka rulers.

Kempe Gowda assumed the chieftaincy of Yalahanka Nadu from his father in 1513 and would reign for 46 years and died in 1569.
He was a chieftain under the Vijayanagara Empire.
Kempe Gowda was one of the well-educated rulers of all time.

He is famous for founding the present-day southern Indian city of Bangalore.


Bengaluru, was fortified by Kempe Gowda in 1537.

He erected many Kannada inscriptions in the region.
Kempe Gowda was a patron of arts and learning.

In spite belonging to a purely Kannada speaking community,he was a polyglot and authored Gangagaurivilasa, a yakshagana play, in Telugu, the court-language of the time.
About the Statue
The 'Statue of Prosperity' is 108-feet tall bronze statue of Bengaluru founder Nadaprabhu Kempegowda. It is made with 98 tonnes of bronze and 120 tonnes of steel.
It has been built to commemorate the contribution of Kempegowda towards development of the city.
The statue was conceptualized and sculpted by Ram V Sutar, who also curated the Statue of Unity.
This statue is registered as a record in the World Book of Records, as No other airport in the world has such a tall statue of its founder.