India Internet Governance Forum 2022
---
India Internet Governance Forum 2022
---
Recently, the second edition of the India Internet Governance Forum 2022 was held during 9-11 December, 2022.
On this occasion, the Minister of State for Electronics & Information Technology and Skill Development & Entrepreneurship, Shri Rajeev Chandrasekhar addressed the forum.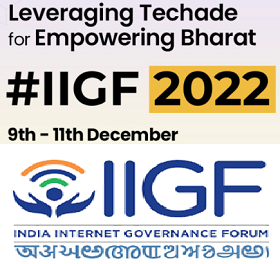 Goal of the Forum: The event's goal is to discuss the roadmap to digitization and to reaffirm India's place on the global stage by emphasising its role and importance in international policy development on internet governance.
Theme of the forum for 2022: 'Leveraging Techade for Empowering Bharat'.
About IIGF
It is an initiative associated with the UN Internet Governance Forum (UN-IGF).
The Internet Governance Forum (IGF) serves to bring people together from various stakeholder groups as equals, in discussions on public policy issues relating to the Internet.
While there is no negotiated outcome, the IGF informs and inspires those with policy-making power in both the public and private sectors.
IGF is a multi-stakeholder platform bringing together representatives from various groups, considering all to be at par to discuss public policy issues related to the Internet.
The IGF is an outcome of the Tunis Agenda of the World Summit on the Information Society that took place in 2005.
Government's Approach for Internet Governance
India supports a multi-stakeholder approach in matters on Internet Governance.
On matters relating to national security, Government continue to have supreme right and control.
India's strength in the sector is its industry and human resource which can be leveraged in a multi-stakeholder approach.
Multi-stakeholder approach will also align with our investment strategy for Digital India.
Responsibility of Internet Governance Division of MeitY includes:
representation of India's Public Policy Concerns on global platform,
Awareness on Internet Governance,
Encouraging greater participation in Internet Engineering Task Force (IETF) Working groups and Engagement with Internet Society (ISOC),
Promotion of Multi-stakeholder model of Internet Governance within India,
Strengthening internal internet infrastructure of the country, etc.