Current Affairs - Awards In News
Pratham, a civil society organisation dedicated to improving the quality of education among underprivileged children in India and across the world, has been selected for the Indira Gandhi Prize for Peace, Disarmament and Development for 2021.

Awarded for
Pratham was awarded for its pioneering work over more than a quarter century in seeking to ensure that every child has access to quality education, for its innovative use of digital technology to deliver education, for its programmes to provide skills to young adults, for its regular evaluation of the quality of education, and for its timely response in enabling children to learn during the COVID-19 related school closures.
Chair of the Jury
Former Chief Justice of India, Justice T.S. Thakur was the chair of the international jury of the Indira Gandhi Prize for Peace, Disarmament and Development.
Last Recipient
Sir David Frederick Attenborough, an English broadcaster, natural historian and author was the last recipient (2019).
About Pratham
Set up in 1995 in Mumbai by Dr. Madhav Chavan and Ms. Farida Lambay, Pratham started work in Mumbai slums, setting up community based "Balwadis" or pre-schools and offering remedial education for students lagging behind their grade level curriculum.
Its Annual Status of Education Report (ASER), based on surveying 6,00,000 rural Indian children, is now used as a model to assess education outcomes and learning deficiencies in 14 countries over three continents.
About the Award
The Indira Gandhi Prize for Peace, Disarmament and Development, is accorded annually by Indira Gandhi Memorial Trust to individuals or organisations in recognition of creative efforts toward promoting international peace, development and a new international economic order; ensuring that scientific discoveries are used for the larger good of humanity, and enlarging the scope of freedom.
Swachh Survekshan Awards 2021 was recently presented by the President of India.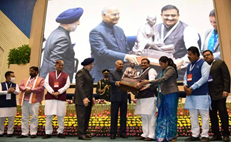 (Image Source: PIB)
Category/Winner
Cleanest State (With more than 100 Urban Local Bodies): Chhattisgarh
Cleanest State (With less than 100 Urban Local Bodies): Jharkhand
Cleanest City (With less than One Lakh Population): Vita City of Maharashtra
Cleanest Small City (1-3 Lakh Population): New Delhi Municipal Council
Cleanest Medium City (3-10 Lakh Population): Noida
Cleanest Big City' (10-40 Lakh Population): Navi Mumbai
Cleanest District: Surat
Cleanest City: Indore
Cleanest Ganga Town: Varanasi
Cleanest Cantonment Board: Ahmedabad Cantonment
Fastest Mover Small City: Hoshangawad, Madhya Pradesh
Best Small City in Citizens' Feedback: Triputi, Maharashtra
Top City in Safaimitra Suraksha Challenge: Navi Mumbai
M. Mukundan's "Delhi: A Soliloquy", translated from Malayalam by Fathima E.V. and Nandakumar K. has won the 2021 JCB Prize for Literature.
The JCB Prize for Literature honours distinguished work of fiction by an Indian writer working in English or translated fiction by an Indian writer.
The Prize is administered by the JCB Literature Foundation, a not-for-profit company, whose purpose is to promote the art of literature in India.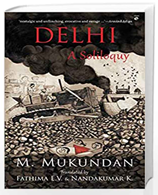 Two Indian teenage brothers have won the 2021 KidsRights International Children's Peace Prize for tackling pollution from household waste.
Vihaan (17) and Nav Agarwal (14) have developed the "One Step Greener" initiative segregating recyclables and organising pickups for trash from thousands of homes.
Indian Nobel Peace laureate Kailash Satyarthi, a children's rights activist who won the 2014 Nobel jointly with Pakistani education campaigner Malala Yousafzai, presented the brothers with the prize run by the Dutch-based KidsRights foundation at a ceremony in The Hague.
The International Children's Peace Prize is given annually by the International children's rights organization KidsRights based in Amsterdam, the Netherlands.
It is given to a child who has made a significant contribution to advocating children's rights and improving the situation of vulnerable children such as orphans, child labourers and children with HIV/AIDS.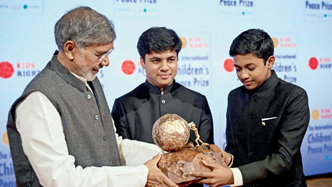 On 2nd November 2021, the Ministry of Youth Affairs & Sports announced the National Sports Awards 2021.
The awardees will receive their awards from the President of India at a specially organized function at the Darbar Hall of Rashtrapati Bhavan on 13th November, 2021.
National Sports Awards are given every year to recognize and reward excellence in sports.
The Selection Committee was headed by Justice (Retd.) Mukundakam Sharma (former Judge of Supreme Court).
About the Awards
'Major Dhyan Chand Khel Ratna Award': Given for the spectacular and most outstanding performance in the field of sports by a sportsperson over a period of previous four years.
'Arjuna Award for outstanding performance in Sports and Games': Given for good performance over a period of previous four years and showing qualities of leadership, sportsmanship and a sense of discipline.
'Dronacharya Award for outstanding coaches in Sports and Games': Given to coaches for doing outstanding and meritorious work on a consistent basis and enabling sportspersons to excel in International events.
'Dhyan Chand Award for Lifetime achievement in Sports and Games': Given to honour sportspersons who have contributed to sports by their performance and continue to contribute to promotion of sports event after their retirement.
'Rashtriya Khel Protsahan Puruskar': Given to corporate entities (both in private and public sector), sports control boards, NGOs including sports bodies at the State and National level who have played a visible role in the area of sports promotion and development.
Maulana Abul Kalam Azad (MAKA) Trophy: Given to overall top performing university in inter-university tournaments.
Awards, Winners and Discipline
Major Dhyan Chand Khel Ratna Award 2021
Name of the Sportsperson
Discipline
Neeraj Chopra
Athletics
Ravi Kumar
Wrestling
Lovlina Borgohain
Boxing
Sreejesh P.R
Hockey
Avani Lekhara
Para Shooting
Sumit Antil
Para Athletics
Pramod Bhagat
Para Badminton
Krishna Nagar
Para Badminton
Manish Narwal
Para Shooting
Mithali Raj
Cricket
Sunil Chhetri
Football
Manpreet Singh
Hockey
Arjuna Awards for Outstanding Performance in Sports and Games 2021
Name of the Sportsperson
Discipline
Arpinder Singh
Athletics
Simranjit Kaur
Boxing
Shikhar Dhawan
Cricket
Bhavani Devi Chadalavada Anandha Sundhararaman
Fencing
Monika
Hockey
Vandana Katariya
Hockey
Sandeep Narwal
Kabaddi
Himani Uttam Parab
Mallakhamb
Abhishek Verma
Shooting
Ankita Raina
Tennis
Deepak Punia
Wrestling
Dilpreet Singh
Hockey
Harman Preet Singh
Hockey
Rupinder Pal Singh
Hockey
Surender Kumar
Hockey
Amit Rohidas
Hockey
Birendra Lakra
Hockey
Sumit
Hockey
Nilakanta Sharma
Hockey
Hardik Singh
Hockey
Vivek Sagar Prasad
Hockey
Gurjant Singh
Hockey
Mandeep Singh
Hockey
Shamsher Singh
Hockey
Lalit Kumar Upadhyay
Hockey
Varun Kumar
Hockey
Simranjeet Singh
Hockey
Yogesh Kathuniya
Para Athletics
Nishad Kumar
Para Athletics
Praveen Kumar
Para Athletics
Suhash Yathiraj
Para Badminton
Singhraj Adhana
Para Shooting
Bhavina Patel
Para Table Tennis
Harvinder Singh
Para Archery
Sharad Kumar
Para Athletics
Dronacharya Award for Outstanding Coaches in Sports and Games 2021
Life-Time Category
Name of the Coach
Discipline
T. P. Ouseph
Athletics
SarkarTalwar
Cricket
Sarpal Singh
Hockey
Ashan Kumar
Kabaddi
Tapan Kumar Panigrahi
Swimming
Regular Category
Name of the Coach
Discipline
Radhakrishnan Nair P
Athletics
Sandhya Gurung
Boxing
Pritam Siwach
Hockey
Jai Prakash Nautiyal
Para Shooting
Subramanian Raman
Table Tennis
Dhyan Chand Award for Lifetime achievement in Sports and Games 2021
Name
Discipline
Lekha K.C.
Boxing
Abhijeet Kunte
Chess
Davinder Singh Garcha
Hockey
Vikas Kumar
Kabaddi
Sajjan Singh
Wrestling
Rashtriya Khel Protsahan Puruskar 2021
Category
Entity recommended for Rashtriya Khel Protsahan Puraskar, 2021
Identification and Nurturing of Budding and Young Talent
Manav Rachna Educational Institution
Encouragement to sports through Corporate Social Responsibility
Indian Oil Corporation Limited
Maulana Abul Kalam Azad (MAKA) Trophy 2021:Panjab University - Chandigarh
Dr. Rajiv Nigam (Former Chief Scientist, CSIR-National Institute of Oceanography, Goa, India), has been selected as 2022 recipient of J.A. Cushman Award for Excellence in Foraminiferal Research.
Dr. Rajiv Nigam is the first Indian Citizen who is selected for this lifetime achievement award.
This award, the highest honor the Cushman Foundation, recognizes Dr. Nigam's outstanding lifetime contributions to the field of foraminifera research.
The award will be presented at the Cushman Reception at the 2022 Geological Society of America meeting in Denver, Colorado, USA, from October 9-12-2022.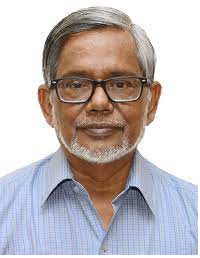 About Dr. Rajiv Nigam's Major Contributions
His main findings are pollution monitoring through relative sensitivity of the benthic foraminifera; development of novel technique to decipher net sediment transport direction by comparisons of living and dead benthic foraminifera; postulating dimorphism as proxy for paleoclimatic reconstructions; development of model for the paleodepth determination in the Arabian Sea and sea level curve for the Holocene; morphogroups of benthic foraminifera as a new tool for paleomonsoonal reconstruction and discovery of 77 years cyclicity in average monsoonal rainfall which is modulated by Gleissberg solar cycle.
Dr. Nigam has worked extensively for application of Foraminifera in the field of Marine Archaeology [e.g. settling controversy of dockyard at Lothal (The oldest dockyard ever discovered in the world); explanation of Neolithic human settlements in Gulf of Cambay [through knowledge of sea level fluctuations] and reporting the thick wall [~18 m] at Dholavira as oldest record of tsunami protection measures in India.
About the Award
The Joseph A. Cushman Award was established in 1979 by USA based Cushman foundation for foraminiferal Research to honor researchers who have made outstanding contributions in the field of foraminiferology.
Alexei Navalny, currently imprisoned in Russia has been awarded Sakharov Prize 2021 by the European Union.
The EU's award to a member of the Russian opposition movement comes after Russian journalist Dmitry Muratov won the Nobel Peace Prize, a recognition that some of the jailed dissident's supporters described as "undeserving". Muratov himself said he would have given the prestigious honour to Navalny.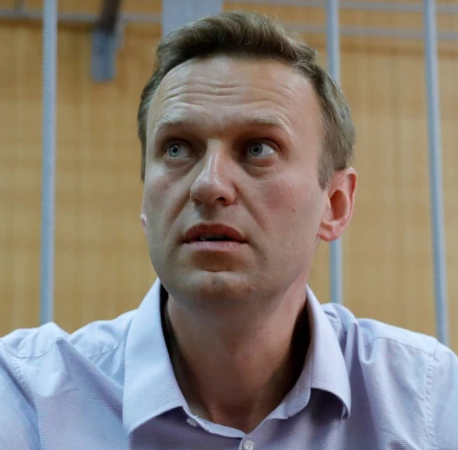 About Navalny
Alexei Anatolievich Navalny is a Russian opposition leader, lawyer, and anti-corruption activist. He came to international prominence by organizing anti-government demonstrations and running for office to advocate reforms against corruption in Russia, and against President Vladimir Putin and his government.
In August 2020, the activist was poisoned with a Novichok nerve agent and was hospitalised in serious condition, with many of his supporters fearing for his life. Navalny was evacuated to a hospital in Berlin and eventually survived. He later accused the Kremlin of being behind the chemical attack.
Other Prominent Nominations
Along with Navalny, the most prominent nominations for this year's award were Afghan women, whose plight has taken centre stage after the Taliban takeover, and Jeanine Áñez, a Bolivian politician who became interim president in 2019 after alleged electoral fraud by Evo Morales. Áñez was later arrested for allegedly plotting coup d'état against Morales.
About the Prize
The prize is the European Union's highest tribute to human rights defenders.
The Sakharov Prize was set up in 1988 to honour individuals and organisations defending human rights and fundamental freedoms.
The annual award is named in honour of Soviet physicist and political dissident Andrei Sakharov, an advocate of civil liberties in the former Soviet Union.
The first recipients were Nelson Mandela and Anatoli Marchenko.
A Delhi-based entrepreneur's agricultural waste recycling project was named among the winners of Prince William's inaugural Earthshot Prize, dubbed the "Eco Oscars", at a ceremony in London on October 17.
Vidyut Mohan led 'Takachar' was named the winner of the GBP 1 million prize for its cheap technology innovation to convert crop residues into sellable bio-products in the "clean our air" category.
It was among five worldwide winners of the prize, created by Prince William, the Duke of Cambridge, to reward people trying to save the planet.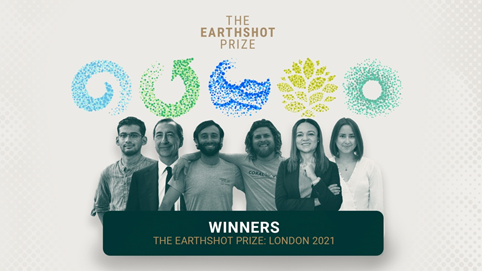 (Image Source: earthshotprize.org)

About Takachar
Takachar has developed a cheap, small-scale, portable technology that attaches to tractors in remote farms. The machine converts crop residues into sellable bio-products like fuel and fertiliser.
Takachar reduces smoke emissions by up to 98%, aimed at helping improve the air quality that currently reduces the affected population's life expectancy by up to five years.
If scaled, it could cut a billion tonnes of carbon dioxide a year.
Other Winners in Different Categories
"Protect and Restore Nature": Costa Rica - for a scheme paying local citizens to restore natural ecosystems that has led to a revival of the rainforest.
"Revive our Oceans": A project run by two best friends who are growing coral in the Bahamas designed to restore the world's dying coral reefs.
"Build a Waste-free World": A waste-busting initiative from Milan, Italy.
"Fix our Climate": A renewable energy project to make hydrogen by splitting water into hydrogen and oxygen from Thailand, Germany and Italy.
Indian Army, comprising of a team from 4/5 Gorkha Rifles (Frontier Force) won the Gold Medal in the latest Cambrian Patrol Exercise.
The Cambrian Patrol Exercise was organized at Brecon, Wales, UK.
The Ex Cambrian Patrol is sometimes referred to as the Olympics of Military Patrolling among several militaries across the globe. The competition is organized by the UK army and is considered as the ultimate test of human endurance, team spirit
The aim of the exercise is to test their leadership, self-discipline, courage, physical endurance, and determination.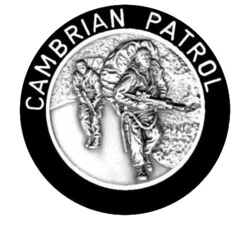 Well-known Telugu filmmaker B Gopal, alias Bejawada Gopal, has been chosen for the fourth Satyajit Ray Award for his overall contribution to the Indian cinema.
Gopal has directed 30 films Telugu films and two Hindi moves in his decades-long career.
Instituted by the Satyajit Ray Film Society Kerala, a state-based organisation, the award comprises Rs 10,000 cash prize, a memento and plaque.
Eminent filmmaker and Dada Saheb Phalke awardee, Adoor Gopalakrishnan, actress Madhabi Mukherjee and producer Mohan G were the earlier recipients of the honour.