Current Affairs - Biodiversity
On 22 December 2022, at the 15th Conference of Parties (COP15) to the UN Convention on Biological Diversity (at Montreal) "Kunming-Montreal Global Biodiversity Framework" (GBF) was adopted.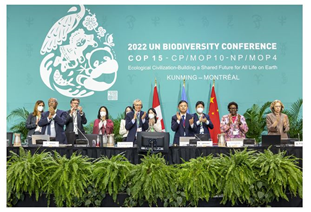 The "Kunming-Montreal Global Biodiversity Framework" (GBF), includes four goals and 23 targets to be achieved by 2030.
The first part of COP 15 took place in Kunming, China and reinforced the commitment to address the biodiversity crisis and the Kunming Declaration was adopted by over 100 countries.
Key Highlights of the Framework
Aim of the Framework
Address biodiversity loss, restore ecosystems and protect indigenous rights. The plan includes concrete measures to halt and reverse nature loss, including putting 30 per cent of the planet and 30 per cent of degraded ecosystems under protection by 2030.
Targets
GBF includes 4 goals and 23 targets for achievement by 2030.
Effective conservation and management of at least 30 per cent of the world's land, coastal areas and oceans.
30x30 Deal
Restore 30% degraded ecosystems globally (on land and sea) by 2030
Conserve and manage 30% areas (terrestrial, inland water, and coastal and marine) by 2030
Currently, 17 per cent of land and 10 per cent of marine areas are under protection.
Reduce to near zero the loss of areas of high biodiversity importance and high ecological integrity
Halving global food waste
Phasing out or reforming subsidies that harm biodiversity by at least $500 billion per year, while scaling up positive incentives for biodiversity conservation and sustainable use
Mobilizing at least $200 billion per year from public and private sources for biodiversity-related funding
Raising international financial flows from developed to developing countries to at least US$ 30 billion per year
Requiring transnational companies and financial institutions to monitor, assess, and transparently disclose risks and impacts on biodiversity through their operations, portfolios, supply and value chains
Reporting of the Outcomes
The countries will monitor and report every five years or less on a large set of indicators related to progress. The CBD will combine national information submitted by late February 2026 and late June 2029 into global trends and progress reports.
Creation of a Dedicated Fund
The Global Environment Facility has been requested to establish a Special Trust Fund to support the implementation of the Global Biodiversity Framework ("GBF Fund"). This is to ensure successful implementation.
Big Companies Report Impacts on Biodiversity
Companies should analyse and report how their operations affect and are affected by biodiversity issues.
Pollution and Pesticides
One of the deal's more controversial targets sought to reduce the use of pesticides by up to two-thirds.
Overall, the Kunming-Montreal agreement will focus on reducing the negative impacts of pollution to levels that are not considered harmful to nature, but the text provides no quantifiable target here.
India at the Conference
India mainly put forward the arguments for supporting the case of developing countries and suggested for the creation of a biodiversity fund to help developing countries successfully implement the global framework.
India also called for the application of the 'Common but Differentiated Responsibilities and Respective Capabilities' (CBDR) principle.
India was represented at the conference by Union Environment Minister Mr. Bhupendra Yadav.
About Convention on Biodiversity (CBD)
The CBD known informally as the Biodiversity Convention is a multilateral treaty having its origin at the Rio Earth Summit in 1992.
It is a legally binding treaty to conserve biodiversity that has been in force since 1993 and has been ratified by 196 nations.
The convention has three main goals: the conservation of biodiversity, the sustainable use of its components, the fair and equitable sharing of benefits arising from genetic resources.
Its objective is to develop national strategies for the conservation and sustainable use of biological diversity, and it is often seen as the key document regarding sustainable development.
The CBD Secretariat is based in Montreal, Canada.
It has two supplementary agreements, the Cartagena Protocol and Nagoya Protocol.
In 2000, Cartagena Protocol on Biosafety was adopted. It came into force on 11th September 2003.

The Nagoya Protocol on Access to Genetic Resources and the Fair and Equitable Sharing of Benefits Arising from their Utilization (ABS) was adopted in 2010.
It was adopted at COP10 in Nagoya, Japan; and entered into force on 12th October 2014.
Recent Context
The second edition of the State of Finance for Nature report launched on December 01, 2022, reveals that nature-based solutions are still significantly under-financed.
The report was released jointly by the UN Environment Programme (UNEP) along with

The Economics of Land Degradation initiative of the Federal Ministry for Economic Cooperation and Development (BMZ) of Germany;
United Nations Convention to Combat Desertification (UNCCD); and
European Commission.

The report comes 10 days after the end of the UN Framework Convention on Climate Change (UNFCCC) Conference of Parties 27 (COP27) and a week before the start of the UN Conference on Biodiversity (COP15 CBD) in Montreal.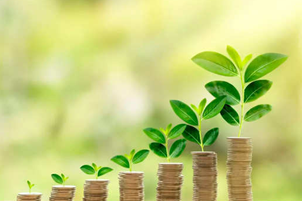 Key Highlights
If the world wants to halt biodiversity loss, limit climate change to below 1.50C and achieve land degradation neutrality by 2030, current finance flows to Nature-based Solutions (NbS) must urgently double by 2025 and triple by 2030.
Delayed action is not an option in the face of the devastating effects of climate change, the extinction crisis, and severe land degradation globally.
The key focus should be on doubling finance flows to NbS and reducing it for activities that increase greenhouse gas (GHG) emissions.
Public funds make up 83% of the total and the private sector contributes approximately 17%.
Total finance flows to NbS have increased by USD 3.9 billion from USD 150 billion (SFN 2021) to USD 154 billion per year.
This represents year-on-year growth in investment of 2.6% in real terms across the sum of public and private financial flows.
Finance flows to marine NbS are roughly USD 14 billion, 9% of total (terrestrial and marine).
Annual domestic government expenditure in marine NbS is over USD 10 billion per year, including spending on marine protected areas, sustainable management of fisheries and research and development of fisheries.
Public financial support for nature-negative activities ranges from USD 500 to 1,100 billion per year at present, which is three to seven times larger than current investments in NbS.
What is Nature-based Solution (NbS)?
The NbS refers to sustainable management and use of nature to tackle socio-environmental challenges, which range from disaster risk reduction, climate change and biodiversity loss to food and water security as well as human health.
NbS creates harmony between people and nature, enables ecological development and represents a holistic, people-centred response to climate change.
About United Nations Environment Programme
A leading global environmental authority, established on 5th June 1972.
Its headquarters is at Nairobi, Kenya.
It sets the global environmental agenda, promotes the sustainable development within the United Nations system, and serves as an authoritative advocate for global environment protection.
India has designated five (5) new wetlands of International importance making a total of 54 Ramsar sites in the country.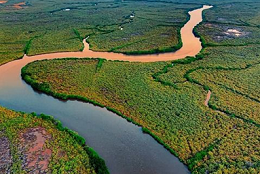 The recently added sites are in three states:
Tamil Nadu

Karikili Bird Sanctuary
Pallikaranai Marsh Reserve Forest
Pichavaram Mangrove

Mizoram

1. Pala Wetland

Madhya Pradesh

1. Sakhya Sagar
A Brief on the Newly Recognised Sites
Karikili Bird Sanctuary
The Karikili Bird Sanctuary is located partly in Maduranthagam Taluk, Chengalpattu District & partly in Kancheepuram District of Tamil Nadu.
It provides habitat for a variety of resident and migratory birds, most of them waterbirds, as well as a few species of scavengers.
The near-threatened oriental darter (Anhinga melanogaster) and spot-billed pelican (Pelecanus philippensis) breed here.
The wetland also supports several mammal, reptile and amphibian species such as the jungle cat, bonnet macaque, jackal, python, sand boa and frogs.
The Site was declared a Birds Sanctuary in 1972.
Pallikaranai Marsh Reserve Forest
This freshwater marsh and partly saline wetland situated about 20 kilometres south of the city of Chennai serves as an aquatic buffer of the flood-prone Chennai and Chengalpattu districts.
The diverse ecosystem of the marshland supports some 115 bird species, ten mammals, 21 reptiles, ten amphibians, 46 fish, nine molluscs, five crustaceans, and seven butterfly species. These include notable species such as Russell's viper (Daboia siamensis) and birds such as the glossy ibis (Plegadis falcinellus), grey-headed lapwings (Vanellus cinereus) and Pheasant-tailed jacana (Hydrophasianus chirurgus).
Apart from its biodiversity value, the wetland also plays a vital role in the prevention of flooding for the city of Chennai, soaking up water during wet periods and releasing it during dry spells.
Inhabitants of seven surrounding villages partially depend on the wetland for their subsistence.
Threat: The Site is threatened by invasive and non-native species, household sewage, urban wastewater and droughts.
Pichavaram Mangrove
It is one of the largest mangrove ecosystems in India, located between the prominent estuaries of the Vellar and Coleroon Rivers in Cuddalore district of Tamil Nadu.
Pichavaram Mangrove supports several threatened species such as the critically endangered great white-bellied heron (Ardea insignis) and spoon-billed sandpiper (Eurynorhynchus pygmeus), the endangered spotted greenshank (Tringa guttifer) and the vulnerable olive ridley turtle (Lepidochelys olivacea).
The Site also provides spawning and nursing ground for commercially important prawns, mainly white prawn (Penaeus indicus) and tiger prawn (P. monodon), crabs and fish.
In addition to this exceptional biodiversity, the Site supports the livelihoods of over 1,000 families through artisanal fishing, firewood collection, non-timber forest product harvesting, and grazing lands for livestock.
The mangroves are revered by the local communities due to the significant spiritual value associated with Excoecaria agallocha, a mangrove with toxic properties commonly known as "Tillai".
Pala Wetland
Pala Wetland is the largest natural wetland in the state of Mizoram.
The wetland supports a rich diversity of animal species, including at least seven mammals, 222 birds, 11 amphibians and 21 reptiles.
The low-lying marshy areas within the wetland provide excellent habitat for many herbivores such as sambar deer (Cervus unicolor), wild pig (Sus scrofa) and barking deer (Muntiacus muntjak). Various species of primate also inhabit the wetland, such as the endangered Hoolock gibbon (Hoolock hoolock) and Phayre's leaf monkey (Trachypithecus phayrei).
Pala Wetland is revered by the local Mara people and has a deep connection with their history.
Threat: Although classified as a Wetland Reserve by the national authorities, the Site is threatened by the construction of roads and railroads, hunting and collecting of land animals, illegal logging and wood harvesting.
Sakhya Sagar
Sakhya Sagar is a human-made reservoir on the outskirts of Shivpuri town of Madhya Pradesh within the Madhav National Park.
This wetland provides a permanent source of water for wildlife, and habitat for animals including thousands of migratory waterfowl and also mugger crocodile (Crocodylus palustris).
In total, the wetland supports 19 species of fish, nine reptiles and 19 mammals, and is an important staging ground for 73 bird species.
The wetland also plays a vital role in nutrient cycling, groundwater recharge, and regulating the micro-climate of the area.
Scientists from the Zoological Survey of India have discovered a new species of primate in Arunachal Pradesh.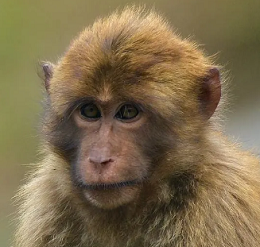 The species is called Sela Macaque, named after the Sela pass situated between Dirang and Tawang towns in western Arunachal Pradesh.
Sela macaque (Macaca selai) is a new macaque species genetically different from the other species of monkeys reported from this region.
The pass acted as a barrier by restricting the migration of individuals of these two species for approximately two million years.
This primate has evolved from the Arunachal macaque (Macaca munzala), an endangered and recently discovered species from the same region.
About Arunachal macaque
Arunachal macaque (Macaca munzala) is an endangered and recently discovered cercopithecine (a subfamily of the Old World monkeys, which comprises roughly 71 species, including the baboons, the macaques, and the vervet monkeys) primate from Western Arunachal Pradesh.
Arunachal macaque evolved into two phylogenetic species. Phylogenetics relates to the evolutionary development and diversification of a species or group of organisms.
Sela macaque vs. Arunachal macaque
Colour & Facial Feature: Although, Sela macaque shares certain similar physical characteristics to Arunachal macaque like heavy-build shape and long dorsal body hair, they are different in terms of color, and facial features. While the Sela macaque has a pale face and brown coat, the Arunachal macaque has a dark face and dark brown coat.
Longer Tail: Sela macaque has a longer tail compared to Tibetan macaque, Assamese macaque, Arunachal macaque and the white-cheeked macaque but shorter than the bonnet macaque and toque macaque. Other features of the species include brown collar hair and muzzle, thick brown hair around the neck, and the absence of chin whiskers.
Other Recently Found Species from Arunachal
In February 2022, researchers and scientists discovered the existence of the White-Cheeked Macaque (Macaca leucogenys) in Arunachal Pradesh's West Siang district.
Recently, in an important discovery, scientists recorded presence of White-Cheeked Macaque (Macaca leucogenys) from central Arunachal Pradesh in India.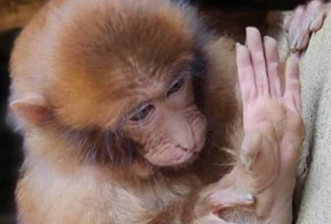 The species has not been sighted or reported from India after a single incidence of photographic capture from Anjaw district, Arunachal Pradesh in 2015, which raises controversy about its existence in India among the primatologists.
White- Cheeked Macaques are distinct from other macaques found in the region by displaying white cheeks, long and thick hairs on the neck area, and a longer tail.
Along with White-Cheeked Macaques and Arunachal Macaque the other species of Macaques are Assamese Macaque (Macaca assamensis) and Rhesus Macaque (Macaca mulatta) reported from the same landscape.
White Cheeked Macaque has not yet been included in the Wildlife (Protection) Act, 1972 of India and therefore, the present study laid the foundation to promote field studies in Central Arunachal Pradesh to delineate distribution boundary and population size of White Cheeked Macaque in Arunachal Pradesh.
The number of mammalian species reported from India stands at 434. The significance of the discovery is that it marks a new addition to mammals of India.
Sathyamangalam Tiger Reserve (STR) in Erode district of Tamil Nadu has won the TX2 award for doubling its tiger population to 80 since 2010.
Bardia National Park in Nepal has also won this year's TX2 award.
In 2020, Uttar Pradesh's Pilibhit Tiger Reserve was awarded the first TX2 Award for having doubled its tiger population before the stipulated time frame.
The TX2 awards are presented by the Conservation Assured Tiger Standards (CA|TS), Fauna and Flora International (FFI), Global Tiger Forum (GTF), IUCN's Integrated Tiger Habitat Conservation Programme (ITHCP), Panthera, UNDP, The Lion's Share, Wildlife Conservation Society (WCS) and WWF.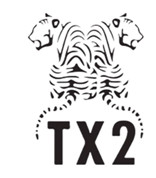 Sathyamangalam Tiger Reserve
The Sathyamangalam Tiger Reserve is located in Erode district of tamil Nadu, and houses 80 tigers. Its area is contiguous with the Mudumalai Tiger Reserve, Bandipur Tiger Reserve (Karnataka) and BR Tiger Reserve and Wildlife Sanctuary (Karnataka). Together, these reserves — forming the Nilgiris biosphere landscape — have the biggest tiger population in the world, at over 280 tigers.
Second Global Tiger Summit
Vladivostok, Russia will host the second Global Tiger Summit, in September 2022 of tiger range countries to assess progress towards the ambitious TX2 goal, i.e. double the number of tigers in the wild, and identify tiger conservation priorities for the next 12 years.
Recently, a Royal Bengal tiger was sighted at the Buxa reserve - a first such sighting in 23 years.
Buxa Tiger Rserve (BRT)
Location
It is situated in the Alipurduar Sub-division of Jalpaiguri District, West Bengal.
Its northern boundary runs along the international border with Bhutan.
The Sinchula hill range lies all along the northern side of BTR and the eastern boundary touches that of the Assam state.
It is the easternmost extension of extreme bio-diverse North-East India and represents highly endemic Indo-Malayan region.
The fragile "Terai Eco-System" constitutes a part of this reserve.
The Phibsoo Wildlife Sanctuary of Bhutan is contiguous to the north of BTR. Manas National Park lies on east of BTR. BTR, thus, serves as international corridor for Asian elephant migration between India and Bhutan.
Flora
The forests of the reserve can be broadly classified as the 'Moist Tropical Forest'.
Fauna
Some important species found in the reserve are Indian Tiger (Panthera tigris tigris), Leopard (Panthera pardus), Clouded Leopard (Neofelis nebulosa), Hog badger (Arctonyx collaris), Jungle Cat (Felis chaus) etc.
Tribe
Dukpa(people from the land of thunderstorm) are the ancient ethnic group among the other inhabitants of Buxa Tiger Reserve.
Dukpas used live in the hamlets of Buxa Hills from east to west.
Rivers
The main rivers flowing across the Tiger Reserve are Sankosh, Raidak, Jayanti, Churnia, Turturi, Phashkhawa, Dima and Nonani.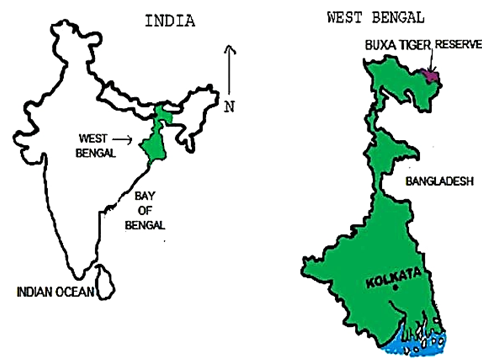 Tiger
Conservation Status
Indian Wildlife (Protection) Act, 1972: Schedule I
International Union for Conservation of Nature (IUCN) Red List: Endangered
Convention on International Trade in Endangered Species of Wild Fauna and Flora (CITES): Appendix I
Recently, the Botanical Survey of India released its new publication 'Plant Discoveries 2020'. It has added 267 new taxa/ species to the country's flora.
The 267 new discoveries include 119 angiosperms; 3 pteridophytes; 5 bryophytes, 44 lichens; 57 fungi, 21 algae and 18 microbes.
In 2020, 202 new plant species were discovered across the country and 65 new records were added.
With these new discoveries the latest estimate of plant diversity in India stands at 54,733 taxa including 21,849 angiosperms, 82 gymnosperms, 1310 Pteridophytes, 2791 bryophytes, 2961 lichens, 15,504 fungi, 8979 algae and 1257 microbes.
This year one new monogeneric family Hanguanaceae has been recorded for the first time from India.
Most discoveries have been made from seed plants, with 1,199 (37%) taxa, followed by fungi 894 (27%).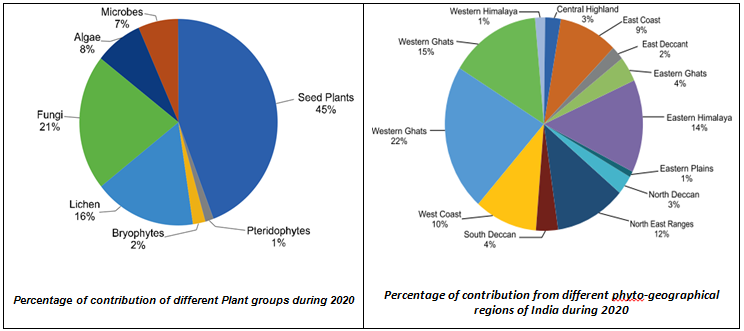 The following are some of the new discoveries this year
Nine new species of balsams (Impatiens)
One species of wild banana (Musa pradhanii) were discovered from Darjeeling
One species of wild jamun (Sygygium anamalaianum) from Coimbatore
Fern species (Selaginella odishana) were recorded from Kandhamal in Odisha
There are 14 new macro and 31 new micro fungi species recorded from various parts of India.
Note: The Global Strategy for Plant Conservation (GSPC) under the targets 2, 7 and 8 of Convention on Biodiversity (CBD) call for the status assessment of all known plant species and ex-situ or insitu conservation of 75 percent of the threatened species in every country. For this purpose, each country must have a working list of all plant species with data recorded for their distribution and occurrence. This can be achieved through systematic inventorization, exploration and documentation of the floristic wealth of the respective region.
The United Nations Educational, Scientific and Cultural Organization (UNESCO) has designated Mura-Drava-Danube (MDD) as the world's first 'five-country biosphere reserve'.
Aim
The strategy's aim is to revitalise 25,000 km of rivers and protect 30 per cent of the European Union's land area by 2030.
Area Covered
The biosphere reserve covers 700 kilometres of the Mura, Drava and Danube rivers and stretches across Austria, Slovenia, Croatia, Hungary and Serbia.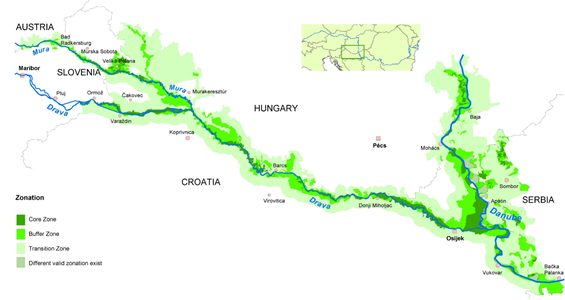 Source: WWF
The total area of the reserve — a million hectares — in the so-called 'Amazon of Europe', makes it the largest riverine protected area on the continent.
Tamil Nadu state government has announced to set up India's first dugong conservation reserve at the northern part of the Palk Bay.
About Dugong
The dugong (Dugong dugon), also called the sea cow, is herbivorous mammal.
They can grow upto three meters long, weigh about 300 kilograms, and live for about 65 to 70 years.
They graze on seagrass and come to the surface to breathe.
They are found in over 30 countries and in India are seen in the Gulf of Mannar, Gulf of Kutch, Palk Bay, and the Andaman and Nicobar Islands.
Conservation Status
Dugongs are listed as 'Vulnerable' on the IUCN Red List of Threatened Species.
Internationally, dugongs are listed in Appendix I of the Convention on International Trade in Endangered Species of Wild Fauna and Flora (CITES), which prohibits the trade of the species and its parts.
Dugongs are protected in India under Schedule 1 of the Indian Wildlife Act 1972 which bans the killing and purchasing of dugong meat.
Threat
The loss of 'seagrass' habitats, water pollution, and degradation of the coastal ecosystem due to developmental activities, have made life tough for these slow-moving animals.
Dugongs are also victims of accidental entanglement in fishing nets and collision with boats, trawlers.