Current Affairs - Biotechnology
Recently, the Indian Institute of Science Education and Research (IISER) Bhopal achieves a significant milestone by completing the inaugural genome sequencing of the Jamun plant, scientifically known as 'Syzygium cumini.
Key Points
Genomic Exploration: The team focused on understanding the genomic and evolutionary basis of the Jamun plant's medicinal properties, leveraging the world's largest tree genus Syzygium for sequencing.
Published Findings: The results of this pioneering research have been published in the esteemed peer-reviewed journal Frontiers in Plant Science, according to an official IISER Bhopal press release.
Anti-Diabetic Properties: The research unveiled the presence of glucosides, a class of metabolites in the Jamun plant, elucidating its anti-diabetic attributes by preventing starch conversion into sugar.
Researcher's Insight: The study's goal to gain functional and evolutionary insights from the Jamun genome, emphasizing its potential applications in modern medicine as nutraceutical agents.
Future Prospects: The whole genome sequence of S. cumini is anticipated to open avenues for future genomic, evolutionary, and ecological studies, contributing to a deeper understanding of the world's largest tree genus.
Recently, a team of scientists at the ICAR-Central Marine Fisheries Research Institute has achieved a significant breakthrough by decoding the entire genome of the Indian oil sardine (Sardinella longiceps), marking the first such achievement for a marine fish species from the Indian subcontinent.
Key Points
Dinner Table Staple: The Indian oil sardine is a staple in Kerala, serving as a vital part of daily meals for both regular fish consumers and food enthusiasts.
Dual Benefits: Sardine fisheries provide significant employment opportunities and fulfill the nutritional needs of the fish-eating population.
Polyunsaturated Fatty Acids (PUFA): Researchers have identified the genes responsible for PUFA biosynthesis in oil sardines, shedding light on the genomic mechanisms behind the fish's high nutritional value.
Human Health: PUFA is essential for maintaining human health, making oil sardines a valuable dietary source.
Climate Studies: The decoded genome will support climate studies and enhance fisheries stock management by offering insights into sustainable environmental and oceanographic factors.
Origin Tracing: It will aid in tracing the origin of sardine catches, contributing to the understanding of sustainable fishing practices.
Ecosystem Importance: Indian oil sardines play a vital ecological role by acting as an intermediate link in the marine food web and serving as prey for larger predators.
Adaptation to Climate Change: The genome assembly provides a valuable tool for studying how fish adapt to climate change, benefiting marine ecosystem research.
Significance: This breakthrough holds immense importance due to the Indian oil sardine's role in the local food supply and its susceptibility to catch fluctuations caused by climate change.
The Union Ministry of Environment, Forests and Climate Change (MoEFCC) has notified key change in rules that will allow genome-edited plants or organisms without any "foreign" genes to be subjected to a different regulatory process than the one applied to genetically engineered products.
The changes will exempt two categories of genome-edited products — in which genes are tweaked (Technique- SDN 1 & SDN 2) but not inserted from another organism (Technique-SDN 3) — from being treated as transgenic products.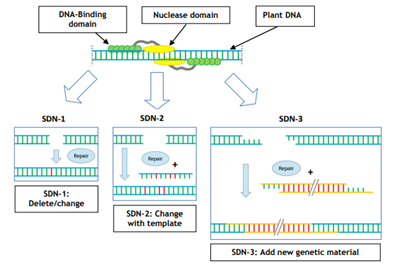 Process of Gene-editing
(Image Source: nbtplatform.org)
Finer Details
So, now who will regulate SDN1 and SDN 2 Gene-edited Plants?
Now, SDN1/SDN2 category plants will be initially regulated by Institutional Biosafety Committee (IBSC) / Review Committee on Genetic Manipulation (RCGM) under EPA Rules, 1989 and subsequently under the 'Seed Act' under the Ministry of Agriculture and Farmers Welfare—a unique duel regulatory system ensuring biosafety and benefits of technology.
Benefits for India after the recent Rule Change
With the notified change, India now has a separate regulatory process for such technologies that takes them out of the purview of Genetic Engineering Appraisal Committee or GEAC (It is the final technical body that certifies a GM product as safe for commercial release).
SDN1 and SDN2 genome-edited products free from exogenous introduced DNA be exempted from biosafety assessment in pursuance of rule 20 of the Manufacture, Use, Import, Export and Storage of Hazardous Microorganisms/Genetically engineered Organisms or Cells Rules 1989.
Some Key Concepts
SDN Technology
SDN stands for Site-directed Nuclease and refers to the practice of cleaving DNA strands to effect the subsequent genome editing.
The goal of SDN technology is to take advantage of the targeted DNA break and the host's natural repair mechanisms to introduce specific small changes at the site of the DNA break. The change can either be a small deletion, a substitution or the addition of a number of nucleotides. Such targeted edits result in a new and desired characteristic, such as enhanced nutrient uptake or decreased production of allergens.
Categories of Gene-editing
There are three categories of gene-editing: SDN1, SDN2 and SDN3.
SDN1 & SDN2: The first two (SDN1 & SDN2), which largely involve "knocking off" or "overexpressing" certain traits in a genome without any insertion of gene material from outside, will be covered by the new changes.
SDN3: The third (SDN3), which involves insertion of foreign genes, will be treated as GMO.
Benefits of SDN Technology
Site-Directed Nuclease technology can be used to precisely remove undesirable traits in plants –
such as anti-nutrients or allergens, in order to reduce environmental pollution or to enhance the
nutritional value of a crop.
It can also modify certain existing characteristics in a plant to respond to consumer needs such as enhanced shelf-life and improved taste or texture.
How Genome Edited Plants differ from Genetically Modified Organisms?
Genome edited plants allow for the generation of functional mutations in the recipient genome at specific targets.
In the case of SDN1 and SDN2, yield plants are free from any foreign DNA and remain indistinguishable from conventionally bred crops.
GM Crops in India
BT Cotton is India's only transgenic crop approved for commercial cultivation.
The three GM food crops - brinjal, mustard and potato – are awaiting permission for large-scale field trials and seed production. Brinjal is the first one to get geac approval but its commercial release has been banned in India due to an indefinite moratorium.
A team of researchers from Indian Institute of Technology-Kanpur, ICAR-Indian Institute of Rice Research and University of Hyderabad has developed a Novel Nanoparticle-based Bio-Degradable-Carbonoid-Metabolite (BioDCM) that can protect agricultural crops from fungal and bacterial infections.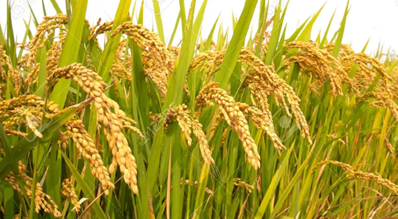 About the Technology
The Nano particles (Bio-DCM) are protective biological alternative of certain microbial metabolites that can be used to enhance crop protection against various diseases.
This nano-bio-pesticide is developed to produce biodegradable nanoparticle system of the secondary metabolite from the fungus Trichoderma asperellum Strain TAIK1.
The invention uses microwave radiation for synthesis.
The preparation protocol of BioDCM-NPs is novel and found to be effective against bacteria Xanthomonas oryzae pv. oryzae whose major host is rice.
Application
The technology can be used as an antimicrobial agent in agricultural crops as well as a carbon enrichment source for the soil.
Some Key Advantages of the Invention
Precise target action;
Can be active at low concentration;
Has similar advantages like chemical pesticides but is safe and biodegradable;
Can offer multiple actions as bio pesticide and phyto-stimulant;
Fast in action as it is applied in bioactive forms; and
Protects the active compound from high temperature.
Significance
Natural products are in great demand for plant protection in organic agriculture and export-oriented products. The bio formulation is established to be a potent natural inhibitor in suppressing the growth and development of soil-based plant pathogens, including fungi and bacteria.
It helps the crops defend themselves by eliciting defence and meet demands for better productivity.
The invention also helps overcome some shortcomings such as less control on bioavailability, pre-mature degradation and absorption by the crops, thus, making it a feasible option for farmers.
"IndiGau', India's first Single Nucleotide Polymorphism (SNP) based chip for the conservation of pure varieties of indigenous cattle breeds like, Gir, Kankrej, Sahiwal, Ongole, etc. was launched on 13 August 2021.
This indigenous chip was developed by the concerted efforts of scientists of National Institute of Animal Biotechnology (NAIB), Hyderabad.
IndiGau is purely indigenous and the largest cattle chip of the world. It has 11,496 markers (SNPs) more than that placed on 777K Illumina chip of US & UK breeds.
This chip will have practical utility in the Governments schemes to achieve the goal of conservation of our own breeds with better characters and help towards doubling of farmers' income by 2022.
SNPs (Single nucleotide polymorphisms), frequently called SNPs are most common type of genetic variations that help predict response to certain drugs, susceptibility to environmental factors such as toxins, and risk of developing particular diseases. SNPs can also be used to track the inheritance of disease genes within families.
The Philippines has become the first country in the world to approve commercial cultivation of vitamin A-rich Golden Rice.
The Filipino variety of Golden Rice was developed by the Department of Agriculture-Philippine Rice Research Institute (DA-PhilRice) in partnership with the International Rice Research Institute (IRRI) to contain additional levels of beta-carotene, which the body converts into vitamin A.
According to IRRI, Golden Rice is genetically engineered to provide up to 50% of the estimated average requirement for vitamin A of young children.
Golden Rice has already received food safety approvals from regulators in Australia, New Zealand, Canada, and the United States of America but the Philippines is the first country to approve commercial cultivation.
About Golden Rice
Golden rice is a variety of rice (Oryza sativa) produced through genetic engineering to biosynthesize beta-carotene, a precursor of vitamin A, in the edible parts of rice.
It is intended to produce a fortified food to be grown and consumed in areas with a shortage of dietary vitamin A.
Golden rice differs from its parental strain by the addition of three beta-carotene biosynthesis genes. The parental strain can naturally produce beta-carotene in its leaves, where it is involved in photosynthesis. However, the plant does not normally produce the pigment in the endosperm, where photosynthesis does not occur.
In 2005, Golden Rice 2 was announced, which produces up to 23 times as much beta-carotene as the original golden rice.
Why is it in News?
The Government of Kerala is taking all possible steps to make people aware about the ill effects of trans fat. The Health Department has drawn up an action plan to create public awareness on the dangerous effects of trans fatty acids (TFA) in commercially available food items and to promote the local food industry to meet the current statutory limits set for TFA.
About Fats:
Fat is one of the three main macronutrients, along with the other two: carbohydrate and protein. Fat molecules consist primarily of carbon and hydrogen atoms, thus they are all hydrocarbon molecules. Examples include cholesterol, phospholipids and triglycerides. Fats are broadly divided into two- saturated and unsaturated fats.
An unsaturated fat is a fat or fatty acid in which there is at least one double bond within the fatty acid chain. While in case of saturated fats there is no double bond.
Example of saturated fats- all animal based fats are saturated fats- ghee, butter, cheese etc.
Plant based and fish based fats are unsaturated fats. Unsaturated fats are less harmful compared to saturated fats. Saturated fats have more shelf life compared to unsaturated fats.
What is Trans fat?
Trans fat is simply liquid oils turned into solid fats during food processing. There is also a small amount of trans fat that occurs naturally in some meat and dairy products, but those found in processed foods tend to be the most harmful to our health.
Trans fat increases LDL (Bad Cholesterol) and decreases HDL (Good Cholesterol).
Source: TH