Current News National Indian Art, Culture & Heritage
Rani Gaidinliu Tribal Freedom Fighters Museum
---
On 22nd November 2021, Union Home Minister laid foundation stone for setting up the Rani Gaidinliu Tribal Freedom Fighters Museum at Luangkao village in Manipur's Tamenglong district.

About Rani Gaidinliu
Rani Gaidinliu was born on January 26, 1915 at Nungkao village in Tamenglong district of Manipur.
She was a spiritual and political leader who belonged to the Rongmei tribe of Manipur.
At the age of 13, she joined the freedom movement and later spearheaded the socio-political movement to drive out the British.
In 1932, she was arrested and sentenced to life imprisonment. She spent 14 years in jail and was released only after India's Independence in 1947.
In 1972, she was awarded Tamara Patra by the Government of India for her contribution to the freedom movement. She also received the Padma Bhushan in 1982.
Current News National Study/Survey/Report/Index
All India Survey on Domestic Workers
---
On 22nd November 2021, Union Minister for Labour and Employment, Shri Bhupender Yadav flagged off the first ever All India Survey on Domestic Workers.

It will be conducted by Labour Bureau, Chandigarh.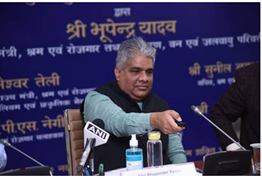 (Image Source: PIB)

Need for this Survey
Data Deficiency: Though domestic workers (DWs) constitute a significant portion of total employment in the informal sector, there is a dearth of data on the magnitude and prevailing employment conditions. As per latest data on the e-Shram portal, around 8.8 per cent of registered 8.56 crore informal sector workers fall in the domestic worker (DW) category.
Main Objectives
Estimate the number/proportion of DWs at National and State level.
Household Estimates of Live-in/ Live-out DWs.
Average number of DWs engaged by different types of households.
Broad Parameters for Data Collection
Household Characteristics: HH size, Religion, Social Group, Usual Monthly Consumption Expenditure, Nature of Dwelling unit.
Demographic Characteristics: Name, Age, Relation to Head, Marital Status, General Education Level, Usual Principal Activity Status, Subsidiary Activity Status and Status of DWs.
Information on Employer: HHs is also collected such as their preferences of DW regarding Gender and marital status, mode of payment of wages, number of days worked, mode of engagement, whether DW services were availed during ii COVID-19 pandemic, medical support given to DWs.
Other Information: It also collects information on DWs such as their Age of entry, Social Group, Migrant status, Vocational Training/Education, Number of HHs served by DW, activities performed by them, and number of days worked, Duration of work, Type of remuneration and its frequency, Type of contract, Distance travelled, Engagement as DW before and after COVID-19 pandemic and its effect on wages and job, living conditions and social security benefits received.
Scope of the Survey
All India States/UTs of India covered are 37 and Districts covered are742.
Unit of Enumeration is Villages as per Census 2011 and Urban Blocks as per latest phase of UFS.
At the all-India level, a total number of 12766 First Stage Units (FSUs) i.e., 6190 villages and 6576 UFS blocks will be covered in the survey.
1,50,000 Households i.e., the Ultimate Stage Units (USU) will be covered.
Sports In News Cricket
Syed Mushtaq Ali Trophy 2021
---
Tamil Nadu beat Karnataka in the final to win the Syed Mushtaq Ali Trophy 2021.
The final was played at Arun Jaitley Stadium, Delhi.
Tamil Nadu is the most successful team in the history of Syed Mushtaq Ali Trophy history (3rd titles).
Batsman M. Shahrukh Khan who smashed a dramatic last-ball six to help Tamil Nadu defend the T-20 title was adjudged as the 'Man of the Match'.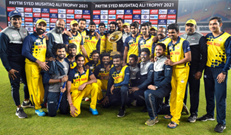 (Image Source: timesofsports.com)
About the Tournament
The Syed Mushtaq Ali Trophy is a domestic Twenty20 cricket championship organized by the Board of Control for Cricket in India (BCCI), among the teams from the Ranji Trophy.
It is named after the famous Indian test cricketer, Syed Mushtaq Ali.
The tournament is held in Round robin, then knockout format.
---