Current News International Reports,Survey And Index
UN- Water GLAAS Report 2022
---
Recently, on December 12, 2022, the Global Analysis and Assessment of Sanitation and Drinking-Water (GLAAS) report was released.
The report is released by the World Health Organization (WHO) and UN-Water.
About the Report
The UN-Water Global Analysis and Assessment of Sanitation and Drinking-Water (GLAAS) 2022 report compiles new data on drinking-water, sanitation and hygiene (WASH) from 121 countries and territories and 23 external support agencies (ESAs).
It serves as a global reference to inform commitments, priority-setting and actions during the second half of the 2030 Agenda for Sustainable Development and for the 2023 Conference for the Midterm Comprehensive Review of Implementation of the United Nations Decade for Action on Water and Sanitation (2018–2028) (UN 2023 Water Conference).
The report also highlights opportunities to accelerate progress in key WASH areas that positively affect the quality and sustainability of WASH services and delivery, pandemic preparedness and resilience to climate change.
Key Highlights of the Report
SDG 6: In many countries, progress must be accelerated to meet United Nations-mandated (UN) Sustainable Development Goal (SDG) six — ensuring universal access to water and sanitation by 2030.
WASH: The increasing frequency and intensity of climate-related extreme weather events continue to impact universal access to safe and sustainably managed water, sanitation and hygiene (WASH). Less than one-third of countries reported maintaining enough human resources to manage essential WASH tasks.
Human Resources: Less than one third of countries reported they have more than 75% of the human resources needed to carry out key functions to deliver WASH services.
National Coverage Targets/Achievements

Climate Resilience of WASH Systems: Despite the WHO identifying the climate change as the biggest health threat facing humanity, most WASH policies and plans do not address risks of climate change to WASH services.
In sub-Saharan Africa, the proportion of WASH aid dropped from 32% to 23%, while in Central and Southern Asia, it increased from 12% to 20%, and in Eastern and South-Eastern Asia, it increased from 11% to 20%.
WASH
WASH is an acronym that stands for the interrelated areas of Water, Sanitation and Hygiene.
The World Health Organisation (WHO) WASH Strategy has been developed in response to Member State Resolution (WHA 64.4) and the 2030 Agenda for Sustainable Development (SDG 3: Good Health and Well Being, SDG 6: Clean Water And Sanitation).
It is a component of WHO's 13th General Programme of Work 2019–2023 which aims to contribute to the health of three billion through multi-sectoral actions like better emergency preparedness and response; and one billion with Universal Health Coverage (UHC).
Current News National Plan/Policy
India Internet Governance Forum 2022
---
Recently, the second edition of the India Internet Governance Forum 2022 was held during 9-11 December, 2022.
On this occasion, the Minister of State for Electronics & Information Technology and Skill Development & Entrepreneurship, Shri Rajeev Chandrasekhar addressed the forum.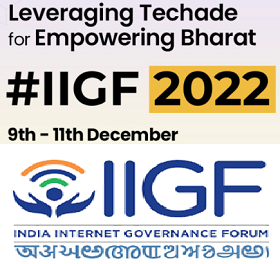 Goal of the Forum: The event's goal is to discuss the roadmap to digitization and to reaffirm India's place on the global stage by emphasising its role and importance in international policy development on internet governance.
Theme of the forum for 2022: 'Leveraging Techade for Empowering Bharat'.
About IIGF
It is an initiative associated with the UN Internet Governance Forum (UN-IGF).
The Internet Governance Forum (IGF) serves to bring people together from various stakeholder groups as equals, in discussions on public policy issues relating to the Internet.
While there is no negotiated outcome, the IGF informs and inspires those with policy-making power in both the public and private sectors.
IGF is a multi-stakeholder platform bringing together representatives from various groups, considering all to be at par to discuss public policy issues related to the Internet.
The IGF is an outcome of the Tunis Agenda of the World Summit on the Information Society that took place in 2005.
Government's Approach for Internet Governance
India supports a multi-stakeholder approach in matters on Internet Governance.
On matters relating to national security, Government continue to have supreme right and control.
India's strength in the sector is its industry and human resource which can be leveraged in a multi-stakeholder approach.
Multi-stakeholder approach will also align with our investment strategy for Digital India.
Responsibility of Internet Governance Division of MeitY includes:
representation of India's Public Policy Concerns on global platform,
Awareness on Internet Governance,
Encouraging greater participation in Internet Engineering Task Force (IETF) Working groups and Engagement with Internet Society (ISOC),
Promotion of Multi-stakeholder model of Internet Governance within India,
Strengthening internal internet infrastructure of the country, etc.
Current News National Defence
Deployment of 'Pralay' Missile
---
The defence ministry has cleared a proposal to procure around 120 Pralay ballistic missiles, which will be deployed along the borders with China and Pakistan.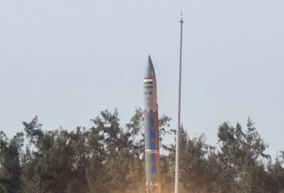 About the Missile
Type: 'Pralay' is a quasi-ballistic surface-to-surface missile.
Range: It can hit targets 150-500 kms away. The missile's range can be extended significantly if the need arises.
Ammunition: The missile can carry 350-700 kg high grade explosive, Penetration-Cum-Blast explosive, and Runway Denial Penetration Submunition.
Engine: Two stage rocket motor, with third stage MaRV (maneuverable reentry vehicle) is a type of warhead for ballistic missiles that is capable of maneuvring and changing its trajectory.
MaRV can be capable of autonomously tracking ground targets to make sure the missile does not miss the target, because of the frequent trajectory shifts. This often requires some terminal active homing guidance (like Pershing II active radar homing).
Special Utility
Target High Value Installations & Weapons: It is designed to target radar and communication installations, command and control centers and advance airfields using conventional warhead.
Defeat Interceptor Missiles: It has been developed to defeat interceptor missiles as it has the ability to change its path mid-air.
Current News Science & Technology Health & Disease
Brain-eating Amoeba
---
On 26th December 2022 South Korea reported its first case of infection from Naegleria fowleri or "brain-eating amoeba".
So far, Naegleria fowleri has been found in all continents and declared as the cause of primary amebic meningoencephalitis (PAM) in over 16 countries, including India.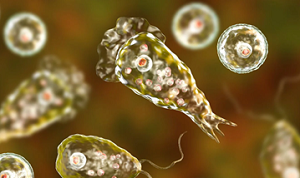 About Naegleria fowleri
Naegleria is an amoeba, a single-celled organism, and only one of its species, called Naegleria fowleri, can infect humans.
It was first discovered in Australia in 1965 and is commonly found in warm freshwater bodies, such as hot springs, rivers and lakes.
How does it infect humans?
The amoeba enters the human body through the nose and then travels up to the brain. This can usually happen when someone goes for a swim, or dive or even when they dip their head in a freshwater body. In some cases, it was found that people got infected when they cleaned their nostrils with contaminated water.
Scientists haven't found any evidence of the spreading of Naegleria fowleri through water vapour or aerosol droplets.
Once Naegleria fowleri goes to the brain, it destroys brain tissues and causes a dangerous infection known as primary amebic meningoencephalitis (PAM).
Symptoms of PAM
The first signs of PAM start showing within one to 12 days after the infection.
In the initial stages, they might be similar to symptoms of meningitis, which are headache, nausea and fever. In the later stages, one can suffer from a stiff neck, seizures, hallucinations, and even coma.
Fatality
The infection spreads rapidly and on average causes death within about five days.
The fatality of PAM is as such that only four people have survived out of 154 known infected individuals in the United States from 1962 to 2021.
Treatment
As the Naegleria fowleri infection is rare and progresses quickly, scientists haven't been able to identify any effective treatments yet.
At present, doctors treat it with a combination of drugs.
Concern
With the rising global temperatures, the chances of getting Naegleria fowleri infection will go up as the amoeba mainly thrives in warm freshwater bodies.
The organism best grows in high temperatures up to 46°C and sometimes can survive at even higher temperatures.
---