Current Affairs - Indian Art, Culture & Heritage
Recently, the heritage Byculla Railway station has been honored with the UNESCO award.
Key Points:
NGO 'I Love Mumbai' Leads Restoration: The restoration of the Byculla Station was undertaken by the NGO 'I Love Mumbai". The heritage conservation architect Abha Lamba and Minal Bajaj of Bajaj Trust partnered in the conservation efforts.
Award Presented to Railway Minister: The UNESCO Asia Pacific Cultural Heritage award for Byculla Station was presented to Railway Minister.
Oldest Functional Railway Station in India: The Byculla railway station in Mumbai, with a history spanning 169 years, stands as one of India's oldest railway stations that is still in operation.
Additional Recognition for CSMVS: Interestingly, the Chhatrapati Shivaji Maharaj Vastu Sangrahalaya (CSMVS) museum was also acknowledged with the highest award of excellence in the UNESCO Asia Pacific awards 2022 for cultural heritage conservation. The recognition coincided with the restoration of Byculla railway station.
Bengaluru has made history by becoming the first Indian city to join the prestigious World Cities Culture Forum (WCCF).
Key Points:

Global Network of Culturally Rich Cities: The WCCF is a global network of 40 cities from six continents that collaborate on research, share intelligence, and explore the role of culture in fostering future prosperity.
Bengaluru Joins Elite League: With its inclusion in the WCCF, Bengaluru joins the ranks of renowned cities like New York, London, Paris, Tokyo, and Dubai, among others. The city's vibrant and diverse cultural landscape caught the attention of the global consortium.
Bengaluru's Ambition and Drive in Culture: The decision to induct Bengaluru into the WCCF was based on the city's fast-paced growth, cultural diversity, and strong commitment to culture.
Unboxing Bangalore's Role: Unboxing Bangalore, a participative project dedicated to creating a new narrative around Bengaluru through multimedia initiatives, played a pivotal role in representing the city and leading discussions for its entry into the WCCF.
Recognizing Bengaluru's Cultural Wealth: Bengaluru, often recognized as a tech city worldwide, has a rich cultural heritage that remains relatively less explored.
Importance of WCCF: By joining the WCCF, Bengaluru aims to shed light on its cultural assets and aspirations, positioning itself as an aspirational city in India and beyond.
The Union government launched 'Meri Maati Mera Desh' campaign as part of 'Azadi Ka Amrit Mahotsav' celebration of India's 75 years of Independence.
Key Points:

Panchayat Level Programmes (August 9 - 15): Five-point agenda includes installing a shilaphalakam bearing names of individuals who made the supreme sacrifice, including freedom fighters, defense personnel, and State Police.
Activity: Soil will be collected from various parts of the country in August to create a garden along Kartavya Path in Delhi.
People will take a solemn pledge affirming their commitment to the country.
Work for the shilaphalakam may be executed through MGNREGA using local materials.
'Vasudha Vandhan' envisions planting 75 saplings of indigenous species and developing an Amrit Vatika in every gram panchayat/village.
'Veeron Ka Vandan' to felicitate freedom fighters and families of deceased freedom fighters. Retired Defense, CAPF, and State Police personnel and their families will also be honored.
The National Flag will be hoisted and the National Anthem sung.
Soil Collection and Garden Development: Young volunteers will collect soil from every panchayat/village and bring it to the block.
Urban Areas Programmes (August 9 - 20): Events will be organized at various urban local bodies, municipalities, and municipal corporations.
'Mitti Kalash' will be ceremoniously brought to larger municipalities/corporations and then transported to Kartavya Path.
Finale in Delhi (August 27 - 30): The campaign's grand finale will take place in Delhi.
Recently, the Ministry of Culture and the Indian Navy signed a Memorandum of Understanding (MoU) to jointly undertake and promote the revival of the Tankai method.
Key Points:

Stitched Wooden Planks: The Tankai method involves stitching wooden planks together to construct ships, replacing the conventional use of nails.
This traditional method offers ships greater flexibility and durability, reducing vulnerability to damage from shoals and sandbars.
Cultural Heritage Preservation: By reviving this 2000-year-old shipbuilding technique, India aims to preserve its rich maritime heritage and cultural history.
The initiative seeks to promote cultural memories and strengthen connections with Indian Ocean littoral countries.
Promoting Sustainable Practices: This initiative aligns with India's efforts to promote sustainable and eco-friendly practices in various sectors, including shipbuilding.
Historical Significance: Bringing back the Tankai method not only celebrates the craftsmanship of the past but also showcases India's innovation and ingenuity in ancient shipbuilding techniques.
Prime Minister Narendra Modi unveiled a 108 feet tall bronze statue of Sri Nadaprabhu Kempegowda in Bengaluru on November 11, 2022.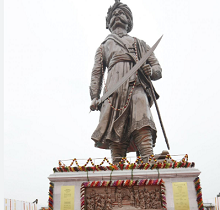 Also Bharat Gaurav Kashi Darshan Train was flagged off at Krantiveera Sangolli Rayanna (KSR) railway station in Bengaluru.

Chennai-Mysore Vande Bharat Express was also flagged off from KSR railway station by Prime Minister on the same day.
Nadaprabhu Kempegowda
Nadaprabhu Hiriye Kempe Gowda is also known as Kempe Gowda.
He was fourth in succession from Rana Bhairave Gowda, founder of the dynasty of the Avati Nadu and great grandson of Jaya Gowda, a separate Vijayanagara feudal vassal, Kempe Gowda is the most famous of the Yelahanka rulers.

Kempe Gowda assumed the chieftaincy of Yalahanka Nadu from his father in 1513 and would reign for 46 years and died in 1569.
He was a chieftain under the Vijayanagara Empire.
Kempe Gowda was one of the well-educated rulers of all time.

He is famous for founding the present-day southern Indian city of Bangalore.


Bengaluru, was fortified by Kempe Gowda in 1537.

He erected many Kannada inscriptions in the region.
Kempe Gowda was a patron of arts and learning.

In spite belonging to a purely Kannada speaking community,he was a polyglot and authored Gangagaurivilasa, a yakshagana play, in Telugu, the court-language of the time.
About the Statue
The 'Statue of Prosperity' is 108-feet tall bronze statue of Bengaluru founder Nadaprabhu Kempegowda. It is made with 98 tonnes of bronze and 120 tonnes of steel.
It has been built to commemorate the contribution of Kempegowda towards development of the city.
The statue was conceptualized and sculpted by Ram V Sutar, who also curated the Statue of Unity.
This statue is registered as a record in the World Book of Records, as No other airport in the world has such a tall statue of its founder.
Recently, three cities in India have joined the UNESCO Global Network of Learning Cities. These include two cities Thrissur and Nilambur in Kerala and Warangal in Telangana.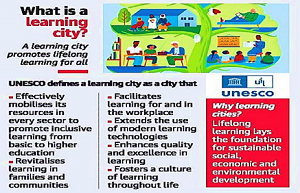 About the Cities
Thrissur - Cultural Capital of Kerala
Popularly known as the cultural capital of Kerala, Thrissur is home to academic and research institutions. It is also known for its jewellery industry, especially gold.
As a member of the UNESCOI GNLC, Thrissur hopes to contribute to the intellectual and peer learning processes, focusing on equitable access to learning for all, digital learning ecosystems and skills for sustainability.
Thrissur ticked UNESCO's check boxes in aspects of good practices, equity and inclusion among other factors. For eg, the presence of a MSME-Development Institute of India regional centre in Thrissur offers institutional support in promoting decent work and entrepreneurship through upskilling.
Nilambur- Kerala's Eco-Tourism Destination
It is a city with various socio-economic patterns marked by an urban and rural mix. The majority of the population depends on agriculture and allied industries.
The city offers free healthcare facilities to all citizens and utilizes health volunteers to provide door-to-door treatment for bedded patients. It also promotes first-aid training for students and young citizens.
Nilambur aims to promote sustainable development, gender equality, inclusivity and democracy through community ownership.
It also aims to ensure employment opportunities and UN Sustainable Development Goal (SDG) 2, 'zero hunger'.
Warangal- The Tourism Spot
The city is a major tourism venue, welcoming 3.2 million tourists every year. Warangal's economy is primarily composed of agricultural, industrial and service sectors.
The city promotes equity and inclusion, for which it has implemented several strategies, including Women and Child Welfare policy, Urban Policy, and the creation of an advisory committee to monitor and evaluate the impact of initiatives on marginalized groups.
About UNESCO Global Network of Learning Cities (GNLC)
Launched in 2013 by the UNESCO Institute for Lifelong Learning, the key objective of UNESCO GNLC is to promote social cohesion, economic development and sustainability in urban areas.
As part of this, the institute recognizes cities which promote lifelong learning among local communities and connects them with each other for knowledge transfer.
In 2019, UNESCO made Sustainable Development Goals part of its core policy framework and it was adopted as one of the key ingredients of UNESCO GNLC.
In line with this, the cities that are identified and inducted under Learning Network also have to comply with all 17 SDGs, especially SDG 4 ('Ensure inclusive and equitable quality education and promote lifelong learning opportunities for all') and SDG 11 ('Make cities and human settlements inclusive, safe, resilient and sustainable').
What is a Learning City?
According to UNESCO, a learning city is one that-
effectively mobilizes its resources in every sector to promote inclusive learning from basic to higher education;
revitalizes learning in families and communities;
facilitates learning for and in the workplace;
extends the use of modern learning technologies;
enhances quality and excellence in learning;
fosters a culture of learning throughout life.
As part of the Azadi Ka Amrit Mahotsav Iconic week of the Ministry of Finance, Union Finance Minister Nirmala Sitharaman on 11th June, 2022 dedicated to the nation, Dharohar - the National Museum of Customs and GST in Goa.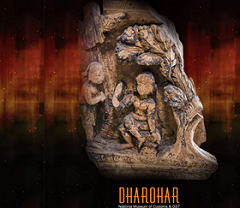 It is the first museum of its kind in India, show casing the rich history of the Department of Customs and Indirect Taxes.
The Central Board of Indirect Taxes and Customs decided to set up the Customs and GST Museum at the heritage Customs building, popularly known as Blue Building, in Goa on the banks of the Mandovi River.
The heritage two‑storeyed building is of particular interest to the Customs department as the root of the word Mandovi comes from the Arabic word 'mand' for tax.
The two-storey building, which was earlier known as Alfandega during Portuguese rule, is 400 years old.
Dharohar is one of its kind museums in the country that showcases not only the artefacts seized by Indian Customs but also depicts various aspects of work performed by the Customs Department while safeguarding the economic frontiers of the country, its heritage, flora and fauna and the society.
The museum houses eight galleries: Introductory gallery, History of Taxation Gallery, Guardians of our economic frontiers gallery, Guardians of our Art & Heritage, Guardians of Flora & Fauna, Custodians of our social well-being, Journey of Indirect taxes –Salt Tax to GST and the GST gallery.
Further, the tour de force of the museum is a unique 'Battle of Wits' gallery which showcases the cerebral battle between the smugglers and the Customs officers. It contains chronicled seizures of antique coins, statues, endangered wildlife, weapons and narcotics.
It also displays the manuscript of Ain-i-Akbari intercepted by the Indian Customs at the Indo-Nepal border at Raxaul, replica of Amin pillars from Kaurkshetra, medieval period astronomical instruments, seized metal and stone artefacts, ivory items and wildlife items.
Amin Pillars

(Replicas at Dharohar)
The Amin pillars were part of the Surajkund temple in Amin Village near Kurukshetra, Haryana.
Amin Village, as the local lore goes, was the site of t h e Chakravyuha during the epic battle of Mahabharata where Abhimanyu, son of Arjun was killed. The well‐preserved red sandstone pillars are dated to the Sunga period of the 2nd Century BCE. They are carved with yaksha‐yakshi mithuna figures which are placed in the temple precincts as they are believed to be auspicious and symbolise fertility and abundance.
The pillars were smuggled to London 1967 and were duly returned to India later and found their new home at the National Museum in New Delhi.
Dharohar Museum's GST Gallery
This is a brand-new addition to the Dharohar Museum. A first of its kind initiative in the country, the GST Gallery shows the long and arduous journey to GST spanning two decades. Beginning with the Atal Behari Vajpayee Government initiating discussions on GST in 2000, the Gallery chronicles various stages and processes that paved the way for introduction of reformed unified indirect taxation in the form of GST on July 1, 2017.
A recent three-month-long excavation (in 2022) at Rakhigarhi – a 5,000-year-old Harappan site has revealed new insights of this settlement.
So far, seven mounds have been excavated in Rakhigarhi, each of which has revealed a range of artefacts. This time, the digging was done in three of the seven mounds, out of which mounds number 6 and 7 have been notified by ASI as sites of national importance.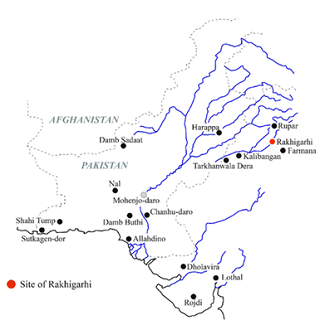 New Finds
Jewellery-Making Unit: The highlight among the finds this time seems to be that of a jewellery-making unit/factory.
Walled Settlement: At burnt-brick wall has been traced leading to a possibility of a walled settlement.
The antiquities found at mounds include steatite seals, terracotta unbaked sealing with relief of elephants and Harappan script.
The structures and frameworks of tiered houses, a kitchen complex, lanes, a drainage system, graveyards, thousands of clay pots and seals, terracotta toys, statues and figures, as well as jewellery of copper, gold, agate and other semi-precious stones have also been found all over the site.
Skeletons of two Women: The skeletons of two women were found at mound number 7 (named RGR 7 by the Archaeological Survey of India), believed to be nearly 5,000 years old. Pots and other artefacts were also found buried next to them in a pit, part of the funerary rituals back in the Harappan Civilisation era. The outcome of the DNA analysis will help tell about the ancestry of the people who lived at this ancient city, whether they were native or had migrated from elsewhere to settle.
Animal bones were also found at the site.
Cultural Span of Harappan Civilisation
The cultural span of Harappan Civilisation can be broadly subdivided into three periods — early (3300 BC to 2600 BC), mature (2600 BC to 1900 BC), and late (1900 BC to 1700 BC), as per archaeology experts.
Five major urban sites — Mohenjo-Daro, Harappa, Ganweriwala, all three sites now in Pakistan, and Rakhigarhi and Dholavira in India, have been identified as regional centers of the Harappan Civilisation.
Rakhigarhi: One of the Five Iconic Sites
Rakhigarhi site is one of the "five iconic sites" declared by the central government as per the Union budget 2020-21.
The iconic sites which would be developed are Rakhigarhi in Haryana, Hastinapur in Uttar Pradesh, Shivsagar in Assam, Dholavira in Gujarat, and Adichanallur in Tamil Nadu.
The Archaeological Survey of India (ASI) of Ministry of Culture is organizing a two-day international conference 'Devayatanam' – An odyssey of Indian temple architecture during 25th - 26th February, 2022 at Hampi, Karnataka.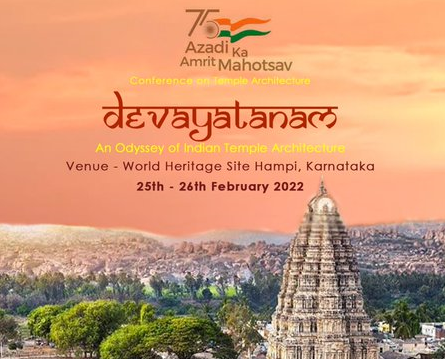 Aim of the Conference
The conference aims to deliberate upon the philosophical, religious, social, economic, technical, scientific, art and architectural aspects of temple.
It also intends to initiate a dialogue on the evolution and development of the various styles of temple architecture.
Three Main Styles of Temple Architecture
There are three main kinds of temple architecture in India: Nagara or the Northern Style, Dravida or the Southern style, and Vesara or the Mixed styles.
A Brief on different Temple Architecture Styles

Nagara

The Nagara style has two particular features:

The first being presence of several graduated projections or rathakas in the centre of all sides of the square temple, thus bearing a cross-shape with several re-entrant angles on all sides.
The second feature includes design of the spire or Shikhara that follow principles of concentric squares and circles and gradually taper in a convex curve while stretching upwards.

Example: The Kandariya Mahadeva Temple in Khajuraho in Madhya Pradesh is a fine example of this style.

Dravidian

Predominantly comprise of temples built of sandstone, soapstone or granite. The square-shaped temple called Vimana has one or more storied pyramidal roof while its cell houses the image or emblem of the God.
The Mandapas/Mandapams or porches are built in such a way that these precede and cover the door that leads to the cell. The Gopurams/Gopuras or elaborate gateway-towers or gate-pyramids encloses the temples.
The Chaultris or pillared halls employed for different purposes forms one of the principal and constant features of this style.
Example: Thanjavur temple of Tamil Nadu

Badami-Chalukya

Indian architecture saw an illustrious phase during the Badami Chalukyas rule. The foundation of cave temple architecture was laid by them on the banks of Malaprabha River in Karnataka during 500 and 757 CE.
Examples: Badami Cave temples (Karnataka), Virupaksha temple, Mallikarjuna temple

Gadag

The Western Chalukya architecture or Gadag style of architecture is a specific style of decorative architecture that originated from the old Dravida style and defines the Karnata Dravida tradition.
A distinct feature of this style was articulation.
Examples: Kasivisvesvara Temple at Lakkundi and Saraswati temple in the temple complex of Trikuteshwara at Gadag

Kalinga

This style having three specific types of temples prospered in Odisha and Northern Andhra Pradesh.
The three styles are Pidha Deula, Rekha Deula and Khakhara Deula with the first two linked with Shiva, Surya and Vishnu and the latter is predominantly associated with Goddesses Durga and Chamunda.
Example: Jagannath Temple of Puri and Lingaraj Temple of Bhubaneswar portray Rekha Deula style while Vaital Deula of Bhubaneswar typifies Khakhara Deula and the Sun Temple at Konark remains a prominent example of Pidha Deula.

Maru-Gurjara

This temple architecture with two notable styles namely Maru-Gurjara and Maha-Maru originated in Rajasthan and its vicinity.
Maru-Gurjara temple architecture is considered as an exclusive Western Indian architectural style that differs distinctly from temple architecture of North India. However, it is regarded to have some associative features with Hoysala temple architecture as sculpturally rich architecture is palpable in both the styles.
Example: Nagda temple in Rajasthan
Best Marching Contingent
Among Three Services: The Indian Navy
Central Armed Police Forces (CAPF)/other Auxiliary Forces: Central Industrial Security Force
Best Tableau among States & UTs
First Place: Uttar Pradesh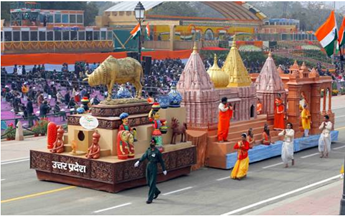 The tableau of Uttar Pradesh has been selected as the best tableau among the 12 States/UTs.
The tableau of Uttar Pradesh was based on the theme 'One District One Product and Kashi Vishwanath Dham'.
Second Place: Karnataka
The second place went to Karnataka for its tableau based on 'Cradle of Traditional Handicrafts'.
Third Place: Meghalaya
The third position went to Meghalaya for its tableau on 'Meghalaya's 50 years of Statehood and its tribute to women-led cooperative societies & SHGs'.
Best Tableau among Central Ministries/Departments
The tableaux of Ministry of Education and Ministry of Civil Aviation have been declared as joint winners.
The theme of the tableau of Ministry of Education & Ministry of Skill Development & Entrepreneurship was 'National Education Policy', while the tableau of Ministry of Civil Aviation was based on the theme 'Ude Desh Ka Aam Nagrik'.
Note: The tableaux of Ministry of Housing & Urban Affairs (CPWD), based on the theme 'Subhash @125' and the 'Vande Bharatam' dance group have been selected for the special prize category.
Popular Choice Awards
This year, for the first time, the general public was invited to vote for the best marching contingents and best tableaux in the popular choice category through the MyGov platform.
Best Marching Contingent
Among Three Services: Indian Air Force
Central Armed Police Forces (CAPF)/other Auxiliary Forces:Central Reserve Police Force (CRPF)
Best Tableau among States & UTs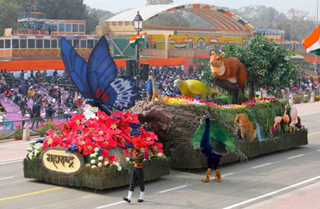 First Place
Maharashtra was voted as the best Tableau among the States/UTs in the popular choice category. The tableau of Maharashtra was based on the theme 'Biodiversity and State Bio-symbols of Maharashtra'.
The Maharashtra tableau had depicted five bio-diversity symbols of the state that include the state animal 'Shekru' or the Indian giant squirrel, the state bird 'Hariyal', state butterfly 'Blue Mormon', state flower 'Jarul' and the state tree 'Mango'.
It also showcased Icius tukarami – a new spider species named after Mumbai policeman Tukaram Ombale, who captured terrorist Ajmal Kasab during the 26/11 attack.
Second and Third Place
The second place went to Uttar Pradesh (popular choice), while the tableau of Jammu and Kashmir, on the theme 'Changing face of Jammu & Kashmir', finished third.
Best Tableau among Central Ministries/Departments
The tableau of Ministry of Communication/Department of Posts was adjudged as the best tableau. The theme of this tableau was 'India Post: 75 years @ Resolve - Women Empowerment'.