News Crux Survey/Index
North Eastern Region District SDG Index and Dashboard 2021–22
---
On 26th August, 2021 the first edition of the North Eastern Region (NER) District SDG Index Report and Dashboard 2021–22 was released by NITI Aayog and Ministry of Development of North Eastern Region (M/DoNER) with technical support from UNDP.
Aim of the Index
The NER District SDG Index aims at delineating progress at the district level on a basket of indicators and enhancing analytical understanding of sectoral issues as well as data gaps, while assisting in designing future courses of action in the region.
The modular nature of the index makes it a policy tool and a ready reckoner for gauging progress of districts on the expansive set of the Global Goals, including health, education, gender, economic growth, institutions, climate change and environment, among others.
About the Index
The index is based on NITI Aayog's SDG India Index –the principal and official tool for monitoring progress on the SDGs at the national and State/ Union Territory levels and shares the common ethos of benchmarking performance and ranking on the SDGs to foster competition among the districts.
The index offers insights into the social, economic, and environmental status of the region and its districts in their march towards achieving the SDGs.
It is a unique policy tool which has immense potential to measure district level progress, highlight critical gaps, facilitate resource allocation, and will be a handy tool for policy makers in the eight North Eastern States, Ministry of DoNER and other Union Ministries.
Indicators & Goals
The NER District SDG Index and Dashboard 2021–22 tracks progress of the districts of all eight States of the region on 84 indicators that are aligned to the Ministry of Statistics and Programme Implementation's (MoSPI) National Indicator Framework (NIF). The 84 indicators cover 15 of the Global Goals across 50 targets.
Coverage: Eight States (103 Districts)
The Index measured the performance of 103 districts of the eight States of Arunachal Pradesh, Assam, Manipur, Meghalaya, Mizoram, Nagaland, Sikkim and Tripura on the Sustainable Development Goals and their corresponding targets and ranks the districts based on the same.
Overall Results and Findings
Out of the 103 districts considered for ranking, 64 districts belonged to the Front Runner category while 39 districts were in the Performer category in the composite score and ranking of districts.
All districts in Sikkim and Tripura fall in the Front Runner category and there are no districts in the Aspirant or Achiever categories.
Top Three Districts
East Sikkim
Gomati and North Tripura
West Tripura
Bottom Three Districts
North Garo Hills
Kamle
East Kameng, Phek
Goal-wise: Good Performers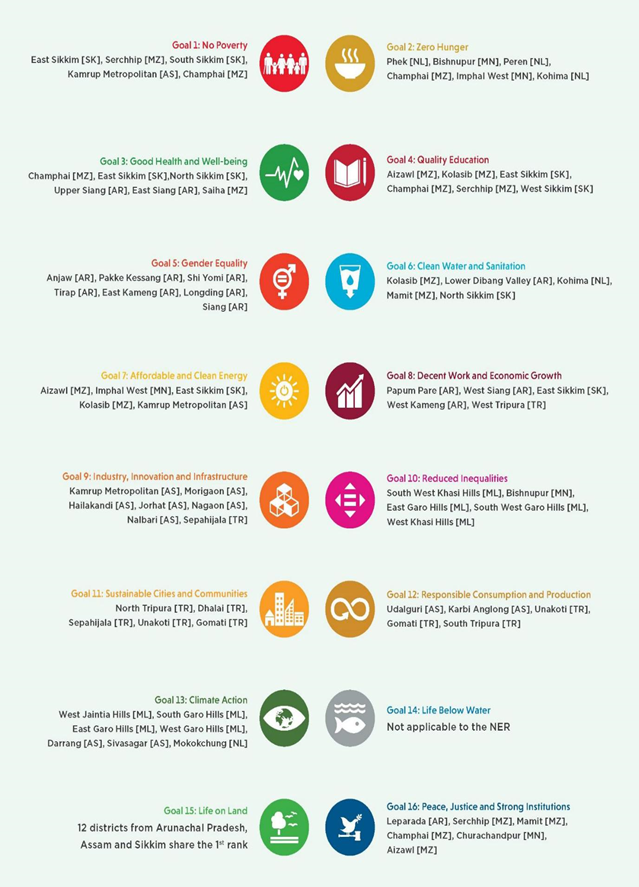 Sports In News Wrestling
Uttar Pradesh Govt. adopts Indian Wrestling Sport till 2032 Olympics
---
Taking a leaf from Odisha Govt.'s support for Hockey, the Uttar Pradesh government has adopted wrestling sport and is expected to pump in an investment of Rs 170 crore in infrastructure and support to the wrestlers till the 2032 Olympics.
The WFI had also roped in Tata Motors in 2018 as principal sponsors of Indian wrestling, a partnership which had brought with it a financial support of Rs 12 crore that allowed the federation to give away central contracts to wrestlers till the Tokyo Games.
This deal with the UP government will allow WFI to plan exposure trips to foreign countries even for India's Cadet level wrestlers. As of now, only the senior and elite level wrestlers have personal coaches and guidance of foreign coaches.
News Crux Appointment & Resignation
President signs Appointment of 9 SC Judges
---
The President of India, Shri Ram Nath Kovind on 26 August 2021 signed the warrants of the appointment of nine judges, including three women, to the Supreme Court who will be sworn in on August 31.
The new judges include Justice B.V. Nagarathna, who will be in line to be the first woman Chief Justice of India in September 2027.
The other women judges who have been elevated are Justices Bela M. Trivedi and Hema Kohli.
The other appointees are Justices C.T. Ravikumar, M.M. Sundresh, Abhay Shreeniwas Oka, Vikram Nath and Jitendra Kumar Maheshwari, and former Additional Solicitor-General P.S. Narasimha.
With the appointments, the working strength of the Supreme Court goes up to 33, against the sanctioned strength of 34.
News Crux Organisation In News
India elected to two Bodies of Universal Postal Union (UPU)
---
On 26th August 2021, India was elected to the Council of Administration (CA) and the Postal Operations Council (POC) of Universal Postal Union.
The vote was conducted at 27th Universal Postal Union Congress orgabised in Abidjan (a city of Côte d'Ivoire).
About UPU
Established in 1874, the Universal Postal Union (UPU), with its headquarters in the Swiss capital Berne, is the second oldest international organization worldwide.
With its 192 member countries, the UPU is the primary forum for cooperation between postal sector players.
The UPU consists of 4 bodies:
The Congress: Congress is the supreme authority of the Universal Postal Union (UPU) and meets every four years.
The Council of Administration: The Council ensures the continuity of the UPU's work between Congresses, supervises its activities and studies - regulatory, administrative, legislative and legal issues. The Council of Administration (CA) consists of 41 member countries.
The Postal Operations Council: The Postal Operations Council (POC) is the technical and operational mind of the UPU and consists of 40 member countries, elected during Congress.
The International Bureau: Fulfilling a secretariat function, the International Bureau provides logistical and technical support to the UPU's bodies.
Sports In News Athletics
India at 2020 Summer Paralympics, Tokyo (as on 30 Aug. 2021)
---
| | | | |
| --- | --- | --- | --- |
| Medal | Name | Sport | Event |
| Gold | Avani Lekhara | Shooting | Women's R2 10 Metre Air Rifle Standing SH1 |
| Gold | Sumit Antil | Athletics | Men's Javelin Throw F64 |
| Silver | Bhavina Patel | Table Tennis | Women's Individual Class 4 |
| Silver | Nishad Kumar | Athletics | Men's High Jump T47 |
| Silver | Yogesh Kathuniya | Athletics | Men's Discus Throw F56 |
| Silver | Devendra Jhajharia | Athletics | Men's Javelin Throw F46 |
| Bronze | Sundar Singh Gurjar< | Athletics | Men's Javelin Throw F46 |
| Bronze | Singhraj Adhana | Shooting | Men's P1 10 Metre Air Pistol SH1 |
Brief about Winners
Avani Lekhara
Avani Lekhara (from Jaipur, Rajasthan) won the first gold medal for India at the Tokyo Paralympics 2020 in the women's 10m air rifle standing SH1 event.
She became the first Indian woman to win a gold medal in shooting at an Olympic and Paralympic Games.
Sumit Antil
Sumit Antil (from Sonepat in Haryana) won gold medal in men's javelin throw F64 final event.
He also set a new world record throw of 68.55m.
Bhavina Patel
Bhavina Patel (from Ahmedabad, Gujarat) won a Silver medal in the table tennis event at Tokyo Paralympics. Bhavina lost to China's Ying Zhou in the final.
She is the first-ever Indian para-athlete, male or female, to win a Paralympics medal in table tennis.
She also became the second female athlete to win a medal at the Paralympic Games after Deepa Malik won Silver at the 2016 Rio Paralympics.
Nishad Kumar
Nishad Kumar from Una, Himachal Pradesh made his maiden Paralympic Games appearance in 2020 Tokyo representing India and went onto claim silver medal in the men's high jump T47 category with a new Asian record of 2.06m.
Yogesh Kathuniya
Yogesh Kathuniya won a silver medal in the men's Discus Throw F56 final event with a throw of 44.38m.
Devendra Jhajharia
Devendra Jhajharia won the silver medal in the men's javelin throw – F46 final event with his best throw of 64.35.
Sundar Singh Gurjar
Sundar Singh Gurjar won the bronze medal, in the men's javelin throw – F46 final with his best throw of 64.01.
Singhraj Adhana
Singhraj Adhana won the bronze medal in men's 10m Air Pistol (SH1) event.
Note
Vinod Kumar
Vinod Kumar won a bronze medal in the discus throw F56 final but was declared as ineligible by the classification panel.
News Crux Obituary
Noted Bengali Writer Buddhadeb Guha Passed Away
---
Eminent Bengali writer Buddhadeb Guha has passed away on 29th August 2021.
Guha was a chartered accountant by profession but became a popular author early in life.
His fictional character Wrijuda, a popular figure in children's literature along with his sidekick Rudra, was a hunter-turned-conservationist.
Guha spent his early years in what is now Bangladesh, and drew on his memories in Rangpur and Barisal in his Wrivu series.
His intimacy with the woods of eastern India is reflected in his writings, with Jungle Mahal being his first story collection — and his favourite, by his own admission — to be published in the early 1960s.
His notable literary contributions include - Koeler Kachhe, Kojagar, Ektu Usnotar Jonyo, Madhukori, Jangalmahal, Choroibeti, etc.
PIB News Ecology & Environment
'SUJALAM' Campaign for making more ODF Plus Villages
---
On 25th August 2021, the Ministry of Jal Shakti has launched 'SUJALAM', a '100 days campaign' as part of the 'Azadi Ka Amrit Mahotsav' celebrations to create more and more ODF Plus villages by undertaking waste water management at village level particularly through creation of 1 million Soak-pits and also other greywater management activities.
The effort of campaign would be directed towards achieving the ODF plus status for villages across the country in an accelerated manner in a short time.
The campaign will not only build desired infrastructure i.e. soak pit for management of greywater in villages but will also aid in sustainable management of water bodies.
The disposal of waste water and clogging of water bodies in the villages or on the outskirts of the villages remain one of the major problems.
The Campaign would help in management of the wastewater and in turn would help to revive the water bodies.
Furthermore, the campaign would boost the momentum of Swachh Bharat Mission (Grameen) Phase-II activities through community participation and it will increase awareness about ODF-plus activities - hence ensuring long term maintenance and sustainability of built infrastructure.
Current News Indian Economy Plan Policy
SAMRIDH Programme launched by MeitY to support Startups
---
To support startups and entrepreneurs in their initial phase, where they face most challenges, the Ministry of Electronics and Information Technology (MeitY) has launched Startup Accelerators of MeitY for pRoduct Innovation, Development and growth (SAMRIDH) programme on 25 August 2021.
SAMRIDH will create a platform for Indian software product startups to enhance their products and secure investments for scaling their business.
The programme is being implemented by MeitY Start-up Hub (MSH).
The SAMRIDH initiative will not only provide funding support to startups, but will also help in bringing skill sets together which will help them become successful.
The SAMRIDH scheme will pick up startups that are ready for acceleration stage and will provide them with funding support, mentorship and a lot of other support that is required by startups at this stage.
The SAMRIDH programme will focus on accelerating 300 start-ups by providing customer connect, investor connect, and international expansion opportunities in the next three years.
Also, an investment of up to Rs 40 lakh to startups, based on their current valuation and growth stage will be provided through selected accelerators. It will also facilitate equal matching investment by the accelerator or investor.
News Crux Reports/Committee/Commission
India becomes second-most sought-after Manufacturing Destination
---
India has been ranked as the second-most sought-after manufacturing destination in the world according to the 2021 Global Manufacturing Risk Index released by Cushman and Wakefield.
It is second only to China and has surpassed the US to bag the second ranking.
India, however, slipped a rank in the cost scenario and was overtaken by Indonesia.
The report states that, India could benefit from relocations from China to other parts of Asia, as it already has an established base in pharmaceuticals, chemicals and engineering sectors that continue to be the focus of the US-China trade tensions.
It, however, stated that reforms in land and labour laws are critical to ensure India's success as a global manufacturing hub.
China the Leader
China has retained its top position and continues to diversify its manufacturing base. Even with the Biden administration's concerns about trade, China continues to diversify its base to move up the value chain to focus on telecom, high-tech, and computers. Guangdong and Jiangsu regions are spearheading its electronic components and automotive manufacturing, while Zhejiang and Liaoning focus on chemicals and natural resources.
The Report on US
The US is a desirable hub as it offers a large consumer market as well as incentives at both state and federal levels. But its rapid adoption of technology and policies could make it a tough competitor to China.
Cost Scenario: Indonesia on the Move
When it came to the cost scenario, India and Vietnam were overtaken by Indonesia, while China retained its lead position. India slipped to the third rank, while Indonesia moved to the second from the fifth spot.
Jakarta's dipping rents have a part to play in cost effectiveness that pushed Indonesia up by three spots. While wage costs in Vietnam are cheaper than in China, it is facing increasing competition from lower cost locations. Similarly, Thailand's cost profile moved it to the fifth spot from eighth. Colombia that has labour costs similar to Asia's climbed from 15th spot to the eighth spot.
Risk Scenario
When it comes to the risk scenario that takes into account lower levels of economic and political risks, India is nowhere near the top.
India has been clubbed in the third quartile of the rankings along with Malaysia, Belgium, Indonesia, Bulgaria, Romania, Thailand, Hungary, Colombia, Italy, Peru and Vietnam.
On top of the first quartile is China, followed by Canada, US, Finland, Czech Republic.
The second quartile has countries like Lithuania, France, Netherlands, Spain, Poland, Japan, UK etc.
Bounce Back Rating
When it comes to the bounce back rating that takes into account a country's ability to restart its manufacturing sector, India is in the fourth quartile with Sri Lanka, Mexico, Vietnam, Indonesia, Bulgaria, Thailand, Tunisia, Peru, Philippines and Venezuela.
News Crux Miscellaneous
Algeria cuts diplomatic ties with Morocco
---
On 24th August 2021, Algeria has severed diplomatic relations with Morocco due to "hostile actions", following months of resurgent tensions between the North African rivals.
The countries have long accused one another of backing opposition movements as proxies, with Algeria's support for separatists in the Western Sahara a particular bone of contention for Morocco.
Their rivalry took a new twist last year when outgoing U.S. president Donald Trump recognized Moroccan sovereignty over the territory — in exchange for Morocco normalising ties with Israel.
Current News Ecology & Environment Pollution
'Forum for Decarbonizing Transport' in India
---
On 23rd August 2021, NITI Aayog and World Resources Institute (WRI), India, jointly launched the 'Forum for Decarbonizing Transport' in India as part of the NDC-Transport Initiative for Asia (NDC-TIA) project.
Aim
The project aims at bringing down the peak level of GHG emissions (transport sector) in Asia (in line with a well below 2-degree pathway), resulting in problems like congestion and air pollution.
Current Status of Emission from Transport in India
India has a massive and diverse transport sector, which is also the third most CO2 emitting sector. Data from (IEA, 2020; Ministry of Environment Forest and Climate Change, 2018) suggests that within the transport sector, road transport contributes to more than 90% of the total CO2 emissions.
Govt. Initiatives
Through various policy measures and initiatives, the Government of India is continuously working towards the decarbonisation of road transport, with a major focus on the adoption of electric vehicles (EVs) in the country.
NITI Aayog has been at the helm of the promotion of EVs and sustainable mobility through the National Mission on Transformative Mobility and Battery Storage.
Focus Area of NDC-TIA India Component
Multi-Stakeholder Platform: The NDC-TIA India component focuses on developing a coherent strategy of effective policies and the formation of a multi-stakeholder platform for decarbonizing transport in the country. Through this forum, the WRI India team, along with NITI Aayog and other project partners, will work in close coordination with all these stakeholders to formulate strategies and develop appropriate business models to accelerate electric mobility in India. The forum will also provide a platform to initiate dialogues for the development of uniform policies and help achieve specific results in reducing emissions from the transport sector.
About NDC Transport Initiative
The NDC Transport Initiative for Asia (TIA 2020-2023) is a joint programme of seven organisations that will engage China, India, and Vietnam in promoting a comprehensive approach to decarbonizing transport in their respective countries.
The project is part of the International Climate Initiative (IKI). The Federal Ministry for the Environment, Nature Conservation and Nuclear Safety (BMU) support the initiative on the basis of a decision adopted by the German Bundestag.
NITI Aayog is the implementing partner for the India component of the project.
News Crux Obituary
Sociologist Gail Omvedt Passes Away
---
American-born Indian scholar, sociologist, human rights activist, researcher, and author Gail Omvedt has passed away on 25th August 2021.
She was one of the intellectual voices of the 'Bahujan Movement'.
Omvedt authored books on Dalit politics, women's struggle and anti-caste movement.
She also participated in various people's movements in the country, including the one for the rights of people displaced by to Koyna Dam.
She co-founded 'Shramik Mukti Dal' along with her husband and activist Bharat Patankar.
She visited India during her doctoral research work to study social movements here and studied the work of Mahatma Phule. Her thesis was on 'Non-Brahmin Movement in Western India'.
News Crux Defence/Military Exercises
Exercise 'Zair-Al-Bahr' held between Indian Navy and Qatar Navy
---
The second edition of exercise Zair-Al-Bahr between the Indian Navy and Qatar Emiri Naval Force (QENF) was conducted from 09-14 August 2021 in the Persian Gulf.
The inaugural edition of Zair-Al-Bahr (Roar of the Sea) was conducted during 17–21 November 2019 at Doha.
The present edition of the exercise included a three day harbour phase followed by a two day sea phase. In the sea phase of the exercise, Indian Navy Stealth Frigate INS Trikand participated.
News Crux Web Portal & Apps
'Yuktdhara': A New Geospatial Planning Portal
---
The Union Ministry of Rural Development and Panchayati Raj has launched a new geospatial planning portal, 'Yuktdhara', which will help in facilitating new MGNREGA assets using remote sensing and geographic information system-based data.
The name given is very apt as the word 'Yukt' is derived from 'Yojanam' (planning) and 'Dhara' indicates flow.
This platform will serve as a repository of assets (geotags) created under various national rural development programmes i.e. MGNREGA, Integrated Watershed Management Programme, Per Drop More Crop programme and Rashtriya Krishi Vikas Yojana, along with field photographs.
The portal is a joint effort of the Indian Space Research Organisation (ISRO) and the Ministry of Rural development towards realising a G2G (Government-to-Government) service for rural planning in support of decentralised decision making.
ISRO's Geoportal 'Bhuvan' - a geospatial platform for several developmental planning activities across India was serving prior to this.
Current News Indian Economy Infrastructure
National Monetisation Pipeline: Unlocking Value in Brownfield Projects
---
On 23rd August 2021, Union Minister for Finance and Corporate Affairs launched a four year (FY2022-FY2025) National Monetisation Pipeline (NMP) worth Rs 6 lakh crore to unlock value in brownfield projects by engaging the private sector, transferring to them the rights but not the ownership in projects; and using the funds for infrastructure creation across the country.
The pipeline has been developed by NITI Aayog, in consultation with infrastructure line ministries, based on the mandate for 'Asset Monetisation' under Union Budget 2021-22.
The NMP period has been kept co-terminus with the remaining period of the National Infrastructure Pipeline (NIP).
Need
Developed in the backdrop of the unprecedented Covid-induced economic and fiscal shocks, NMP lists out assets and asset classes, under various infrastructure ministries, which will be monetised over a period of time.
India is transitioning from an agrarian economy to a service sector economy giving a boost to urbanization and hence creating a need for a robust infrastructure.
India needs to spend about US$ 1.4 Tn on Infrastructure to reach the target GDP of US$ 5 Tn by 2024-25.
The National Infrastructure Pipeline (NIP) unveils the infrastructure projects across various states which will receive the expected funding of US$ 1.4 Tn over the next 5 years.
Key Objectives of NMP
The end objective of this initiative is to enable 'infrastructure creation through monetisation' wherein the public and private sector collaborate, each excelling in their core areas of competence, so as to deliver socio-economic growth and quality of life to the country's citizens. Also,
serve as a medium-term roadmap for the line ministries and agencies,
provide medium-term visibility to investors on infrastructure assets pipeline,
provide a platform for ministries to track asset performance, and
bring in greater efficiency and transparency in public assets management.
Top Five Sectors for Monetization
The top 5 sectors (by estimated value) capture ~83% of the aggregate pipeline value. These top 5 sectors include: Roads (27%) followed by Railways (25%), Power (15%), oil & gas pipelines (8%) and Telecom (6%).
Sector wise Monetisation Pipeline over FY 2022-25 (Rs crore)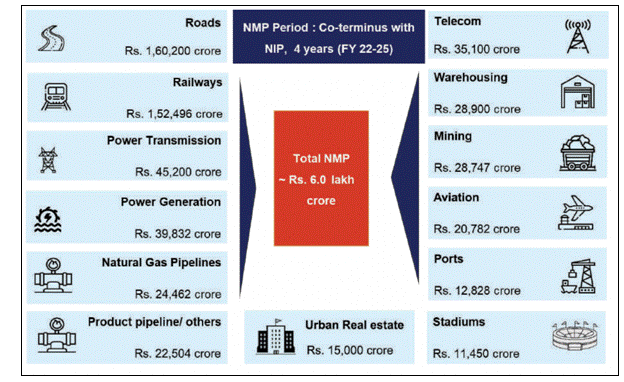 Highlights
This pipeline will only include brownfield assets owned by the government, and will not include land assets of the government.
This will monetize government's existing asset base and use the proceeds to boost infrastructure.
Under the newly announced National Monetisation pipeline, government assets covers about 14% of Centre's outlay and NMP covers over 20 asset classes and 12 line ministries.
Centre to incentivise States to monetise their assets

Incentives to be given as 50-year interest-free loans.
Upto Rs 5,000 crore already budgeted in the current year.
If the states divest a PSU, they will receive 100% as financial assistance.
If they monetize the asset, they will receive 33% of that amount.
If states list a public company in the stock markets, the government will be give them 50% of that amount.

Roads, railways and power to be priority sectors

Rs 1.6 lakh crore worth national highways of NHAI.
Rs 67,000 crore worth transmission lines from Power Grid.
Rs 32,000 crore worth Hydro, Solar, and Wind projects from NHPC, NTPC, and Neyveli Lignite.
400 stations, about 150 trains, tracks and woodshed worth Rs 1.5 lakh crore.
Current News Ecology & Environment Sustainable Developement
NTPC commissions largest Floating Solar PV Project
---
NTPC Limited has commissioned the largest floating solar PV project of 25 MegaWatt on the reservoir of its Simhadri thermal station in Visakhapatnam, Andhra Pradesh.
This is also the first solar project to be set up under the Flexibilisation Scheme, notified by the Government of India in 2018.
The floating solar installation has a unique anchoring design which is spread over 75 acres. This floating solar project has the potential to generate electricity from more than one lakh solar PV modules.
This will not only help to light around seven thousand households but also ensure at least 46 thousand tons of carbon dioxide is not emitted every year during the lifespan of this project.
News Crux Important Days/Weeks
22 August 2021: World Sanskrit Day
---
The World Sanskrit Day is observed every year on 'Shravan Poornima' according to the Hindu calendar. In 2021, this day is being observed on August 22, 2021.
The day commemorates the ancient Indian language of Sanskrit and aims to promote its revival and maintenance.
In 2021, India is observing the Sanskrit Week from August 19 to August 25, 2021.
News Crux Defence/Military Exercises
Exercise Konkan-2021
---
A bilateral naval exercise 'Exercise Konkan-2021' between Indian Navy and Royal Navy (UK) was held on 16th August in the English Channel.
From India INS Tabar participated in this exercise.
The Indo-UK Naval exercise included the participation of integral helicopters of the two ships and the Falcon Electronic Warfare aircraft.
News Crux Defence/Military Exercises
Exercise Malabar-2021
---
Navies of four countries – India, Japan, the USA and Australia will participate in the Exercise MALABAR-21 that will be conducted at sea from 26-29 Aug 21 at Guam (a U.S. island territory in Micronesia, in the Western Pacific).
Exercise Malabar is a trilateral naval exercise involving the United States, Japan and India as permanent partners.
Originally begun in 1992 as a bilateral exercise between India and the United States, the exercise was expanded in 2007 with the participation of Japan, Singapore and Australia. Japan became a permanent partner in 2015. Australia participated in the exercise again in 2020, marking the second time that the Quad will be jointly participating in a military exercise.
News Crux Appointment & Resignation
La Ganesan appointed as the Governor of Manipur
---
La Ganesan has been appointed as Governor of Manipur on 22nd August 2021.
Ganesan replaced Najma Heptulla, who retired earlier this month.
A former Rajya Sabha MP, La Ganesan is the 17 Governor of Manipur.
News Crux Appointment & Resignation
Ismail Sabri Yaakob becomes Prime Minister of Malaysia
---
Ismail Sabri Yaakob has been appointed as the 9th Prime Minister of Malaysia on 21 August 2021.
He succeeded Muhyiddin Yassin, who resigned from the post after losing majority support in the lower house of parliament.
He served as the 13th Deputy Prime Minister from July 2021 to August 2021 as well as the Minister of Defence.
News Crux Reports/Committee/Commission
Committee for Doubling Production and Quadrupling Exports of Handlooms
---
On 19th August 2021, the Government has constituted a Committee headed by Sh. Sunil Sethi, Chairman, Fashion Design Council of India (FDCI) New Delhi in pursuance of the announcement made on the occasion of National Handloom Day on 7th August 2021 for doubling the production and quadrupling the exports of handlooms in a span of 3 years.
The Terms of Reference of the Committee are as follows:
To suggest the strategy and policy framework for doubling the production and for improving the quality of handloom products with the aim of enhancing income of the weavers.
To suggest ways for partnering and collaboration of handloom weavers agencies with the designers, buying houses and institutions, organizations and exporters.
To suggest measures for quadrupling exports of Handloom products.
To suggest the ways and means for improving the marketing of handloom products in domestic market.
To suggest the measure for improving the input supplies (raw materials, credit, technology upgradation, skilling, designs etc.
The Committee will submit its preliminary recommendations within 30 days and final report within 45 days from the day of constitution the Committee.
News Crux Miscellaneous
Zycov-D gets Emergency Approval: First Vaccine for Above 12
---
The Drug Controller General has granted emergency approval to the Zycov-D, a COVID-19 vaccine developed by the Ahmedabad-based Zydus Cadilla group.
It the first vaccine in India that can be administered to adults as well as those 12 and above.
It is also the only DNA-based vaccine in the world and can be administered without a needle, purportedly minimising chances of reactions.
Interim results from Phase-III Clinical Trials showed a primary efficacy of 66.6% for symptomatic RT-PCR positive cases.
PIB News National
DRDO develops Advanced Chaff Technology for Indian Air Force
---
Defence Research & Development Organisation (DRDO) has developed an Advanced Chaff Technology to safeguard fighter aircraft of the Indian Air Force (IAF) against hostile radar threats.
Defence Laboratory Jodhpur, a DRDO laboratory developed the advanced Chaff material and chaff cartridge-118/I in collaboration with High Energy Materials Research Laboratory (HEMRL), a Pune based laboratory of DRDO, meeting qualitative requirements of IAF.
The Indian Air Force has started the process of induction of this technology after completion of successful user trials.
In today's electronic warfare, survivability of fighter aircraft is of prime concern because of advancement in modern radar threats. To ensure survivability of aircraft, Counter Measure Dispensing System (CMDS) is used which provides passive jamming against Infra-Red and radar threats.
Chaff is a critical defence technology used to protect fighter aircraft from hostile radar threats. The importance of this technology lies in the fact that very less quantity of chaff material deployed in the air acts as decoy to deflect enemy's missiles for ensuring safety of the fighter aircraft.
The technology has been given to the industry for production in large quantities to meet the annual rolling requirement of the Indian Air Force.
News Crux Species In News
'Amolops adicola': A New Species of Cascade Frog
---
Researchers have discovered a new species of cascade frog from Arunachal Pradesh and named it after the Adi hills, the abode of Adi tribes living in Arunachal Pradesh.
Amolops adicola is a predominantly brown colour frog, with a size ranging roughly between 4 cm and 7 cm.
Cascade frogs are named so because of their preference for small waterfalls or cascades in flowing hill streams, for which they have developed certain morphological features such as expanded digit tips and extensive foot webbing that makes them adapt to strong water currents.
The species draws its nomenclature from Adi tribes, an indigenous group of people from the Himalayan regions of Arunachal Pradesh. The region from where the discovery was made is also referred as Adi hills — adi literally means "hill" or "mountain top". Historically, this region was also known as Abor hills.
News Crux Obituary
First Dronacharya Awardee Athletics Coach O. M. Nambiar Passes Away
---
Noted athletics coach O.M. Nambiar, the man who transformed a village girl P.T. Usha into Asia's Golden Girl, passed away on 19th August 2021.
Nambiar, an athlete himself during his college and Air Force days, was honoured with the Padma Shri Award in 2021.
He was the first to win Dronacharya Award (given to coaches) in athletics in 1985 (inaugural year of the award).
PIB News Ecology & Environment
Cabinet approves Ratification of Kigali Amendment to the Montreal Protocol
---
On 18th August 2021, the Union Cabinet gave its approval for ratification of the Kigali Amendment to the Montreal Protocol on Substances that Deplete the Ozone Layer for phase down of Hydroflurocarbons (HFCs) by India, adopted by the Parties to the Montreal Protocol on October, 2016 at 28th Meeting of the Parties to the Montreal Protocol held at Kigali, Rwanda.
Benefits
HFC phasedown is expected to prevent the greenhouse gas emissions, helping prevent climate change and would benefit the people.
The industry producing and consuming Hydrofluorocarbons will be phasing out Hydrofluorocarbons as per the agreed schedule under and transition to non-HFC and low global warming potential technologies.
Implementation Strategy and Targets
National strategy for phase down of Hydrofluorocarbons as per the applicable phase down schedule for India will be developed after required consultation with all the industry stakeholders by 2023.
Amendments to the existing legislation framework, the Ozone Depleting Substances (Regulation and Control) Rules to allow appropriate control of the production and consumption of Hydrofluorocarbons to ensure compliance with the Kigali Amendment will be done by mid-2024
Major Impact
Hydrofluorocarbons' phasedown is expected to prevent the emission of up to 105 million tonne of carbondioxide equivalent of greenhouse gases, helping to avoid up to 0.5 degree Celsius of global temperature rise by 2100, while continuing to protect the ozone layer.
Implementation of HFC phase down under the Kigali Amendment through the adoption of low-global warming potential and energy-efficient technologies will achieve energy efficiency gains and carbon dioxide emissions reduction - a "climate co-benefit".
Kigali Amendment
Under the Kigali Amendment; Parties to the Montreal Protocol will phase down production and consumption of Hydrofluorocarbons, commonly known as HFCs.
Hydrofluorocarbons were introduced as non-ozone depleting alternative to chlorofluorocarbons (CFC) such as R-12 and hydrochlorofluorocarbons (HCFC) such as R-21. While HFCs do not deplete the stratospheric ozone layer, they have high global warming potential ranging from 12 to 14,000, which have adverse impact on climate.
Recognizing the growth in use of HFCs, especially in Refrigeration and Air-conditioning sector the Parties to the Montreal Protocol, reached agreement at their 28th Meeting of the Parties (MOP) held in October 2016 in Kigali, Rwanda to add HFCs to the list of controlled substances and approved a timeline for their gradual reduction by 80-85 per cent by the late 2040s.
Kigali Amendment & India
India will complete its phase down of HFCs in 4 steps from 2032 onwards with cumulative reduction of 10% in 2032, 20% in 2037, 30% in 2042 and 80% in 2047.
About Montreal Protocol
The Montreal Protocol on Substances that Deplete the Ozone Layer is an international environmental treaty for protection of the Ozone Layer by phasing out the production and consumption of man-made chemicals referred to as ozone depleting substances (ODS).
Montreal Protocol & India
India became a Party to the Montreal Protocol on Substances that Deplete the Ozone Layer on 19 June 1992 and since then has ratified the amendments to the Montreal Protocol.
After the present approval of the Cabinet, India will be ratifying the Kigali Amendment to the Montreal Protocol for phase down of Hydrofluorocarbons.
India has successfully met the phase out targets of all the Ozone Depleting Substances as per the Montreal Protocol Schedule.
PIB News Indian Economy
Pilot Launch of International Bullion Exchange
---
On 18th August 2021, Shri Injeti Srinivas, Chairperson, International Financial Services Centres Authority (IFSCA), launched the pilot run/soft launch of the International Bullion Exchange which is scheduled to go live on October 1, 2021 the Foundation Day of IFSCA.
Following the announcement by Union Minister for Finance & Corporate Affairs Smt. Nirmala Sitharaman in Union Budget 2020-21, the International Financial Services Centres Authority (Bullion Exchange) Regulations, 2020 were notified on December 11, 2020 which inter alia cover the Bullion Exchange, Clearing Corporation, Depository and Vaults.
Government has also taken steps to notify bullion spot trading and bullion depository receipts with underlying bullion as financial products and bullion related services as financial services.
The International Bullion Exchange shall be the "Gateway for Bullion Imports into India", wherein all the bullion imports for domestic consumption shall be channelized through the exchange.
The exchange ecosystem is expected to bring all the market participants at a common transparent platform for bullion trading and provide an efficient price discovery, assurance in the quality of gold, enable greater integration with other segments of financial markets and help establish India's position as a dominant trading hub in the World.
The IFSCA has approved the application by the Holding Company for setting up the International Bullion Exchange through the subsidiary of the holding company, "India International Bullion Exchange IFSC Ltd.", encompassing the Bullion Exchange and the Bullion Clearing Corporation.
CDSL-IFSC, a foreign depository has been designated as the Bullion Depository for the Bullion Exchange responsible for managing the Vault Manager.
News Crux Important Days/Weeks
19 August: World Humanitarian Day
---
World Humanitarian Day is marked on August 19 annually to honour humanitarians across the world. The day is observed to pay tribute to people who sacrificed their lives despite the odds and continue to provide protection and life-saving support to people in need.
With most climate campaigns focused on slowing climate change and securing the planet's future, World Humanitarian Day 2021, will highlight the immediate consequences of the climate emergency for the world's most vulnerable people and ensure that their voices are heard, and their needs top the agenda at the UN Climate Change Conference (COP26) in November.
This day was designated in memory of the 19 August 2003 bomb attack on the Canal Hotel in Baghdad, Iraq, killing 22 people, including the chief humanitarian in Iraq, Sergio Vieira de Mello. In 2009, the United Nations General Assembly formalized the day as World Humanitarian Day (WHD).
Current News Indian Economy Survey And Index
RBI launches Financial Inclusion Index 2021
---
On 17th August 2021, the Reserve Bank of India (RBI) has launched a "Financial Inclusion Index" or FI-Index to measure and improve the extent of access, usage and quality of financial inclusion in the country.
Findings
The annual FI-Index for the period ending March 2021 is 53.9 against 43.4 for the period ending March 2017.
Objective of the Index
The Financial Inclusion Index (FI-Index) has been created to capture the extent of financial inclusion across the country.
About the Index
The announcement regarding the creation of the Financial Inclusion Index was made in the first Bi-monthly Monetary Policy Statement for 2021-2022 on April 7.
The FI-Index has been conceptualised as a comprehensive index, incorporating details of banking, investments, insurance, postal as well as the pension sector, in consultation with government and respective sectoral regulators.
The FI-Index will be published annually in July every year.
How it is measured?
It captures information on the financial inclusion aspects in a single value ranging between 0-100, where 0 represents complete financial exclusion and 100 indicates full financial inclusion.
The FI-Index comprises three broad parameters -- Access (35%), Usage (45%), and Quality (20%), with each of these consisting of dimensions computed based on many indicators.
The Index is also responsive to the ease of access, availability and the usage of services, and the quality of services, comprising all 97 indicators.
Unique Features
Quality Aspect of Financial Inclusion: A unique feature of the Index is the quality parameter, which captures the quality aspect of financial inclusion as reflected by the financial literacy, consumer protection, and inequalities and deficiencies in services.
No Base Year: The FI-Index has been constructed without any 'base year', and as such it reflects cumulative efforts of all stakeholders over the years towards financial inclusion.
News Crux Important Days/Weeks
16 August: De Jure Transfer Day (Puducherry)
---
On 16th August, Puducherry celebrated its De Jure Transfer day.
De Jure Transfer Day is the day when Puducherry (then Pondicherry) really got independence.
The then Pondicherry was under French control well after 1947, even when the other parts of India were free. Soon protests rose demanding a free government, culminating in Indo-French dialogues on the issue.
On March 13, 1954, the talks on settlement of French territories began, and the process ended with the signing of a treaty for cessation of French control, in May 1956. The treaty was cemented in the French parliament in May 1962.
On 16th August 1962, there was a complete surrender of Indian territories after the exchange of instruments of ratification between the two nations.
Kizhur, a remote village under the Puducherry, was chosen by the then French Rulers for negotiations with Indian Authorities. It was the only border place of Puducherry that was completely under French Control. All other places shared intermittent borders with Tamil Nadu.
News Crux Miscellaneous
World's 2nd-largest refurbished National Gene Bank
---
Agriculture and Farmers Welfare Minister Narendra Singh Tomar recently inaugurated the world's second-largest refurbished National Gene Bank at the National Bureau of Plant Genetic Resources, Pusa in New Delhi.
The Gene Bank was established in 1996 to preserve the seeds of Plant Genetic Resources for future generations.
It has the capacity to preserve about ten lakh germplasm in the form of seeds.
Presently, it is protecting four lakh 52 thousand accessions, of which over two lakh are Indian germplasm.
Current News National Miscellaneous
75th Independence Day: Highlights of PM's Speech
---
Prime Minister of India addressed the nation from the ramparts of the Red Fort for the eighth consecutive time at the 75th Independence Day on 15th August 2021. He touched upon various achievements and future plans in his speech. Highlights of some of them are:
"Sabka Saath, Sabka Vikas, Sabka Vishwas and Sabka Prayaas": The Prime Minister laid the roadmap for the country for the next 25 years, saying "Sabka Saath, Sabka Vikas, Sabka Vishwas and Sabka Prayaas" was very important for the achievement of the nation's goals.
PM Gati Shakti Plan: In a big infrastructural development push, PM announced Rs 100 lakh crore 'Pradhan Mantri Gati Shakti National Master Plan'. The initiative, besides bringing employment opportunities for the youth, would help local manufacturers become competitive globally.
'Amrit Kaal': The PM described next 25 years as 'Amrit Kaal' – an opportune time for the development journey of the country. The purpose of 'Amrit Kaal' is to better the lives of citizens, lessen the development divide between villages and cities, reduce government interference in people's lives, and have the latest technology so that we are not behind any country in the world.
Induction of Girls in Sainik Schools: After the experiment of admitting girls in Sainik schools was carried out in Mizoram, now girls would be given entry into Sainik schools across the country. At present, 33 Sainik schools are operating in the country. Sainik schools are run by the Sainik Schools Society, which is under the administrative control of the Ministry of Defence. The aim of establishing Sainik schools is to prepare the students from an early age for their entry into the Indian armed forces.
Farmers: The government's mantra is 'Chhota kisan bane desh ki shaan'. In the coming years, the Govt. will increase the collective power of the small farmers of the country. They will be provided new facilities.
Rice Fortification: Emphasising that malnutrition is a "hurdle" in the development of women and children, Prime Minister announced fortification of rice distributed under various government schemes including Public Distribution System (PDS) and Mid-Day-Meal scheme by 2024.
National Hydrogen Mission: A National Hydrogen Mission was announced in view of climate change and the government would aim to make India a hub for production and export of green hydrogen.
Self-Reliant in Energy Production: To make India self-reliant in energy production, PM said, "Today, we have to pledge to make India energy independent before completing 100 years of Independence. India has moved towards electric mobility and work is underway on 100% electrification of Indian Railways with the aim of becoming a net-zero carbon emitter by the year 2030."
State In News Chhattisgarh
Four New Districts to come up in Chhattisgarh
---
Chhattisgarh Chief Minister Bhupesh Baghel announced the creation of four new districts along with 18 tehsils during his 15th August address on 75th Independence Day.
The new districts that will come into existence are Manendragarh, Mohla-Manpur, Sakti and Sarangarh-Bilaigarh. The declaration takes the total number of districts in the state to 32.
Other Announcements
'Minimata Park': 'Minimata Park' will be developed exclusively for the women in every district headquarter and the municipal corporation of the state. Minimata was the first woman MP from Chhattisgarh elected in 1952 and had devoted her life toward empowerment of women and betterment of society.
'Dhanwantari Yojana': Medicines at concessional rates as decided by the state government to be made available to the people under the 'Dhanwantari Yojana' across the urban areas.
News Crux Persons In News
Yogendra Singh Yadav conferred the rank of Honorary Captain
---
On the occasion of the 75th Independence Day, Subedar Major (Honorary Lieutenant) Yogendra Singh Yadav, Param Vir Chakra, was conferred the rank of Honorary Captain by the President of India.
Subedar Major (Honorary Lieutenant) Yogendra Singh Yadav, PVC is the youngest person ever to be awarded the highest gallantry decoration of the country during wartime, the Param Vir Chakra, at 19 years old. His actions led to the capture of major features of the Tiger Hill complex by 18 GRENADIERS.
News Crux Places In News
Deadliest Earthquake of 2021 felt in Haiti
---
On 14 August 2021, a magnitude 7.2 earthquake struck the Tiburon Peninsula in the Caribbean nation of Haiti on the island of Hispaniola. With more than 8,200 buildings damaged or destroyed, and deaths currently estimated at 1,297. It is currently the deadliest earthquake of 2021.
According to the United States Geological Survey, the earthquake occurred as a result of oblique-reverse faulting on the Enriquillo–Plantain Garden fault zone. The fault is a transform plate boundary that separates the Caribbean Plate from the Gonave Microplate.
Earlier, Haiti witnessed another worst earthquake in 2010 that killed some 300,000 people.
Current News Science & Technology Biotechnology
"IndiGau': India's first SNP based Chip for Cattle Breeds
---
"IndiGau', India's first Single Nucleotide Polymorphism (SNP) based chip for the conservation of pure varieties of indigenous cattle breeds like, Gir, Kankrej, Sahiwal, Ongole, etc. was launched on 13 August 2021.
This indigenous chip was developed by the concerted efforts of scientists of National Institute of Animal Biotechnology (NAIB), Hyderabad.
IndiGau is purely indigenous and the largest cattle chip of the world. It has 11,496 markers (SNPs) more than that placed on 777K Illumina chip of US & UK breeds.
This chip will have practical utility in the Governments schemes to achieve the goal of conservation of our own breeds with better characters and help towards doubling of farmers' income by 2022.
SNPs (Single nucleotide polymorphisms), frequently called SNPs are most common type of genetic variations that help predict response to certain drugs, susceptibility to environmental factors such as toxins, and risk of developing particular diseases. SNPs can also be used to track the inheritance of disease genes within families.
Current News Ecology & Environment Sustainable Developement
Plastic Waste Management Amendment Rules 2021
---
On 13th August 2021, the Ministry of Environment, Forest and Climate Change has notified the Plastic Waste Management Amendment Rules, 2021, which prohibits identified single use plastic items which have low utility and high littering potential by 2022.
Major Prohibitions
The manufacture, import, stocking, distribution, sale and use of following single-use plastic, including polystyrene and expanded polystyrene, commodities shall be prohibited with effect from the 1st July, 2022:

Ear buds with plastic sticks, plastic sticks for balloons, plastic flags, candy sticks, ice-cream sticks, polystyrene (Thermocol) for decoration;
Plates, cups, glasses, cutlery such as forks, spoons, knives, straw, trays, wrapping or packing films around sweet boxes, invitation cards, and cigarette packets, plastic or PVC banners less than 100 micron, stirrers.
Other Regulations
The thickness of plastic bags would be increased from 50 to 75 microns from September 30, 2021, and to 120 microns with effect from December 31, 2022, so that they could be reused.
Current News Ecology & Environment Biodiversity
Four more sites of India added to Ramsar List
---
Four more wetlands from India got recognition from the Ramsar Secretariat as Ramsar sites.
These sites are Thol and Wadhwana from Gujarat and Sultanpur and Bhindawas from Haryana.
Now, the number of Ramsar sites in India is 46.
While Haryana got its first Ramsar site, Gujarat got two more after Nalsarovar which was declared in 2012.
Brief about the New Ramsar Sites
Thol Lake Wildlife Sanctuary from Gujarat lies on the Central Asian Flyway and more than 320 bird species can be found here. The wetland supports more 30 threatened waterbird species, such as the critically endangered White-rumped Vulture and Sociable Lapwing , and the vulnerable Sarus Crane, Common Pochard and Lesser White-fronted Goose.
Wadhvana Wetland from Gujarat is internationally important for its birdlife as it provides wintering ground to migratory waterbirds, including over 80 species that migrate on the Central Asian Flyway. They include some threatened or near-threatened species such as the endangered Pallas's fish-Eagle, the vulnerable Common Pochard, and the near-threatened Dalmatian Pelican, Grey-headed Fish-eagle and Ferruginous Duck.
Bhindawas Wildlife Sanctuary, the largest wetland in Haryana is a human-made freshwater wetland. Over 250 bird species use the sanctuary throughout the year as a resting and roosting site. The site supports more than ten globally threatened species including the endangered Egyptian Vulture, Steppe Eagle, Pallas's Fish Eagle, and Black-bellied Tern.
Sultanpur National Park from Haryana supports more than 220 species of resident, winter migratory and local migratory waterbirds at critical stages of their life cycles. More than ten of these are globally threatened, including the critically endangered sociable lapwing, and the endangered Egyptian Vulture, Saker Falcon, Pallas's Fish Eagle and Black-bellied Tern.
Ramsar Convention
The Ramsar Convention is an international treaty for the conservation and wise use of wetlands. It is named after the Iranian city of Ramsar, on the Caspian Sea, where the treaty was signed on February 2, 1971.
Ramsar List
The aim of the Ramsar list is "to develop and maintain an international network of wetlands which are important for the conservation of global biological diversity and for sustaining human life through the maintenance of their ecosystem components, processes and benefits".
Importance of Wetlands
Wetlands provide a wide range of important resources and ecosystem services such as food, water, fibre, groundwater recharge, water purification, flood moderation, erosion control and climate regulation. They are, in fact, are a major source of water and our main supply of freshwater comes from an array of wetlands which help soak rainfall and recharge groundwater.
News Crux Important Days/Weeks
14 August: Partition Horrors Remembrance Day
---
In memory of the struggles and sacrifices of Indian people, 14th August will be observed as Partition Horrors Remembrance Day.
Under a plan released by India's last Viceroy Lord Mountbatten on the country's independence from the British on June 3, 1947, it was announced that India would be splitting into two nations after its independence. The plan, also known as the Mountbatten Plan, announced the principles of partition and gave autonomy and sovereignty to both India and Pakistan. It also gave them the right to form their own constitution.
Millions of people were displaced and many more were killed after large scale riots broke out as India and Pakistan were divided into two countries after the British colonial rule in 1947. As many as 1 million people, some estimates put the toll at double this figure, were killed in the brutal violence that followed Partition. During the violence of Partition, thousands of women and girls were raped or abducted by both sides.
Fifteen million Hindus, Sikhs and Muslims migrated to either of the countries, often by foot, during Partition. "Refugee specials" trains also carried many people between India and Pakistan in 1947.
News Crux Defence/Military Exercises
SEACAT 2021
---
The United States-led Southeast Asia Cooperation and Training (SEACAT) military exercises are under way in Singapore and online.
Now in its 20th year, the annual drills began on 10th August and involve the navies of of 21 countries.
They include Australia, Bangladesh, Brunei, Canada, France, Germany, India, Indonesia, Japan, Malaysia, Maldives, New Zealand, Philippines, South Korea, Singapore, Sri Lanka, Thailand, East Timor, United Kingdom, United States, and Vietnam.
The SEACAT exercises are taking place as China and Russia also undertake joint military exercises in China's north-central Ningxia region and the US prepares for drills with South Korea that have raised tensions with Pyongyang.
The South China Sea, which is claimed almost in its entirety by China but also by Southeast Asian countries including the Philippines, Vietnam and Malaysia, is one of the world's busiest waterways and has become an increasing focus of maritime interest.
SEACAT began in 2002 as "Southeast Asia Cooperation Against Terrorism".
Several international and non-governmental organisations are also taking part in drills this year. They include the United Nations Office of Drugs and Crime (UNODC), EU Critical Maritime Route Wider Indian Ocean (CRIMARIO), and the International Committee of the Red Cross (ICRC).
News Crux Defence/Military Exercises
Sibu/Cooperation-2021
---
Russia and China have launched the biggest joint military exercise - Sibu/Cooperation-2021 - in China's north-central Ningxia region on 9th August involving 10,000 ground troops and Air Forces of the two countries.
Ningxia region is strategically located along the Xinjiang border where Chinese officials have been accused of carrying out human rights violations against ethnic Uighurs in internment camps.
Russia also carried out joint drills with Tajikistan with Uzbekistan forces on 10th August along the Afghan border amid the Taliban advance in the country with Russia reinforcing its military base in Tajikistan.
Current News Indian Economy
National Edible Oil Mission-Oil Palm (NMEO-OP)
---
A new national initiative on palm oil production - National Edible Oil Mission-Oil Palm (NMEO-OP) - was announced by the Union Govt. to help increase farm incomes.
The scheme for self-reliance in edible oil involves investment of over Rs 11,000 crore.
Need
To curb on hefty import bills (India's palm oil imports are almost 60% of its total vegetable oil imports).
To check domestic edible oil prices that is dictated by expensive palm oil imports.
To fill the huge disparity in production and import of Palm Oil (India is the largest consumer of vegetable oil in the world. In 2016 -2017, the total domestic consumption of palm oil by India was 9.3 million MT, with 98.97 per cent of it imported from Malaysia and Indonesia. This means India was producing domestically only 1.027 per cent of its requirement)
About the Scheme
Raise Domestic Production: The Centre plans to raise the domestic production of palm oil by three times to 11 lakh MT by 2025-26. This will involve raising the area under oil palm cultivation to 10 lakh hectares by 2025-26 and 16.7 lakh hectares by 2029-30.
Incentive: The scheme is expected to incentivise production of palm oil to reduce dependence on imports and help farmers cash in on the huge market.
Area of Special Emphasis: The special emphasis of the scheme will be in India's north-eastern states and the Andaman and Nicobar Islands due to the conducive weather conditions in the regions.
India's Initiatives towards Palm Oil Production
India has been trying to expand its domestic production by investing in domestic oil palm. Government schemes between 2011-14, like the Oil Palm Area Expansion (OPAE) and National Mission on Oilseeds and Oil Palm (NMOOP 2014), were launched to increase domestic cultivation of oil palm.
Current News Ecology & Environment
"Seed Rakhis" under 'Vruksha Bandhan Project'
---
In a unique initiative, the Ministry of Tribal Affairs in partnership with The Art of Living Foundation, Aurangabad, Maharashtra has launched 'Vrushka Bandhan Project' where 1100 tribal women are creating 'Rakhis' for Raksha Bandhan with seeds of indigenous trees, which is a unique contribution to increasing forest cover & combating climate change.
The initiative was part of project sanctioned by Ministry of Tribal Affairs to the Art of Living in October 2020 under which 10000 tribal farmers of 10 tribal villages in Aurangabad are being trained on sustainable natural farming based on Go-Adharith farming techniques.
The project is based on Gau adharit paramparagat kheti seeks to preserve and revive the Traditional Ecological Knowledge of tribal communities and protect them from the negative effects of chemical agriculture.
The Rakhis are made of indigenous seeds stuck on naturally dyed, soft indigenous, non-toxic, biodegradable cotton. Once used, the seeds can be sown in soil, thereby benefiting the environment.
It is expected that thousands of trees would be planted under this project and project will provide employment to tribal women associated with the project.
News Crux Defence/Military Exercises
Quad Navies to undertake Ex-Malabar 2021
---
The Navies of Quad countries (India, the US, Japan and Australia) will conduct the annual Malabar naval exercises, from August 21, off the coast of Guam, in the Indo-Pacific.
The harbour phase of the Malabar naval exercises will take place from August 21 to 24, 2021. The sea phase of the exercise will be held on August 25 to 29, 2021.
Originally begun in 1992 as a bilateral exercise between India and the United States, the exercise was expanded in 2007 with the participation of Japan, Singapore and Australia. Japan became a permanent partner in 2015. Australia participated in the exercise again in 2020.
News Crux Survey/Index
Global Youth Development Index 2020
---
India is ranked 122nd on a new Global Youth Development Index measuring the condition of young people across 181 countries, released by the Commonwealth Secretariat in London on 10th August 2021.
The triennial rankings of youth development found India among the top five risers on the index between 2010 and 2018, alongside Afghanistan and Russia, advancing their score on average by 15.74 per cent across areas such as education and employment.
Singapore ranked topmost followed by Slovenia, Norway, Malta and Denmark. Chad, the Central African Republic, South Sudan, Afghanistan and Niger came last respectively.
The index ranks countries between 0.00 (lowest) and 1.00 (highest) according to the developments in youth education, employment, health, equality and inclusion, peace and security, and political and civic participation. It looks at 27 indicators including literacy and voting to showcase the state of the world's 1.8 billion people between the age of 15 and 29.
The 2020 Global Youth Development Index reveals that the conditions of young people have improved around the world by 3.1 per cent between 2010 and 2018. Overall, the index shows advances in youth's participation in peace processes and their education, employment, inclusion and health care since 2010.
News Crux Famous Books
"Balakot Air Strike: How India Avenged Pulwama"
---
"Balakot Air Strike: How India Avenged Pulwama" is written by Navy veteran Manan Bhatt.
The book revisits the chain of real-life events surrounding February 2019 Pulwama suicide bombing attack, and India's strong hit-back in the form of Balakot airstrikes twelve days later.
Sports In News Football
FIFA Rankings: India stay 105th
---
The Indian national football team remained at 105th in the world in the latest FIFA men's rankings released on 12 August 2021.
The points gained in their last two qualifying matches for the 2022 FIFA World Cup helping them remain in position.
India had achieved their highest-ever ranking of 94 in February 1996 while they were at their worst position of 173 in the list for March 2015.
Belgium leads the rankings ahead of Brazil, winner of the Olympic gold medal in Tokyo. France (3rd), England (4th), Italy (5th), Argentina (6th), Spain (7th), Portugal (8th), Mexico (9th), and the USA (10th) comprise the top 10 in global rankings.
Japan is the highest-ranked Asian team at 24 with Iran snapping at their heels at 26.
Current News National Social Issue & Social Justice
Quality of Life for Elderly Index
---
On 11th August 2021, 'Quality of Life for Elderly Index' was released by Dr Bibek Debroy, Chairman, Economic Advisory Council to the Prime Minister (EAC-PM).
The Index has been created by the Institute for Competitiveness at the request of EAC-PM and it sheds light on an issue often not mentioned- problems faced by the elderly.
The report identifies the regional patterns of ageing across Indian States and assesses the overall ageing situation in India.
The report presents a deeper insight into how well India is doing to support the well-being of its ageing population.
The Index framework includes four pillars and eight sub-pillars:
Four Pillars: Financial Well-being, Social Well-being, Health System and Income Security
Eight Sub-Pillars: Economic Empowerment, Educational Attainment & Employment, Social Status, Physical Security, Basic Health, Psychological Wellbeing, Social Security and Enabling Environment.
Key Highlights from the Report
The Health System pillar observes the highest national average, 66.97 at an all-India level, followed by 62.34 in Social Well-being. Financial Well-being observes a score of 44.7, which is lowered by the low performance of 21 States across the Education Attainment & Employment pillar, which showcases scope for improvement
States have performed particularly worse in the Income Security pillar because over half of the States have a score below the national average, i.e., 33.03 in Income Security, which is the lowest across all pillars. These pillar-wise analyses help States assess the state of the elderly population and identify existing gaps that obstruct their growth
Rajasthan and Himachal Pradesh are top-scoring regions in Aged and Relatively Aged States, respectively. Chandigarh and Mizoram are top-scoring regions in Union Territory and North-East States category. The Aged States refer to States with an elderly population of more than 5 million, whereas Relatively Aged States refer to States with an Elderly population of less than 5 million.
Utility of this Index
The index can help the nation identify areas that need improvement and grab the current opportunity to start putting positive changes in motion for the next decades.
The index also promotes healthy competition among States through fair rankings and highlights the pillars and indicators they can improve.
Using this index as a tool, the State governments and the stakeholders can identify the areas they need to work upon to provide their older generation with a comfortable life.
Category-wise Rankings of Quality of Life for Elderly Scores (Top 3)
Aged States (elderly population of more than 5 million)
States
Scores
Overall Ranking
Rajasthan
54.61
1
Maharashtra
53.31
2
Bihar
51.82
3
Relatively Aged States (elderly population of less than 5 million)
States
Scores
Overall Ranking
Himachal Pradesh
61.04
1
Uttarakhand
59.47
2
Haryana
58.16
3
North-Eastern States
States
Scores
Overall Ranking
Mizoram
59.79
1
Meghalaya
56.00
2
Manipur
55.71
3
Union Territories
States
Scores
Overall Ranking
Chandigarh
63.78
1
Dadra and Nagar Haveli
58.58
2
Andaman & Nicobar Islands
55.54
3
News Crux Plans & Policy
Ujjwala 2.0 launched from Mahoba
---
On 10th August 2021, Prime Minister Narendra Modi launched the Ujjwala 2.0 scheme virtually from the Mahoba district of the Bundelkhand region in Uttar Pradesh.
He launched the first phase of the scheme in Ballia in Uttar Pradesh in 2016 to distribute 50 million LPG connections to women of Below Poverty Line families.
Ujjwala 2.0 would benefit such poor who were left out of the first phase of Ujjwala scheme and give maximum benefit to lakhs of migrant labour families as it is exempt from address proof - they will only have to submit a "self-declaration".
News Crux Important Days/Weeks
12 August: International Youth Day
---
The International Youth Day is observed on August 12 to draw the attention of governments and others towards youth issues worldwide.
With the world's population expected to increase by 2 billion people in the next 30 years, it has become recognized by numerous stakeholders that simply producing a larger volume of healthier food more sustainably will not ensure human and planetary wellbeing.
The theme of International Youth Day 2021, "Transforming Food Systems: Youth Innovation for Human and Planetary Health", highlights the success of such a global effort will not be achieved without the meaningful participation of young people.
Sports In News Football
Kolkata to host 130th Edition of Durand Cup 2021
---
Kolkata will host the Durand Cup - world's third oldest and Asia's oldest football tournament between 05 September to 03 October 2021, with matches being played at various venues in and around Kolkata.
The prestigious tournament was first held in 1888, at Dagshai (Himachal Pradesh) and is named after Mortimer Durand, who was then the Foreign Secretary in charge of India.
The tournament was a conscious way to initially maintain health and fitness amongst the British troops but was later opened to civilians and currently is one of the leading sports events in the world.
Mohun Bagan and East Bengal are the most successful teams in the history of the Durand Cup winning it sixteen times each.
The winning team is presented with three trophies ie the President's Cup (first presented by Dr Rajendra Prasad), the Durand Cup (the original challenge prize - a rolling trophy) and the Shimla Trophy (first presented by citizens of Shimla in 1903 and since 1965, a rolling trophy).
The Tournament was shifted from Delhi to Kolkata in 2019.
News Crux Bill/Act/Amendment
General Insurance Business (Nationalisation) Amendment Bill 2021
---
On 11th August 2021, the General Insurance Business (Nationalisation) Amendment Bill, 2021 was passed by the Parliament.
Major Features of the Bill
It will allow the government to cut its share in public sector insurance companies, paving the way for more private sector participation.
The Bill has proposed amendments to the General Insurance Business (Nationalisation) Act, 1972.
The Bill removes the mandatory provision of 51 percent shareholding of the central government in General Insurance Corporation of India, National Insurance, New India Assurance, Oriental Insurance and United India Insurance companies.
News Crux Bill/Act/Amendment
National Commission for Homoeopathy (Amendment) Bill 2021
---
On 11th August 2021, the Parliament passed National Commission for Homoeopathy (Amendment) Bill, 2021.
The Bill amends the National Commission for Homoeopathy Act, 2020.
The 2020 Act replaced the Homoeopathy Central Council Act, 1973.The 1973 Act set up the Central Council of Homeopathy for regulating homoeopathic education and practice.The 2020 Act replaced the Council with a national commission for regulating homoeopathic education and practice.
The National Commission for Homoeopathy (Amendment) Bill, 2021 proposes to save the actions done, decisions made, liability incurred by the Board of Governors constituted as per the provisions of the Homoeopathy Central Council (Amendment) Ordinance, 2021 till the constitution of National Commission under National Commission for Homoeopathy Act, 2020.
News Crux Bill/Act/Amendment
National Commission for Indian System of Medicine (Amendment) Bill, 2021
---
On 11th August 2021, the Parliament passed and National Commission for Indian System of Medicine (Amendment) Bill, 2021.
Major Features of the Bill
The National Commission for Indian System of Medicine (Amendment) Bill, 2021 has proposed amendments to save the actions done, decisions made, liability incurred by the Board of Governors constituted as per the provisions of the Indian Medicine Central Council (Amendment) Ordinance, 2021 till the constitution of National Commission under National Commission for Indian System of Medicine Act, 2020.
State In News Assam
Rise in Cases of Child Marriage
---
The data from Social Welfare Department of Assam shows that there is an increase in cases of child marriages in the state.
Area Specific
Most of the cases of child marriage are reported from migrant Muslim-dominated areas, specifically the 'char' (river island) areas and from tea plantations.
The Data
3,192 child marriages were recorded from 2016-17 fiscal to the 2020-21 financial years.
74 child marriages were performed during 2016-17 followed by 448 during 2017-18 and 759 during 2018-19.
The child marriage figure jumped to 1,089 during 2019-20. This worst scenario was witnessed after the Assam Govt. announced a gift of a 'tola' (11.34 grams) of gold for brides and allocated Rs. 300 crore for the gold scheme called 'Arundhati' and set a few conditions for a bride to be eligible for the gold. These included mandatory registration of marriage. Though government had aimed at marital reforms and checking "underage marriage", the schemes backfired.
State Govt.'s initiative to Prohibit Child Marriage
Assam Govt. has appointed child marriage prohibition officers under the Prohibition of Child Marriage Act of 2006 to check child marriages.
Village children protection committees are also being set up.
State In News Kerala
'Navajeevan' Project: Livelihood to above 50 People
---
The Labour Department of Kerala will implement Navajeevan, a project to provide a means of livelihood to those in the 50-65 age group.
Features
Those in the 50-65 age group who have registered themselves in employment exchanges but are unable to find jobs will be given interest-free loans to start self-employment ventures as part of Navajeevan.
Widows who have registered with the exchanges but have no jobs and belong to the below-the-poverty line category, unmarried above the age of 30, unmarrried mother belonging to the Scheduled Tribes, physically challenged women, those with bed-ridden or sick husbands are being given a loan of Rs. 50,000 to start self-employment ventures.
State In News Madhya Pradesh
Bill on Death Penalty in Illicit Liquor Cases Cleared
---
On 10th August 2021, the Madhya Pradesh Assembly passed the Madhya Pradesh Excise (Amendment) Bill, 2021 prescribing capital punishment and life imprisonment in cases related to deaths caused by consumption of spurious liquor.
The bill amending the state Excise Act came in the wake of the death of a dozen people recently.
Under the Bill, provisions of life imprisonment and the death penalty have been made in cases related to deaths due to spurious liquor besides imposing a fine of Rs 20 lakh on culprits.
Earlier, there was a provision of imprisonment up to 10 years in such cases.
The amendment in the Bill also proposed that people who attack police and excise department teams while they are seizing illicit liquor will be arrested without a warrant.
News Crux Places In News
Landfall Island
---
Recently, the Swarnim Vijay Varsh Victory Flame was taken to this Island.
The Landfall Island is the northernmost Island of the Andaman & Nicobar Island chain.
The island is situated between North Andaman Island and Myanmar's Coco Islands. It is separated from North Andaman Island by the Cleugh Passage.
News Crux Persons In News
Justice Rohinton Nariman Retires
---
Noted Supreme Court Judge Justice Rohinton Fali Nariman has retired on 12th August 2021.
In 1993, then Chief Justice of India M.N. Venkatachaliah amended the court's rules to designate him senior advocate at the age of 37.
He was appointed Solicitor-General in 2011.
He became only the fifth lawyer in the nation's history to be directly appointed as judge of the Supreme Court in 2014.
Significant Role as a Judge
Insolvency and Bankruptcy Code: Justice Nariman almost single-handedly steered the Insolvency and Bankruptcy Code. Of the 164 Supreme Court judgments on the code, 81 were authored by him.
Review Petitions: The Supreme Court amended its rules following his judgment that review petitions filed by condemned prisoners should be heard in open court and not within the judges' chambers.
Section 66A of the Information Technology Act: He struck down Section 66A of the Information Technology Act which armed the State with power to send people to prison for "uncomfortable" social media messages.
Homosexuality: He cleansed a colonial smear from the Indian Penal Code by decriminalising homosexuality.
Sabarimala Judgment: He was part of the majority on the Bench which held that women aged between 10 and 50 years cannot be barred from the Sabarimala temple on the biological ground of menstruation.
Instant Talaq: His judgment on instant talaq found the Muslim man's "capricious and whimsical" right "manifestly arbitrary".
Accountability of Political Parties: He held political parties accountable for the 'criminal' candidates they field in elections.
Speaker's Power: He urged Parliament to take away the Speaker's power to decide disqualification under the Tenth Schedule. He said an independent tribunal should be formed for this function.
Current News Science & Technology New Technology
Indian Scientists develop Carbon-based Wrapper for preserving Fruits
---
Indian researchers led by Dr. P. S Vijayakumar from Institute of Nano Science and Technology, Mohali have developed a composite paper made of carbon (graphene oxide) loaded with preservatives that can be used as wrappers to help extend shelf life of fruits.
Unlike the present preservative dipping technology, where the preservatives are adsorbed by the fruit, causing chronic toxicity to the consumers; here preservatives the wrapper releases the preservative only when needed. Conventional preservation relies on coating the preservative with the resin, wax, or edible polymer, which may cause chronic health problems.
The wrapper can be reused, which is not possible with the present technology.
News Crux Bill/Act/Amendment
Parliament passes Limited Liability Partnership (Amendment) Bill 2021
---
On 9th August 2021, the Parliament has passed the Limited Liability Partnership (Amendment) Bill, 2021.
The Bill seeks to amend the Limited Liability Partnership Act, 2008.
The Bill converts certain offences into civil defaults and changes the nature of punishment for these offences.
It also defines small LLP, provides for appointment of certain adjudicating officers and establishment of special courts.
It will help start-ups, LLP professionals and Chartered Accountants.
News Crux Bill/Act/Amendment
Parliament passes Deposit Insurance and Credit Guarantee Corporation (Amendment) Bill 2021
---
On 9th August 2021, the Parliament has passed the Deposit Insurance and Credit Guarantee Corporation (Amendment) Bill, 2021.
It seeks to amend the Deposit Insurance and Credit Guarantee Corporation Act, 1961.
The Bill seeks to provide depositors time-bound access to their insured deposit amount, in case they are restricted from accessing their bank deposits.
It provides that the Corporation will be liable to pay the insured deposit amount to depositors on an interim basis.
The Bill mandates the Corporation to pay the insured amount to the depositors within 90 days of the date such liability arises.
News Crux Bill/Act/Amendment
Parliament passes Constitution (Scheduled Tribes) Order (Amendment) Bill 2021
---
On 9th August 2021, Parliament has passed the Constitution (Scheduled Tribes) Order (Amendment) Bill, 2021.
The Bill seeks to amend the constitutional list of Scheduled Tribes as recommended by Arunachal Pradesh.
It removes the Abor tribe from the list of identified STs in that state and also replaces certain STs with other tribes.
News Crux Bill/Act/Amendment
127th Constitution Amendment Bill 2021 introduced in Lok Sabha
---
On 9th August, 2021 the Constitution (One Hundred and Twenty Seventh Amendment) Bill, 2021 was introduced in the Lok Sabha.
The bill seeks to restore the power of States and Union Territories to make their own OBC lists.
Current News Ecology & Environment
Sixth Assessment Report - IPCC
---
On 9th August 2021, the Inter-governmental Panel on Climate Change IPCC released the first part of its sixth assessment report (AR6) titled 'Climate Change 2021: The Physical Science Basis'. The two remaining parts would be released next year.
The report was released by one of the three Working Groups of IPCC - intended to assess scientific, technical and socio-economic information concerning climate change.
Working group 1 published The Physical Science Basis of Climate Change, which said that, if greenhouse gas emissions are halved by 2030 and net zero by 2050, global warming can be stopped.
The report's 234 authors built on more than 14,000 scientific papers to create a 3,949 page report, which was then approved by 195 governments. The summary for policymakers was drafted by scientists and agreed to line-by-line by governments.
Facts on Earlier Assessment Reports
First Assessment Report (1990): This report formed the basis for negotiation of the UN Framework Convention on Climate Change in 1992.
Second Assessment Report (1995): This report was the scientific underpinning for Kyoto Protocol in 1997.
Fourth Assessment Report (2007): The report won the 2007 Nobel Peace Prize for IPCC and was the scientific input for the 2009 Copenhagen climate meeting.
Fifth Assessment Report (2014): This report formed the scientific basis for negotiations of the Paris Agreement in 2015.
Headline Statements from the Summary for Policymakers
A.The Current State of the Climate
It is unequivocal that human influence has warmed the atmosphere, ocean and land. Widespread and rapid changes in the atmosphere, ocean, cryosphere and biosphere have occurred.
The scale of recent changes across the climate system as a whole and the present state of many aspects of the climate system are unprecedented over many centuries to many thousands of years.
Human-induced climate change is already affecting many weather and climate extremes in every region across the globe. Evidence of observed changes in extremes such as heatwaves, heavy precipitation, droughts, and tropical cyclones, and, in particular, their attribution to human influence, has strengthened since the Fifth Assessment Report (AR5).
Improved knowledge of climate processes, paleoclimate evidence and the response of the climate system to increasing radiative forcing gives a best estimate of equilibrium climate sensitivity of 3°C, with a narrower range compared to AR5.
B.Possible Climate Futures
Global surface temperature will continue to increase until at least the mid-century under all emissions scenarios considered. Global warming of 1.5°C and 2°C will be exceeded during the 21st century unless deep reductions in carbon dioxide (CO2) and other greenhouse gas emissions occur in the coming decades.
Many changes in the climate system become larger in direct relation to increasing global warming. They include increases in the frequency and intensity of hot extremes, marine heatwaves, and heavy precipitation, agricultural and ecological droughts in some regions, and proportion of intense tropical cyclones, as well as reductions in Arctic sea ice, snow cover and permafrost.
Continued global warming is projected to further intensify the global water cycle, including its variability, global monsoon precipitation and the severity of wet and dry events.
Under scenarios with increasing CO2 emissions, the ocean and land carbon sinks are projected to be less effective at slowing the accumulation of CO2 in the atmosphere.
Many changes due to past and future greenhouse gas emissions are irreversible for centuries to millennia, especially changes in the ocean, ice sheets and global sea level.
C.Climate Information for Risk Assessment and Regional Adaptation
Natural drivers and internal variability will modulate human-caused changes, especially at regional scales and in the near term, with little effect on centennial global warming. These modulations are important to consider in planning for the full range of possible changes.
With further global warming, every region is projected to increasingly experience concurrent and multiple changes in climatic impact-drivers. Changes in several climatic impact-drivers would be more widespread at 2°C compared to 1.5°C global warming and even more widespread and/or pronounced for higher warming levels.
Low-likelihood outcomes, such as ice sheet collapse, abrupt ocean circulation changes, some compound extreme events and warming substantially larger than the assessed very likely range of future warming cannot be ruled out and are part of risk assessment.
D.Limiting Future Climate Change
From a physical science perspective, limiting human-induced global warming to a specific level requires limiting cumulative CO2 emissions, reaching at least net zero CO2 emissions, along with strong reductions in other greenhouse gas emissions. Strong, rapid and sustained reductions in CH4 emissions would also limit the warming effect resulting from declining aerosol pollution and would improve air quality.
Scenarios with low or very low greenhouse gas (GHG) emissions (SSP1-1.9 and SSP1-2.6) lead within years to discernible effects on greenhouse gas and aerosol concentrations, and air quality, relative to high and very high GHG emissions scenarios (SSP3-7.0 or SSP5-8.5). Under these contrasting scenarios, discernible differences in trends of global surface temperature would begin to emerge from natural variability within around 20 years, and over longer time periods for many other climatic impact-drivers (high confidence).
Regional Fact Sheet - Asia
Common Regional Changes
The observed mean surface temperature increase has clearly emerged out of the range of internal variability compared to 1850-1900. Heat extremes have increased while cold extremes have decreased, and these trends will continue over the coming decades (high confidence).
Marine heatwaves will continue to increase (high confidence).
Fire weather seasons will lengthen and intensify, particularly in North Asia regions (medium confidence).
Average and heavy precipitation will increase over much of Asia (high to medium confidence).
Mean surface wind speeds have decreased (high confidence) and will continue to decrease in central and northern parts of Asia (medium confidence).
Glaciers are declining and permafrost is thawing. Seasonal snow duration, glacial mass, and permafrost area will decline further by the mid-21st century (high confidence).
Glacier runoff in the Asian high mountains will increase up to mid-21st century (medium confidence), and subsequently runoff may decrease due to the loss of glacier storage.
Relative sea level around Asia has increased faster than global average, with coastal area loss and shoreline retreat. Regional-mean sea level will continue to rise (high confidence).
Asian Monsoons
The South and Southeast Asian monsoon has weakened in the second half of the 20th century (high confidence). The dominant cause of the observed decrease of South and Southeast Asian monsoon precipitation since mid-20th century is anthropogenic aerosol forcing.
The dry-north and wet-south pattern of East Asian summer monsoon precipitation change results from the combined effects of greenhouse gases and aerosols (high confidence).
In the near-term, South and Southeast Asian monsoon and East Asian summer monsoon precipitation will be dominated by the effects of internal variability (medium confidence).
In the long-term, South and Southeast Asian monsoon and East Asian summer monsoon precipitation will increase (medium confidence).
Tibetan Plateau (TIB)
Over most of the Hindu Kush Himalayan region, snow cover has reduced since the early 21st century, and glaciers have retreated and lost mass since the 1970s. The Karakoram glaciers have remained either in a balanced state or slightly gained mass. During the 21st century, snow-covered areas and snow volumes will decrease in most of the Hindu Kush Himalayan, and snowline elevations will rise and glacier volumes will decline (high confidence).
A general wetting across the whole Tibetan Plateau and the Himalaya is projected, with increases in heavy precipitation in the 21st century.
Southeast Asia (SEA)
Future warming will be slightly less than the global average (high confidence).
Observed mean rainfall trends are not spatially coherent or consistent across datasets and seasons (high confidence). Rainfall will increase in northern parts and decrease in the Maritime Continent (medium confidence).
Compound impacts of climate change, land subsidence, and local human activities will lead to higher flood levels and prolonged inundation in the Mekong Delta (high confidence).
Although there has been no significant long-term trend in the overall number of tropical cyclones, fewer but more extreme tropical cyclones have affected the region.
So far, five assessment reports have been produced, the first one being released in 1990. The fifth assessment report had come out in 2014 in the run up to the climate change conference in Paris.
IPCC & Assessment Reports
Every few years, the Inter-governmental Panel on Climate Change (IPCC) produces assessment reports that are the most comprehensive scientific evaluations of the state of earth's climate.
Set up in 1988 by the World Meteorological Organisation (WMO) and the UN Environment Programme (UNEP), the IPCC does not itself engage in scientific research. Instead, it asks scientists from around the world to go through all the relevant scientific literature related to climate change and draw up the logical conclusions.
So far, five assessment reports have been produced, the first one being released in 1990. The fifth assessment report had come out in 2014 in the run up to the climate change conference in Paris.
The IPCC reports are created by three working groups of scientists:

Working Group-I deals with the scientific basis for climate change.
Working Group-II looks at the likely impacts, vulnerabilities and adaptation issues.
Working Group-III deals with actions that can be taken to combat climate change.
News Crux Obituary
KP Gopal Rao: War Hero of 1971 Passed Away
---
Commodore Kasargod Patnashetti Gopal Rao, a 1971 war hero and recipient of the Mahavir Chakra, breathed his on 8 August 2021.
He played a key role in the war with Pakistan to liberate East Pakistan that is now Bangladesh.
He was the commander of two Arnala-class anti-submarine corvettes INS Kiltan and INS Katchall which were part of the task group that attacked Karachi Harbour during 'Operation Trident' on December 4, 1971, a day now marked as Navy Day.
Despite the gunfire from the enemy posing a grave risk to Indian ships and personnel, Commander Rao pressed on and sunk two destroyers and a minesweeper.
Sports In News Boxing
Mandeep wins second Pro Bout
---
On 8th august 2021, Indian boxer Mandeep Jangra won his second professional bout, clinching a technical knockout against American Devon Lira.
The silver medallist at the 2013 Asian Championships and the 2014 Commonwealth Games, turned professional in March 2021.
The Indian won on technical knockout in the second round of the lightweight contest.
He had beaten Argentina's Luciano Ramos in his debut bout on May 8.
News Crux Important Days/Weeks
8 August: Quit India Movement Day
---
The Quit India Movement also known as the Bharat 'Chhodo Andolan' was launched by Mahatma Gandhi on August 8, 1942 at the Bombay session of the All India Congress Committee (AICC).
The movement demanded an end to British rule in India. Since the protest was held in August, it also went on to be known as August Kranti or August Movement.
Every year, the day is celebrated by paying tribute to freedom fighters who laid their lives for the country.
Gandhi delivered his speech, which commenced the Quit India Movement, at Mumbai's Gowalia Tank Maidan, popularly known as August Kranti Maidan. The 'Do or Die' speech was etched in the hearts of Indians.
The immediate cause of the movement was the collapse of Cripps Mission that was to discuss the British Government's Draft Declaration on the Constitution of India with representative Indian leaders. The Cripps Mission failed and the issue of India's constitution was postponed until the end of the war.
News Crux Important Days/Weeks
9 August: International Day of the World's Indigenous Peoples
---
The International Day of the World's Indigenous Peoples is observed on 9th August to protect the rights of the world's indigenous population and recognize the achievements and contributions that indigenous people make to improve world issues such as environmental protection.
The theme for 2021 is "Leaving no one behind: Indigenous peoples and the call for a new social contract."
Sports In News Athletics
Neeraj Chopra: Fist Indian to win an Athletics Medal in Olympics
---
Neeraj Chopra won a gold medal with a throw of 87.58m in the men's javelin throw final at the Tokyo Olympics.
J. Vadlejch (86.67 m) and V. Veselý (85.44 m) from Czech Republic won the Silver and Bronze respectively.
Neeraj Chopra is the first track and field athlete to win an Olympic gold medal for India, and is the second Olympic athletics medal winner for India after Norman Pritchard, who won two silver medals at the 1900 Summer Olympics.
For his contribution to sports, he was given Arjuna Award in 2018.
Sports In News Wrestling
Tokyo 2020: Bajrang Punia won Bronze in Wrestling
---
Wrestler Bajrang Punia won the Bronze medal at Tokyo 2020 in the men's freestyle 65 kg game.
He beat Daulet Niyazbekov of Kazakhstan in the repechage round at the Tokyo 2020 Olympics.
With Bajrang's medal, Indian wrestlers have matched their best performance at the Olympic Games by earning two podium finishes. Ravi Dahiya had won an inspiring silver medal in the 57kg category.
At the 2012 London Games, Sushil Kumar had won a Silver and Yogeshwar Dutt returned with a Bronze.
He has been awarded with Arjuna Award (2015), Padma Shri Award (2019), and Major Dhyan Chand Khel Ratna award (2019).
Current News National National Security
ITBP inducts First Women Officers on Combat Service
---
The Indo-Tibetan Border Police (ITBP) force, which guards the Line of Actual Control (LAC) along the India-China border, has commissioned its first two women officers in combat after they completed their training.
A total of 53 officers passed out from the ITBP officers' training academy located in Mussoorie.
The rank of Assistant Commandant, an entry-level officer rank in the paramilitary were put on the shoulders of two women officers — Prakriti and Diksha — after the passing out parade and an attestation ceremony where they took their oaths to serve the country.
Before this, ITBP had combat women only in the constabulary ranks.
Out of the 53 officers, 42 officers are in the general duty combat cadre, while 11 are in the engineering cadre of the force.
These officers will now be posted across ITBP formations in the country, including along the LAC with China and the anti-Naxal operations theatre in Chhattisgarh.
News Crux Defence/Military Exercises
'Zayed Talwar 2021'
---
The Indian Navy took part in a bilateral exercise with the United Arab Emirates (UAE) Navy off the coast of Abu Dhabi on 7th August 2021.
The bilateral naval exercise - 'Zayed Talwar 2021'- was designed to enhance interoperability and synergy between the two navies.
INS Kochi, with two integral Sea King MK 42B helicopters, deployed in the Persian Gulf, participated in the exercise.
PIB News National
'Samagra Shiksha Scheme 2.0' to continue till 2026
---
On 4th August 2021, the Cabinet Committee on Economic Affairs has given its approval for continuation of the revised Samagra Shiksha Scheme for a period of five years i.e., from 2021-22 to 2025-26.
Benefits:
The scheme covers 1.16 million schools, over 156 million students and 5.7 million Teachers of Govt. and Aided schools (from pre-primary to senior secondary level).
Details:
The Samagra Shiksha scheme is an integrated scheme for school education covering the entire gamut from pre-school to class XII. The scheme treats school education as a continuum and is in accordance with Sustainable Development Goal for Education (SDG-4). The scheme not only provides support for the implementation of the RTE Act but has also been aligned with the recommendations of NEP 2020 to ensure that all children have access to quality education with an equitable and inclusive classroom environment which should take care of their diverse background, multilingual needs, different academic abilities and make them active participants in the learning process.
Proposed Interventions
The major interventions, across all levels of school education, proposed under the scheme are:
Universal Access including Infrastructure Development and Retention;
Foundational Literacy and Numeracy,
Gender and Equity;
Inclusive Education;
Quality and Innovation;
Financial support for Teacher Salary;
Digital initiatives;
RTE Entitlements including uniforms, textbooks etc.;
Support for ECCE;
Vocational Education;
Sports and Physical Education;
Strengthening of Teacher Education and Training;
Monitoring;
Programme Management; and
National Component.
Following new interventions have been incorporated in the revamped Samagra Shiksha based on the recommendations of the National Education Policy 2020:
In order to enhance the direct outreach of the scheme, all child centric interventions will be provided directly to the students through DBT mode on an IT based platform over a period of time.
The scheme will have an effective convergence architecture with various Ministries/ developmental agencies of the Centre and State Governments. The expansion of vocational education will be done in convergence with the Ministry of Skill Development and Entrepreneurship and other Ministries providing funding for Skills. The existing infrastructure of schools and ITIs and Polytechnics will be used to ensure optimum utilization of the facilities, not only for school going children but also for out of school children.
Provision of training of Master Trainers for training of Anganwadi workers and In-service teacher training for ECCE teachers.
Provision of upto Rs 500 per child for Teaching Learning Materials (TLM), indigenous toys and games, play based activities per annum for pre-primary sections in Government Schools.
NIPUN Bharat, a National Mission on Foundational Literacy and Numeracy to ensure that every child achieves the desired learning competencies in reading, writing and numeracy at the end of grade III and not later than grade V has been launched under the scheme with provision of TLM upto Rs 500 per child per annum, Rs 150 per teacher for teacher manuals and resources, Rs 10-20 lakh per district for assessment.
Specific training modules under NISHTHA by NCERT to train Secondary teachers and Primary teachers.
Strengthening of infrastructure of schools from pre-primary to senior secondary, earlier pre-primary was excluded.
Incinerator and sanitary pad vending machines in all girls' hostels.
Addition of new subjects instead of Stream in existing senior secondary schools.
Transport facility has been extended to secondary level @ upto Rs 6000 per annum.
For out of school children at 16 to 19 years of age, support will be provided to SC, ST, disabled children, upto Rs 2000 per child per grade to complete their secondary/senior secondary levels through NIOS/SOS.
Financial support for State Commission for Protection of Child Rights @ Rs 50 per elementary school in the state, for protection of child rights and safety.
Holistic, 360-degree, multi-dimensional report showing progress/ uniqueness of each learner in the cognitive, affective, and psychomotor domains will be introduced in the form of Holistic Progress Card (HPC).
Support for activities of PARAKH, a national assessment centre (Performance, Assessments, Review and Analysis of Knowledge for Holistic Development)
Additional Sports grant of upto Rs. 25000 to schools in case atleast 2 students of that school win a medal in Khelo India school games at the National level.
Provision for Bagless days, school complexes, internships with local artisans, curriculum and pedagogical reforms etc included.
A new component Appointment of Language Teacher has been added in the scheme- components of training of teachers and bilingual books and teaching learning material added, besides support for salary of teachers.
Provision made for all KGBVs to be upgraded to class XII.
Enhanced financial support for existing Stand-alone Girls' Hostels for classes IX to XII (KGBV Type IV) of uptoRs 40 lakh per annum (earlier Rs 25 lakh per annum).
Training for 3 months for inculcating self-defence skills under 'Rani Laxmibai Atma Raksha Prashikshan' and amount increased from Rs 3000 to Rs 5000 per month.
Separate provision of stipend for CWSN girls @ Rs. 200 per month for 10 months, in addition to student component from pre-primary to senior secondary level.
Provision of annual identification camps for CWSN at block level @Rs. 10000 per camp and equipping of Block Resource centres for rehabilitation and special training of CWSN.
Provision for Establishment of New SCERT has been included and new DIETs in districts created upto 31st March 2020.
Setting up of assessment cell preferably at SCERT to conduct various achievement surveys, develop test materials & item banks, training of various stakeholders & test administration, data collection analysis and report generation, etc.
The academic support of BRCs and CRCs has been extended for pre-primary and Secondary level also.
Support under Vocational Education extended to Government aided schools also in addition to Government Schools and grant/number of job roles/sections linked to enrolment and demand.
Provision of Classroom cum workshop for Vocational Education in schools serving as Hub for other schools in the neighbourhood. Provision of transport and assessment cost for schools serving as spokes has been made.
Provision of ICT labs, Smart classrooms including support for digital boards, smart classrooms, virtual classrooms and DTH channels have been provided.
Child tracking provision included for students of Government and Government aided schools
Support for Social Audit covering 20% of schools per year so that all schools are covered in a period of Five years.
Implementation Strategy and Targets:
The Scheme is implemented as a Centrally Sponsored Scheme through a single State Implementation Society (SIS) at the State level. At the National level, there is a Governing Council/Body headed by the Minister of Education and a Project Approval Board (PAB) headed by Secretary, Department of School Education and Literacy. The Governing Council/body will be empowered to modify financial and programmatic norms and approve the detailed guidelines for implementation within the overall Framework of the scheme. Such modifications will include innovations and interventions to improve the quality of school education.
In order to enhance the direct outreach of the scheme, all child centric interventions will be provided directly to the students through DBT mode on an IT based platform over a period of time.
The Scheme covers 1.16 million schools, over 156 million students and 5.7 million Teachers of Government and Aided schools (from pre-primary to senior secondary level) by involving all stakeholders of the school ecosystem i.e. Teachers, Teacher Educators, Students, Parents, Community, School Management Committees, SCERTs, DIETs, BITEs, Block Resource Persons, Cluster Resource Persons, Volunteers for providing quality, inclusive and equitable education. Further, the scheme will have effective convergence architecture with various Ministries/ developmental agencies of the Centre and State Governments. As envisaged in NEP 2020, there will be a greater focus on imparting skills among the students. The expansion of vocational education will be done in convergence with the Ministry of Skill Development and Entrepreneurship and other Ministries providing funding for Skills. The existing infrastructure of schools and ITIs and Polytechnics will be used to ensure optimum utilization of the facilities, not only for school going children but also for out of school children.
Major Impacts
The Scheme aims to universalize access to school education; to promote equity through the inclusion of disadvantaged groups and weaker sections, and to improve the quality of education across all levels of school education. The major objectives of the Scheme are to Support States and UTs in:
Implementing the recommendations of the National Education Policy 2020 (NEP 2020);
Implementation of Right of Children to Free and Compulsory Education (RTE) Act, 2009;
Early Childhood Care and Education;
Emphasis on Foundational Literacy and Numeracy;
Thrust on Holistic, Integrated, Inclusive and activity based Curriculum and Pedagogy to impart 21st century skills to the students;
Provision of quality education and enhancing learning outcomes of students;
Bridging Social and Gender Gaps in School Education;
Ensuring equity and inclusion at all levels of school education;
Strengthening and up-gradation of State Councils for Educational Research and Training (SCERTs)/State Institutes of Education and District Institutes for Education and Training (DIET) as nodal agency for teacher training;
Ensuring safe, secure and conducive learning environment and maintenance of standards in schooling provisions and
Promoting vocational education.
NIPUN Bharat
Recognizing the crucial role of Foundational skills in the national development, it was announced under the 'AtmaNirbhar Bharat' campaign that a National Foundational Literacy and Numeracy Mission will be launched, for ensuring that every child in the country necessarily attains foundational literacy and numeracy in Grade 3 by 2026-27. In this context, "National Initiative for Proficiency in Reading with Understanding and Numeracy (NIPUN Bharat)" has been launched on 5th July 2021 under Samagra Shiksha.
News Crux Miscellaneous
KVIC's Plastic-Mixed Handmade Paper gets Patent Certification
---
Khadi and Village Industries Commission (KVIC) has secured Patent registration for its innovative Plastic-mixed Handmade Paper developed to reduce plastic menace from nature.
The patent certificate was issued to KVIC's Kumarappa National Handmade Paper Institute (KNHPI), Jaipur, on 2nd August 2021, by the Controller of Patent, Intellectual Property of India.
The plastic-mixed handmade paper was developed under Project REPLAN (REducing PLAstic from Nature). This is the first of its kind project in India, where plastic waste is de-structured, degraded, diluted and used with paper pulp while making handmade paper and thus reduces plastic waste from nature.
The technology developed by KVIC uses both high & low density waste polythene that not only adds extra strength to the paper but also reduces the cost by up to 34%. The product is recyclable and eco-friendly.
News Crux Obituary
Olympian 'SS Babu' Narayan Passed Away
---
On 5th August 2021, two-time Olympian Shankar Subramaniam ('Babu' Nayaran) has passed away.
Nayaran was India's goalkeeper during the 1956 and 1960 Olympics.
He made his India debut against erstwhile Yugoslavia at the Melbourne 1956 Olympics and he, along with Peter Thangaraj, played a crucial role in helping India to the semi-finals. India finished fourth at the 1956 Games.
Besides representing Maharashtra in football and basketball, Narayan emerged as one of the most reliable goalkeepers in India.
He was part of Maharashtra's Santosh Trophy-winning campaign in 1964.
News Crux Appointment & Resignation
Dr Dhriti Banerjee: First Female Director of ZSI
---
Dr Dhriti Banerjee has been appointed as the director of the Zoological Survey of India.
She is the first female to lead the organization in over 100 years history of the Zoological Survey of India.
She has been an eminent scientist conducting research in zoogeography, taxonomy, morphology among others. Since 2012, Dhriti has been engaged with ZSI's digital sequence information project.
On the occasion of its centenary celebrations in 2016, Banerjee had co-authored the "The Glorious 100 Women's Scientific Contribution in ZSI", which chronicled the contributions of women scientists in the domain of animal-related groups.
Started in July 1916, the ZSI is headquartered in Kolkata with 16 regional centres under the Ministry of Environment and Forests and Climate Change.
News Crux Awards In News
Rajiv Gandhi Khel Ratna Award renamed after Major Dhyan Chand
---
After the "exceptional performance" of the men and women hockey teams in the Tokyo Olympics, on 6th August 2021, the Govt. has renamed the Rajiv Gandhi Khel Ratna Award, the country's highest sporting honour, after hockey wizard Major Dhyan Chand.
Major Dhyan Chand was among India's foremost sportspersons who brought honour and pride for India.
Dhyan Chand is widely regarded as the greatest player in hockey. In his career that spanned from 1926 to 1949, he clinched Olympic medals in 1928, 1932 and 1936.
Sports In News Hockey
Tokyo 2020: India wins a Medal in Men's Hockey since 1980 Moscow Olympics
---
India men's hockey team defeated Germany (5-4) to win the bronze medal at the Tokyo Olympics.
This is India's first Olympic medal in hockey since they won the gold medal in the 1980 Olympics in Moscow.
This is India's fourth bronze medal at the Olympics. They last won a bronze in the 1972 Munich Olympics.
India is the most successful team at the Olympics in men's hockey with eight gold medals.
It was a good journey for India men's hockey team in Tokyo Olympics, defeating New Zealand 3-2 in their opening group game, and then picking up wins over Germany (2-0), Spain (3-1), Argentina (3-1), and Japan (5-3) in the group matches. Barring the 7-1 defeat against Australia, and the 5-2 loss in the semifinal to the World Champions Belgium, India won all their games in Tokyo.
Olympics Gold and Silver were won by Belgium and Australia respectively.
India's Successful Olympic Journey
1928 Amsterdam: Gold Medal
1932 Los Angeles: Gold Medal
1936 Berlin: Gold Medal
1948 London: Gold Medal
1952 Helsinki: Gold Medal
1956 Melbourne: Gold Medal
1964 Tokyo: Gold Medal
1980 Moscow: Gold Medal
1960 Rome: Silver Medal
1968 Mexico City: Bronze Medal
1972 Munich: Bronze Medal
2020 Tokyo: Bronze Medal
Women's Hockey: Indian Team First from Country to Play Semifinal
Indian women have done themselves and India proud with a valiant effort at the Tokyo Olympics.
Captained by Rani Rampal, the team lost the Hockey Bronze Medal match 3-4 to the Rio Olympic champions at the Oi Hockey Stadium in Tokyo.
At Tokyo Olympics, Indian Hockey team became the first women's hockey team from the country to make it to the semi-final in Olympics.
While Bronze was won by Great Britain, final match for Gold and Silver will be played between the Netherlands and Argentina.
Sports In News Boxing
Tokyo 2020: Lovlina Borgohain - Third Indian Boxer to win an Olympic Medal
---
Lovlina Borgohain from Assam became second Indian woman after Mary Kom (2012 London Olympics) to win a bronze in Olympics.
Lovlina Borgohain went down to Busenaz Surmeneli of Turkey in the welterweight (69kg) semifinal of Tokyo Olympics to settle for a bronze medal.
She has become only the third Indian boxer to ensure a podium finish at the showpiece after Vijender Singh (2008) and MC Mary Kom (2012). Hers is also the first Olympic medal in Indian boxing in nine years.
Achievements
Olympic Games: 2020 Tokyo (Bronze Medal)
World Championships: 2018 New Delhi (Bronze Medal); 2019 Ulan-Ude (Bronze Medal)
Asian Championships: 2017 Ho Chi Minh City (Bronze Medal); 2021 Dubai (Bronze Medal)
Awards: Arjuna Award (2020)
Sports In News Wrestling
Tokyo 2020: Ravi Kumar Dahiya wins Silver in Wrestling
---
Indian wrestler Ravi Kumar Dahiya from Haryana has bagged the silver medal after losing in the final of men's 57kg freestyle category to Russian Olympic Committee's (ROC) Zavur Uguev.
This is India's fifth medal at the Tokyo Olympics and the second silver of the campaign.
Ravi Kumar is the fifth Indian wrestler after KD Jadhav, Sushil Kumar, Yogeshwar Dutt, and Sakshi Malik to finish on the Olympic podium.
News Crux Obituary
Padma Shri awardee Poet Padma Sachdev Passes Away
---
Noted poet and novelist Padma Sachdev has passed away on 4 August 2021.
She is the first modern woman poet of the Dogri language. She also writes in Hindi.
She has published several poetry collections, including 'Meri Kavita Mere Geet' (My Poems, My Songs), which won the Sahitya Akademi Award in 1971.
Her autobiography "Chitt-Chete" in Dogri language won Saraswati Samman in 2015.
She has also received the Padma Shri in 2001 and the Kabir Samman for poetry for the year 2007-08 given by Government of Madhya Pradesh.
News Crux Miscellaneous
India builds World's Highest Motorable Road at Umlingla Pass
---
The Border Roads Organisation has completed the construction of world's highest motorable road at Umlingla Pass in eastern Ladakh at an altitude of 19,300 feet.
BRO has built a 52-kilometer black-top road across Umlingla Pass, breaking the previous record for a road in Bolivia linking to the volcano Uturuncu at 18,953 feet.
The road has been constructed at an altitude higher than the Mount Everest base camps – the south base camp in Nepal is at an altitude of 17,598 feet, while the north base camp in Tibet is at 16,900 feet.
The strategic road built under 'Project Himank' passes through the Umling La Top and connects Chisumle and Demchok villages.
Due to its proximity to the Line of Actual Control (LAC), it will allow quick movement of troops and equipment in case of an adversary in this sector.
News Crux Important Days/Weeks
6th August: Hiroshima Day
---
The 76th Hiroshima Day was observed on August 6, 2021.
On this day in 1945, the United States dropped a nuclear bomb in the city of Hiroshima, wiping out an estimated 39 per cent of the population, most of who were civilians. Along with the atomic bombing of Nagasaki three days later, these instances remain the only recorded use of nuclear weapons in armed conflict.
The Manhattan Project, commissioned by the US, created two atomic bombs. The first one, called 'The Little Boy' was dropped in the city of Hiroshima while the second one, dubbed 'The Fat Man', was dropped in Nagasaki by the US on August 6 and 9, respectively.
State In News Ladakh
'Pani Maah' observation in Ladakh
---
Under Jal Jeevan Mission (JJM), Pani Maah (Water Month) is being observed by the UT of Ladakh in two phases.
Pani Maah is a comprehensive 1-month campaign which was launched on 25th July in UT Ladakh which will run at the block and panchayat level in 2- phases, with the 1st phase from 1st to 15th August and 2nd phase from 16th to 30th August, 2021.
Aim
To ensure clean and safe drinking water in every village.
The Campaign
Extensive testing of water will be conducted at the sources and delivery points with the involvement of the community which also includes the Village Women Committee and user groups.
The Village Women Committee at every village level will be guided with proper training and also equipped with Field testing Kits (FTK).
12 to 13 parameters have been set to check the feasibility of safe and drinking water in various labs on regular basis.
To implement this campaign at the ground level, people representatives like Councilors, BDC Chairpersons Sarpanchs and Panchs will also be involved who will be imparted detailed training.
Current News Science & Technology New Technology
India's First Earthquake Early Warning Mobile App
---
India's first early warning mobile application which can alert users before an earthquake was recently launched in Uttarakhand.
The application is called 'Uttarakhand Bhookamp Alert' and has been developed by IIT Roorkee.
The project was sponsored by the Uttarakhand State Disaster Management Authority.
Features
The application uses an Earthquake Early Warning (EEW), a real-time earthquake information system that can detect the onset of the earthquake.
It can issue warnings before significant tremors take hold of an area.
The app can also help to tell the location of people trapped inside a structure following an earthquake.
It disseminates information regarding the occurrence of an earthquake, as well as the expected time of arrival and intensity at the tremor location to prevent any loss of life.
It is compatible with both Android and iOS platforms, and is available in two versions.
EEW exploits the Advantage of Varying Speeds of Seismic Waves
According to IIT-Roorkee experts, the physical basis for an earthquake early warning system is the speed of the seismic waves, which propagate after the release of stress from faults movement. The strong ground shaking is caused by shear waves which travel at about half the speed of the primary waves and much slower than electromagnetic signals. The EEW system exploits this advantage.
Current News Indian Economy Banking & Finance
e-RUPI: A Digital Payment Solution
---
e-RUPI, a person and purpose specific digital payment solution was launched on 2nd August 2021.
It has been developed by National Payments Corporation of India on its UPI platform, in collaboration with the Department of Financial Services, Ministry of Health & Family Welfare and National Health Authority.
Features
e-RUPI is a cashless and contactless instrument for digital payment.
It is a QR code or SMS string-based e-Voucher, which is delivered to the mobile of the beneficiaries.
The users of this seamless one-time payment mechanism will be able to redeem the voucher without a card, digital payments app or internet banking access, at the service provider.
e-RUPI connects the sponsors of the services with the beneficiaries and service providers in a digital manner without any physical interface. It also ensures that the payment to the service provider is made only after the transaction is completed. Being pre-paid in nature, it assures timely payment to the service provider without involvement of any intermediary.
Expected Benefits
It is expected to be a revolutionary initiative in the direction of ensuring a leak-proof delivery of welfare services.
It can also be used for delivering services under schemes meant for providing drugs and nutritional support under Mother and Child welfare schemes, TB eradication programmes, drugs & diagnostics under schemes like Ayushman Bharat Pradhan Mantri Jan Arogya Yojana, fertilizer subsidies etc.
Even the private sector can leverage these digital vouchers as part of their employee welfare and corporate social responsibility programmes.
News Crux Miscellaneous
India hosts ICCP - 'Olympics of Cloud Physics'
---
The Indian Institute of Tropical Meteorology (IITM), Pune, is hosting the 18th International Conference on Cloud and Precipitation (ICCP) in Pune.
This is for the first time, the event is being organised in Asia.
Described as the 'Olympics of Cloud Physics', the ICCP is conducted every four years, by the ICCP Commission, an international body of scientists and students.
Why study of Clouds is important for India?
To Monitor Seasonal Precipitations: Apart from monsoon, India also experiences different characteristics of the clouds and hence precipitation in other seasons. For example, NE Indian states experience floods in the month of April or May because of intense convective clouds leading to heavy downpour, which leads to lot of floods and landslides.
To get further insight on Western Disturbances: During winter season, India experiences western disturbances, which passes through the western and north-western parts of the country, and causes different forms of precipitations like hailstorm and snowstorms apart from rainfall.
To Study on Lightning: Lightning is one of the severest killers, claiming 2000-3000 people every year.
Sports In News Athletics
100m Sprint Event: Tokyo 2020
---
Men's: Marcell Jacobs
Italy's Marcell Jacobs won the men's 100m gold at Tokyo Olympics.
He is the first Italian to take the most coveted title in athletics and doing it with a huge European record of 9.80 seconds.
American Fred Kerley took silver in a personal best 9.84 with Canada's Andre de Grasse repeating his bronze of 2016 in 9.89.
He is also the first 100m champion after the retirement of Jamaican Usain Bolt who won Gold in three consecutive Olympics (2008, 2012 and 2016).
Note: China's Su Bingtian became the first Asian man to reach the Olympic 100 metres final for 89 years, scorching to an Asian record of 9.83 in his semi-final. The last Asian to appear in the final was Japan's Taka Yoshioka, who came last in the 1932 Los Angeles final.
Women's: Elaine Thompson-Herah
Jamaica's Elaine Thompson-Herah won the women's 100m final at Olympics.
Jamaican women swept the podium, winning the silver and bronze medals too -Shelly-Ann Fraser-Pryce won silver while Shericka Jackson won bronze.
Jamaica's Elaine Thompson-Herah successfully defended her Olympic 100m crown with the second fastest time in history. Thompson-Herah raced over the line at Tokyo's Olympic Stadium in 10.61sec, with two-time champion Shelly-Ann Fraser-Pryce taking silver in 10.74 and Shericka Jackson bronze in 10.76.
Thompson-Herah's Olympic record winning mark matched the second-fastest time in history of 10.61 set by the late Florence Griffith-Joyner.
Only Griffith-Joyner, the 1988 Olympic champion who remains the world record holder with a best 10.49, has ever run faster.
Sports In News Badminton
P V Sindhu wins Bronze in Tokyo 2020
---
Shuttler P V Sindhu won a bronze medal in Tokyo Olympics, becoming the first Indian woman to win two Olympic medals. Sindhu won silver at Rio 2016.
Sindhu defeated He Bing Jiao of China by 21-13 and 21-15 in the bronze medal match.
Chen Yu Fei (China) won the gold, while Tai Tzu-Ying (Taiwan) settled for the silver.
Wrestler Sushil Kumar is the first and only other Indian to win two Olympic medals.
Achievements of Sindhu
Silver Medal, Rio Olympics 2016
Gold Medal, CWG 2018 (Team Event)
Silver Medal, CWG 2018
Silver Medal, Asian Games 2018
World Champion, 2019
Awards
Padma Bhushan (2020)
Padma Shri (2015)
Rajiv Gandhi Khel Ratna Award (2016)
Arjuna Award (2013)
---