PIB News National
Stories Of Madurai
---
On 30th March 2021, the Ministry of Tourism organised a webinar on "Stories of Madurai" under Dekho Apna Desh campaign. Dekho Apna Desh Webinar Series is an effort to showcase India's rich diversity under Ek Bharat Shreshtha Bharat.
About Madurai
Madurai, one of the oldest living cities, popularly it is called the 'Athens of the East', holds the soul of Tamil Nadu in its magnificent and grand temples that are among the finest and most awe-inspiring specimens of architecture in the country. The most spectacular of these is the Meenakshi-Sundareswarar Temple, which is the heartbeat of the city and is visited by thousands of devotees.
About Sri Meenakshi-Sundareswarar Temple
One of the largest temple complexes in India, Sri Meenakshi-Sundareswarar Temple is the most famous spiritual site in Madurai.
Dravidian Architecture: This temple is an excellent example of Dravidian architecture; the temple is sprawled over a huge area, bordered by well-laid gardens and pristine fountains. Two shrines, more than 10 gateways or gopurams, several mandapas (halls) and a giant pool, make up the structure of the temple, which is adorned with beautiful carvings inside and outside.
"Hall of a 1,000 Pillars": One of the halls of the temple is famous as the "Hall of a 1,000 pillars" though only 985 of them exist today. It is said that whichever direction you view these pillars from - they always seem to be in a straight line.
Musical Pillars: The highlight of the temple is the outermost corridor that comprises musical pillars. These produce different musical notes when tapped.
Deity: While one of the sanctorum, Sundareswarar, is dedicated to Lord Shiva, the other is devoted to Goddess Meenakshi, his consort.
Ancient Trade & Madurai
Madurai once traded with ancient Rome and it preserves its distinct character in various arts and textiles that have been bestowed by the Pandian kings (4th century-16th century). Madurai is also well known for its exquisite sarees to wooden toys and sculptures.
Legend
Legend has it that king Kulasekhara once dreamt of Lord Shiva, from whose hair, drops of sweet madhu (nectar) rolled down on earth. The point where they fell was known as Madhurapuri. Earlier known as Madhurapuri and Thoonga Nagaram, meaning a city that never sleeps, Madurai grew around the Meenakshi Amman Temple, which was constructed 2,500 years ago by Pandian king, Kulasekhara.
Foreign Visitors who explored Madurai
Madurai was visited by Greek explorer, Megasthenes in 3rd century BC. Other famous travellers who visited this ancient south Indian city included Pliny in 77 AD, Ptolemy in 140 AD, Marco Polo in 1203 AD and Ibn Batuta (1333 AD).
Current News National
Draft Concession Proposal For Scrapped Vehicles
---
Road, Transport and Highways Ministry has published the draft rules regarding concession in motor vehicle tax against scrapped vehicles and invited suggestions from various stakeholders on the draft rules within a period of 30 days. The rules are proposed to come into force from 1st of October this year.
Finer Points of the Draft
Centre has proposed up to 25 percent tax concession on the purchase of new vehicles on submission of scrappage certificate.
Under the draft rules, people will get 25 percent concession on the purchase of personal vehicles with vehicle scrappage certificate while on the purchase of commercial vehicles, the tax relief will be 15 percent.
In case of personal vehicles, the tax concessions will be available upto eight years while for commercial vehicles, it will be upto 15 years. The period will be reckoned from the date of first registration.
Current News National
CBSE Launches Competency Based Education Project
---
The Central Board of Secondary Education (CBSE) has launched a competency-based assessment framework for classes 6-10 for three subjects -- English (reading), Science, and Maths.
The framework is a part of the CBSE Competency Based Education Project that aims to replace the existing rote learning model as directed in the new National Education Policy (NEP) over the next 2-3 years.
The CBSE has had collaborated with British Council and three UK agencies, Cambridge, NARIC and Alphaplus who are helping CBSE in attaining this objective.
News Crux Awards In News
International Ranger Award
---
Mahinder Giri, range officer of Rajaji Tiger Reserve (Uttarakhand) is the only ranger from Asia to win the prestigious International Ranger Award for his contribution towards conservation.
The award has been announced for 10 professionals across the world by the International Union for Conservation of Nature IUCN and World Commission on Protected Areas WCPA.
Sports In News Athletics
First Indian TT Player To Qualify For Olympics
---
Achanta Sharath Kamal became the first Indian paddler to qualify for the Tokyo Olympic Games after a win over Pakistan's Muhammad Rameez at the Asian Olympic Qualification tournament in Doha.
He is a professional table tennis player from Tamil Nadu. He holds record of nine times Senior National Champion, breaking the record of eight times National Champion Kamlesh Mehta.
He received the fourth highest civilian award, Padma Shri in 2019.
Current News International
'Heart Of Asia' Ministerial Conference
---
The 9th Heart of Asia-Istanbul Process (HoA-IP) ministerial conference (which is a part of the Istanbul Process) was held at Dushanbe, capital city of Tajikistan on 30th March 2021.
From India, External Affairs Minister S Jaishankar participated in this event.
The Heart of Asia – Istanbul Process (HoA-IP) is an initiative of the Republic of Afghanistan and the Republic of Turkey, which was officially launched at a conference hosted by Turkey in Istanbul on 2 November 2011.
The Heart of Asia provides a platform for sincere and results-oriented regional cooperation by placing Afghanistan at its center, in recognition of the fact that a secure and stable Afghanistan is vital to the prosperity of the Heart of Asia region.
Primary Objective of the Grouping: Regional security and cooperation for a secure and stable Afghanistan and near and extended neighbors.
Member Countries (15): Afghanistan, Azerbaijan, China, India, Iran, Kazakhstan, Kyrgyzstan, Pakistan, Russia,Saudi Arabia, Tajikistan, Turkey, Turkmenistan, United Arab Emirates and Uzbekistan.
It is supported by 17 countries, and 12 regional and international organizations.
Current News National National Security
India To Participate In 'La Perouse' Exercise
---
Indian Navy will take part in French Naval Exercise in Bay of Bengal along with other QUAD member Countries
India will participate in France-led naval drill 'La Perouse' for the first time in the Bay of Bengal that is scheduled from 5 April-7 April-2021.
Other QUAD countries -Australia, Japan and the US - will also participate in La Perouse.
Current News National National Security
UAE To Participate Varuna Exercise
---
After La Perouse exercise among India, France, Australia, Japan and the US another important naval exercise, the India-French Varuna exercise, will also take place in April 2021.
This will be the first time that the UAE will join India and France in a trilateral naval exercise in the strategically important Persian Gulf and the Gulf of Oman. The drills, called Varuna, will be held between April 25 and April 27.
Current News National National Security
Vajra Prahar 2021 Concludes
---
The 11th edition of Indo-US Joint Special Forces Exercise – Vajra Prahar 2021 was conducted at Special Forces Training School located at Bakloh, HP in March 2021.
The joint exercise by the Special Forces of both the countries is conducted alternatively between India and the United States to share the best practices and experiences in areas such as joint mission planning and operational tactics as also to improve interoperability between the Special Forces of both nations.
News Crux Awards In News
Vyas Samman 2020
---
Well known Hindi writer Prof. Sharad Pagare will be conferred with the prestigious Vyas Samman - 2020 for his novel 'Patliputru Ki Samragi.'
He is the first Hindi writer from Madhya Pradesh to get this award.
The Vyas Samman, started in 1991, is given by K K Birla Foundation for an outstanding literary work in Hindi authored by an Indian citizen published during the last 10 years.
Current News Ecology & Environment
IUCN Changes Conservation Status Of Two African Elephant Species
---
On 23rd March, the International Union for Conservation of Nature has changed the conservation status of two species of African elephants (African forest elephant and African savanna elephant).
The African forest elephant is now listed as 'Critically Endangered', and the African savanna elephant is now listed as 'endangered' on the International Union for Conservation of Nature's Red List of Threatened Species.
The two species, which were previously considered as a single species on the Red List, were previously listed as vulnerable. They are now being assessed separately due to the emergence of new genetic evidence, according to the IUCN.
The populations rarely intersect, as forest elephants live in the tropical forests of Central Africa, and savanna elephants prefer the open country in Sub-Saharan Africa, which includes grasslands and deserts.
Both species are important to the ecology where they live. Forest elephants are considered the "gardeners of the forest," as they help distribute seeds as they eat the fruit and vegetation in tropical forests. Savanna elephants are "impactful, keystone species" in the varied habitat where they live.
The number of African elephants decreased by more than 86% over 31 years, and African savanna elephant populations fell by at least 60% over the last 50 years, according to the ICUN.About 415,000 elephants of both species combined are left on the continent.
Poaching for ivory and loss of habitat as it is converted primarily to agricultural land use are the reasons for the sharp declines of their population.
Current News National
Food Habit & Ritual Practices Of Harappan People Deciphered
---
A study, jointly conducted by the Birbal Sahni Institute of Palaeosciences (BSIP), Lucknow, and Archeological Survey of India (ASI), New Delhi has recently published their findings from material found during the excavation of a Harappan archaeological site at 4MSR (earlier known as Binjor) in western part of Rajasthan (near Pakistan border) between 2014 and 2017.
What were found during excavation?
At least seven big-size brown 'laddoos', two figurines of bulls, and a hand-held copper adze (a tool similar to an axe, used for cutting or shaping wood.
What they deciphered
High Protein Food
The Harappan people used to consume high-protein, multigrain 'laddoos' (food balls) around 4,000 years ago, which indicates that the inhabitants practised agriculture under good (wet) climatic conditions.
Primary microscopic investigations showed that these were composed of barley, wheat, chickpea and a few other oilseeds. The presence of pulses, starch and protein was further confirmed by discovery of significant excesses of magnesium, calcium and potassium. These laddoos had cereal and pulses, and moong dal dominated the ingredients.
First Evidence of Ritual Practice
The presence of seven food balls along with typical Harappan tools/items near the banks of Ghaggar (erstwhile Saraswati) hinted that Harappan people made offerings, performed rituals. This is the first evidence to show that Harappan people performed some rituals on the banks of river Saraswati (now extinct). Though the nature of the ritual is not clear it could be akin to 'pind daan' (offering of homage and food to ancestors) according to archeologists.
News Crux Persons In News
Justice NV Ramana: Recommended For Next CJI
---
Ahead of his retirement on April 23, Chief Justice of India SA Bobde has recommended the name of Justice NV Ramana -- the senior-most judge of the Supreme Court -- as his successor.
The CJI has sent a letter recommending Justice Ramana to be appointed as the 48th CJI to Law Ministry.
Justice NV Ramana will take over as the next CJI on April 24, 2021, and will retire on August 26, 2022.
Current News National
ECI Revises 'Rule' For Polling Agents
---
The Election Commission of India (ECI) has revised its rules for polling agents, allowing a party to nominate a polling agent for any booth within the assembly segment where the person is an electorate.
Earlier, a polling agent had to be a voter of the booth where he was to be a polling agent.
'This norm will help the political parties to appoint one polling agent to each booth.
It will help any political party to appoint a polling agent amid the COVID-19 pandemic.
Current News International
India Abstains From UNHRC Resolution On Sri Lanka
---
India on 23 March 2021 abstained from a crucial vote on Sri Lanka's rights record at the United Nations Human Rights Council in Geneva.
The resolution on 'Promoting reconciliation, accountability and human rights in Sri Lanka' was, however, adopted after 22 states of the 47-member Council voted in its favour.
14 countries, including India, Japan and Nepal abstained from voting, while 11 countries, including China, Pakistan, Russia and Bangladesh, that voted against the resolution.
Current News International
China, Russia Propose New Security Dialogue Platform
---
China and Russia have proposed setting up a new "regional security dialogue platform" to address security concerns of countries in the region, as their Foreign Ministers hit out at the United States for "forming small circles to seek bloc confrontation".
The proposal came following a meeting between Foreign Minister Wang Yi of China and his Russian counterpart Sergei Lavrov in the southern Chinese city of Guilin, and days after the March 19 U.S.-China summit in Alaska and the March 12 leaders' summit of the Quad (India, Australia, Japan and the U.S.), grouping that both Beijing and Moscow have viewed warily.
News Crux Awards In News
Gandhi Peace Prize
---
The Gandhi Peace Prize for the past two years ( 2019 and 2020) will be conferred on late Omani Sultan Qaboos bin Said Al Said and Bangladeshi leader Sheikh Mujibur Rahman respectively.
Late Sultan Qaboos is being recognised for his "unparalleled vision and leadership" in strengthening India-Oman relations and his efforts to promote peace and non-violence in the Gulf.
Sheikh Mujibur Rahman is being recognized for his "immense and unparalleled contribution" in "inspiring the liberation of Bangladesh, bringing stability to a nation born out of strife, laying the foundation for the close and fraternal relations between India and Bangladesh, and promoting peace and non-violence in the Indian subcontinent".
About the Prize
The prize is given annually by the Govt. of India for social, economic and political transformation through non-violence and other Gandhian methods.
A jury consisting of the Prime Minister of India, the Leader of the Opposition in the Lok Sabha, the Chief Justice of India, Speaker of the Lok Sabha and one other eminent person decides the awardee each year.
Note: A special exception was made for the award to be conferred on the two leaders for the year 2019 and 2020, as the selection procedure for the prize does not allow it to be awarded posthumously.
News Crux Awards In News
67th National Film Awards
---
The 67th National Film Awards for the year 2019 were announced on 22nd March 2021.
The chairman of the Jury was N. Chandra.
Major Awards/Awardees in different Categories
Feature Film
Best Film: Marakkar Arabikkadilinte Simham (Malayalam) - directed by Priyadarshan
Best Director: Sanjay Puran Singh Chauhan (for Hindi film Bahattar Hoorain)
Best Actor: Manoj Bajpayee (Hindi movie Bhonsle) and Dhanush (Tamil Movie Asuran)
Best Actress: Kangana Ranaut (for Manikarnika -The Queen of Jhansi and Panga).
Best Male Playback Singer: B Praak (for song Teri Mitti in Hindi Film Kesari)
Best Female Playback Singer: Savani Ravindra (for song Rann Petala in Marathi Movie Bardo)
Best Music Director: D Imman (for his songs in Tamil Fim Vishwasam)
Nargis Dutt Award for Best Feature Film on National Integration: Taj Mahal (Marathi) - directed by Niyaz Mujawar
Best Film on Other Social Issues: Anandi Gopal (Marathi) - directed by Sameer Vidwans
Best Film on Environment Conservation/Preservation: Water Burial(Monpa) -directed by Shantanu Sen
Best Children's Film: Kastoori (Hindi) – directed by Vinod Uttreshwar Kamble
Best Hindi Film: Chhichore – directed by Nitesh Tiwari
Non Feature Firm
Best Non Feature Film: An Engineered Dream (Hindi) directed by Hemant Gaba
Best Animation Film: Radha – directed by Bimal Poddar
Best Art and Culture Film: Shrikhetra ru Sahijata (Odia) - directed by Ashutosh Pattnaik
Best Environment Film: The Stork Saviours(Hindi) – directed by Ajay Bedi & Vijay Bedi
Best Film on Social Issues:Holy Rights (Hindi) – directed by Farha Khatun
Best Educational Film: Apples and Oranges (English) – directed by Rukshana Tabassum
Other Awards
Most Film Friendly State: Sikkim
Best Book on Cinema: A Gandhian Affair: India's Curious Portrayal of Love in Cinema - by Sanjay Suri
News Crux Bill/Act/Amendment
Mines And Minerals (Development And Regulation) Amendment Bill 2021
---
The Parliament has passed the Mines and Minerals (Development and Regulation) Amendment Bill 2021.
The Bill seeks to amend the Minerals (Development and Regulation) Act, 1957 and provides for removal of distinction between captive and merchant mines.
It empowers the Central Government to issue directions regarding composition and utilization of funds maintained by the District Mineral Foundation.
The legislation provides that captive mines other than atomic minerals may sell up to 50 per cent of their annual mineral production in the open market after meeting their own needs.
The Bill empowers the central government to specify a time period for completion of the auction process in consultation with the state government.
Note: The Government is proposing to make National Mineral Exploration Trust NMET an autonomous and professional body, which would provide funds for exploration.
Current News National
UN World Happiness Report 2021
---
The World Happiness Report 2021 has been released by the UN Sustainable Development Solutions Network.
India has been ranked 139 out of 149 countries in the list of UN World Happiness Report 2021. In 2019, India was ranked 140th.
About World Happiness Report
The World Happiness Report is a landmark survey of the state of global happiness that ranks 149 countries by how happy their citizens perceive themselves to be.
The World Happiness Report 2021 focuses on the effects of Covid-19 and how people all over the world have fared.
The annual report ranks nations based on gross domestic product per person, healthy life expectancy and the opinions of residents. Surveys ask respondents to indicate on a 1-10 scale how much social support they feel they have if something goes wrong, their freedom to make their own life choices, their sense of how corrupt their society is and how generous they are.
Happiest Countries: Finland has been ranked as the happiest country in the world for the fourth consecutive year. The Nordic nation is followed by Iceland, Denmark, Switzerland, The Netherlands, Sweden, Germany and Norway.
Most unhappy Countries: People in war-torn Afghanistan are the most-unhappy with their lives, followed by Zimbabwe (148), Rwanda (147), Botswana (146) and Lesotho (145).
Others:
Pakistan is on 105th, Bangladesh on 101st and China on 84th, according to the report. The United States ranks at 19th place for happiness, despite being one of the richest countries in the world.
Current News
Anangpal II: Founder Of Delhi To Get A Proper Place In History
---
A government seminar conducted recently in Delhi highlighted the legacy of the long-forgotten Tomar king — Anangpal II.
Anangpal II, popularly known as Anangpal Tomar, belonged to the Tomar dynasty that ruled parts of present-day Delhi and Haryana between the 8th and 12th centuries.
Anangpal Tomar II was succeeded by his grandson Prithviraj Chauhan. The Delhi Sultanate was established in 1192 after Prithviraj Chauhan's defeat in the Battle of Tarain (present-day Haryana) by the Ghurid forces.
Anangpal Tomar II was the founder of Dhillikapuri, which eventually became Delhi. He was instrumental in populating Indraprastha and giving it its present name, Delhi. The region was in ruins when he ascended the throne in the 11th century; it was he who built Lal Kot fort and Anang Tal Baoli.
At the seminar, it was decided that a committee be formed to build a statue of Anangpal II at the Delhi airport and building a museum dedicated to his legacy in Delhi.
Meanwhile, the ASI is also considering beginning excavation along the fortification of Lal Kot, also known as Qila Rai Pithora. The proposal is to make it an ASI-protected monument so that vertical excavation can be carried out to establish more links between Tomars and Delhi.
Current News
Bihar Museum Biennale
---
The first ever Museum Biennale in India and the world will be inaugurated in a hybrid avatar – physical and digital on March 22 on the occasion of Bihar Divas.
It will bring together key collections from various museums across India and the world through virtual tours.
Scheduled till March 28, it will also host exhibitions from several international museums as well as from 13 Indian museums including the host museum.
During the course of the seven days, specially curated virtual tours of the participating national and international museums will be streamed online as well as at the Bihar Museum in Patna.
Sports In News Boxing
Vijender Singh Suffers 1st Loss Of His Pro Boxing Career
---
Vijender Singh's suffered 1st defeat of his professional boxing career as Russia's Artysh Lopsan ended his 12 bouts undefeated streak on 19th March 2021 via a technical knockout in the "Battle on Ship" in Goa.
Since turning professional in 2015, the 2008 Beijing Olympic bronze medallist had not lost a single bout.
The bout was contested on the top of a cruise ship called "Majestic Pride Casino Ship", over the Mandovi River.
Current News Ecology & Environment
World Energy Transitions Outlook
---
The World Energy Transitions Outlook report has been brought out by the International Renewable Energy Agency (IRENA).
The report proposes energy transition solutions for the narrow pathway available to contain the rise of temperature to 1.5°C and halt global warming.
The window of opportunity to achieve the 1.5°C Paris Agreement goal is closing fast. The recent trends show that the gap between where we are and where we should be is not decreasing but widening. We are heading in the wrong direction.
The IPCC Special Report on Global Warming of 1.5°C released in 2018 clearly indicates that a 45% reduction in global greenhouse gas emissions from 2010 levels is required by 2030. However, emissions have continued to increase, except in 2020, when the COVID-19 pandemic caused a dramatic economic slowdown.
IRENA observes the emergence of a new energy system based on renewable technologies and complemented by green hydrogen and modern bioenergy.
It estimates that by 2050, 90% of total electricity needs would be supplied by renewables, followed by 6% from natural gas and the remaining from nuclear.
Current News Ecology & Environment
'Gram Ujala' Scheme Launched In Bihar
---
Rural population was still unable to afford discounted LEDs so, Gram Ujala – a customized program for rural India, based uniquely and innovatively on carbon finance, has been launched.
The Union Power Ministry has launched the pilot 'Gram Ujala' programme in Arrah, Bihar. The Gram Ujala programme will be implemented in villages of the 5 districts only.
Under this scheme, LEDs (7 watt and 12-Watt LED bulbs with 3 years warranty) will be available for only Rs 10 each for each household, in exchange for working condition old incandescent lamps. Each household will get up to 5 LEDs.
In the first phase of this programme, 15 million (1.5 crore) LED bulbs will be distributed across villages of Aarah (Bihar), Varanasi (Uttar Pradesh), Vijaywada (Andhra Pradesh), Nagpur (Maharashtra), and village in western Gujarat.
The programme will provide clean energy access and make a significant contribution towards mitigating climate change and achieving a sustainable future.
'Gram Ujala' programme will be financed entirely through carbon credits and will be the first such programme in India.
The 'Gram Ujala' programme will have a significant impact on India's climate change action energy savings of 2025 million KWh/year and CO2 reductions of 1. 65 million T CO2/year.
Current News National National Security
BDL To Supply 'Milan-2T' Anti-Tank Guided Missiles To Indian Army
---
Defence Public Sector Undertaking (DPSU) Bharat Dynamics Limited (BDL) will supply 4,960 MILAN-2T Anti-Tank Guided Missiles (ATGMs) to Indian Army.
The Milan-2T is a Tandem Warhead ATGM with the range of 1,850 metres, produced by BDL under license from MBDA Missile Systems, France.
These missiles can be fired from ground as well as vehicle-based launchers and can be deployed in Anti-Tank Role for both offensive and defensive tasks.
Current News National National Security
Indian-Bahrain PASSEX Under 'Operation Sankalp'
---
The Indian Navy and the Royal Bahrain Naval Force carried out the Passage Exercise (PASSEX) in the Persian Gulf as part of 'Operation Sankalp' on 17th March 2021.
A passage exercise refers to a drill held by two navies to ensure that both are able to communicate and cooperate in times of war or humanitarian relief.
The Indian Navy carries out such exercises at regular intervals with units of friendly foreign navies.
They are undertaken at the time when the two navies are either visiting each other's ports or during a rendezvous at sea.
The exercise between the navies of the two nations has been conducted under the Maritime Security Operations, which has been code-named 'Op Sankalp'.
Operation Sankalp was first initiated in the Gulf region on June 19, 2019, in the aftermath of the attacks on merchant ships in the Gulf of Oman.
PIB News National
Draft Rules For Setting Up Registered Vehicle Scrapping Facility
---
On 18th March 2021, the Ministry of Road Transport & Highways has notified draft rules for setting up Registered Vehicle Scrapping Facility (RVSF).The rules lay down the procedure for setting up, authorization and operation of RVSF.
Key Features
These RVSFs shall be provided access to the VAHAN database and shall be authorized to make entries regarding scrapping of the vehicle & issuance of Scrapping Certificate.
Other access to NCRB & police database will also be provided for verification of stolen vehicle or vehicle involved in criminal activity, before scrapping a vehicle.
The rules specify the technical requirements and procedure to be followed by any legal entity for setting up RVSF.
The Government of India will develop a portal for single window clearance, on which the applicant will apply with documents and fee. State/UT governments would clear the proposal in a time-bound manner, that is, 60 days.
The application process is proposed to be made seamless, transparent and time-bound for registration, inspection and audit of RVSF.
The RVSF must take cyber security certifications for safe access to VAHAN database. The registration of an RVSF shall be valid for an initial period of 10 years, and renewable for 10 years at a time.
Besides the requirement for having certified equipment for de-polluting, de-risking and dismantling End of Life Vehicle (ELV), the RVSF will have to comply with relevant health and safety legislation/regulation and environmental norms laid down by MoEF&CC and CPCB/SPCB for such operations.
In case the RVSF does not have adequate capability for recycling of hazardous waste (like e-waste, batteries, or for recovery of rare earth metals, etc.), then such materials can be sold to duly authorized recyclers.
The RVSF, after verifying the original documents from the owner / representative and records of the vehicles, issues the 'Certificate of Deposit', which can be used to avail incentives and benefits for purchase of a new vehicle.
The RVSF shall keep safe custody of cut piece of Chassis Number for a period of 6 months from the date of issue of 'Certificate of Vehicle Scrapping' and maintain a copy of all documents for record and examination during audit.
Sports In News Hockey
Haryana Wins 11th Sub-junior National Women's Hockey Ch'ship
---
Haryana won the 11th national sub-junior women's hockey championship by defeating hosts Jharkhand.
The final was played at the Simdega Astroturf Hockey Stadium.
Uttar Pradesh finished third playing against Odisha.
State In News Madhya Pradesh
MP Govt. Launched 'Mission Gramodaya'
---
After Nagarodaya Mission, the Govt. of Madhya Pradesh has launched Gramodaya Mission.
Mission Gramodaya has been started for the overall development of rural areas.
Under this, every village will have concrete roads, gram panchayat building, Muktidham and sports grounds in every gram panchayat.
Water will be supplied through taps in every house in every village.
Self-help groups in Mission Gramodaya will be empowered financially. They will be given loans at 2 percent interest.
Current News Science & Technology
New Indigenous Technology For HEMT
---
Scientists from Bangalore have developed a highly reliable, High Electron Mobility Transistor (HEMTs) that is a normally OFF device and can switch currents up to 4A and operates at 600V.
Application: This first-ever indigenous HEMT device made from gallium nitride (GaN) is useful in electric cars, locomotives, power transmission and other areas requiring high voltage and high-frequency switching would reduce the cost of importing such stable and efficient transistors required in power electronics.
Technology: Power electronic systems demand high blocking voltage in OFF-state and high current in ON-state for efficient switching performance. Specific transistors called HEMTs made of aluminium gallium nitride/ gallium nitride (AlGaN/GaN) provides an edge over silicon-based transistors as they allow the systems to operate at very high voltages, switch ON and OFF faster, and occupy less space. Commercially available AlGaN/GaN HEMTs use techniques to keep the transistor in normally OFF state, which affects the stability, performance and reliability of the device.
Uniqueness: The developed technology is a first of its kind, which uses a type of chemical called ternary oxide (composed of two different metal ions combined in an oxide matrix or Al, Ti and O), which behaves like material having larger positive charge concentration (p-type material). It does away with intrinsic reliability and performance issues of the in-use industrial techniques for e-mode HEMTs, allowing the development of efficient power switching systems.
Current News Science & Technology New Technology
AIM, NITI Aayog, AWS Announce New Initiatives To Boost Innovation
---
Atal Innovation Mission, NITI Aayog, and Amazon Web Services have announced new initiatives to strengthen the innovation and entrepreneurship ecosystem in India.
This will be done by empowering school students with cloud computing skills, and enabling entrepreneurs to build innovative education technology solutions on the cloud.
Atal Innovation Mission will leverage Amazon Web Services Educate, which is Amazon's global program that provides resources for students and educators to accelerate cloud-related learning.
This program will introduce the fundamentals of cloud computing such as cloud storage, virtual compute power, web hosting, artificial intelligence, machine learning, and virtual reality, to students at more than 7000 Atal Tinkering Labs.
It will equip the talented youth of the country with digital and web-based tools that can enhance their creative and innovative capabilities.
Current News Indian Economy Infrastructure
Udan 4.1 Launched
---
To further enhance regional air connectivity, the Centre has launched the 4.1 round of the RCS-Udan scheme.
Some operational flexibilities are extended to Airlines under the Udan 4.1 to ensure suitable operation models to connect smaller cities or airstrips.
New routes are proposed under 'Sagaramala Seaplane Services'.
Operations under Non Scheduled Operator's Permit (NSOP) will be allowed for seaplane, fixed-wing aircraft, Helicopters for RCS routes awarded under Udan 4.1.
Till date, 325 routes and 56 airports including 5 heliports and 2 Water Aerodromes have been operationalised under the Udan scheme.
News Crux Awards In News
Pritzker Architecture Prize 2021
---
French architects and educators Anne Lacaton and Jean-Philippe Vassal were selected as the laureates of the Pritzker Architecture Prize 2021, the highest honour in the field of architecture.
Anne Lacaton became the first French female architect to win the prize and the 6th woman to receive the prize since it was established in 1979.
The Prize was established by the Pritzker family of Chicago through their Hyatt Foundation in 1979.
Current News National National Security
INS Dhruv: India's Missile Tracking Ship - To Join Navy Soon
---
India is set to commission INS Dhruv to track satellites, strategic missiles and map the Indian Ocean bed later this year.
It will act as an early warning system for adversary missiles headed towards Indian cities and military establishments.
INS Dhruv has been developed with the help of the Defence Research and Development Organisation (DRDO) and Indian Navy with India's Strategic Force Command and National Technical Research Organisation (NTRO) as main intelligence consumers.
The indigenously-developed surveillance ship has been built by Hindustan Shipyard Ltd at its Visakhapatnam facility under the Atma Nirbhar Bharat Abhiyan initiative.
INS Dhruv is equipped with the active electronically scanned array radars, or AESA, considered a game-changer in radar technology, and can scan various spectrums to monitor satellites of adversaries that are watching over India. It can also understand the range and true missile capability of adversary nations that it finds in the Indo-Pacific.
Once the vessel is commissioned, India will be the only country outside the P-5 - the US, the UK, China, Russia and France - to have this capability.
Current News Indian Economy Banking & Finance
DFI Will Be Set Up For Long-term Infra Funds
---
The Union Cabinet has approved a bill to set up Development Finance Institution (DFI) with an initial capital infusion of 20 thousand crore rupees.
The bill will be tabled in Parliament during the current Budget Session.
DFI is expected to raise long-term funds for infrastructure development projects in the country.
The initial grant to the DFI will be 5 thousand crore rupees and additional increments of grants will be made within the limit of 5 thousand crore rupees.
News Crux Persons In News
Tanzania's First Female President
---
Samia Suluhu Hassan will be the first female president of Tanzania.
She is currently serving as the vice president of Tanzania.
After the recent death of President John Magufuli, she will serve the reminder term of the former according to Tanzania's Constitution.
News Crux Appointment & Resignation
Dr Harsh Vardhan Appointed As Chairman Of 'Stop TB Partnership Board'
---
Union Minister for Health and Family Welfare Dr Harsh Vardhan has been appointed as the Chairman of the international body Stop TB Partnership Board.
He was appointed in recognition of his outstanding contribution to the movement to eradicate Tuberculosis from India by 2025.
Dr Harsh Vardhan will serve a three-year term, commencing from July this year.
The Stop TB Partnership is a unique international body with the power to align actors all over the world in the fight against TB.
Established in the year 2000, the 'Stop TB Partnership' is mandated to eliminate Tuberculosis as a public health problem.
Current News International
EU To Blacklist Chinese Officials For Human Rights Abuses
---
European Union (EU) has agreed to blacklist Chinese officials for human rights abuses.
It is the first sanctions against Beijing since an EU arms embargo in 1989 following the Tiananmen Square crackdown. The 1989 EU arms embargo on China, its second-largest trade partner, is still in place.
EU ambassadors approved the travel bans and asset freezes on four Chinese individuals and one entity.
EU diplomats said the Chinese officials were accused of human rights abuses against China's Uighur Muslim minority.
The EU has also called for the release of jailed ethnic Uighur economics professor Ilham Tohti, who was jailed for life in 2014. He was awarded the European Parliament's human rights prize in 2019.
News Crux Bill/Act/Amendment
National Commission For Allied & Healthcare Professions Bill, 2020
---
The Rajya Sabha on 16th March 2021 passed the National Commission for Allied and Healthcare Professions Bill, 2020.
The Bill seeks to regulate and standardise the education and practice of allied and healthcare professionals.
It defines 'allied health professional' as an associate, technician, or technologist trained to support the diagnosis and treatment of any illness, disease and injury.
The Bill has a provision to set up the National Commission for Allied and Healthcare Professions.
Under the legislation, a provision has been made that no person is allowed to practice as a qualified allied and healthcare practitioner other than those enrolled in a State Register or the National Register.
PIB News National
KVIC Rolls Out Project RE-HAB To Prevent Elephant – Human Conflict
---
On 15th March, 2021 the Khadi and Village Industries Commission (KVIC), has launched Project RE-HAB of creating "bee-fences" to mitigate human – elephant conflicts in the country.
The pilot project was launched at four locations around village Chelur in Kodagu district of Karnataka.
These spots are located on the periphery of Nagarhole National Park and Tiger Reserve and prone to human-elephant conflicts.
Objective
The objective of Project RE-HAB (Reducing Elephant – Human Attacks using Bees) is to thwart elephant attacks in human habitations using honey bees and thus reducing loss of lives of both, humans as well as elephants.
About Project RE-HAB
Project RE-HAB is a sub-mission under KVIC's National Honey Mission.
While the Honey Mission is a programme to increase the bee population, honey production and beekeepers' income by setting up apiaries, Project RE-HAB uses bee boxes as a fence to prevent the attack of elephants.
How will it Work?
The bee boxes are connected with a string so that when elephants attempt to pass through, a tug or pull causes the bees to swarm the elephant herds and dissuade them from progressing further. Bee boxes have been placed on the ground as well as hung from the trees to block the passage of elephants.
It has been scientifically recorded that elephants are annoyed and even frightened of honey bees. Elephants fear that the bee swarms can bite their sensitive inner side of the trunk and eyes. The collective buzz of the bees is annoying to elephants and it forces them to return.
Elephants, who are the most intelligent animal and carry their memories for long, avoid returning to the place where they have encountered honey bees.
Advantage
The biggest advantage of Project RE-HAB is that it dissuades elephants without causing any harm to them.
It is extremely cost-effective as compared to various other measures like digging trenches or erecting fences.
Sports In News Cricket
Mumbai Wins Vijay Hazare Trophy 2020-21
---
Mumbai beat Uttar Pradesh to win their 4th Vijay Hazare Trophy played at Arun Jaitley Stadium, New Delhi.
Aditya Tare (Mumbai) was given Player of the Match award.
Prithvi Shaw and Karan Sharma were the captain of Mumbai and Uttar Pradesh respectively.
The Vijay Hazare Trophy is named after the legendary Indian cricketer Vijay Hazare.
Tamil Nadu is the most successful team having won the trophy 5 times.
News Crux Obituary
Kathakali Artist Chemancheri Kunhiraman Nair Passes Away
---
Noted Kathakali artist Chemancheri Kunhiraman Nair has passed away in Kozhikode, Kerala.
The 105-year old had won the hearts of Kathakali lovers for several decades for his mudras, charm and grace.
He was awarded with Padma Shri in 2017 for his contributions to Kathakali.
News Crux Awards In News
Beyonce: Most-Decorated (Grammy) Female Artist Of All Time
---
At the 63rd Grammy Awards on 14th March 2021, Beyoncé made history as she earned her 28th win, making her the show's most-decorated female artist. She surpassed Alison Krauss' previously held record of 27 wins.
Beyoncé is now tied with Quincy Jones for the second-most Grammy wins, while conductor Georg Stolti holds the record with 31 Grammys.
This year, Beyoncé received the most nominations with nine, followed by Dua Lipa, Roddy Ricch, and Taylor Swift with six each. Beyoncé also received the most awards with four.
Current News National
Sahitya Akademi Awards 2020
---
Sahitya Akademi, announced its annual Sahitya Akademi Awards in 20 languages on 12th March 2021.
Awards in Malayalam, Nepali, Odia and Rajasthani languages will be announced at a later date.
The Awards, recommended by distinguished Jury members were approved by the Executive Board of the Sahitya Akademi under the Chairmanship of Dr. Chandrashekhar Kambar, President, Sahitya Akademi.
List of Winners in different Languages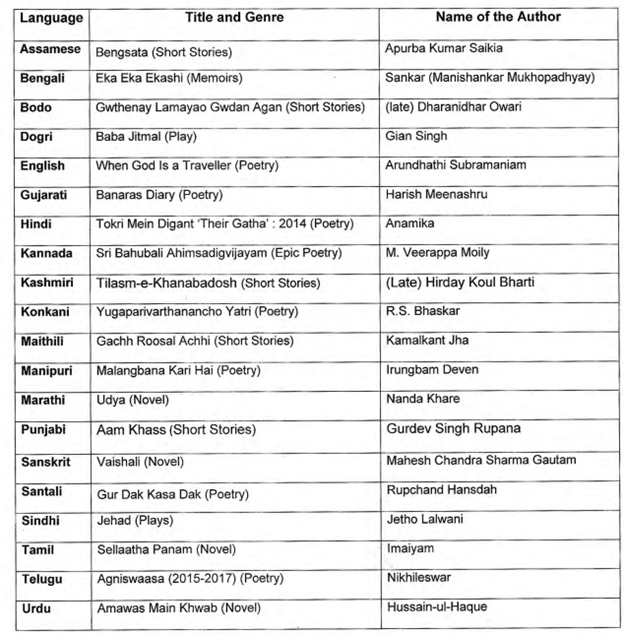 PIB News Indian Economy
Pradhan Mantri Swasthya Suraksha Nidhi
---
On 10th March 2021, the Union Cabinet has approved the Pradhan Mantri Swasthya Suraksha Nidhi (PMSSN) as a single non-lapsable reserve fund for share of Health from the proceeds of Health and Education Cess levied under Section 136-b of Finance Act, 2007.
Salient Features of the PMSSN
A non-lapsable reserve fund for Health in the Public Account;
Proceeds of share of health in the Health and Education Cess will be credited into PMSSN;
Accruals into the PMSSN will be utilized for the flagship schemes of the Ministry of Health & Family Welfare namely,

Ayushman Bharat - Pradhan Mantri Jan Arogya Yojana (AB-PMJAY)
Ayushman Bharat - Health and Wellness Centres (AB-HWCs)
National Health Mission
Pradhan Mantri Swasthya Suraksha Yojana (PMSSY)
Emergency & disaster preparedness and responses during health emergencies
Any future programme/scheme that targets to achieve progress towards SDGs and the targets set out in the National Health Policy (NHP) 2017.

Administration and maintenance of the PMSSN is entrusted to Ministry of Health & Family Welfare; and
In any financial year, the expenditure on such schemes of the MoHFW would be initially incurred from the PMSSN and thereafter, from Gross Budgetary Support (GBS).
Benefits
The major benefit will be: enhanced access to universal & affordable health care through availability of earmarked resources, while ensuring that the amount does not lapse at the end of financial year.
Current News Science & Technology
ISRO Develops S-Band Synthetic Aperture Radar
---
The Indian Space Research Organisation (Isro) has developed the S-band Synthetic Aperture Radar (SAR) and shipped it to Nasa for integration with the L-band payload being developed by the US agency.
Once the integration of the two radars is done, Nasa will send them to India where other parts of the Nasa-Isro SAR (NISAR) satellite will be built. Isro will then use its GSLV Mk-II rocket to launch NISAR from the Sriharikota launchpad.
India and the US signed an agreement in 2014 to jointly develop the world's first earth observation satellite with two different radars that can produce very high-resolution images.
About Nisar Satellite
The satellite will be the world's first-of-its-kind that will operate on two radio frequencies with capability to collect data day and night and in all weather, including during cloudy days.
Its data can help people worldwide better manage natural resources and hazards like earthquakes, tsunamis, volcanoes and landslides, as well as provide information to better understand the effects and pace of climate change. It will also add to our understanding of the planet's hard outer layer (crust).
NISAR will be able to "measure changes in the Earth's surface less than a centimeter across", will also help measure and study dynamic surfaces, ice masses like Himalayan glaciers, sea level rise and groundwater level.
Current News National National Security
AsterX: France's First Military Exercises In Space
---
France has launched its first military exercise in space to evaluate its ability to defend its satellites and other defense equipment from an attack.
The exercise, codenamed "AsterX" in memory of the first French satellite from 1965, will be based on 18 simulated events in an operations room.
During the drill, the French military will monitor a potentially dangerous space object as well as a threat to its own satellite from another foreign power possessing a considerable space force.
The new US Space Force and German space agencies are taking part in the French exercise.
Michel Friedling is the head of France's newly created Space Command.
Sports In News Cricket
Ravichandran Ashwin: ICC Player Of The Month
---
Ravichandran Ashwin has been named the ICC men's Player for the Month of February for his stellar show against England in a four-match Test series at home which India won to qualify for the World Test Championship final.
Ashwin who played in three tests in the four match series scored a 106 in the second innings of India's second Test victory over England at Chennai and took his 400th Test wicket in the third Test victory at Ahmedabad.
Besides the century, Ashwin scalped 24 wickets against England last month to help India pocket the four-match Test series 3-1 and help his team secure its spot in the WTC final against New Zealand at Lord's in June.
England's Tammy Beaumont was adjudged the women's Player of the Month.
Current News National Social Issue & Social Justice
WCD Ministry Classified All Major Schemes Under 3 Umbrella Schemes
---
For effective implementation of various schemes and programmes of the Ministry of Women and Child Development, all major schemes of the Ministry have been classified under 3 umbrella schemes viz. Mission Poshan 2.0, Mission Vatsalya and Mission Shakti.
Mission Poshan 2.0: It aims at strengthening nutritional content, delivery, outreach, and outcome. Government has merged the Supplementary Nutrition Programme and Poshan Abhiyan to launch Mission POSHAN 2.0.
Mission Vastalya: This mission is aimed at safety and well-being of children.
Mission Shakti: The aim of this mission is to provide safety, security, and dignity to women.
S.No.
Umbrella Scheme
Schemes Included
1.
Saksham Anganwadi and POSHAN 2.0

Anganwadi Services
Poshan Abhiyan
Scheme for Adolescent Girls
National Creche Scheme

2.
Mission VATSALYA

Child Protection Services and Child Welfare Services

3.
Mission Shakti (Mission for Protection and Empowerment for Women)

SAMBAL (One Stop Centre, Mahila Police Volunteer, Women's Helpline/ Swadhar/ Ujjawala/ Widow Homes etc.)
SAMARTHYA (Beti Bachao Beti Padhao, Creche, Pradhan Mantri Matru Vandana Yojana/ Gender Budgeting/Research/
Current News Indian Economy Infrastructure
India's First Forest Healing Centre Inaugurated
---
The first forest healing centre of India has been inaugurated at Ranikhet in Kalika Uttarakhand.
The centre has been developed by the Research Wing of Uttarakhand Forest Department.
It draws inspiration from Japanese technique of forest bathing (shinrin-yoku) and ancient Indian traditions and that basic theme is, "be silent, go slow, think less and feel more."
It involves many activities like forest walking, tree-hugging, forest meditation and sky gazing.
How Forest Environs good for Health
Because of typical molecular vibration patterns of trees, tree-hugging has a beneficial impact on the increase in the level of feel-good hormones like oxytocin, serotonin and dopamine, creating the pleasant effect.
Pine Forest & Health
This healing centre has been established in a pine-dominated forest as it has been found in various studies that coniferous like Pine trees emit certain oil compounds to safeguard themselves from various microbes and pathogens, which are called phytoncides. It has been found in various researches that these compounds help to multiply natural killer (NK) cells in our blood, which help in fighting infections and cancerous growth and enhance overall immunity.
Other activities in this Healing Forest
Forest Meditation: Another important activity in this healing centre is forest meditation which is distinct from the traditional meditation system of controlling thoughts or concentrating the awareness on some particular point. This practice is based more on immersing oneself in silence and the ambience of the forest without making any extra effort.
Sky Gazing: It involves having a gaze at the swaying canopy above and the ever-changing sky. This uncommon view offers a new perspective as well as deep relaxation.
Current News Indian Economy Agriculture & Allied Sector
Promotion Of Agroforestry In Silk Sector
---
The Ministry of Agriculture and Farmers Welfare on 7th March 2021 signed a Memorandum of Understanding (MoU) with the Central Silk Board under the Ministry of Textiles on a convergence model for the implementation of Agroforestry in the silk sector under the ongoing Sub-Mission on Agroforestry (SMAF) Scheme.
Aim
To incentivize the farmers to take up sericulture based Agroforestry models.
This linkage will add another dimension to agroforestry for faster returns to the growers as well as support the production of the range of silks that India is famous for.
About Sub-Mission on Agroforestry (SMAF)
The Department of Agriculture, Cooperation and Farmers Welfare (DAC & FW) has been implementing the Sub-Mission on Agroforestry (SMAF) since 2016-17 as part of the recommendation of the National Agroforestry Policy 2014. At present, the scheme is being implemented in 20 States and 2 UTs.
Aim of SMAF Scheme: SMAF aims to encourage farmers to plant multi-purpose trees together with the agriculture crops for climate resilience and an additional source of income to the farmers, as well as enhanced feedstock to inter alia wood-based and herbal industry.
There is a concerted effort to include medicinal, fruits, fodder, tree-borne oilseeds, lac host etc. in addition to the longer rotation timber species.
SMAF Scheme & Sericulture
The initiative of formalizing the collaboration in the sericulture sector is especially targeted for augmentation of sericulture host plants e.g. Mulberry, Asan, Arjuna, Som, Soalu, Kesseru, Bada Kesseru, Phanat, etc. to be cultivated both as block plantations and border or peripheral plantations on farmlands.
Benefits to Farmers: Planting sericulture based tree species on the farm bunds and rearing silkworms has the potential of creating additional income opportunities for farmers besides their regular source of income from agriculture activities.
Current News
Foundation Laid For Conservation Of Singorgarh Fort
---
The President of India Shri Ram Nath Kovind laid the foundation stone for the conservation works of Singorgarh Fort in Singrampur village of Damoh district in Madhya Pradesh.
About the Fort
It was a fort and a residence of Rajgond rulers of Gondwana Kingdom in Central India.
Before coming in hand of Gond rulers, Singorgarh fort was under Chandel rulers in 1308.
It was Gond ruler Sangram Shah who conquered the Singorgarh Fort in early period of 16th century. Sangram Shah was a powerful Gond ruler and was Father in Law of Rani Durgavati.
The fort was attacked in June, 1564 during the last war of the Garha Kingdom dynasty, under the rule of Rani Durgavati.
Mughal ruler Akbar ordered his general Asaf Khan of Kunda, to attack the Gond dynasty.
When she came to know about the huge army of more than 70,000 soldiers, she decided to leave the fort and shifted to Garha fort of Jabalpur and major war took place in this area.
Current News Science & Technology
Flight Test Of Solid Fuel Ducted Ramjet
---
The Defence Research and Development Organisation (DRDO) successfully carried out a flight demonstration based on Solid Fuel Ducted Ramjet (SFDR) technology from Integrated Test Range Chandipur off the coast of Odisha on March 05, 2021.
This technology has provided DRDO with a technological advantage which will enable it to develop long range air-to-air missiles.
At present, such technology is available only with a handful of countries in the world.
The Solid Fuel Ducted Ramjet is a missile propulsion system includes a thrust modulated ducted rocket with a reduced smoke nozzle-less missile booster. The thrust modulation in the system is achieved using a hot gas flow controller. The system utilises a solid fuelled air-breathing ramjet engine.
Current News International
India Proposes Inclusion Of Chabahar Port In INSTC
---
At the 2nd Maritime India Summit 2021, Chabahar Day was observed on 4th March where India proposed to include Chabahar port in the 13-nation International North South Transport Corridor. It also proposed to include Afghanistan and Uzbekistan in INSTC as members.
Amid signs of a growing partnership between China and Iran, India wants to counter to the Belt-and-Road Initiative (BRI) of China.
About Maritime India Summit 2021
The Maritime India Summit 2021 was organised by the Ministry of Ports, Shipping and Waterways on a virtual platform from March 2 to March 4 via video conferencing. Several countries participated in the event including the CEOs and Ambassadors to boost investment in the Maritime sector in India.
Denmark was the partner country for the three-day summit.
About INSTC
The International North–South Transport Corridor (INSTC) is a 7,200-km-long multi-mode network of ship, rail, and road route for moving freight between India, Iran, Afghanistan, Azerbaijan, Russia, Central Asia and Europe.
The route primarily involves moving freight from India, Iran, Azerbaijan and Russia via ship, rail and road.
The objective of the corridor is to increase trade connectivity between major cities such as Mumbai, Moscow, Tehran, Baku, Bandar Abbas, Astrakhan, Bandar Anzali, etc.
Dry runs of two routes were conducted in 2014, the first was Mumbai to Baku via Bandar Abbas and the second was Mumbai to Astrakhan via Bandar Abbas, Tehran and Bandar Anzali. Despite renewed focus on INSTC by India and Russia, work was again hit by the pandemic.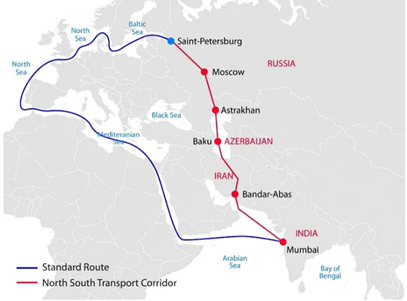 Member States
The INSTC project has 13 members - India, Iran, Russia, Turkey, Azerbaijan, Kazakhstan, Armenia, Belarus, Tajikistan, Kyrgyzstan, Oman, Ukraine, and Syria. And, Bulgaria is an observer member.
Benefits/ Importance of INSTC
INSTC, an alternative route the Eurasian region will reduce costs and time taken for transfer of goods.
Further, this will give impetus to the Ashgabat agreement, a multimodal transport agreement among Kazakhstan, Uzbekistan, Turkmenistan, Iran, India, Pakistan, and Oman for creating an international transport and transit corridor facilitating transportation of goods between Central Asia and the Persian Gulf.
Current News International
UNGA Adopts 2023 As 'International Year Of Millets'
---
The United Nations General Assembly (UNGA), on March 3, 2021, adopted India sponsored resolution to mark 2023 as 'International Year of Millets'.
The resolution was initiated by India along with Bangladesh, Kenya, Nepal, Nigeria, Russia & Senegal and was supported by over 70 nations.
The objective of declaring 'International Year of Millets' is to raise awareness about health benefits of the grain & suitability for cultivation under changing climatic conditions. Also, millet contributes towards food security, nutrition, poverty eradication, etc. It will help in achieving the Sustainable Development Goals (SDGs) in regions which are drought prone or threatened by climate change.
The Food and Agriculture Organisation (FAO) of the United Nations will implement the International Year of Millets in 2023.
India observed 2018 as the National Year of Millets.
Current News Indian Economy
Ease Of Living Index 2020 & Municipal Performance Index 2020
---
On 4th March 2021, the Ministry of Housing and Urban Affairs released the final rankings of Ease of Living Index (EoLI) 2020 and the Municipal Performance Index (MPI) 2020.
Ease of Living Index 2020
Million+ Category: Bengaluru emerged as the top performer in the Million+ category, followed by Pune, Ahmedabad, Chennai, Surat, Navi Mumbai, Coimbatore, Vadodara, Indore, and Greater Mumbai.
Less than Million Category: Shimla was ranked the highest in ease of living, followed by Bhubaneshwar, Silvassa, Kakinada, Salem, Vellore, Gandhinagar, Gurugram, Davangere, and Tiruchirappalli.
Municipal Performance Index 2020
Million+ Municipalities: Indore has emerged as the highest ranked municipality, followed by Surat and Bhopal.
Less than Million Category: New Delhi Municipal Council has emerged as the leader, followed by Tirupati and Gandhinagar.
Current News Indian Economy Banking & Finance
First Export Consignments Of 'Red Rice' From Assam To The USA
---
In a major boost to India's rice exports potential, the first consignment of 'red rice' was flagged off on 4th March 2021 to the USA.
Iron rich 'red rice' is grown in Brahmaputra valley of Assam, without the use of any chemical fertilizer.
The rice variety is referred as 'Bao-dhaan', which is an integral part of the Assamese food.
APEDA is promoting rice exports through collaborations with various stakeholders in the value chains. The government had set up the Rice Export Promotion Forum (REPF), under the aegis of the APEDA.
Current News National
IAF To Participate In EX Desert FLAG
---
The Indian Air Force is participating for the first time in Exercise Desert Flag-VI along with air forces of United Arab Emirates, United States of America, France, Saudi Arabia, South Korea and Bahrain.
Ex Desert Flag is an annual multi-national large force employment warfare exercise hosted by the United Arab Emirates Air Force.
The exercise is scheduled from 03 Mar 21 to 27 Mar 21 at Al-Dhafra airbase, UAE.
Current News National
GI Mahotsav Being Organized To Sensitize IAS Probationers
---
The Tribal Cooperative Marketing Development Federation Ltd (TRIFED), Ministry of Tribal Affairs, Government of India is organizing "GI Mahotsav" in collaboration with Lal Bahadur Shastri National Academy of Administration (LBSNAA), Mussoorie and Ministry of Culture, Government of India on 4th and 5th March 2021.
More than 40 authorized sellers of identified GI products and tribal artisans will be participating and exhibiting their goods at this event which is being held in the premises of Lal Bahadur Shastri Academy of Administration (LBSNAA).
Aim of this Event
The purpose of the GI Mahotsav is the exhibition and demonstration of the various GI products from across the country in a bid to increase the awareness of these products amongst the IAS probationers and sensitize them about the rich cultural heritage of India so that they can in-turn formulate policies that safeguard the interest of GI products in their region.
The event will be a platform where the Officer Trainees can get to interact with these authorized producers and artisans and help in developing a production, branding, packaging and marketing plan for the different regions.
Other Initiatives
TRIBES India outlet in LBSNAA: A TRIBES India outlet will be opened in LBSNAA, which will market and promote GI products.
Launch of TRIFED Jackets: Another highlight of the event is the launch of TRIFED jackets made in the traditional geometric Ikat weaving style practised by the weavers from Pochampally.
Current News Science & Technology
Aries-Devasthal Faint Object Spectrograph & Camera Commissioned
---
An indigenous spectrograph named Aries-Devasthal Faint Object Spectrograph & Camera (ADFOSC) has been successfully commissioned on the 3.6-m Devasthal Optical Telescope (DOT), the largest in the country and in Asia, near Nainital, Uttarakhand.
ADFOSC is designed and developed by Aryabhatta Research Institute of Observational Sciences (ARIES), Nainital.
It can locate sources of faint light from distant quasars and galaxies in a very young universe, regions around supermassive black-holes around the galaxies, and cosmic explosions.
Such spectroscopes were so far imported from abroad involved high costs. It is about 2.5 times less costly compared to the imported ones.
The spectroscope, the largest of its kind among the existing astronomical spectrographs in the country.
Current News Ecology & Environment
Lakshadweep And Puducherry – Pilot Sites For Marine Spatial Planning
---
India and Norway will jointly work in the area of marine spatial planning in the oceanic space for the next five years. Lakshadweep and Puducherry have been identified as pilot sites for the project.
This is a part of the Indo-Norway Integrated Ocean Initiative under the Memorandum of Understanding signed between the two countries in 2019.
The initiative known as Marine Spatial Planning (MSP) will be implemented by the Ministry of Earth Sciences (MoES) through National Centre for Coastal Research (NCCR) for India.
Puducherry and Lakshadweep have been chosen for the pilot project in view of their setups with unique opportunities for multiple sectors (such as industries, fisheries, and tourism) to flourish.
Earlier, NCCR had developed coastal management plans for Chennai, Goa, and Gulf of Kachchh which proved very successful. Now, the MSP initiative will aid development of multiple economic sectors and stakeholders in greater number of coastal areas of the country.
About Marine Spatial Planning
Marine spatial planning (MSP) is a process that brings together multiple users of the ocean – including energy, industry, government, conservation and recreation – to make informed and coordinated decisions about how to use marine resources sustainably.
MSP generally uses maps to create a more comprehensive picture of a marine area – identifying where and how an ocean area is being used and what natural resources and habitat exist.
MSP is globally identified as a tool for sustainable and integrated ocean management. It is a noted area for work in India's (draft) Blue Economic Policy being developed by MoES.
Current News International
India's Humanitarian Assistance To Madagascar
---
India is sending a consignment of 1,000 metric tonnes of rice and one lakh tablets of HCQ to Madagascar.
This is in response to the urgent appeal made by Madagascar for international solidarity and assistance to deal with the humanitarian crisis in South of Madagascar due to severe drought.
The humanitarian assistance is being delivered on-board INS Jalashwa, which will leave with the food and medical assistance on 3rd of March and is expected to reach the Port of Ehoala in Madagascar during 21st to 24th of March.
During this trip, INS Jalashwa will also have on-board an Indian Naval training team which is being deployed in Madagascar for capacity building and training of the Malagasy Special Forces for two weeks.
INS Jalashwa will also call at Port Anjoun in the Republic of Comoros where it will deliver a consignment of 1,000 metric tonnes of rice.
Current News International
Israel Receives First Ever UAE Ambassador
---
Israel's president formally received the first-ever ambassador from the United Arab Emirates, following last year's historic agreement between the countries to normalise ties.
UAE envoy Mohamed Al Khaja delivered his credentials to Israeli President Reuven Rivlin at a ceremony in Jerusalem.
The UAE was the first country to agree to establish full diplomatic relations with the Jewish state under the Abraham Accords, a pact brokered by former US president Donald Trump.
Israel opened its UAE embassy in January, with veteran diplomat Eitan Naeh heading the Abu Dhabi mission.
Israel and the UAE have already signed treaties on direct flights and visa-free travel, along with accords on investment protection, science and technology.
News Crux Summit, Seminars & Conferences
Global Bio India 2021
---
The second edition of Global Bio-India-2021 is being conducted by India virtually from New Delhi.
The 3-day event will showcase the strength and opportunities of the India's biotechnology sector at national level and to the global community.
The theme for this year is "Transforming lives" with the tag line "Biosciences to Bio-economy".
About India's Biotechnology Sector
The Biotechnology sector has emerged as an integral part of the Indian economy over the past few decades, and the Government of India is playing a transformative and catalytic role in building a USD 150 billion bio-economy by 2025.
The sector is recognized as one of the key drivers for India to achieve its USD 5 trillion target.
Sports In News Athletics
National Sqay Championship
---
Ladakh Sqay Team won eight medals in the 21st National Sqay Championship held at Jaipur in Rajasthan.
It was also presented an Outstanding Performance Award by the Sqay Federation of India.
Sqay is a Kashmiri martial arts form of sword-fighting. It is governed by the Sqay Federation of India. Armed sqay makes use of a curved single-edge sword paired with a shield, or one sword in each hand. Unarmed techniques incorporate kicks, punches, locks and chops.
News Crux Persons In News
Nicolas Sarkozy Convicted Of Corruption
---
Former President of France (2007 to 2012) Nicolas Sarkozy has been convicted of corruption and given three years in jail, with two years suspended.
Judges found Sarkozy guilty of playing an "active role" in forging a "corruption pact" with his lawyer and a senior magistrate to obtain information on a separate investigation into political donations.
PIB News National
Swachhta Saarthi Fellowships
---
The Office of the Principal Scientific Adviser to the Government of India under its "Waste to Wealth" Mission launched the "Swachhta Saarthi Fellowship" to recognize students, community workers/self-help groups, and municipal/sanitary workers who are engaged in tackling the enormous challenge of waste management, scientifically and sustainably.
This fellowship is aimed to empower interested students and citizens to continuously engage in their attempts to reduce waste in cities and rural areas.
The Waste to Wealth Mission is one of the nine national missions of the Prime Minister's Science, Technology, and Innovation Advisory Council (PM-STIAC).
The fellowship is an initiative to empower young innovators who are engaged in community work of waste management/awareness campaigns/waste surveys/studies, etc. as Swachhta Saarthis and implement actions to reduce waste for a greener planet.
PIB News National
City Innovation Exchange (CiX) Launched For Fostering Innovation In Urban Ecosystem
---
The Ministry of Housing and Urban Affairs has launched City Innovation Exchange (CiX) platform.
The City Innovation Exchange (CiX) will connect cities to innovators across the national ecosystem to design innovative solutions for their pressing challenges. The platform will ease the discovery, design & validation of solutions through a robust, transparent and user centric process that will reduce barriers for innovators and cities to discover fitting solutions.
Built on the concept of 'open innovation', the platform will help in the flow of ideas 'outside in and inside out', enhancing the skills and capacity required to deliver smart urban governance. Through interaction with the Academia and Businesses/Startups, the platform will benefit cities in the transfer of ideas from 'labs' to real environment. Similarly, by helping urban governments interact with citizens, the platform will ensure adoption of tested solutions that will be impactful and sustainable.
The platform in due time will help our cities in adopting solutions that will enhance the quality of life for its residents and significantly improve the Ease of Doing Business.
PIB News National
12 Sites Will Be Developed In Phase-IV Of Swachh Iconic Places
---
For transforming iconic heritage, spiritual and cultural places in the country as 'Swachh Tourist Destinations' under Swachh Iconic Places (SIP) initiative of Swachh Bharat Mission Grameen (SBM-G), the Department of Drinking Water and Sanitation (DDWS), Ministry of Jal Shakti has announced the selection of the following Twelve (12) iconic sites under Phase IV of SIP.
Ajanta Caves, Maharashtra
Sanchi Stupa, Madhya Pradesh
Kumbhalgarh Fort, Rajasthan
Jaisalmer Fort, Rajasthan
Ramdevra, Jaisalmer, Rajasthan
Golconda Fort, Hyderabad, Telangana
Sun Temple, Konark, Odisha
Rock Garden, Chandigarh
Dal Lake, Srinagar, Jammu & Kashmir
Banke Bihari Temple, Mathura, Uttar Pradesh
Agra Fort, Agra, Uttar Pradesh
Kalighat Temple, West Bengal
Objective of SIP: The objective of SIP is to achieve a distinctly higher level of Sanitation/Cleanliness at these places, especially on the peripheries and in approach areas.
Ministries Involved:
This project is being coordinated by the Department of Drinking Water and Sanitation (DDWS), Ministry of Jal Shakti in association with the Ministry of Housing and Urban Affairs (MoHUA), Ministry of Tourism, Ministry of Culture and the concerned State/UT governments.
---