Centre Rejects UP Government's Move To Shift 17 OBC's To SC List
On 2nd July 2019, Union Minister for Social Justice and Empowerment said in the Rajya Sabha that shifting of 17 Other Backward Classes (OBCs) to the Schedule Caste list is unconstitutional, and a transgression of Parliament's jurisdiction.
Relevance of the News: The news clarifies the procedure for shifting of backward classes into the reserved lists.
Details of the News:
In June 2019 the UP government directed District Magistrates and Commissioners to issue caste certificates to the 17 OBCs, Kashyap, Rajbhar, Dhivar, Bind, Kumhar, Kahar, Kewat, Nishad, Bhar, Mallah, Prajapati, Dhimar, Batham, Turha, Godia, Manjhi and Machua.
UP government's decision refers to an order of the Allahabad High Court (dated March 29, 2017) which laid that "in the event, any caste certificates are issued pursuant to the order impugned, those certificates shall be subject to the outcome of the writ petition."
But the Union Minister disapproved the UP government's decision to issue caste certificates to these communities terming it neither appropriate nor "constitutional".
It is the Parliament's prerogative to remove an SC, ST or OBC caste from one group and include in another.
Article 341(1) of the Constitution prescribes the procedure for regarding castes as "Scheduled Castes"
Under Article 341(2) of the Constitution, the power to make changes in the SC list lies only with Parliament.
Similar Attempts in the Past:
Similar attempts in the past have been rejected by the SC. In 2005, the Mulayam government amended the Uttar Pradesh Public Services Act, 1994, to include 17 OBC castes in the SC list. The Allahabad High Court quashed the amendment, terming it unconstitutional, since only Parliament has the power to make such an inclusion.
Another attempt by the Akhilesh government in 2013 met a similar fate.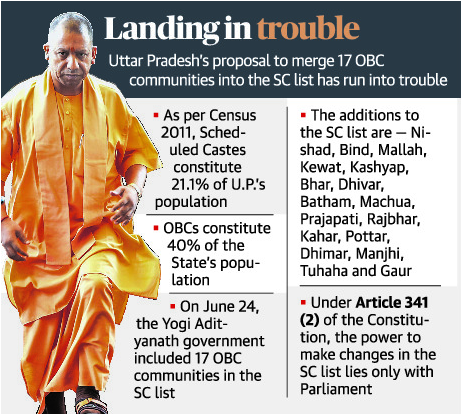 Source : The Indian Express, 3rd July 2019