US' Curbs On Trade With Iran Affects Indo-Afghan Trade
The Finance Minister announced the slashing of allocation for Iran's Chabahar port during the budget speech on 5th July, 2019.
Relevance of the News: It highlights the effect of reduced allocation for Chabahar port on India-Afghanistan trade and India-Iran relations.
Reduction in Allocation of Funds:
Government announced in the budget a reduction of allocation of funds for the development of Chabahar port by two-thirds.
The government had been allocating Rs 150 crore for the port each year for the past few years, but it has reduced this amount to Rs 45 crore this year.
This will affect India's trade with Afghanistan as Chabahar port is a major route for Indian goods going to Afghanistan and Central Asia.
The situation is of concern as Pakistan's airspace is also banned for a majority of flights to and from India.
A flight from Delhi to Kabul that used to take one-and-a-half hours now takes five hours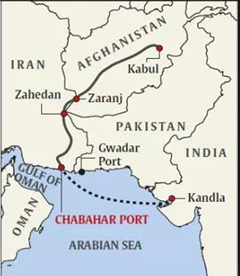 Effect of the Ban:
As a result of the ban, Afghan fruit and agricultural products that had made up a bulk of the cargo on flights between Kabul and Delhi are being shipped to other international markets.
In July last year, the former Afghan Ambassador to India had projected trade of "$2 billion between both countries by 2020". But with both air and sea routes restricted, as well as Pakistan's refusal to give Afghan trucks passage to the Wagah land route, trade may come to a standstill for now.
Source : The Hindu, 5th July 2019