---
Tamil Nadu Electric Vehicle Policy 2019
---
Recently, the Tamil Nadu Government introduced its first-ever electric vehicle (EV) policy.
The Tamil Nadu Electric Vehicle Policy, 2019, provides for various concessions to manufacturers of e-vehicles.
Tamil Nadu, known as the Detroit of South India, accounts for 6.4% of the electric vehicles sold in the country as of July 31, 2019.
Aim
To promote electric mobility in the state
To build a comprehensive Electric Vehicle(EV) ecosystem
Objectives
To create a robust infrastructure for electric vehicles, including adequate power supply and network of charging points.
To create a pool of skilled workforce for the Electric Vehicle industry.
To recycle and reuse used batteries and dispose of the rejected batteries in an environment-friendly manner to avoid pollution.
To create a conducive environment for the EV industry and research institutions to focus on cutting-edge research in Electric Mobility technologies.
To promote E-Mobility and green mobility innovation for automotive and shared mobility by providing the ecosystem and infrastructure.
Key Features of the Policy
Host of Services: Various incubation services will be offered in the form of office space, common facilities and mentoring support in order to encourage start-ups in the EV sector.
Establishment of EV Parks: The government will set up exclusive EV parks in major auto-manufacturing hubs and also in areas that have the potential to attract EV investments. These EV parks will enable the creation of a vendor ecosystem that will serve original equipment manufacturers (OEMs).
Creation of EV Venture Fund: An EV Venture Capital Fund will be created to offer financial support to EV start-ups to enable them to scale up their business.
Exemption from Electricity Tax:EV-related and charging infrastructure manufacturing units will be provided 100% exemption on electricity tax till December 2025.
Subsidy on Land Cost: It offers to provide investors a 50 percent subsidy on the land cost if the investment is made to obtain land from government agencies in southern districts, while in other districts it is just 15 percent, valid till 2022.
Higher Capital Subsidy Provision for EV Manufacturers:The government will provide a higher capital subsidy of 20% of the eligible investment over 20 years in cases where units are engaged in making EV batteries.
Impact
New Job Opportunities:It is expected to attract massive investment of Rs.50,000 crore in the state and will help to create 1.5 lakh new jobs.
Making Tamil Nadu EV Hub:It will help the Tamil Nadu state in emerging as a leader in the EV space.
Boost to Vision 2023: It will provide a major boost to the Tamil Nadu government Vision 2023 initiative which aims to develop various infrastructure projects in six major sectors viz. energy, transport, industrial and commercial infrastructure, urban infrastructure and services, agriculture and human development.
Central Government Initiative for EV
1. National Electric Mobility Mission Plan (NEMMP) 2020
Launched in 2013, NEMMP is a National Mission document providing the vision and the roadmap for the faster adoption of electric vehicles and their manufacturing in the country.
Under the NEMMP 2020, there is an ambitious target to achieve 6-7 million sales of hybrid and electric vehicles by the year 2020.
Aim
To enhance national fuel security
To provide affordable and environmentally friendly transportation
To enable the Indian automotive industry to achieve global manufacturing leadership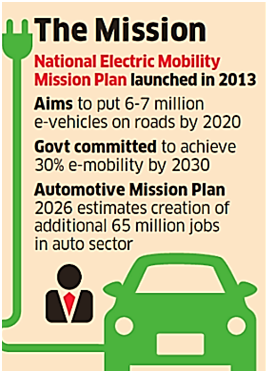 Source: The Economic Times
2. Faster Adoption and Manufacturing of (Hybrid &) Electric Vehicles in India (FAME) Scheme
As part of the NEMMP 2020, Department of Heavy Industry formulated FAME Scheme in 2015 to promote manufacturing and sustainable growth of electric and hybrid vehicle in the country.
FAME-I
Started in 2015 and was completed on March 31st, 2019.
It focused on four essential areas namely (i) Demand Creation, (ii) Technology Platform, (iii) Pilot Project and (iv) Charging Infrastructure.
FAME-II
Started from April 1st, 2019, will be completed by March 31st, 2022.
The emphasis will be on electrification of public transport that includes shared transport; demand incentives on operational expenditure mode for electric buses will be delivered through state/city transport corporations (STUs).
Significance of the FAME Scheme
It will encouragefaster adoption of Electric and hybrid vehicle by way of offering upfront Incentive on purchase of Electric vehicles and also by way of establishing a necessary charging Infrastructure for electric vehicles.
It will help in addressing the issue of environmental pollution and fuel security.
Need for Adoption of EV in India
Climatic Change: The concern of rapid global temperature increase has created the need for a reduction in the use of fossil fuels and the associated emissions. Adoption of EV will help India to cut its GHG emissions intensity by 33% to 35% percent below 2005 levels by 2030.
Increasing Pollution in Cities: Economic development, especially in emerging economies, is creating a wave of urbanization as rural populations move to cities in search of employment. While urbanization is an important component of the process of economic development, it also stresses upon the energy and transport infrastructure leading to congestion and pollution. According to a recent study by WHO, India is home to 14 out of 20 most polluted cities inthe world. Electric vehicles (EVs) can improve the environment by reducing concentrations of pollutants released from fossil fuels.
Less Dependency on Fossil Fuels:India depends largely on oil imports to meet its energy needs. The percentage of oil import is likely to reach 92% of the total demand by 2020.High import dependence along with continuously increasing prices of oil poses a serious challenge for India's future energy security. Switching to EV will make India less dependent on fossil fuels, providing a major thrust to its economy.
Way Forward
The Indian Electric Vehicle Industry could cumulatively add about $300 billion by 2030 according to NITI Aayog. This is a massive opportunity for a wide range of Indian businesses-both large and small, and in all main value chain sectors -manufacturing, trading and services.
A successful transition to electric vehicles will significantly improve India's energy security;improve its balance of payment position creating a growth-friendly environment for the economy and make Indian cities, which top the pollution charts, more liveable.