---
Enzyme Technology For Cheaper Bio-fuel
---
Recently, the scientists from the International Centre for Genetic Engineering and Biotechnology (ICGEB) in New Delhi, received a patent from the US Patent and Trademark Office for the enzymes that enhances the production of biofuels from agricultural waste.
About the Technology
The scientists disrupted a control mechanism found in the fungus penicillium funiculosum (PF) that regulates its metabolic activity.
Disrupting this mechanism called carbon catabolite repression helped the scientists to increase the production of enzymes that are involved in converting cellulose into sugars and, thus increased the production of biofuels.
Reason for Opting penicillium funiculosum (PF)
The scientist chose PF as it was found to produce five times more active enzyme (known as CBH1) in breaking down cellulose as compared to its fungal cousin Trichoderma reesei, more commonly used in industrial enzyme cocktails.
Significance
Providing Better Alternative: It is likely to provide a better alternative for making commercial cellulase enzyme that can be used for production of second generation (G2) biofuel.
Increased 2G Ethanol Production: It can help to produce higher quantities of 2G ethanol from agricultural waste materials including rice and wheat straws leading to less dependency on fossil fuels.
Challenges
Limited Availability of Enzyme and High Cost: Currently, there is very limited availability of commercial cellulase enzyme preparation in the market for 2G ethanol, causing less production of biofuels and this is often stated as the major reason for the higher cost of 2G ethanol.
International Centre for Genetic Engineering and Biotechnology (ICGEB)
It is a unique intergovernmental organisation initially established as a special project of United Nations Industrial Development Organization(UNIDO).
Fully autonomous since 1994, it runs 46 state-of-the-art laboratories, in Trieste, Italy, New Delhi, India and Cape Town, South Africa and forms an interactive network with over 65 Member States.
Functions
It plays a key role in Biotechnology worldwide for excellence in Research, Training and Technology Transfer to industry to contribute in concrete terms to the achievement of sustainable global development and operates within the United Nations System.
Biofuels
Bio-fuels are produced from renewable resources and are used in place of or in blend with diesel, petrol or other fossil fuels for transport, stationary, portable and other applications.
Classification
Biofuels are classified into following generations-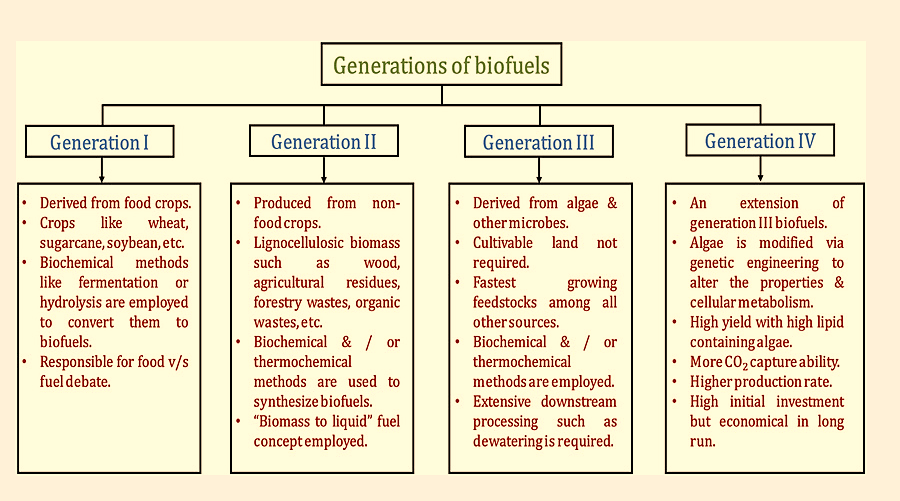 Source: Researchgate
Government Initiatives
Pradhan Mantri Jl-VAN Yojana
Launched in February, 2019, the scheme focuses to incentivise 2G Ethanol sector and support this nascent industry by creating a suitable ecosystem for setting up commercial projects and increasing Research & Development in this area.
Under this Yojana, 12 Commercial Scale and 10 demonstration scale Second Generation (2G) ethanol Projects will be provided a Viability Gap Funding (VGF) support in two phases:
Phase-I (2018-19 to 2022-23): wherein six commercial projects and five demonstration projects will be supported.
Phase-II (2020-21 to 2023-24): wherein remaining six commercial projects and five demonstration projects will be supported.
National Policy on Biofuels-2018
It envisages an indicative target of 20% blending of ethanol in petrol and 5% blending of bio-diesel in diesel by 2030.
The Policy categorises biofuels as "Basic Biofuels" viz. First Generation (1G) bioethanol & biodiesel and "Advanced Biofuels" - Second Generation (2G) ethanol, Municipal Solid Waste (MSW) to drop-in fuels, Third Generation (3G) biofuels, bio-CNG etc. to enable extension of appropriate financial and fiscal incentives under each category.
GOBAR (Galvanizing Organic Bio-Agro Resources) DHAN Scheme
Launched in 2018, under the Swachh Baharat Mission (Gramin), it aims to positively impact village cleanliness and generate wealth and energy from cattle and organic waste.