---
One Nation One Tag – FASTag Scheme Launched
---
Recently, 'One Nation One Tag – FASTag' was launched by theUnion Ministry of Road Transport and Highways at the Indian Mobile Congress held in New Delhi in order to roll out the process for having a unified electronic system across the country.
Aim
It aims to integrate the collection of toll digitally and ensure seamless mobility of vehicles across India.
Need for FASTag
This has been done with a view to overcome the existing challenge in track and trace mechanism for GST E-Way Bill (EWB) System and enhance the efficiency in its monitoring.
Key Highlights
A Memorandum of Understanding(MoU) was signed between Indian Highways Management Company Ltd (IHMCL) and Goods and Services Tax Network (GSTN) for integration of FASTag with GST e-way bill system.
The GST Council has already accorded 'in-principle' approval for this integration.
IHMCL exchanged MoUs with several states/ authorities for integrating with FASTagscheme.
Karnataka, Andhra Pradesh and Haryana signed MoUs with IMHCL, an arm of National Highway Authority of India(NHAI), to accept FASTags on their state highway tolls.
About the FASTag
FASTags are part of the National Electronic Toll Collection (NETC) program developed by the National Payments Corporation of India (NPCI).
FASTags are stickers that are affixed to the windscreen of vehicles and usesRadio Frequency Identification (RFID) technology to enable digital, contactless payment of tolls without having to stop at toll gates.
FASTag is acceptable across over 490 National Highways toll plazas and selected 39+ State highways toll plazas. More than 6 Million FASTag were issued till last month, with overall cumulative ETC collection of over Rs. 12,850 Crore since inception
It is valid for five years and needs to be recharged only as per requirement.
From December 1, 2019, FASTags will be made mandatory on national highways throughout the country. Individuals not using a FASTag will be charged double the toll.
Mode of Working
Each tag and car pairing works with the GS1 unique identification numbers, which are encoded in the FASTags.
The tags are linked to bank accounts and other payment methods. As a car crosses a toll plaza, the amount is automatically deducted, and a notification is sent to the registered mobile phone number. Sensors are placed on toll barriers, and the barriers open for vehicles having valid FASTags.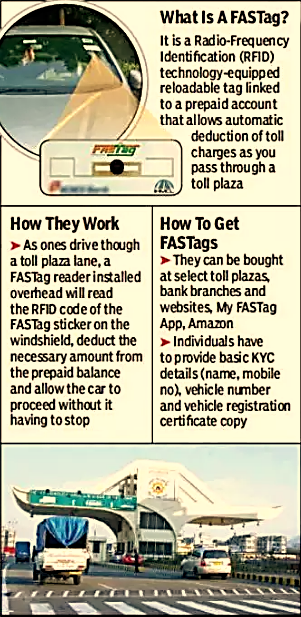 Source: ToI
Benefits of FASTag
Economic Benefits
Helps in Decongestion of Highways:
FASTag is a perfect solution for a hassle free trip on national highways. FASTag is presently operational at 180 toll plazas across national and state highways. More toll plazas will be brought under the FASTag program in the future
These devices will make passing through tolls considerably smoother since drivers will no longer have to carry cash or stop to make a transaction at the toll.This initiative will remove bottlenecks and ensure seamless movement of traffic and efficient collection of user fee.
Fuel Saving:
FASTag is read by the tag reader at the plaza and the toll amount is deducted automatically, when the vehicle approaches the toll plaza. So, it will cut down both the fuel and time consumptionbringing down loss of fuel while waiting at toll plazas.
Better Management of Toll Plaza:
It will help to reduce the efforts in managing the toll plazas, leading to better and efficient system of working at the tolls.
Tracking of Vehicle Movement:
The integration of e-way bill system with FASTag will help revenue authorities track the movement of vehicles and ensure that they are travelling to the same destination that the transporter or the trader had specified while generating the e-way bill, reducing the chances of mismanagement.
Benefit to Consumers:
The same FASTag affixed on the windscreen of a vehicle can be used at every toll plaza in country under jurisdiction of different states or agencies and other entities, thus providing seamless services to consumers across the country.
Environmental Benefits
Helps in Reducing Pollution:
Implementation of FASTag will help in reducing air pollution as it will cut down the fuel consumption, less traffic congestion, finally leading to less vehicular emissions.
Challenges
Loss of FASTag
The main concern that came up was the distress expressed by the drivers about loss of their FASTags. Since this card is affixed as a tag on the windscreen, it can be subject to theft or loss.
Technical Glitch
There may be times when the toll charge may be deducted twice from your account, in the wake of a technical error. Other than that, the issue of going through the RFID scanner and it not being able to detect your FASTag.
Unauthorised cars in the FASTag lanes
It is not uncommon for drivers to wait for their turns longer than expected in FASTag lanes due to vehicles without FASTag falling in the queue. This increases their wait time significantly. Moreover, drivers feel that this defeats the entire purpose of ETC and designated lanes.
Way Forward
FASTags are generally non-transferable and one FASTag can be used only for one vehicle. That is why the scheme of One Nation, One FASTag is put in here to encourage people to use this cashless facility.
Further, FASTag is being positioned as the "Aadhaar" for a vehicle; its data will also be used for tracking vehicles on national highways by various enforcement agencies.